Porcelain vs Ceramic Tiles: Pros, Cons, & Differences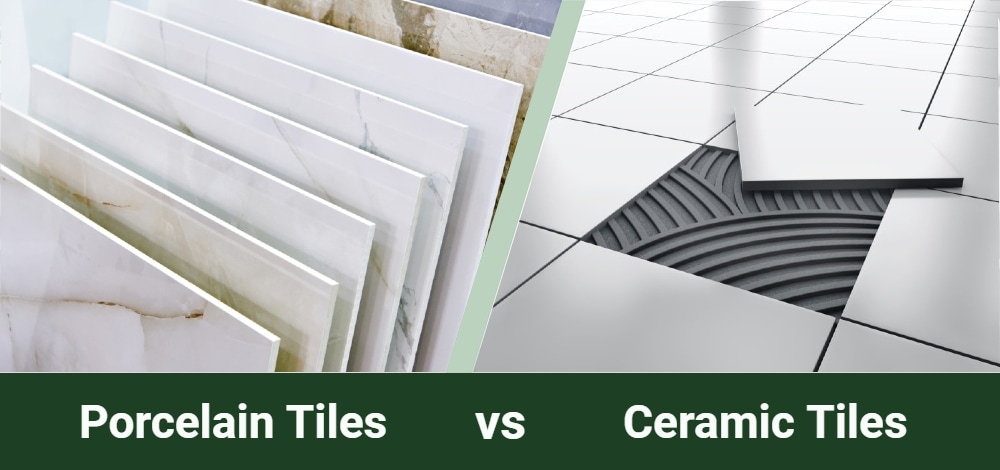 Porcelain and ceramic tiles are two of the best options for tiling your bathroom or kitchen, as they are long-lasting, quality products. Other than being extremely durable and resistant to moisture, both these tiles come in many beautiful designs that can make any bathroom look great.
While these two types of tiles are very similar in shape, style, and manufacturing, they have many differences that define them. When choosing between these two options, it is essential to know their key features, which will help you decide.
Click Below to Jump Ahead:

Overview of Porcelain Tiles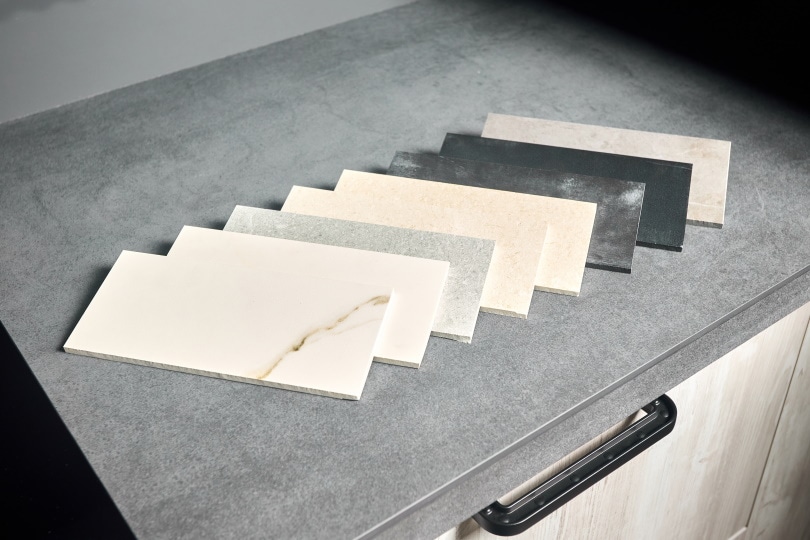 Appearance
While both porcelain and ceramic tiles are glazed and look quite similar at first glance, there are some differences in how they appear. Porcelain tiles are excellent at mimicking other materials, especially stone and wood. In appearance, they can resemble stone and wood so well that even the texture is indistinguishable. This makes porcelain tiles excellent in places where you want to add a stone or wood accent wall, but without being as susceptible to water.
---
Types of Porcelain Tiles
There are three types of porcelain tiles that you can find in most bathrooms and kitchens.
Types
Unglazed Porcelain Tiles: The production of unglazed porcelain tiles is simplest, yet every tile is unique. The dry pigmented powder clay is inserted into certain molds, pressed, and fired. After firing, these tiles don't require any further treatment or sealing.
Glazed Porcelain Tiles: Glazed tiles can be created with several different techniques and can be matt, gloss, with a pattern, or a solid color. After glazing, no additional treatment or sealing is required.
Digitally Printed Porcelain Tiles: This type of porcelain tile is quite similar to glazed porcelain, except natural materials are photographed and printed onto the tile to create an effect of a specific material.
---
Care and Maintenance
To have gorgeous porcelain tiles that are long-lasting, it is crucial to maintain them regularly and properly. With porcelain tiles, knowing which cleaning solution is okay to use and which tool to clean with is essential. Avoid using steel wool and wire brushes at all costs, as well as any harsh chemicals such as bleach and strong cleaning products. Instead, cleaning should be done with a regular mop or cloth, warm water, and cleaning solutions recommended for the type of tile you own.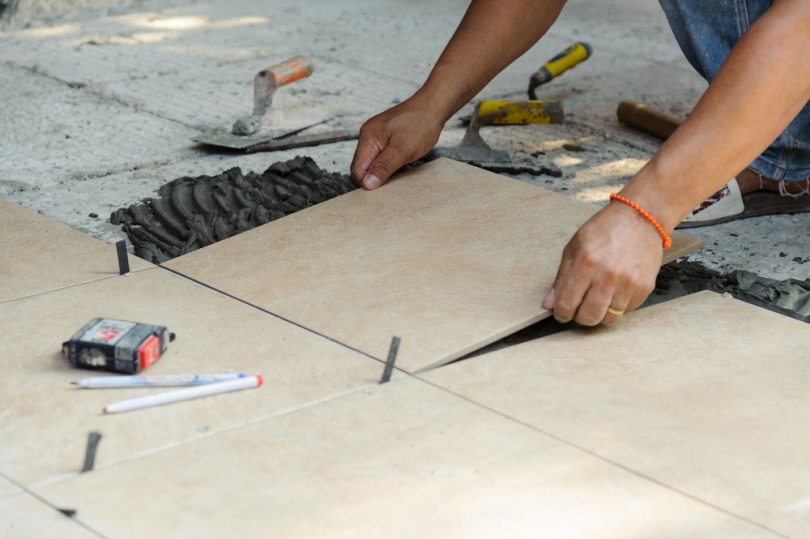 ---
Where Are They Used?
Porcelain tiles are versatile materials perfect for spaces with high humidity and warmth levels. Since they are so resistant to wear and tear and thus highly durable, they can be installed even in outdoor areas. Porcelain tiles are usually installed on floors in spaces such as kitchens, bathrooms, living rooms, hallways, patios, and balconies. They are ideal for areas with high traffic volumes, such as garages, stairs, and boiler rooms, but they can also be used in making fireplaces.
Pros
Versatile use with many different design options available
Digitally printed glazed tiles can resemble any material you desire
Highly durable, with a timeless look
Low-maintenance and easy to clean
Resistant to heat, humidity, and water

Overview of Ceramic Tiles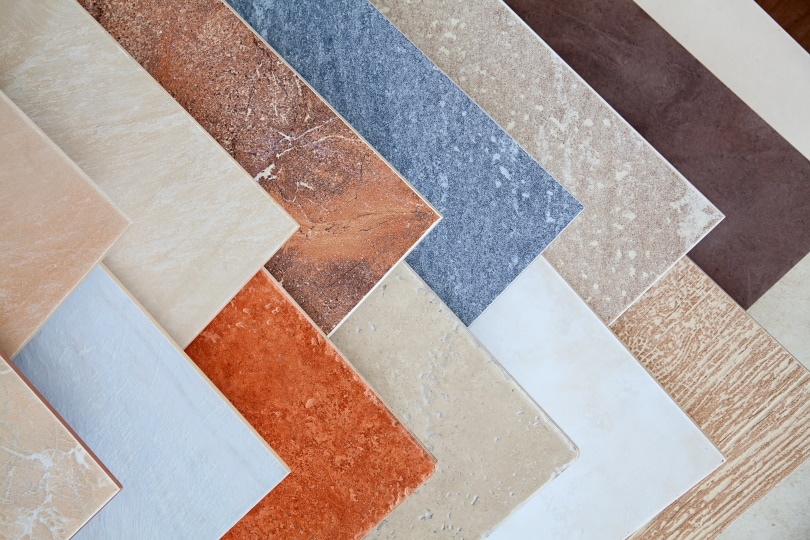 Appearance
Ceramic tiles differ significantly from porcelain tiles simply because they usually feature only one solid color or pattern. While that is the case, ceramic tiles can vary from resembling natural stone to featuring one basic pattern design. The most popular ceramic tiles design is natural stone, and the tile shapes are usually in linear rectangles, although squares and hexagons are pretty popular too. Ceramic tiles vary a lot in size, but it is more common to find larger tiles than small ones, which is excellent for creating a visual illusion of a larger space.
---
Types of Ceramic Tiles
In modern residential areas and commercial spaces, you can usually find three types of ceramic tiles.
Types
Glazed Ceramic Tiles: Glazed ceramic tiles are coated with a protective layer that can vary from glossy to matte. A matte finish is recommended for tiles that resemble stone for a more natural look. In contrast, a glossy finish is more common in modern design to provide a clean, minimalistic, and polished look.
Wall Ceramic Tiles: Wall ceramic tiles are commonly used on showers and for adding an accent wall. These tiles can create a stunning effect in any space, indoors or outdoors. They can be paired with floor tiles to complement each other better. They are usually coated with a glossy protective finish.
Floor Tiles: When installing ceramic floor tiles, they need to be made with much more strength and durability than wall tiles since they have to resist a lot more wear and tear. Floor tiles come in various shapes, colors, and textures, although they mostly have a matte protective finish.
---
Care and Maintenance
When cleaning ceramic tiles, it is essential to use a damp cloth or sponge and warm water with a cleaning solution that is specific to that type of tile. Similar to porcelain tiles, you should never use abrasive cleaning supplies and solutions, such as an all-purpose cleaner or chemicals containing ammonia. When caring for grout, it is recommended to reapply the sealer once every 6 months or so as stain protection.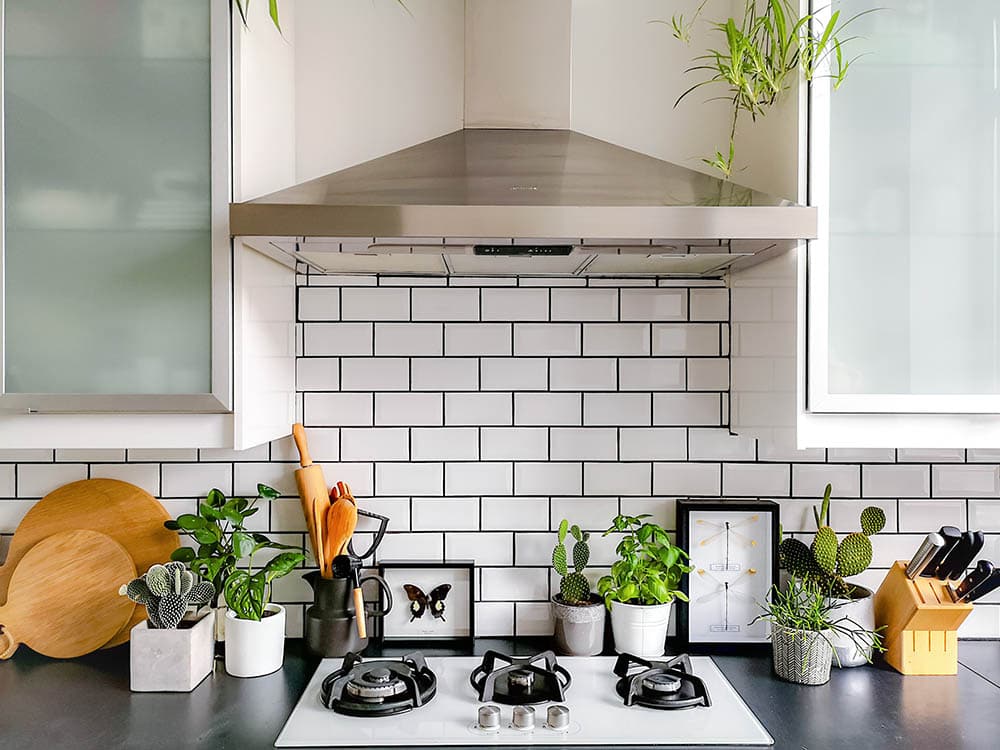 ---
Where Are They Used?
Ceramic tiles are resistant to water, humidity, and most wear and tear, making them an excellent surface for bathrooms, shower stalls, kitchens, and other high-traffic areas. If you care for them regularly, they can also be an excellent accent surface on patios, balconies, and other outdoor spaces.
Pros
Highly durable
Resistant to water and staining
Many design options are available
Easy to maintain
Excellent for people with allergies as they don't harbor allergens over time
Affordable
Cons
Very heavy
Difficult to install
They can be unpleasant and cold underfoot

Which Tile is More Durable?
Both porcelain and ceramic tiles are highly durable materials that will withstand years of wear and tear if appropriately maintained. The maintenance process may be a nuisance for these tiles since you must seal the grout frequently every 6 months or so. Porcelain and ceramic tiles have high density and strength. They are excellent at resisting water, scratching, cracking, and chipping. Porcelain tiles resist wear and tear better than ceramic tiles, but ceramic tiles have some advantages as well. While ceramic tiles are softer than porcelain, they are better at resisting cracking because of structural shifting.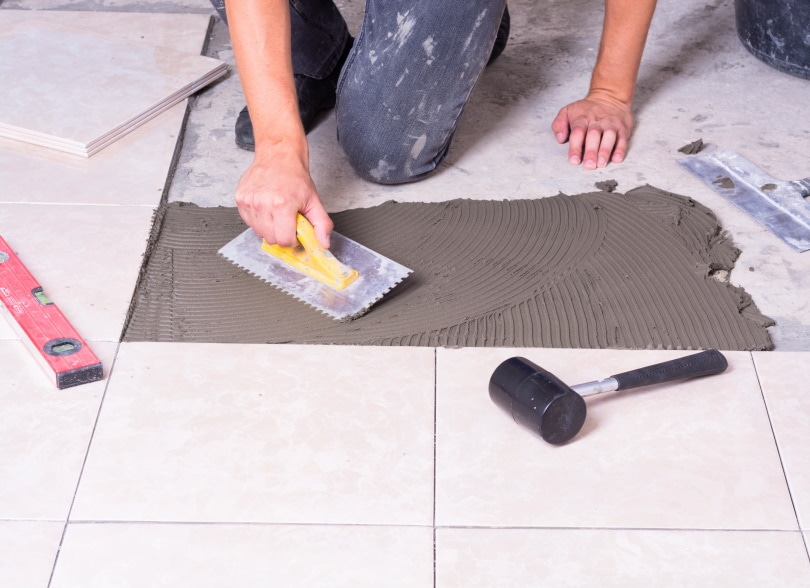 Which Tiles Are the Right Choice for You?
To decide which tiles are perfect for your home, you need to consider your own preference and plan out your budget. There are many differences between these two types of tiles, and each type has its advantages and disadvantages.
| | | |
| --- | --- | --- |
| | Porcelain Tiles | Ceramic Tiles |
| Appearance | A broad range of colors, patterns, and textures. Excellent for mimicking natural materials, especially wood. | A wide range of colors, patterns, and textures. Usually larger tiles, solid colors and textures, and those resembling stone. |
| Maintenance | A damp cloth, warm water, and cleaning solutions are recommended. | A damp cloth, warm water, and cleaning solutions are recommended. |
| Uses | Indoor and outdoor areas with high traffic volume and a lot of humidity. | Indoor floors and walls, rooms with high levels of moisture and warmth. |
| Durability | Harder than ceramic, more likely to crack. | Softer than porcelain. |

Conclusion
Once you learn all the differences these tiles have, you will understand which one is best for your particular home. There are many features that one tile excels at, while the other may type may come with a richer design. For this reason, doing thorough research and carefully reading this article will help you save time, money, and effort.
---
Featured Image Credit: (L) Sergey Ryzhov, Shutterstock | (R) Boris Rabtsevich, Shutterstock