3 DIY Truck Bed Spare Tire Mounts You Can Construct Today
Blowouts will never be convenient, but you can make them less of a hassle. Adding a spare tire mount in your truck bed is a perfect start. An accessible mount will save you time with every tire change, and you'll never have to worry about debris or hang-ups damaging your backup. If you enjoy off-roading or your work takes you through tough terrain, that ease and peace of mind are invaluable.
Mounts need to be secure enough to keep your tire from flying off on the highway and simple enough to keep the average DIYer from getting in over their head. Take it easy on yourself with these DIY truck bed spare tire mounts you can make today.

The 3 DIY Truck Bed Spare Tire Mounts
1.

Simple Welded Tire Mount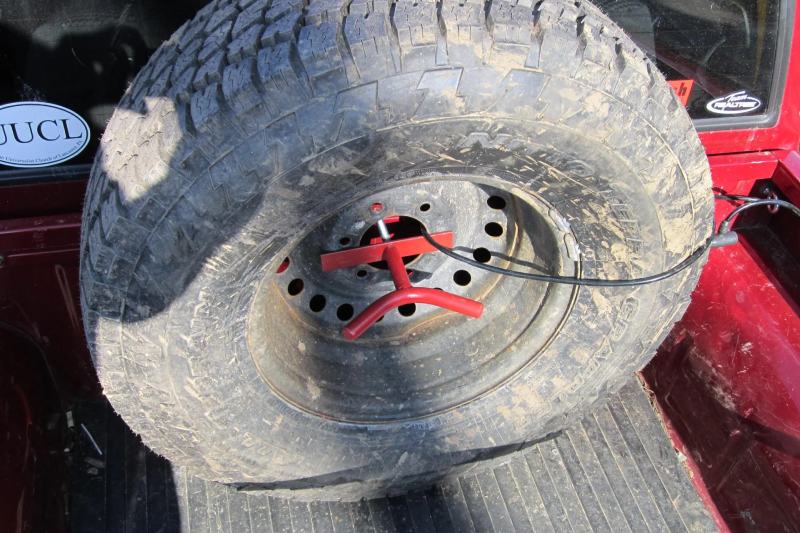 | | |
| --- | --- |
| Materials: | Angle iron, iron pipe, 6" bolt, mounting bolts |
| Tools: | Welding equipment, angle grinder |
| Difficulty Level: | Intermediate |
You'll need welding gear and knowledge to make this Y-handle welded tire mount, but anyone with experience should find this a simple and fun project. A piece of angle iron bolts to the back of the truck bed with a long bolt sticking out to mount the tire, and a screw-on handle locks it in place.
You'll have to assess the head of your truck bed to ensure the angle iron will bolt on. If it can, you'll enjoy this mount's ease of attaching and detaching as needed. Do a dry run with the tire set in the truck before building the mount to ensure you'll still have enough visibility in the rearview when it's in place.
---
2.

 Tacoma DIY Bed Mount
| | |
| --- | --- |
| Materials: | Metal anchors, recessed mount, baseplate, chain, bolts |
| Tools: | Drill, hole saw |
| Difficulty Level: | Advanced |
The finished product in this Toyota truck mod boasts a slick, off-road attitude befitting the Tacoma's style. The tire mount looks fantastic whether or not the spare is attached, with the recessed bed plate providing a flush profile for unimpeded loading.
There's no welding involved with this approach, but you might have to make a few painful cuts, as the video's creator did to get his recessed mount to work. While a couple of holes are unavoidable with most spare tire mounts, this one may require you to punch a hole in the bed of your truck. In the best-case scenario, you'll have a thick enough bed liner to keep you from cutting through to the frame.
---
3.

Welded Spare Tire Mount
| | |
| --- | --- |
| Materials: | Metal 2×4 rectangle tubes, nuts, and bolts |
| Tools: | Welder and gear, drill press, angle grinder (or similar metal cutter) |
| Difficulty Level: | Advanced |
Old timers will dig the classic look of a side-mounted spare tire carrier. The misleadingly simple vintage aesthetic isn't easy to earn, but between the practical perks and appeal, you'll be glad you put in the effort.
With some unique material and tool demands, this truck tire mount plan will likely exclude the casual DIYer. The all-metal components require cutting and welding, and you'll need an exposed metal bed frame to connect the mount.
The result is a sturdy easy-on, easy-off setup that keeps everything out of the way. When the tire's off, the recessed mounting plate gives you full use of the truck bed. And if the tire is mounted, the offset placement keeps the rearview mirror clear of obstructions.
Final Thoughts
A spare tire mount is an excellent project to knock out for fun and gives you a versatile tool for future outings. It doesn't take more than a few scrap parts in many cases, and as you can see from these DIY truck bed spare tire mounts, making an easy-in, easy-out rack is quick and effortless.
See also:
---
Featured Image Credit: SookyungAn, Pixabay