5 DIY Truck Ladder Racks You Can Build Today (With Pictures)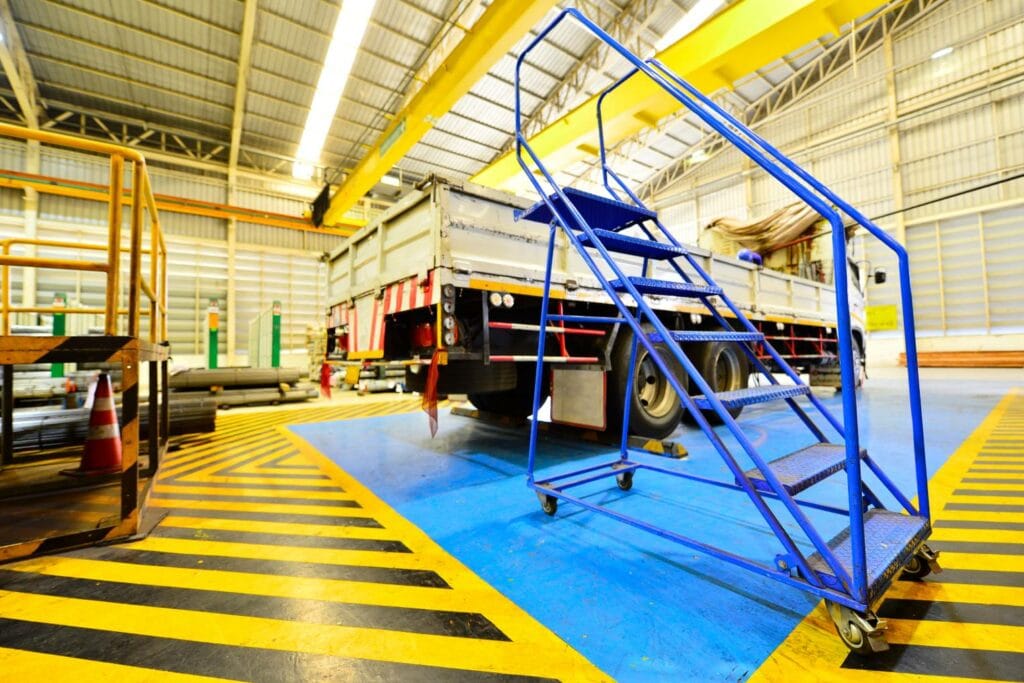 Trucks are extremely versatile, but a ladder rack can increase your carrying capacity while keeping your truck's bed organized. Unfortunately, not everyone can afford a heavy-duty ladder rack. The good news is that with the right tools, supplies, and DIY skills, nearly anyone can make a serviceable ladder rack at home. Let's check out the best DIY truck ladder rack plans and what you need to construct them.

The Top 5 DIY Truck Ladder Racks
1. 2×4 and Plywood Ladder Rack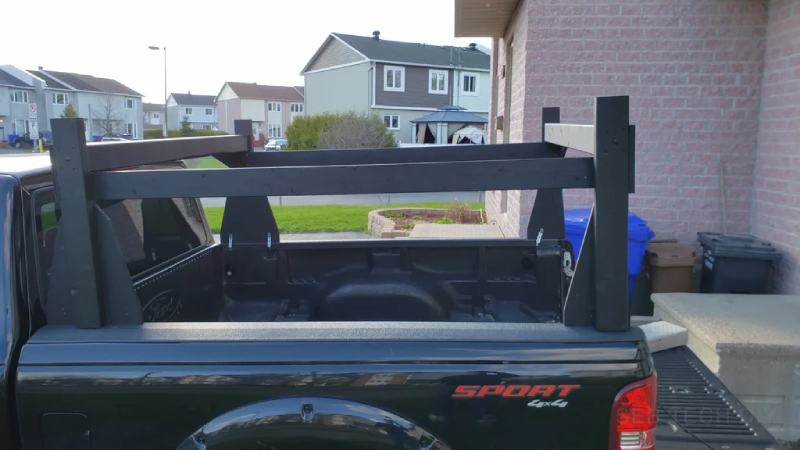 | | |
| --- | --- |
| Materials: | Specified lumber, wood studs, construction adhesive, S hooks, lag screws, paint (optional) |
| Tools: | Band saw, drill |
| Difficulty Level: | Intermediate |
This project is perfect for hauling light cargo, but we wouldn't use it for anything heavy-duty because wood racks aren't really safe. It would be great for some lumber, ladders, or camping gear, but don't test the limits of this rack on anything much heavier.
It's not terribly difficult to make if you know your way around a bandsaw and drill, requiring perhaps a weekend of work on your own.
---
2. Truck Bed Utility Rack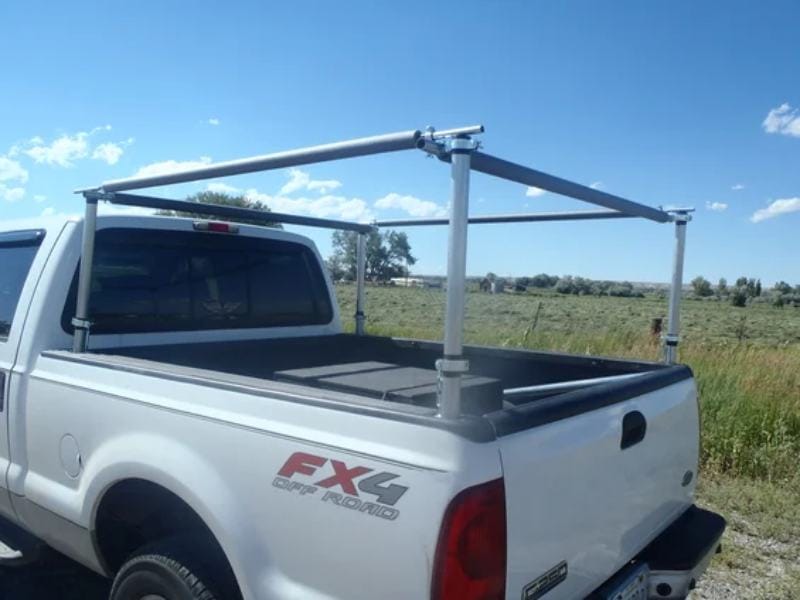 | | |
| --- | --- |
| Materials: | Specified conduit, conduit collars, wingnuts, electrical tape, self-tapping screws, specified foam pipe, threaded hook and eye, zip ties, bolts |
| Tools: | Drill, reciprocating saw with metal-cutting blade, grinder/sandpaper, screwdriver, 7/16 wrench, measuring tape, scissors, safety glasses/goggles, gloves |
| Difficulty Level: | Expert |
For something a bit sturdier, this DIY plan uses foam pipe and conduits to create a ladder rack. It requires familiarity with power tools and basic metalworking, but nothing you'd need a college class to understand.
With the right supplies and a well-stocked workshop or garage, you can make your very own sleek metal ladder rack. If possible, it would be handy to have a friend nearby in case something happens or if you need help.
---
3. DIY Wood Bed Rack for Kayaks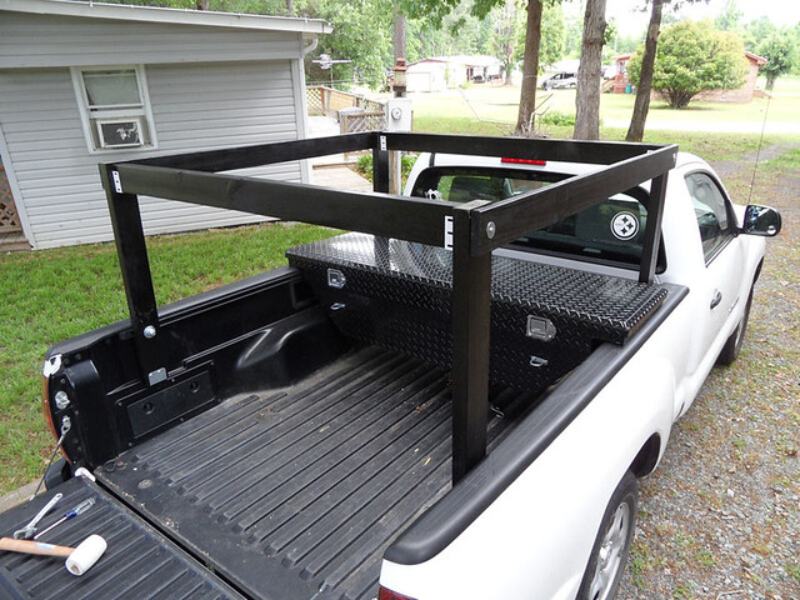 | | |
| --- | --- |
| Materials: | Specified lumber, threaded wood inserts, machine screws/wood screws, lock washers, eye hooks, specified brackets, cross brace supports |
| Tools: | Drill, bandsaw, measuring tape |
| Difficulty Level: | Intermediate |
For a wood truck rack that looks a bit nicer, try this DIY plan yourself. Unlike the other wood rack above, this one cleverly uses threaded wood inserts so you can install machine screws for extra support. Wood screws work but won't hold up to heavy-duty use.
Eye Hooks are all along the bottom of each bar, which makes tying down cargo super easy. Lastly, we need to reiterate that wood truck racks are not generally considered safe, so build and use at your own risk!
---
4. Pickup Truck Canoe Rack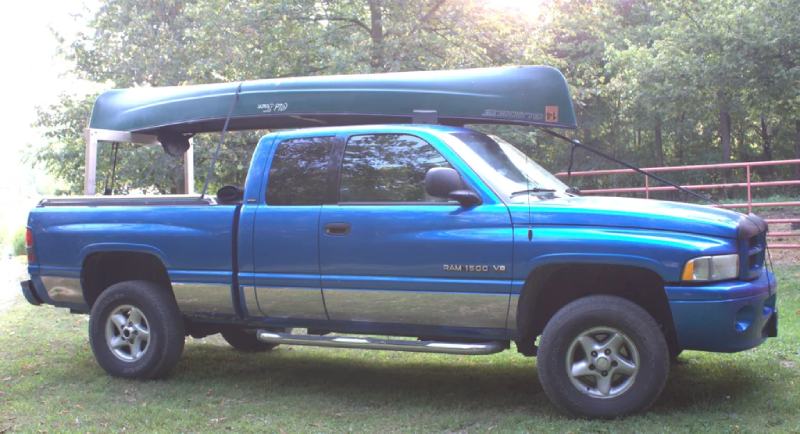 | | |
| --- | --- |
| Materials: | Car top carrier kit, specified lumber, bolts, washers, nuts, and deck screws |
| Tools: | Circular/radial/hand saw, 9/16" wrench, drill with screwdriver attachment, and ⅜" bit |
| Difficulty Level: | Intermediate |
If you like kayaking and DIY projects but hate exorbitant ladder rack prices, this plan is the one for you. You just need some basic woodworking and hand tools, and the instructions note you can even use a handsaw in a pinch. Pay close attention to the instructions because you'll need to adjust them to fit your truck bed.
---
5. DIY Roof Rack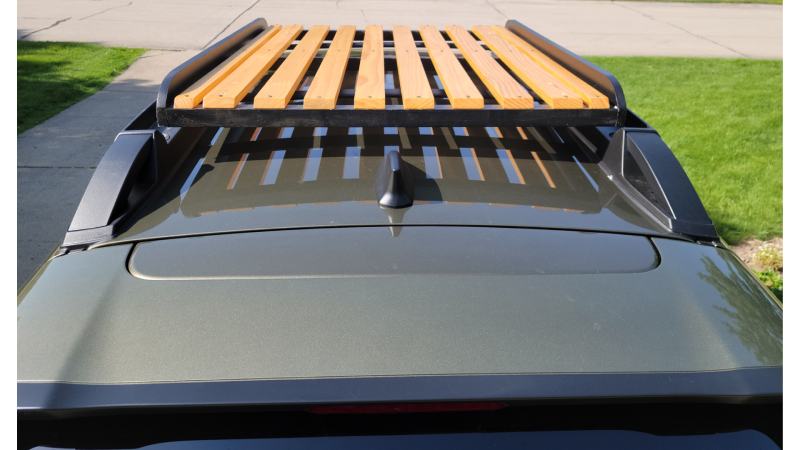 | | |
| --- | --- |
| Materials: | Specified lumber, cabinet screws, primer (optional), paint/stain (optional) |
| Tools: | Table/bandsaw, drill, construction adhesive |
| Difficulty Level: | Intermediate |
For a roof rack that fits on most integrated SUV, truck, and van roof rails, consider constructing this roof rack. It has wood slats to provide support for light cargo like camping gear, ladders, or lumber. Don't use this rack for any official construction business because it probably violates a dozen occupational safety laws. To ferry your stuff back and forth places, though, it's perfect.
Conclusion
Ladder racks are always a handy addition to your truck, but they can be pretty expensive. Several of the plans above can be constructed on a tight budget or with enough scrap lumber, so there's no excuse to not have a snazzy DIY truck ladder rack the next time you go camping or haul cargo.
---
Featured Image Credit: General photographer, Shutterstock