14 Free DIY Wooden Gate Plans You Can Build Today (with Pictures)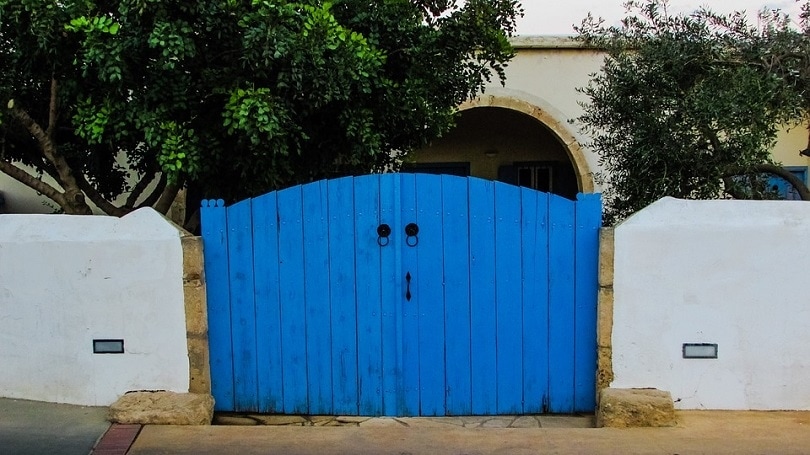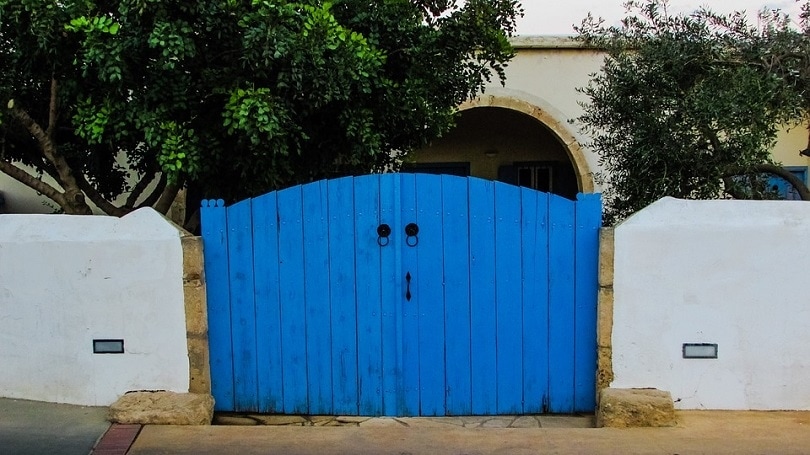 Learn how to build a wooden gate isn't just fun, it can also save you money, and add a lot of curbside appeal to your home. The nice thing is that wooden gates are often surprisingly easier to build than you'd at first guess.
In the guide below, we go over 9 designs that are suited for a range of different users. Read on to find a design that is perfect for your home and your skill level!

The 14 Free DIY Wooden Gate Plans
1.

Simple but Classic DIY Wooden Gate from Instructables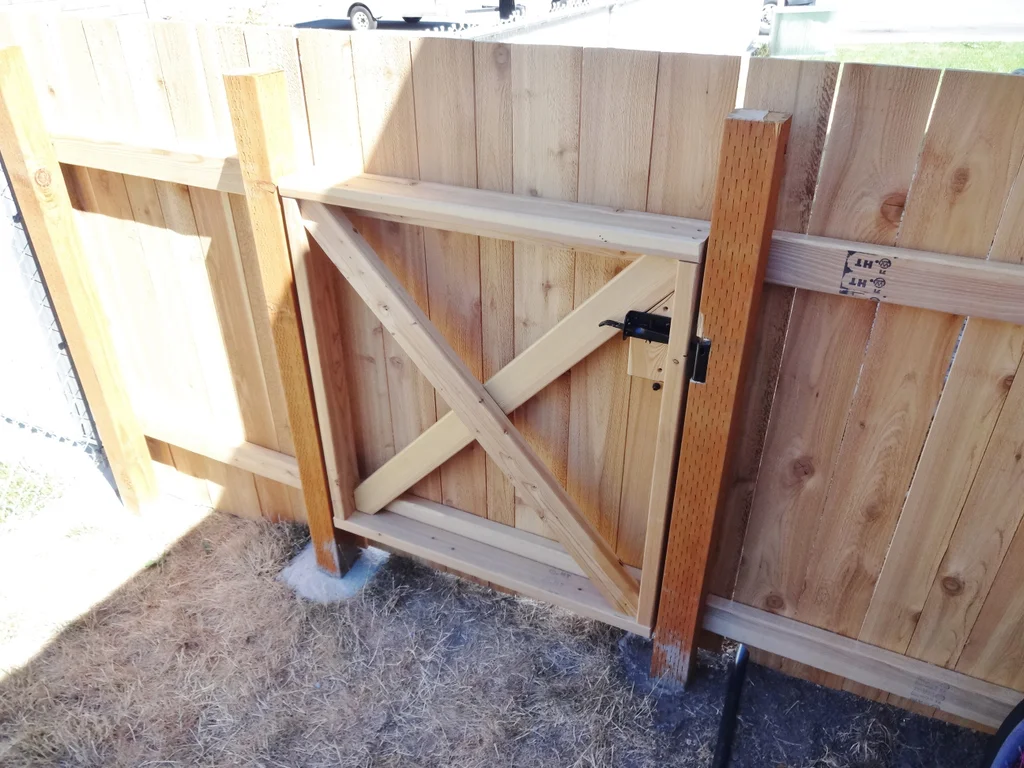 Instructables has released the design for a traditional gate and fence combination. Though this design is not revolutionizing the concept of a gate, it does look great, and it's relatively easy to assemble. Best of all, you will save a bundle by doing it yourself.
---
2.

A Classic DIY Concept With a Flourish of Creativity from Canadian Woodworking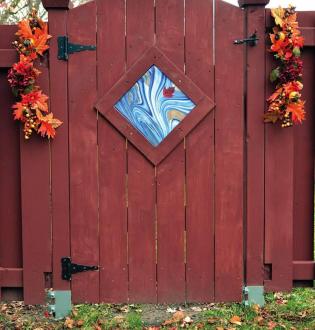 From Canadian Woodworking we have a classic gate that benefits from a small creative flourish. The nice cherry red finish is accentuated by a lovely plexiglass center that makes your yard a little bit more distinct. It's still a relatively easy design, though the accent pieces do require slightly more skill to pull off.
---
3.

Gate and Arbor DIY Gate from Better Homes and Gardens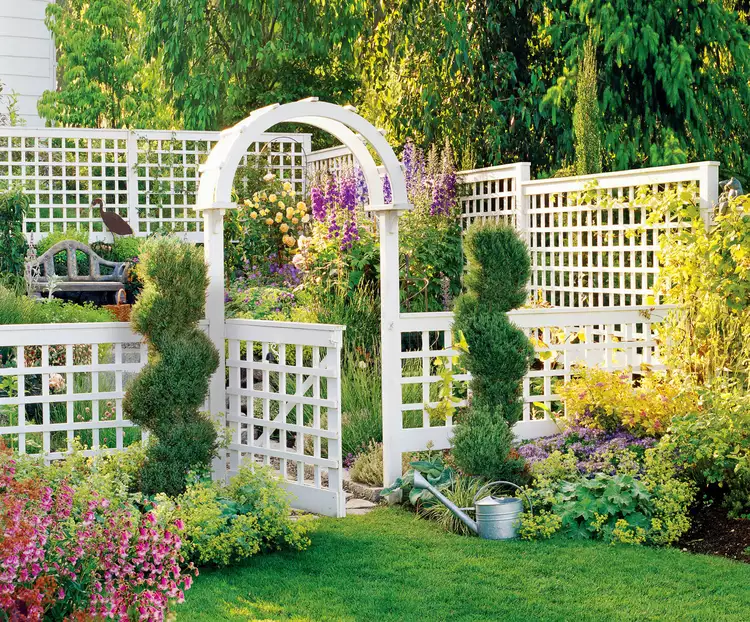 Better Homes and Gardens has come up with this classic, clean gate and arbor design that will do well to bring out the very best in your garden. The materials themselves are all basic and affordable, but the decorative molding may prove to be a welcomed challenge for the woodworker willing to push themselves and create something beautiful.
---
4.

The DIY Double Gate from BuildEasy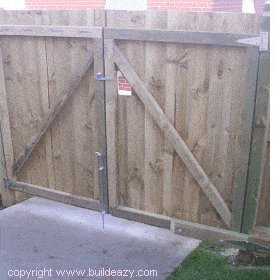 From BuildEasy comes this nice double gate. The actual construction is similar to building a normal gate entrance, with labor simply doubled to account for the new door. Double gates look great, and provide you more access, especially when you are trying to move gardening equipment around your property.
---
5.

DIY Driveway Gates from BuildEasy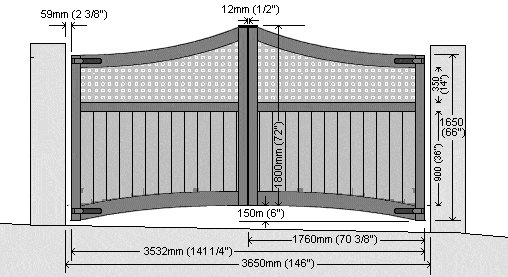 Also from BuildEasy comes this sturdy dual driveway gate. While the design itself is straightforward, note several potential complications. First and foremost, the plans will need to be adjusted to account for the width of your driveway. Secondly, masonry expertise may be needed for stone mounting posts.
Still, the added effort will leave your home with a beautiful safety feature that may even up the curbside appeal!
---
6.

A True Classic DIY Wooden Gate from MotherEarthNews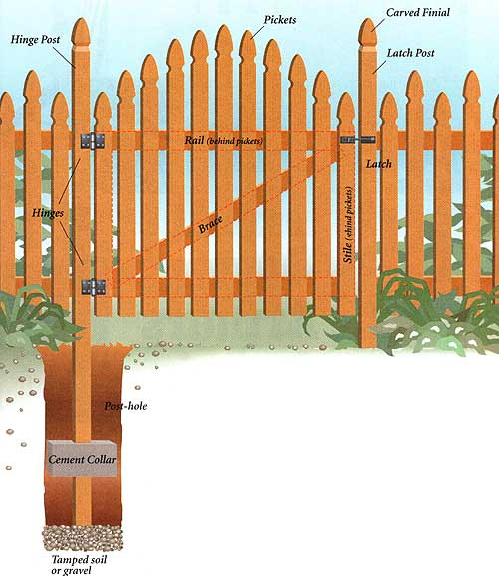 From MotherEarthNews comes a simple but beautiful wood slat gate. With a sturdy Z-frame, this attractive build will serve as a durable garden fixture. Best of all, the materials are affordable—a thrifty buyer may be able to assemble this gate for under $100.
---
7.

Rustic DIY Twig Gate from BlueOxFarm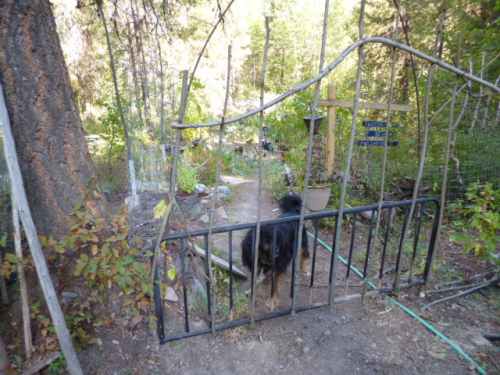 This design from BlueOxFarm will be a salvagers dream come true. Using wood harvested from local trees, and a solid metal hardware frame, you can put together a durable and unique gate for next to nothing.
The salvaged material means everyone is going to produce something a little bit different from these plans. For the creatives out there, this concept may be a dream come true!
---
8.

Beautiful DIY Bamboo Gate from Homesteady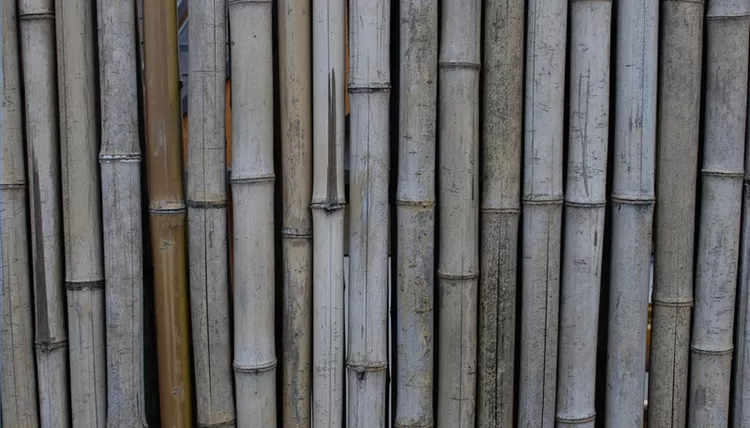 Homesteady has illustrated how to build a wooden gate made of beautiful bamboo. The nice thing about this design is that you can grow and harvest the materials yourself. Bamboo sprouts quickly and can survive with minimal upkeep. Consequently, many woodworker have grown private forests to make things like gates, fences, and even furniture.
When the materials are free, and the assembly is easy, what's not to like?
---
9.

Cedar DIY Wooden Gate from Two Feet First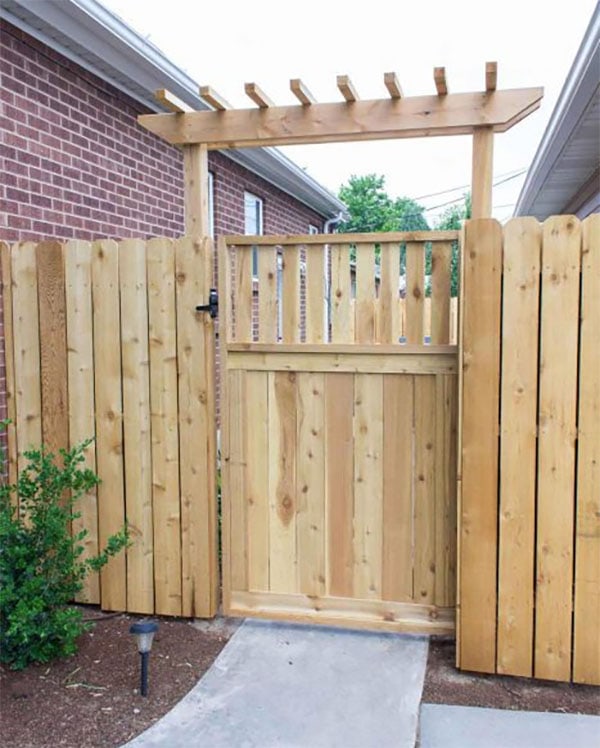 While the plans for this gate include cedar wood, you can use any wood that suits your budget. This DIY gate is ideal for any area that requires a simple, single gate and can add some interest to your property. The tutorial guides you through building and installing the gate and is relatively easy to follow.
---
10.

Modern DIY Wooden Gate from Blanco Bungalow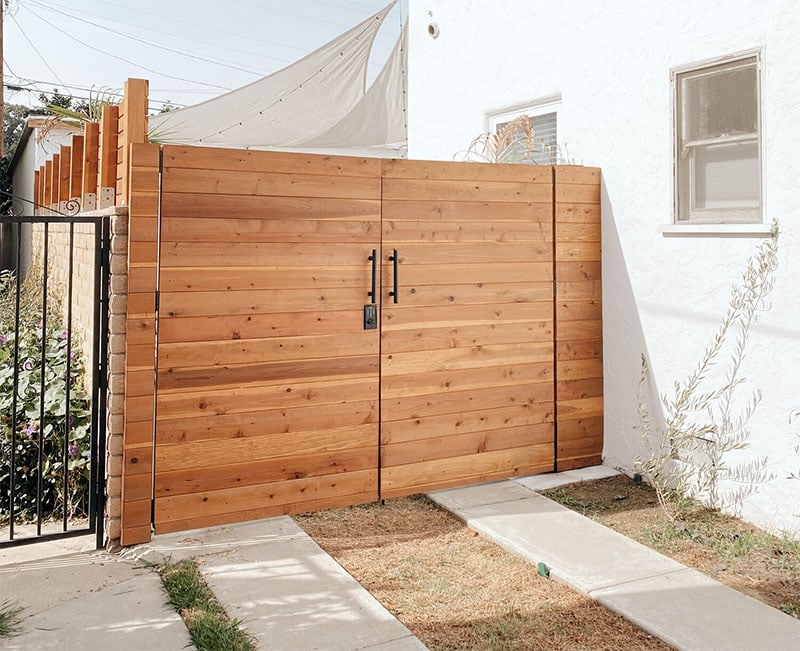 This modern double gate requires woodworking expertise and maybe an extra hand, but if you have the tools and skill, you could easily do it on your own. It is sleek and elegant and will make a great addition to your home's exterior with the same characteristics. If this gate is intended for an entrance to your property, it will also add to your curbside appeal.
---
11.

DIY Wooden Twin Gates from Jen Woodhouse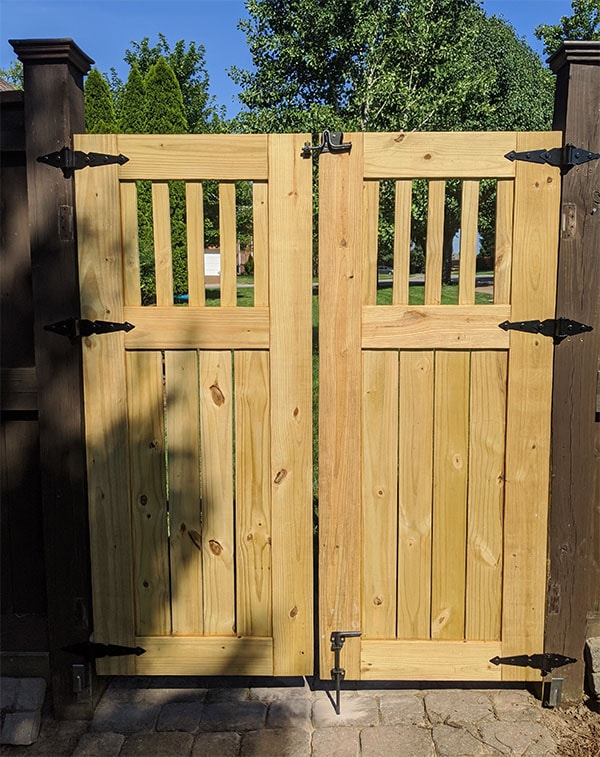 These wooden twin gates add a charming cottage aesthetic to the exterior of your home. There may be a bit of trial and error for a beginner, but it will surely add to your skills once you have completed it. The building techniques remain the same if this DIY gate is too big or too small for your yard, and making the cuts smaller or larger to fit your space is quite simple.
---
12.

Sweet DIY Wooden Garden Gate from Francois et Moi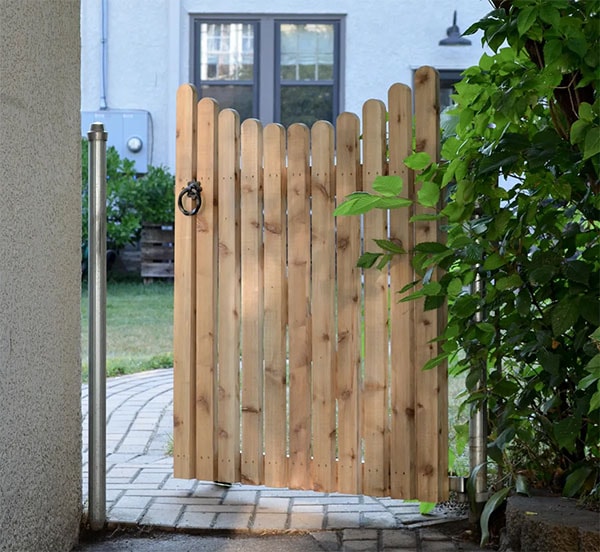 With basic woodworking skills, you can create this sweet single wooden gate to add charm to your house's exterior. This tutorial includes directions for removing an old chain-link gate and setting up your new DIY wood gate, as well as a DIY garden gate tutorial with downloadable PDF plans.
---
13.

DIY Pallet Wood Gate from Kezza Beth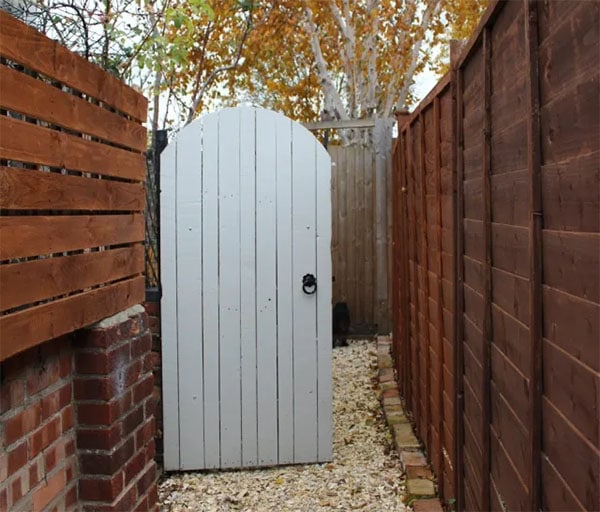 If you want to create a low-cost garden gate, this plan is incredibly simple and will walk you through every step of the process. It is simple and effective and can be constructed using old pallet wood and basic tools. The pallet wood gate is ideal for a novice or if you require a low-cost gate for a quick fix.
---
14.

Cottage Style DIY Gate from Ecozee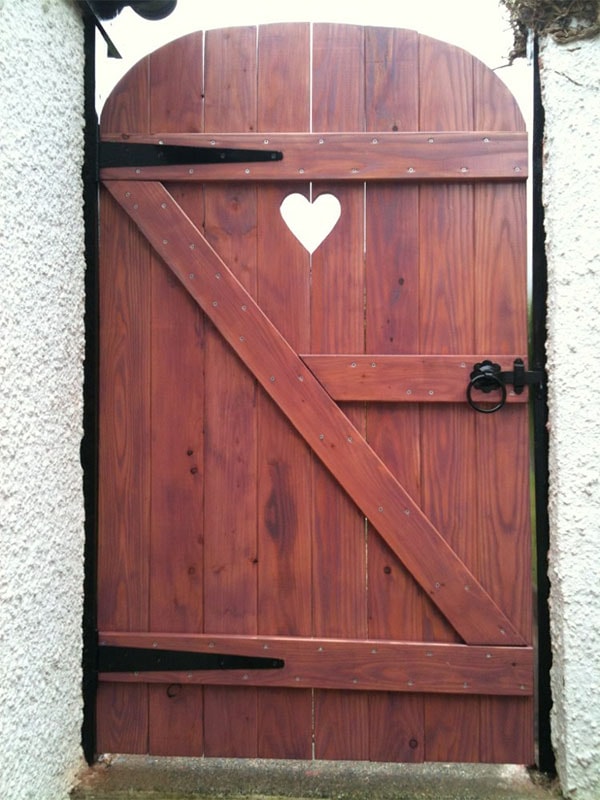 This elegant cottage-style gate can make it easier to add cottage charm to your yard. The gate's design is rather simple to construct, and the time-consuming portion involves applying a protective finish.  You can also put your jigsaw skills to the test by adding a small heart in the center, or you can choose a symbol to match the aesthetic of your yard.

Conclusion
No matter your skill level or budget, there should be something on this list that suits your situation. Do, however, keep in mind that assembly is just half the job when it comes to erecting a gate. Installation presents unique challenges, with new materials, tools, and skills entering the equation.
Be sure to follow proper installation protocol to make sure that the beautiful designs provided here today last for a long time!
---
Featured Image Credit: dimitrisvetsikas1969, Pixabay