What Is the Best Wood for a Bathroom Vanity? Top Options Compared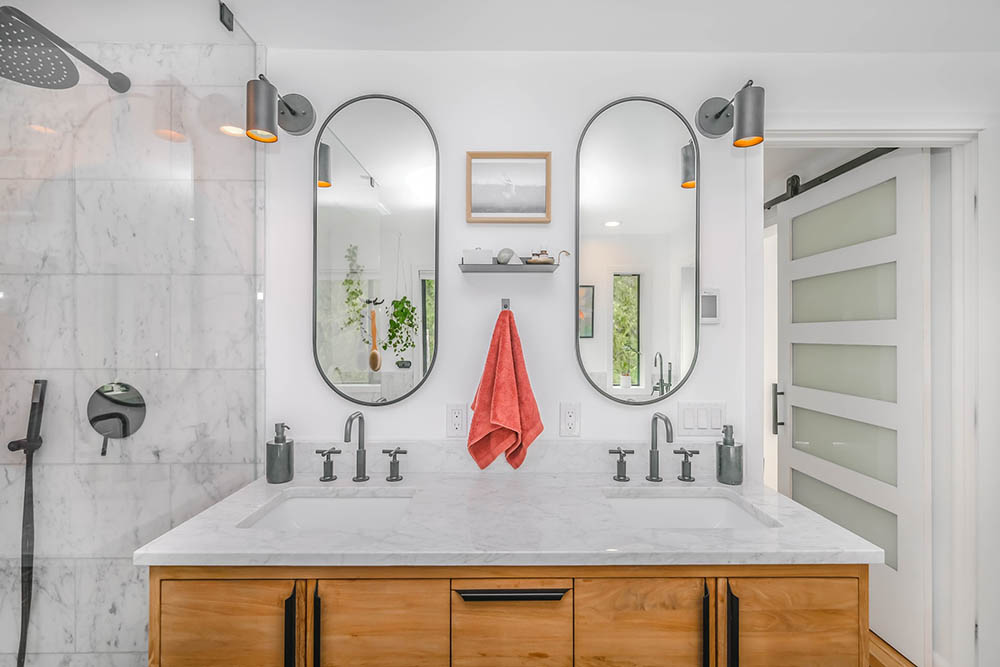 If you're looking to build a wood bathroom vanity, one of the first decisions that you need to make is what kind of wood you're going to use! There are tons of choices out there, so we developed this guide to walk you through the different options.
While we like hardwoods such as oak, cherry, and maple, there are a few drawbacks to these choices. So, keep reading as we walk you through everything that you need to know to make the right wood choice for your bathroom vanity!

What Is the Best Wood for a Bathroom Vanity?
When you're building a bathroom vanity, you want to use a wood that will last and can handle regular wear and tear. That's where hardwoods thrive. They're tough enough to handle day-to-day use but are soft enough to work with.
Our top choices include oak, cherry, and maple, but any hardwood will work. That said, we recommend those woods because they are affordable and easy to work with.
These three hardwoods also do a great job of accepting stains and paints, so you can customize the appearance of your bathroom vanity!
However, the primary drawback of a hardwood bathroom vanity is the price. While domestic hardwoods aren't as expensive as exotic options, there are still more affordable options out there. Another drawback is that you'll need to put in the extra work to seal them. Otherwise, the damp conditions in a bathroom can lead to the wood warping or rotting, which is something that you certainly don't want to deal with!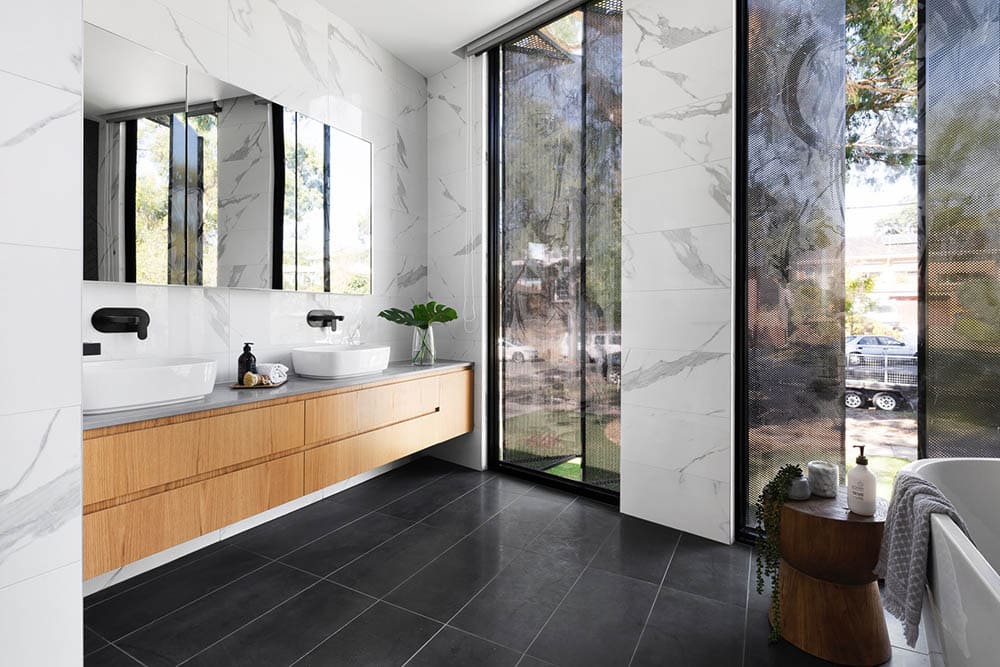 Other Wood Options for a Bathroom Vanity
While oak, cherry, and maple are our top wood choices for a bathroom vanity, they're far from the only ones out there. Here are four more great wood choices that you can use to build your bathroom vanity.
Southern Yellow Pine
If you're on a tight budget but want to build a wood bathroom vanity that you can count on for years to come, consider yellow pine. While its Janka rating of 690 is a bit lower than most hardwoods, it's still hard enough to handle most everyday wear and tear.
You won't have to worry too much about damaging it, and you don't need to spend a mint to purchase all the materials for it. Southern yellow pine also responds extremely well to various stains, and it's an easy wood to work with.
Plywood
If you're looking for an easy wood to work with that isn't expensive, consider plywood. It's a softer wood, but you can get it in long, pre-built pieces that make it easy to install.
However, not everybody likes the look of plywood, and people often put a vinyl coat on top of it to give it the appearance that they want. But if you're on a tight budget, consider building a plywood bathroom vanity.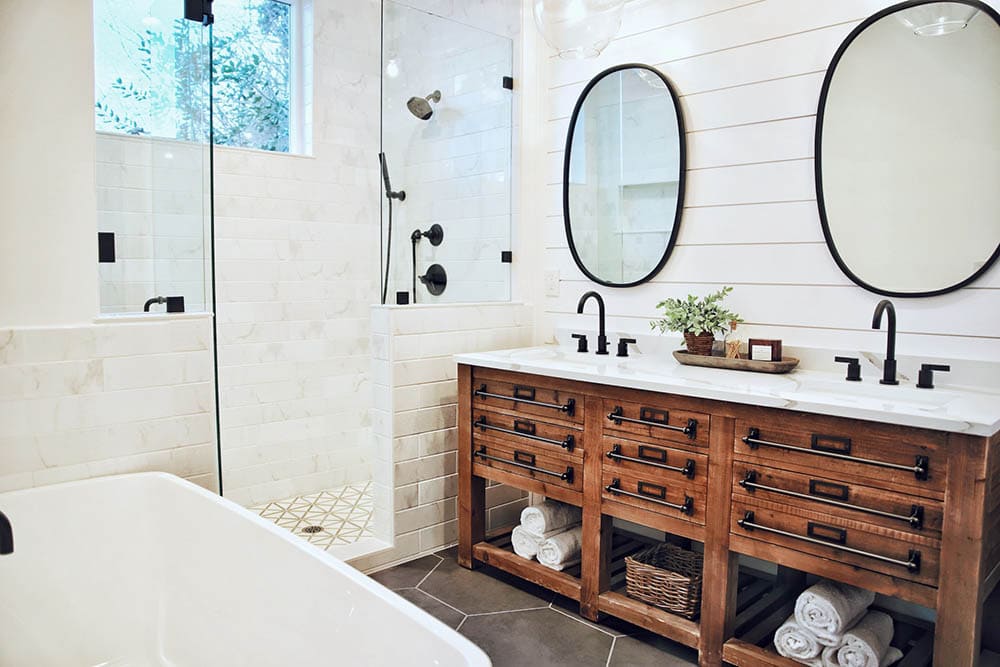 Mahogany
One of the primary drawbacks of mahogany is the price. It's an expensive wood option, but it's prized for its beautiful appearance.
It has a Janka rating of 800, so it should last for quite a while in your bathroom. Mahogany might be a pricey choice up front, but it's easy to care for, and it looks great in your bathroom!
Cedar
If you're looking for a wood choice that will add a bit of character to your bathroom vanity, consider cedar. It's a beautiful wood, and the fact that it doesn't warp or decay makes it excellent for damp bathroom conditions.
However, cedar is a softwood, so you'll have to be careful with what you do to it. It's easy to chip and gouge the surface, and that's why many people won't make a bathroom vanity out of cedar.

Final Thoughts
Adding a wood vanity to your bathroom is a great way to customize the appearance of your bathroom a bit and take everything up a notch. But it all starts with getting the right wood. Hopefully, after reading through this guide, you have a better idea of the different options out there, and you can pick the exact wood option that you want for your bathroom!
You may also be interested in: 
---
Featured Image Credit: Zac Gudakov, Unsplash