9 DIY Garden Gate Plans You Can Make Today (with Pictures)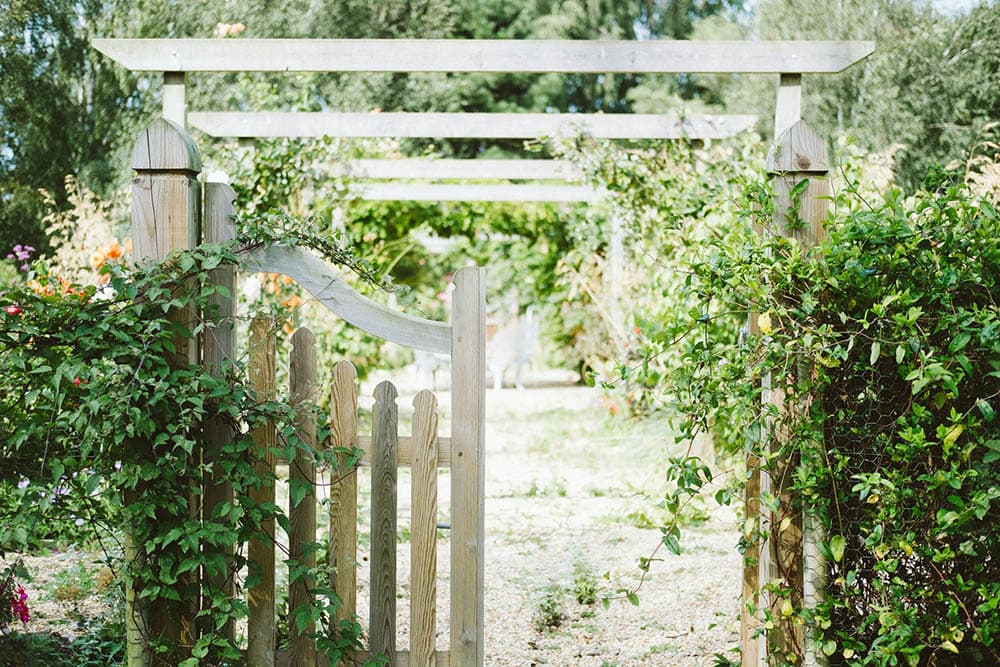 A garden gate enhances the look of any garden—whether it is a small garden or a large one. If you've seen a gate at the entrance someone else's garden or in a magazine and wished you could make it yourself, this article is for you.
A garden gate serves many functions. You can use it to welcome guests and family members, control vehicular traffic, and ensure privacy.
Making a DIY garden gate is a popular trend among DIYers. It's because it not only saves you money but also allows you to customize its design. Below, we highlight some of the most popular garden gate plans. With this, you'll make a stunning gate for your garden.

The 9 DIY Garden Gate Plans You Can Build
1.

DIY Cedar Garden Gate
| | |
| --- | --- |
| Materials Needed: | Cedar fence boards, decking screws, 3.5-inch screws, cement, garden gate kit, planks of cedarwood, and hinges. |
| Tools Needed: | Tape measure, skill saw, a post hole digger, and a screw gun. |
| Difficulty Level: | Easy |
If you're looking for a DIY garden gate that stands out from the rest, this plan might be it. It's a strong gate that will last for many years. Also, it's a perfect solution if you have an area of your yard that you want to keep separate from the rest of the space.
A DIY cedar garden gate is helpful if you have pets or children you want to keep away from the garden. If you also love DIY projects, building one yourself can be an exciting challenge.
It's also a rustic DIY project that will look great in your garden. You can complete this simple DIY project in only one weekend. But, it depends on the size of the gate.
---
2.

Wooden Garden Fence Gate
| | |
| --- | --- |
| Materials Needed: | Fencing nails, chicken wire, planks of wood, and welded wire. |
| Tools Needed: | Screw gun, hammer, and a tape measure. |
| Difficulty Level: | Moderate |
A wooden garden gate is a great way to add a decorative flair to your yard.
You can use this DIY garden fence gate for several purposes. It can protect your vegetable patch from neighborhood cats, dogs, or other animals. Also, it can act as an entryway for guests visiting your home.
This gate has a simple design, but it's functional. You can put it together using a few simple hand tools and pieces of lumber.
It's one of the most common garden gates because it's inexpensive and easy to build. However, it does not offer much security, but its sight is breathtaking.
---
3.

DIY Rustic Garden Gate
| | |
| --- | --- |
| Materials Needed: | Cedar or pressure-treated wood, pocket screws, exterior screws, and exterior wood stain. |
| Tools Needed: | Kreg jig, circular saw, counter drill bit, a drill, tape measure, and a pencil. |
| Difficulty Level: | Easy |
This DIY garden gate can be a simple way to add a rustic accent to your home's exterior. The large garden gates are excellent for a driveway. On the other hand, the smaller ones are ideal for keeping critters out of the garden.
This DIY rustic garden gate will keep deer, rabbits, and any other animal that might munch on your plants. It's tall enough to keep all animals out.
Also, it's a great place to hang your favorite flowers. You can make it using any wood that you have around. So, if you see some cheap wood at a yard sale or thrift store, grab it if it's in excellent shape because this is a great project for it.
This DIY rustic garden gate makes a statement and tells people that those who live there care about their home.
---
4.

DIY Moon Garden Gate
| | |
| --- | --- |
| Materials Needed: | 8-foot trampoline, trampoline poles, self-tapping screws, and epoxy. |
| Tools Needed: | Screw gun, spade, hammer, and a drill bit. |
| Difficulty Level: | Advanced |
Gardens are magical places. This is where the earth meets the sky, where the sun shines, and the moon glows. Gardens are where we take root and grow. A garden gate is often the first impression when someone enters your yard and garden. So, it should be unique.
If you're looking to add a little bit of whimsy to your garden, look no further than this DIY moon gate! It's the perfect way to bring more light and life into your garden while still providing necessary privacy. It adds charm to any yard. The circular shape of the garden gate makes it stand out. The concrete construction lends weight to the structure.
This garden gate is a more advanced DIY project. But with some planning and time, you can create one. You can show it off for years to come as it's durable.
---
5.

A Simple Wooden Garden Gate
| | |
| --- | --- |
| Materials Needed: | Pressure-treated wood, hinges, latch, nails, and screws. |
| Tools Needed: | Tape measure, pencil, hammer, miter or circular saw, and a screw gun. |
| Difficulty Level: | Easy |
Garden gates enhance the appearance of a yard. Whether you are creating a garden gate on an entryway or a garden arch, it's crucial to choose the best materials for your needs.
Consider this simple wooden garden gate if you have a small area in your backyard that you need to keep off-limits. This design only costs a few dollars to build and can be made in a short time. It's the perfect afternoon project.
You don't have to sacrifice much of the aesthetic quality.
---
6.

Cedar Garden Gate
| | |
| --- | --- |
| Materials Needed: | Metal hinges, cedar boards, screws, and galvanized nails |
| Tools Needed: | Drill, jigsaw, cordless screwdriver, painter's tape, hammer, and chisel. |
| Difficulty Level: | Easy |
This is a timeless and classic gate that you can make using cedar fence pickets. It's an excellent project for a beginner or someone wanting to add some curb appeal to their home.
This cedar DIY garden gate will provide privacy and beauty to your garden for many years. The material costs are minimal, and the simplicity of construction makes it economical. But you'll need to buy a few cedar boards and some other materials before starting the project.
The design is simple and unique. You can make it from almost any kind of wood. But if you want a gate that will last, use cedar.
The natural resistance to rot and decay makes it ideal for the outdoors. Also, cedar is easy to work with and has a lovely grain pattern that gives it character.
---
7.

Garden Gate with a Window
| | |
| --- | --- |
| Materials Needed: | Screws, pickets, pieces of wood, and hinges |
| Tools Needed: | Jigsaw, pencil, drill, screwdriver, and handsaw |
| Difficulty Level: | Easy |
A large garden needs more than one entry point. If you don't want to spend a fortune on an elaborate gate, this DIY garden gate with a window can be a fantastic option for you.
Everything about this gate is cost-effective and easy to make. It's a basic garden gate that would be easy enough for a beginner to build with only a few tools.
It also offers plenty of room to modify. You can add materials such as stained glass or other decorative windows, hinges, and more.
This gate is awesome because of the window. It adds character and functionality to just any ordinary garden gate.
---
8.

Rustic Garden Gate
| | |
| --- | --- |
| Materials Needed: | Heavy-duty gate hinges, treated cedar-tone, coated deck screws, and a 3-inch latch. |
| Tools Needed: | Drill, carpenters square, ratchet lopper, tape measure, and a pencil. |
| Difficulty Level: | Beginner |
You've been working hard on your garden and outdoor space. You've planted some beautiful flowers, added a new bench, and tilled up a spot to grow fresh veggies.
But now you need a way to keep the critters out of your flower bed. This rustic garden gate is just the thing to finish off your garden area. It'll add security to all your hard work!
A rustic garden gate creates a warm and welcoming feeling for every gardener and visitor. You can make it from scrap wood or old fence pickets. So, you don't need to spend much money on it.
This garden gate features a minimalistic design. It's easy to build and will look great in any yard. Even novice woodworkers can tackle this garden gate project easily.
---
9.

Wooden Garden Gate
| | |
| --- | --- |
| Materials Needed: | Deck screws, wood glue, nails, gate hinges, cedar boards, gate latch, and cedar pickets. |
| Tools Needed: | Table saw, clamp, miter saw, air compressor, square, drill, pencil, circular saw, tape measure, and Kreg jig. |
| Difficulty Level: | Moderate |
This garden gate plan will be a perfect start for beginners in woodworking. The design is super simple and uses basic tools to get the job done.
The only parts you will cut are the frame pieces and the pickets. A wooden garden gate can be the perfect finishing touch for your yard.
It's not only a way to keep unwanted intruders out but also an excellent way to keep children and pets in. They'll be safe from the busy streets and other hazards.
A wooden garden gate is the best gate if you are looking for a more traditional look. You can also add this garden gate to other types of fences. It'll add a little bit of character.
The only downside is that you have to maintain wood to keep it in good condition. If left untreated, wood will rot and rust easily.

Benefits of Installing a Garden Gate
Garden gates are used as a practical decorative device. Apart from that, below are other benefits.
Keeping Off Unwanted Entries
A garden gate is a perfect way to keep off unwanted entries into your garden. This includes children who may step on plants unknowingly, as well as pets such as dogs and cats.
Improving Home Security
A garden gate will add a layer of security for your garden. With one, you are assured that your garden and the plants in it are safe from thieves.
Installing a garden gate is one of the easiest ways to improve curb appeal and add value to your home.
Besides, it also serves as an eye-catching entry point for guests or potential buyers. They may be interested in buying the property in the future.

Conclusion
You can build a garden gate that works for you regardless of your skill level. You don't need to know much to create something that functions. The key is finding the right design for your backyard.
What we've identified are simply the best of the rest. These designs will most likely fit into whatever space you have. And, as always, don't forget to measure twice and cut once.
These garden gate plans will be helpful for first-time homeowners. They're also for helpful experienced construction experts. Not only is it perfect for the yard, but it is an excellent addition to any front entryway as well.
---
Featured Image Credit: Peter Mason, Unsplash