10 Free DIY Pallet Bed Plans You Can Make Today (With Pictures)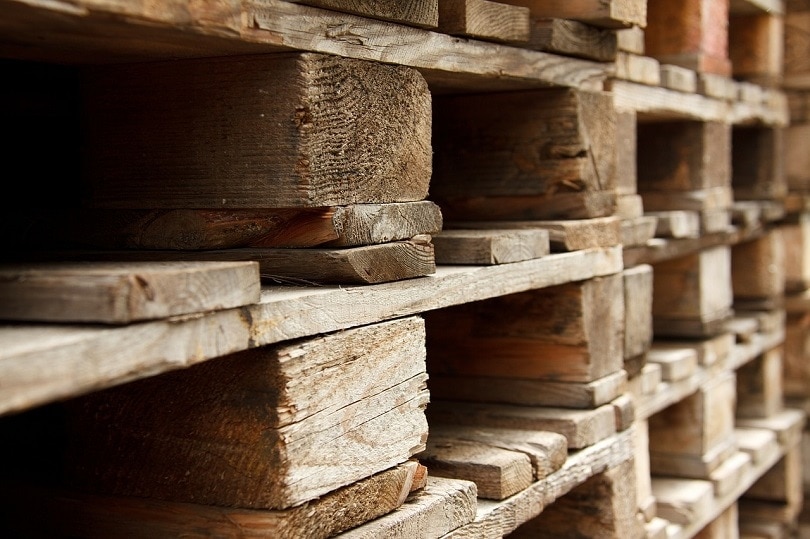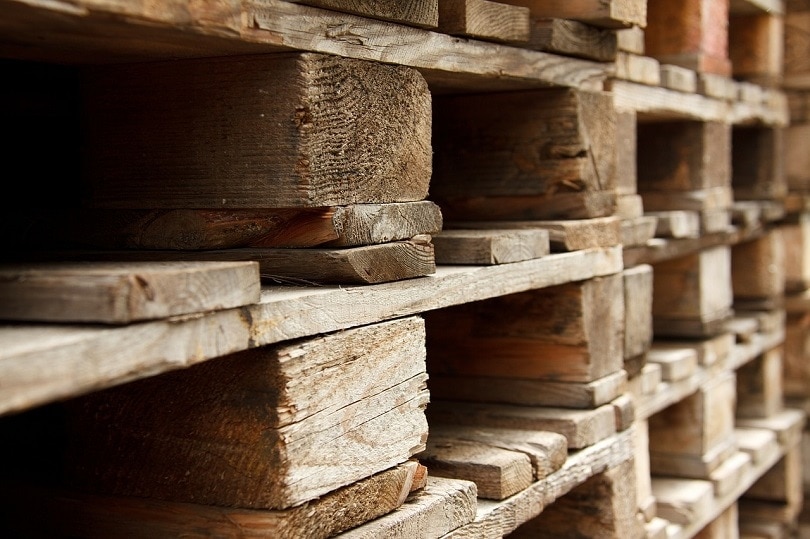 For such a simple piece of furniture, bed frames can be surprisingly expensive. Learning how to build a pallet bed on your own may sound like a job for a professional, but pallets make it easy and cheap. Pallets are already designed to stack and bear considerable weight, and you can often find them for free around town.
Before taking your pallets home, take note of their condition and odor. Are they wet, smelly, oily, or chemical scented? Leave those pallets behind and go for dry & sturdy so you can start building right away.
We have collected 10 free pallet bed plans you can DIY today to help you make sweeter dreams a reality. You'll find a range of plans here: from woodshops to no power tools, advanced builds to beginner, kid's beds and full sized. There's a plan here for everyone!

The 10 DIY Pallet Bed Plans
1.

No Tools DIY Pallet Bed Plans from You Just Do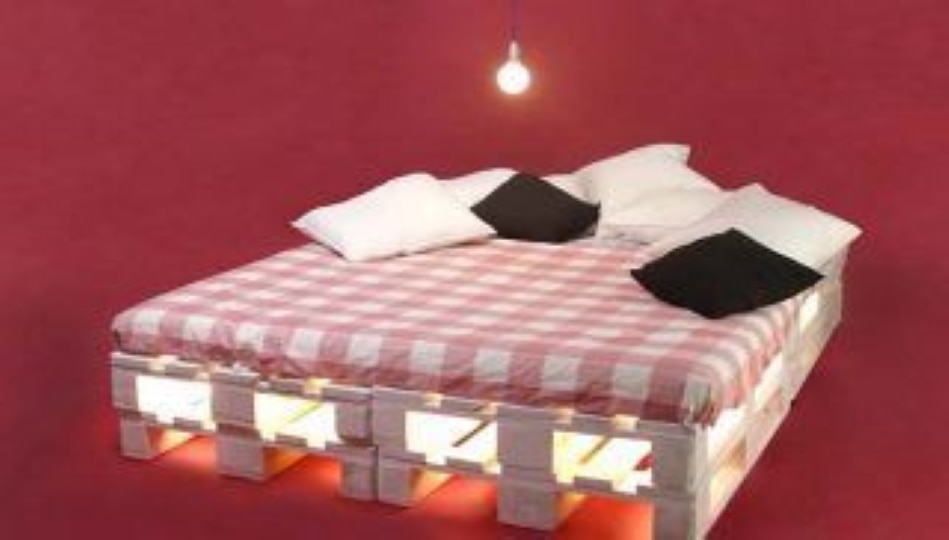 Looking for an ultra simple, and inexpensive build for a pallet bed? These basic plans on You just Do will fit the bill. Besides waiting for the glue and paint to dry, this project will easily take you under 2 hours to complete once the materials are gathered. Perfect for students!
And there are no special tools involved! Construction adhesive holds it all together. Though it isn't the sturdiest build, luckily it doesn't really have to be to serve its purpose.
Materials: White paint (or desired color), Wooden pallets, Construction adhesive (e.g. UniBond No More Nails), Cloth, Twinkle lights (if desired)
Tools Needed: Paintbrush
---
2.

Toddler DIY Pallet Bed from Handi Mania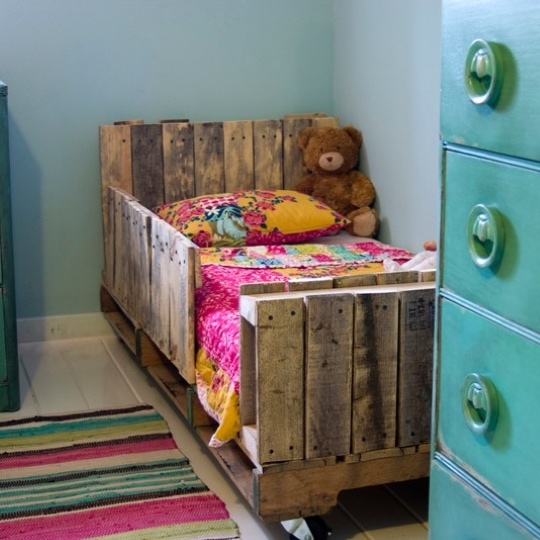 Buying furniture for kids can be expensive. Plus, it can feel like a losing battle if you know you'll just have to replace it as soon as they grow. So why not save yourself money and build your own toddler bed from pallets like they did in these plans on Handi Mania? Cute and cheap, a winning combination!
These instructions are minimal, so while the ideas and techniques are simple enough we do not recommend these plans to novice builders.
Materials: Pallets, Bolts with washers and nuts, Wheels (if desired)
Tools Needed: Palm sander, Circular saw, Drill, T-square
---
3.

Simple DIY Pallet Bed Plans from Wiki How
Here's another take on simple pallet bed plans on Wiki How. Made almost exclusively from the pallets themselves, this build will fit any budget!
The frame is connected by cutting up extra pallets and using those to attach the full pallets together with nails or screws. We love how this build uses every scrap! If you're determined enough you don't even need power tools for this build, but we recommend them to get a stronger finished project.
Materials: Pallets, Paint (if desired), Nails, Wheels (if desired), Screws
Tools Needed: Drill, Paintbrush
---
4.

Moon Cradle DIY Pallet Bed Plans from Apartment Therapy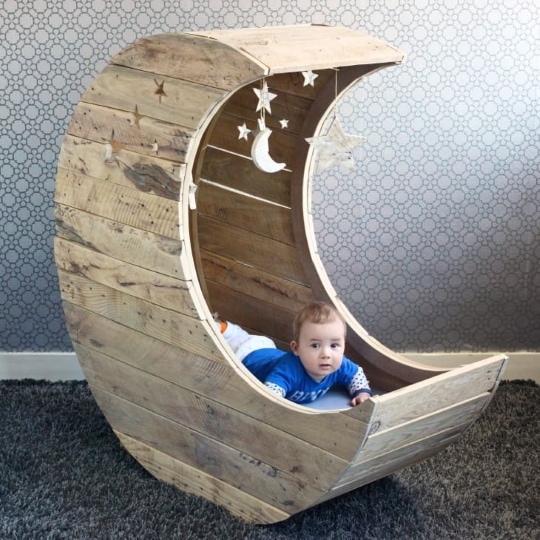 This moon cradle on Apartment Therapy will be the highlight of any baby room! We love how this clever builder took materials usually considered scarp and turned it into a little work of art.
These cuts & shapes for the moon cradle are a little more complicated. And while they do include some helpful diagrams, they do not show the process step by step. Beginners may have a tough time, so we recommend this project for those with a higher skill level and access to a woodshop.
Materials: 3 used pallets, Medium-density fiberboard 244×122 cm (15 mm thick), Medium-density fiberboard 84×44 cm (10-15 mm thick), Sandpaper, Screws
Tools Needed: Drill, Sander, Jigsaw
---
5.

Couch Bed DIY Pallet Bed Plans from Project Nursery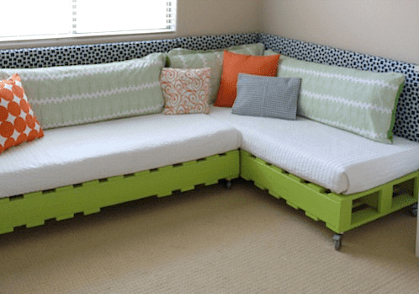 Love the modular look of pallet furniture, but having trouble finding pallets that are sturdy and clean? Try making your own pallets with these bed couch combo pallet plans from Project Nursery. Versatile, sturdy, and attractive these pallet frames are also budget friendly.
The plans are well laid out, and easy to follow so beginners welcome! The builder notes that you don't even need a saw – if you don't have one already ask your hardware store to cut the boards to the right size for you.
Materials: (3) 2×6 – 64″L, (22) 1×4 – 28″ (11 boards for the top and 11 for the bottom), (3) 1×6 – 4″ blocks, (4) Casters, Wood filler, Wood screws, Primer and paint (if desired)
Tools Needed: Drill, Sandpaper, Saw (optional)
---
6.

Daybed DIY Pallet Bed Plans from Pretty Prudent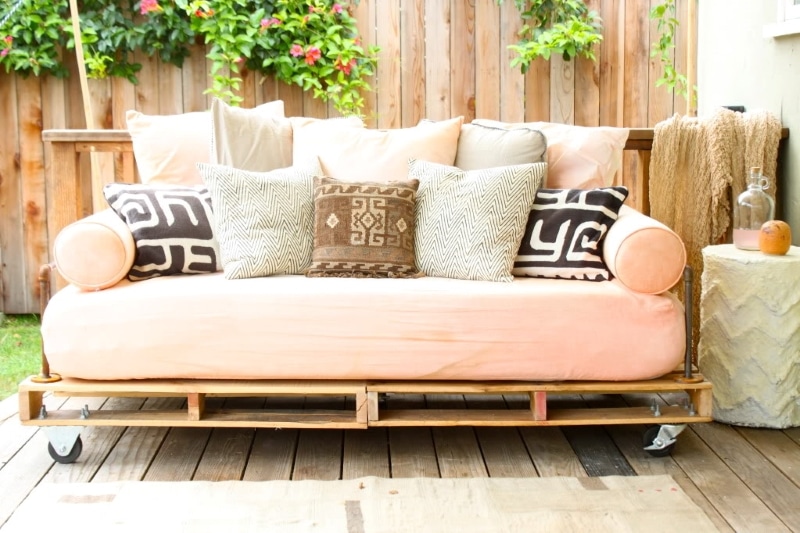 This pallet daybed with an industrial flare on Pretty Prudent is stylish and built to last. Better designed than some of the pallets plans out there, you'll reap big rewards for putting the extra effort in. And the best part? Even with the extra hardware, you're still getting a gorgeous piece of furniture for under $100.
The instructions are step by step and filled with tips and explanations. We think a beginner can confidently tackle these plans with a weekend and a few power tools!
Materials: Pallets, (5) 4" casters with swivel locks, (3) 3/4" x 3" bolts with nuts and washer, (20) 3/4″ x 2" bolts with nuts and washer, (4) 12" pipes, (2) 22" pipes, 4 flanges, 4 pipe corner pieces, Wood screws
Tools Needed: Paintbrush, Sander, Drill and bits, Pencil, Wrench
---
7.

Minimalist DIY Pallet Bed Plans from Elle Fit Active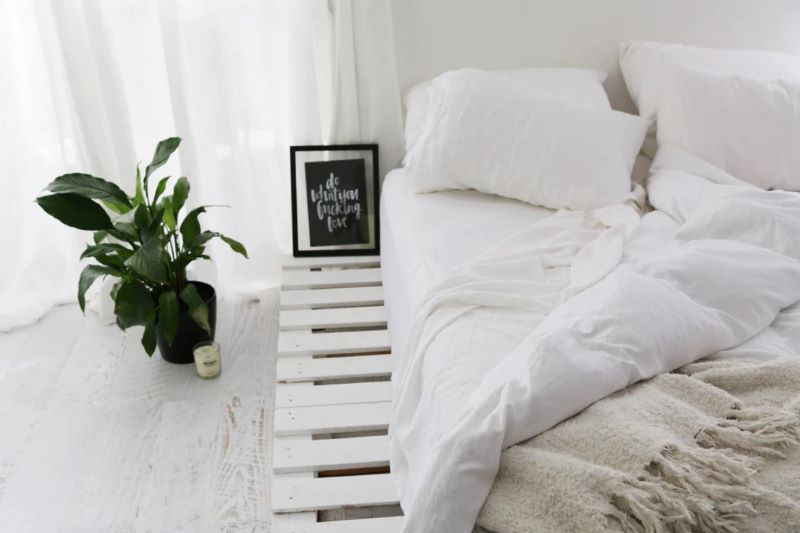 For a minimalist look, low cost bed frame check out these pallet bed plans from Elle Fit Active. Using recycled pallets, interior paint, and hand sanding you can easily create this look for your own bedroom for under $25!
There are no power tools or adhesives required for this build. The pallets are simply sanded down, painted, and placed on the floor. So simple, so chic, so what are you waiting for?
Materials: 4-8 pallets (depending on desired height), Sandpaper, Paint
Tools Needed: Paintbrush
---
8.

Lifted DIY Pallet Bed Plans from Santiago DIY
If you prefer your bed higher off the ground, but still want to save a ton of cash on your build, check out these lifted pallet bed plans from Santiago DIY. Because why spend hundreds of dollars for the same style of a platform bed, when you can build one yourself from pallets and scrap wood?
Though the directions are helpful and straightforward, they are obviously not written by a seasoned builder. Beginners should be extra careful before jumping in, and we recommend reading through and writing out your own game plan first.
Materials: Pallets, Wood screws, Paint, stain, or seal, 6 appropriately sized blocks for the legs
Tools Needed: Saw (if you want to cut the pallets smaller), Drill, Sander, Pencil
---
9.

Frame with Headboard Pallet Bed Plans from DIY Everywhere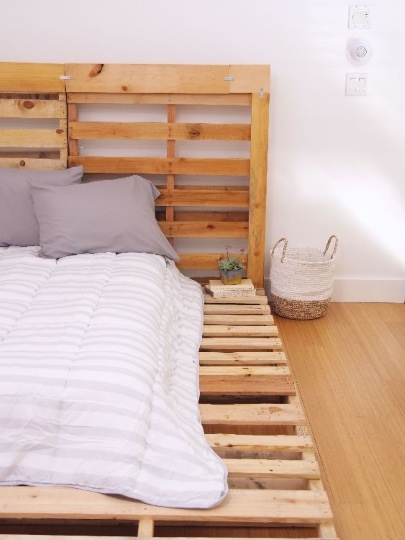 For a pallet bed design including a headboard, check out these plans from DIY Everywhere. Though this build is for laying directly on the floor, the builder details exactly how to secure it so you won't have any trouble. Inexpensive, sturdy, and easy on the eyes – now that's a win-win-win.
Even beginners with just a drill and clamps (or a helping hand!) will find these plans easy to follow. DIY Everywhere breaks it down so that anyone will be able to afford this pallet frame.
Materials: 6 pallets, Screws, Boards, Rectangular plate washer, Shellac
Tools Needed: Sander, Drill, Clamps, Paintbrush
---
10.

Hanging DIY Pallet Bed Plans
Those looking for a unique, bohemian style pallet bed will love these hanging bed plans from the Merry Thought. The coolest part is that, depending on the desired size, you may only need a pallet and some rope to achieve this awesome design!
The Merry Thought shows you step by step how to build a twin sized, hanging pallet bed with as little hassle as possible. Strong and simple, with access to a woodshop even beginners will be able to navigate this project with ease.
Materials: Pallets, 2×4 lumber, Screws, Durable rope, Twin mattress or cushion, Weather resistant mattress cover (optional)
Tools Needed: Drill, Measuring tape, Saw

Final Thoughts
Learning how to build a pallet bed is easier than you think, cheap, and fun! Hanging from a tree? Check. Headboard or fancy lighting? No problem. On wheels? So many to choose from! We hope that all these awesome plans have inspired and informed you to go out and build your very own.
If you feel like taking it a step further, you can find inspiration from these custom kids' furniture.
Happy building!
Related Reads: