Dremel 4000 Rotary Tool Kit Review 2023 – Pros, Cons, & Verdict
We give the Dremel 4000 Rotary Tool Kit a rating of 4.5 out of 5 stars. 
Build Quality: 4.5/5
Power: 4.7/5
Features: 4.6/5
Price: 4.3/5
Review Summary
The Dremel 4000 is a rotary tool (aka multi tool) with a driver motor that accepts a wide range of heads, changing its function from sander to grinder. It can saw rusted screw heads, clean up woodwork projects, and it can polish and clean metal workpieces. As a multifunctional tool, it is beneficial for any toolbox or workshop. It is lightweight so it can be used for jobs all around the house, in the shed, the attic, and even out in the car, but the Dremel 4000 is a corded multi-tool, which will restrict your movement to rooms with wall sockets and areas with generators.
Its flexibility and wide range of use is the Dremel 4000's biggest selling point. It uses a chuckless, twist grip design for changing the rotary head, and the standard kit includes more than 30 heads and 2 different attachments, with more available from Dremel, who invented the rotary tool through the introduction of the Moto-Tool in the 1930s. Nearly 100 years later, the tool has undergone some considerable changes and improvements, but the basic principle remains.

Dremel 4000 – A Quick Look
Pros
Maximum speed of 35,000 RPM
Includes carry case and 30 attachments
Compatible with Dremel and other brand accessories
Reasonable price compared to competitors
Cons
Corded
Less powerful than other corded models
Plastic housing could be tougher
Specifications
Specifications
Manufacturer: Bosch
Model: Dremel 4000
Weight: 1.5 lbs
Length: 7.8"
Power Source: Corded
Cord Length: 6ft
Voltage: 230 Volts
Wattage: 175 Watts
Min Speed: 5,000 RPM
Max Speed: 35,000 RPM
Accessory Change System: EZ Twist
Accessories: 45+
EZ Twist Attachments
Depending on the kit that you buy, the Dremel comes with between 30 and 130 attachments and accessories. These range from screwdriver heads to grinders and sanders, and it is these accessories that make the Dremel investment such good value. You can effectively dispense with a lot of the hand tools that you might have laying around.
However, the accessories with a tool like this are only as good as the method that you have to use to change them. If you need proprietary chucks, that are notoriously easy to lose and difficult to use, they become more trouble than they're worth. The Dremel 4000 uses the EZ Twist chuckless system. It is easy to operate and it means that you can use any Dremel attachment, as well as attachments from some other manufacturers.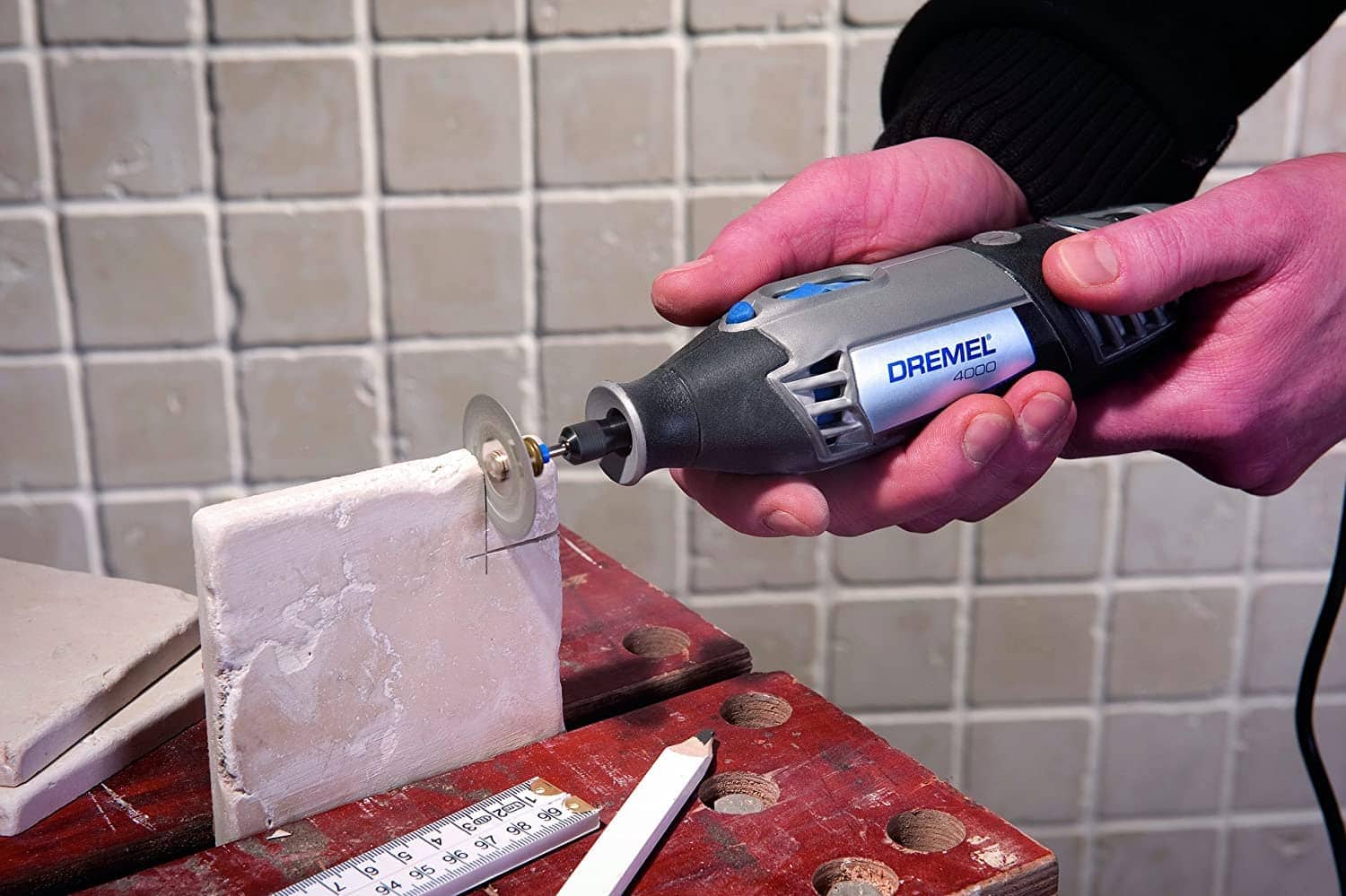 Corded For Power
The Dremel 4000 can be used to take on a range of challenging tasks around the house, the car, the workshop, and virtually anywhere else. To do this, it uses a 175-watt motor that uses electronic feedback to increase and decrease power to match the force required for performing any particular task. It offers an operating speed between 5,000 and 35,000 RPM. While some multi-tools do offer higher speeds, it is rare that you meet, let alone exceed, 35,000 RPM.
2 Year Limited Warranty
For personal use, the Dremel 4000 includes a 2-year limited warranty. Professional and commercial users get a 12-month warranty. The warranty is limited but it is active for the tool itself. The warranty does not cover parts like grinding stones, which naturally wear during use.
Lightweight, But Not Really Portable
The Dremel 4000 has a 360° grip, a rubberized handle, and it weighs less than 2 lbs. It can be easily and comfortably used all day long and for a variety of purposes. Its range of functions means that it is an extremely useful tool for indoor and outdoor use, as well as for use in sheds, outhouses, cars, and on worksites.
It is lightweight and convenient. However, it is also corded.
The cord is 6ft long and can obviously be extended with an extension cord, but this means that its use is limited to areas with access to mains sockets or generators. Cordless models of similar devices are available, if you need more mobility and portability.

FAQ
What do model numbers 4/34 and 6/50 mean?
The numbers that appear after the Dremel model number represent the number of accessories and attachments that come with that particular kit. In this case, "4/34" means that it comes with 4 attachments and 34 accessories. 6/50 means that it includes 6 attachments and 50 accessories. Different accessories require a different attachment, so different screwdriver bits work via the screwdriver attachment.
Does the Dremel come with a case?
Dremel is well known for offering its products as part of a kit, because the tool itself is of little use without the host of accessories it offers. Chief among these accessories is a carry or storage case. Depending on the size of kit you buy, this might include a nylon carry case or a hard storage case. There are also models of the Dremel 4000 available that does not include a case.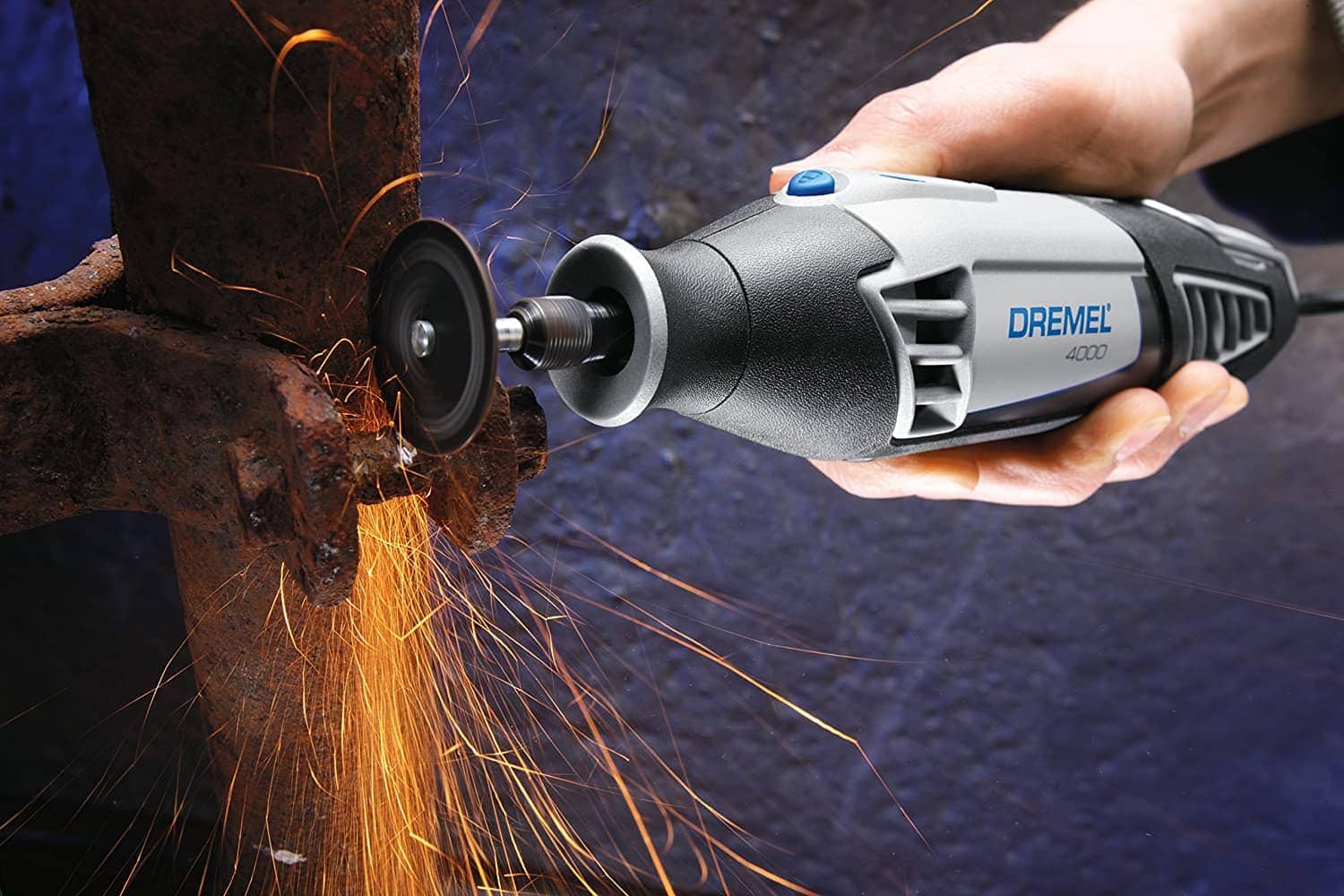 Will all the accessories fit in the included case?
The case that comes with the kit will fit all of the included accessories and attachments, but it will not usually have room for additional storage so you may not be able to include any extra attachments that you buy.
Can you drill with a Dremel?
The Dremel isn't really a drill. It is a rotary tool, typically used for sanding and cleaning, with a little grinding thrown in. However, it can be used to drill small holes. The tool is limited by the small size of the chuck. Some kits include wood and cement drill bits, and you can buy additional accessories like diamond drill bits that are designed for use on glass.
What is the difference between a Dremel 3000 and 4000?
The Dremel 3000 and 4000 look similar and are used for the same tasks, but their price tags are very different and there are some key differences that will determine which is best for you. For a start, while the 4000 has a 1.6A motor that runs at a maximum speed of 35,000 RPM, the 3000 is 1.2A and has a maximum speed of 32,000 RPM. Also, the 3000 only comes with one or two attachments and up to 28 accessories. The 4000 comes with up to 6 attachments and more than 100 accessories.
What the Users Say
The Dremel 4000 has a strong reputation and is loved by most owners. In particular, buyers praise its vast range of accessories that make it highly functional and multi-purpose. It gets a lot of positive reviews for its grinding capabilities and has been described as being an essential tool for crafters, DIYers, and professionals.
However, a small number of people have said that their Dremel did not last longer than a few months, while others have said that there are similar tools available for less money and that perform better.

Conclusion
The Dremel 4000 is a direct descendant of the original rotary cutting tool, and it shows. Not only does the manufacturer have a good reputation, and not only does the tool come with a vast array of tools, but it is powerful and efficient, especially thanks to its electronic feedback motor. Whether you're a keen amateur or a professional, and whether you need a tool for polishing wood or grinding small pieces of metal, the Dremel is competitively priced and an effective tool for your purposes.
This tool compared against other Dremel models