How To Clean Pet Urine from Vinyl Plank Flooring: 4 Practical Steps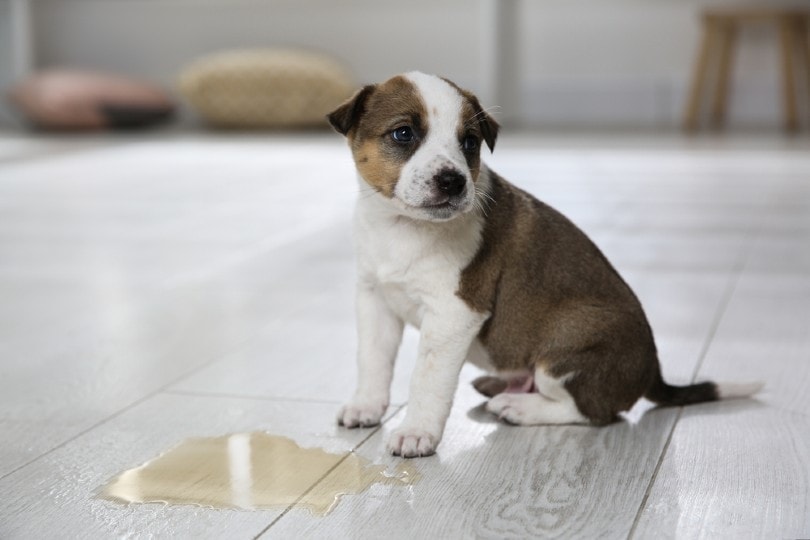 Vinyl plank flooring has always been the top pick regarding flooring materials specifically designed for the kitchen and bathroom. Its popularity has been growing over the years because it has the ability to mimic wood plank flooring better than plastic laminate materials. In addition, it comes in different shades, is resistant to moisture, and is easy to install and maintain.
It's true when they say that the chemicals in pet urine are too weak to cause substantial damage to this type of flooring—especially given its high abrasion resistance. However, if that urine is left on the floor for an extended period, it could easily leave a permanent mark or a lingering smell.
Read on below to find out how to clean pet urine from vinyl plank flooring.
Cleaning Materials
Gloves
Paper towel
Rag
Brush
Vinegar
Baking soda
Abrasive sponge
Alcoholic solution
Enzyme cleaner
If you ask us, an enzymatic cleaner is the most important item on this list. Anyone who owns a pet should have this type of cleaner, as it's safe, incredibly effective at getting the job done, and environmentally friendly.
The Step-by-Step Guide for Cleaning Pet Urine from Vinyl Flooring
1.

Remove Anything That's Close by
We don't want to inadvertently get urine or cleaner on anything that's not supposed to be cleaned. So put away your kid's toys, and then create enough space by pushing away furniture that might make the area feel cramped.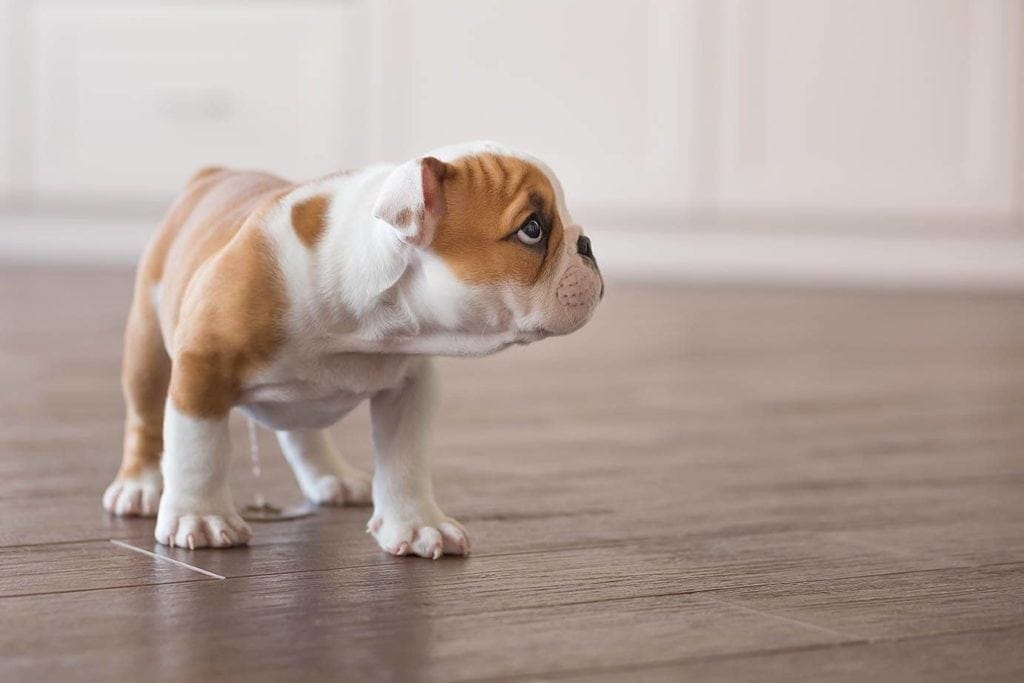 ---
2.

Blot up the Urine
You should put on your rubber gloves at this point because, like we said before, urine is a waste chemical that you don't want on your hands. Now, get the paper towel and press it softly on the urine. You'll need to get more than enough paper towels to ensure there's nothing left on the floor.
---
3.

Apply Enzyme Cleaner
This is where our solution comes in. You are supposed to apply it directly onto and around the urine. We want you to be thorough and be sure that no affected area is left untreated, so apply enough of it and then allow it to settle for a couple of minutes. Give it 10 to 15 minutes.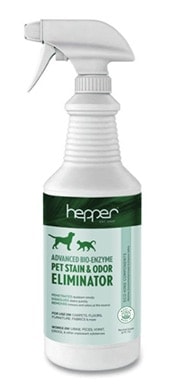 Are you looking for an enzyme cleaner that can keep your house clean and your pet happy? We recommend the Hepper Advanced Bio-Enzyme Pet Stain & Odor Eliminator Spray, which permanently gets rid of the most stubborn stains and smells. There's even a 100% satisfaction guarantee so you can try this cleaner risk-free! Click here to order your first bottle.
At House Grail, we've admired Hepper for many years, and decided to take a controlling ownership interest so that we could benefit from the outstanding products of this cool cat company!
---
4.

Soak up All of the Solution
Reach for the paper towel once more and blot the cleaner from the surface. If you need to use a rag right after, please do. Just make sure the towel soaks up all the solution first.

How To Deal with a Stained Vinyl Plank Floor
First, it's not easy for a vinyl plank floor to stain. From our experience, the material is highly resistant to several common stains. But you know what they say—never say never. If you've noticed there's a stain left behind, this is what you can do:
1.

Prepare an Effective Homemade Cleaning Solution
For this type of solution, you'll need about half a cup of vinegar, a gallon or so of lukewarm water, and a dishwashing detergent of your choice. It doesn't have to be a specific brand.
Pour them all into a bucket and start mixing. Try and make sure no suds are produced in the process.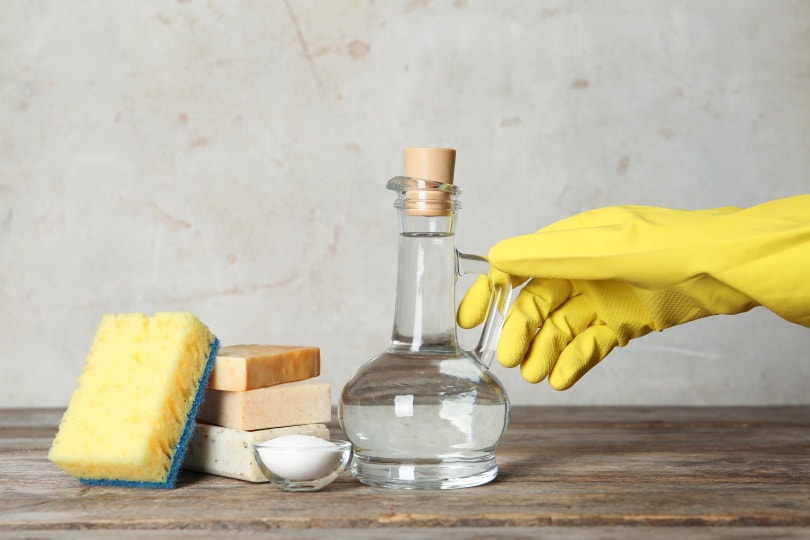 ---
2.

Scrubbing the Stain
When the mixture is ready, dip your brush or abrasive pad into it, and start scrubbing. Do that for 5 to 10 minutes, and then rinse with clean warm water. If you notice some stain left, dip the brush into the solution one more time, and repeat the process.
What if the Stain Doesn't Go Away?
Well, then you'll have to bring out the big gun—hydrogen peroxide. Soak your paper towels in hydrogen peroxide and place them on the affected area. Don't pour the peroxide solution directly on the floor because it might spread and make a mess.
Let it settle for 30 to 45 minutes, and wipe the spot using clean paper towels.
---
3.

Make a Baking Soda Paste
After you're done, make a paste by mixing equal amounts of baking soda and water. Apply the paste to your affected surface and allow it to sit for 20 to 30 minutes. The paste will remove any stubborn stains left as it dries.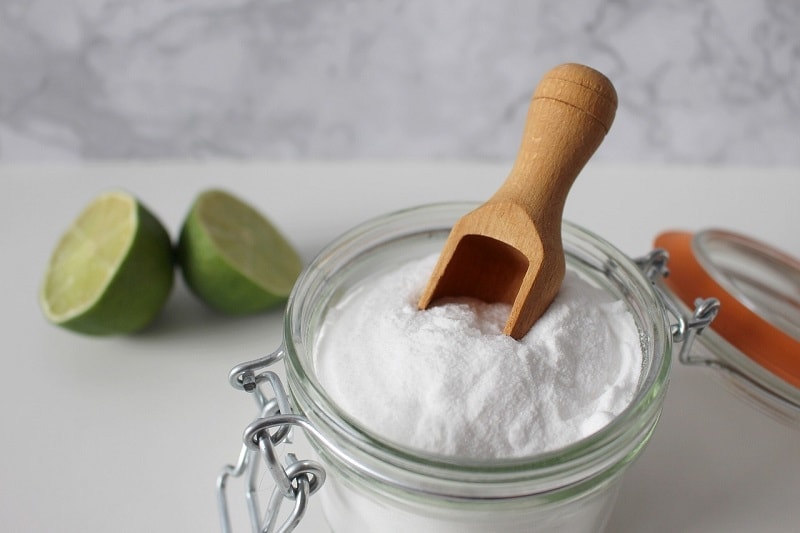 ---
4.

Scrub and Wipe the Floor
The final step is to scrub off the dry paste and then wipe the floor with clean paper towels soaked in alcohol. The alcohol acts as a disinfectant.

Frequently Asked Questions
Is Vinegar Appropriate for Vinyl Flooring?
Even though it's highly acidic, you can always count on vinegar to deliver without damaging your floors. In fact, we've always relied on it when cleaning and disinfecting surfaces such as ceramic sinks, laminated countertops, and of course, vinyl floors.
Nonetheless, we would advise you against using it while cleaning surfaces made of stone, those that have unsealed grout, and no-wax floors. Also, stick to white vinegar if you have the option. The other types might leave a little bit of residue behind.
Is Pet Urine Bad for Vinyl Flooring?
Pet owners are always encouraged to go for vinyl flooring because the material is known to be scratch and stain-resistant. So even if your pet ends up peeing on the floor, the probability of the floor getting damaged or stained is almost zero.
What Is the Best Cleaning Solution for Vinyl Flooring?
If we had to pick one, we would go with apple cider vinegar. Its acidity is strong enough to remove any stain on the floor and disinfect it but not too strong to damage it. In addition, it never leaves build-up behind once you're done cleaning.
Conclusion
We hope this information has been helpful to anyone who owns a pet and lives in a home with vinyl plank flooring. With the right care and maintenance, that floor will serve you for years! Feel free to reach out should you have any questions or wish to contribute something we missed. Otherwise, until next time!
---
Featured Image Credit: New Africa, Shutterstock