Dremel 200 Series Rotary Tool Review 2023 – Pros, Cons, & Verdict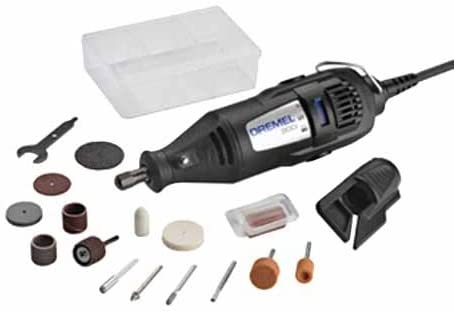 We give the Dremel 200 Series Rotary Tool a rating of 4.6 out of 5 stars. 
Build Quality: 4.8/5
Power: 4.3/5
Features: 4.8/5
Price: 4.5/5
Review Summary
There are many different Dremel rotary tools available. The lineup has been growing, but one of the main staples in the Dremel brand is the 200 Series rotary tool. This tool is a great choice for anyone who needs a rotary tool; beginners and experienced users alike.
This tool features two speeds. Low speed operates at 15,000 revolutions per minute (RPM); great for polishing and grinding. High speed is 35,000 RPM; perfect for drilling holes and sanding. The whole tool is compact enough to fit in your palm and weighs just 18 ounces, making it easy to use and maneuver.
To get you started, an accessory kit is included with a range of various bits, wheels, and stones for performing a variety of different tasks with your rotary tool. Even with all of this, it's an affordably-priced device that we recommend to anyone needing a rotary tool.
Dremel 200 Series – A Quick Look
Pros
2 speeds for different needs
Includes many accessories to get you started
Replaceable motor brushes for improved longevity
Cons
Not enough power for sanding and wood cutting
Specifications
Specifications
Brand Name: Dremel
Model: Series 200
Speeds: 2
RPM: 15,000 and 35,000
Amps: 0.9
Watts: 125
Weight: 18 ounces
Two Speeds to Choose Between
Many base models of Dremel rotary tools are single-speed devices. They simply have an on/off switch to power the machine on. When on, it's always turning at the same speed. While these are still great tools, they are a bit limited in the tasks they can perform.
The Series 200 Dremel takes this into account and offers an easy solution. This Dremel has 2 speeds, allowing it to be used for a wide variety of tasks. At low speed, this Dremel spins at 15,000 RPM. On high, it spins at 35,000 RPM.
Low speed is perfect for tasks where you don't want to cause damage or take off too much material such as polishing, cleaning, and even grinding down your dog's nails.
High speed is great for tasks that need some more power and speed behind them, such as drilling holes and grinding.
Lots of Accessories Included
One great thing about the Series 200 Dremel kit is that it comes with quite a few attachments, expanding the capabilities of your Dremel device. You'll get bits, stones, and other attachments for carving, cutting, engraving, sharpening, grinding, sanding, cleaning, polishing, and more. From drill bits to polishing stones, pretty much everything you need to get started with a wide range of Dremel activities is included.
Extreme Versatility
As we've mentioned, this tool comes with a variety of different bits and attachments and offers 2-speed functionality. Put all this together and the result is a seriously diverse tool. You can use this Dremel to perform so many different tasks that you might find yourself asking if other tools are necessary.
Some Jobs Require More Power
The Dremel Series 200 is a compact device that uses just 0.9 amps. While it's a very capable tool that's useful for a variety of jobs, it's not all-powerful. If you want to perform heavy-duty jobs like serious sanding or woodcutting, then you might prefer a more powerful Dremel like the 4300. This Dremel can perform those tasks, but it's more likely to bog down when pushed than a more powerful model with a higher amperage motor.

FAQ
What differences separate the Dremel Series 200 and Series 100?
These are very similar tools. The difference between them is that the Series 200 tool offers 2 speeds while the Series 100 is a 1-speed tool.
Is the Dremel Series 200 compatible with all Dremel accessories?
This rotary tool is compatible with all Dremel high-speed rotary tool accessories.
On the Dremel Series 200, the power button is on the tool itself.
What the Users Say
We've performed a lot of research and testing to ensure that we're providing you with accurate information about the Dremel Series 200. After lots of hands-on use, we've developed our own opinions about this device and its performance. But we're not the only people who have thoughts regarding this machine. We decided to search far and wide, across the internet, looking for reviews and opinions from people who've been using this machine. This is what they had to say:
Many people were pleased with the differences between the speeds. Some used the low speed for such tasks as grinding their dogs' nails, polishing jewelry, and other similar tasks. The high speed was often used for drilling, cutting through metal, and carving. However, some users reported that the low speed was too slow and the high speed too fast, preferring a middle option that doesn't exist.
Beginners were enthused with all of the included bits and accessories. They often expressed positive feelings about having so many options and the ability to use their new tool in a wide range of situations right off the bat. But some people were purchasing this Dremel to replace older models and felt that the included accessories were a waste of money since they didn't need them.
Most people who used this Dremel seemed to think it was compact, lightweight, and easy to use. There were even teenagers and some children who had great success using this tool, showing how easy it truly is to work with.

Conclusion
The Dremel Series 200 is a do-it-all device that even comes equipped with many of the attachments you need to perform a wide range of tasks. It's not as powerful as a grinder or a drill, but what it lacks in power, this little tool makes up for in versatility. You can use it to do so many things that it's hard to really place a value on it. This is many tools in one, and if you're in the market for a rotary tool, we don't think you can go wrong with this one.
Also worth reading:
Dremel 200 vs 3000 Rotary Tools: Which One's Best?
Corded vs cordless dremels? What to choose?
Dremel Ultra-Saw vs Rockwell VersaCut RK3441K: Which One's Best?