Earlex HV5500 Spray Station Paint Sprayer Review 2023 – Pros, Cons, & Verdict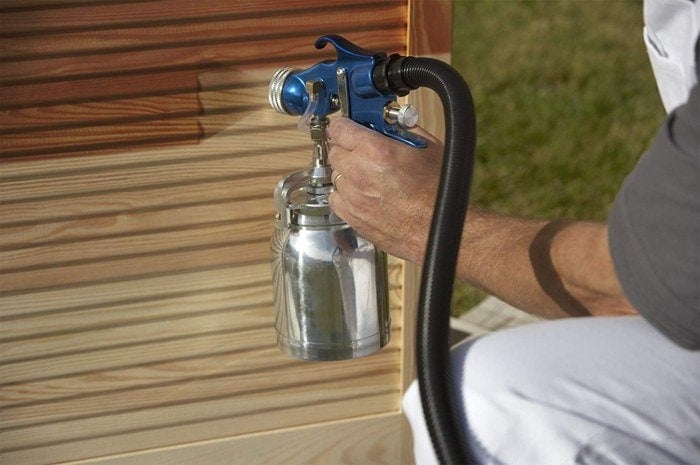 We give the Earlex HV5500 Spray Station a rating of 4 out of 5 stars. 
Build Quality: 3.5/5
Power: 4.5/5
Features: 4/5
Price: 4/5
Review Summary
Earlex is known for making mid-priced paint sprayers for the do-it-yourselfer that takes their work seriously. And they are known for doing it well.
The Earlex HV5500 certainly will not serve to dispute their reputation for quality.
The HV5500 features a refined mist that leaves little room for overspray, a feature that is crucial for the woodworker that wants to apply a highly calibrated stain or finish to their workpiece.
This unit features a thirteen-foot hose that is optimized for delivering a high-quality finish. Indeed, the quality of the work that this tool produces is agreed upon by the vast majority of people that use it.
However, this is not to say that the Earlex does not have its shortcomings. The biggest problems that we detected mostly regard the tool's design. The hoses and spray guns can sometimes have a tendency to pop out and disconnect, which can naturally be frustrating.
There is also the issue of noisiness. Unfortunately, paint sprayers have a reputation for being noisy in general. However, there are many manufacturers who are doing what they can to move away from that trend.
Earlex doesn't seem to be one of them. This sprayer is loud, which may be a challenge when working with it indoors.
Do the pros outweigh the cons? Read on to find out!
Our Earlex HV5500 Review – A Quick Look:
Pros
High Quality Finish
Onboard Storage
Multiple Spray Patterns
Generous Hose Length
Cons
Design flaws cause frustrating malfunctions
Noisy
Specifications
Company: Earlex

Model: HV5500

Weight: 12 pounds

Dimensions: 12 x 12 x 26 inches

Wattage: 650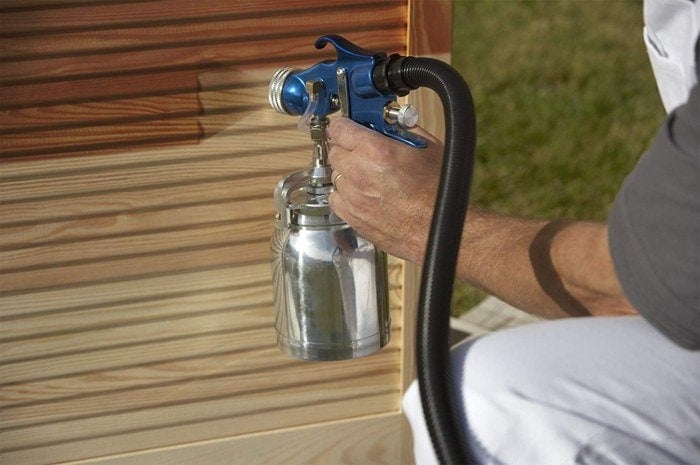 Onboard Storage: Good for People With Limited Space:
One of the nice things about the design of the Earlex HV5500 Spray Station, is that it makes transporting the tool pretty simple. The power cord and the hose tuck into the machine so that the sprayer won't waste any space in your garage.

Naturally, this probably is not a feature that would convince someone to buy the Earlex Hv5500 if they were not already into it, but regardless, it is still a handy feature to have. Who doesn't need more space for storage, right?
Thirteen Feet of Hose: Good for Most Projects:
Thirteen feet of hose may not sound like much at first, but it is actually quite generous given the main purpose of this sprayer.

This is an HLVP sprayer, which means that you probably are not going to be using it to paint your house or even an interior wall.

This is the type of system that you use to take on more up close and personal projects, like a piece of furniture. The thirteen feet is probably more than you will end up needing.

With this hose length, you won't have any trouble maneuvering around the workpiece so that you can cover it from every angle.
Refined Finish: Good for Everyone:
The biggest benefit of this sprayer is that it delivers a really good finish. This is attributable to several things. For one thing, the Earlex HV5500 Spray Station produces virtually no overspray—a feature that is necessary for achieving refined results on workpieces like furniture.

The sprayer also features a three-click spray pattern system that allows you to seamlessly convert your spray pattern from vertical to horizontal, to rounded.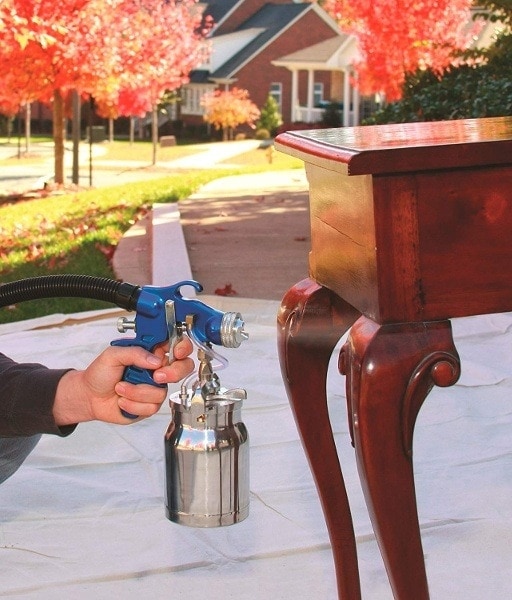 FAQ
Can this sprayer be used to paint the exterior of a house?

This sprayer has been optimized for delivering nuanced results on pieces of furniture, or other smaller workpieces. If you want to do bigger projects, you will be better served with a sprayer that utilizes higher pressure.

Is this sprayer durable?

While most sprayers are not designed to endure traumatic stress, they are occasionally exposed to wear and tear. This unit is going to be more than capable of handling normal jobsite bumps and bruises. However, as is the case with all sprayers, you don't want to be too rough with it.

What kind of warranty do you get with this product?

The Earlex HV5500 Spray-Station comes with a limited two-year warranty.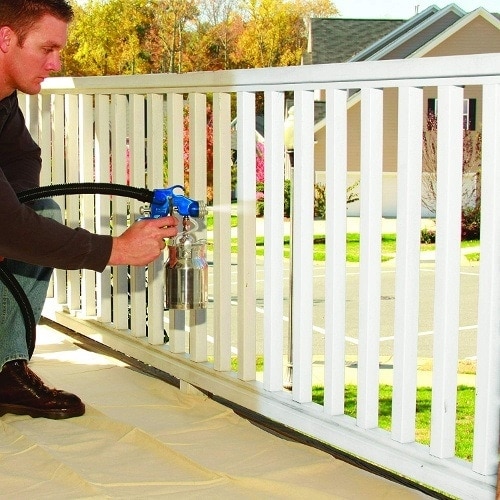 What the Users Say:
User reception to the Earlex HV5500 is a little bit mixed. Never great to hear, right? But the redeeming virtue to this lukewarm reception is that virtually everyone can agree on one key point: it performs really well.

Virtually everyone that we have heard from that uses the Earlex HV5500 really appreciate the refined finish that they get from it.

We hear particularly robust praise for the sprayer's ability to completely eliminate the risk of overspray.

So, what is the problem? The issue mostly seems to be the design interface. Most people are not completely dissatisfied with the design. We do see some appreciation for the onboard storage system, for example.

However, we have heard from some users that say that the hose or the spray gun is prone to popping off the system. We even heard from one user that said that the seal on the spray gun is defective, which leads to leaked paint.

Granted, that particular complaint was most likely specific to a manufacturer's flaw in that specific sprayer.

Still, the fact remains that there have been consistent expressions of dissatisfaction with how the tool is designed.

You will have to decide for yourself if a high-quality paint job is worth the stress of a subpar design interface.

Other popular paint sprayers we've reviewed in our blog:

– A review of the Fuji Mini-Mite 4

– A comparison between the Graco Magnum X5 and the X7
Conclusion
It seems safe to say that the Earlex Spray Station HV5500 is not a perfect sprayer. The noisiness factor and the frustrating interface, unfortunately, serve to set it back a little bit. However, there is still a lot to like.

For one thing, the price would be hard to beat for a sprayer of the Earlex HV5500's class.

Most importantly though, it produces a high-quality finish. If you are looking for a sprayer that produces good results, you have found it in the Earlex HV5500.

You might also be interested in: 10 Best Paint Sprayers – Reviews & Top Picks