31 Essential HVAC Tools List: Different Types & Their Uses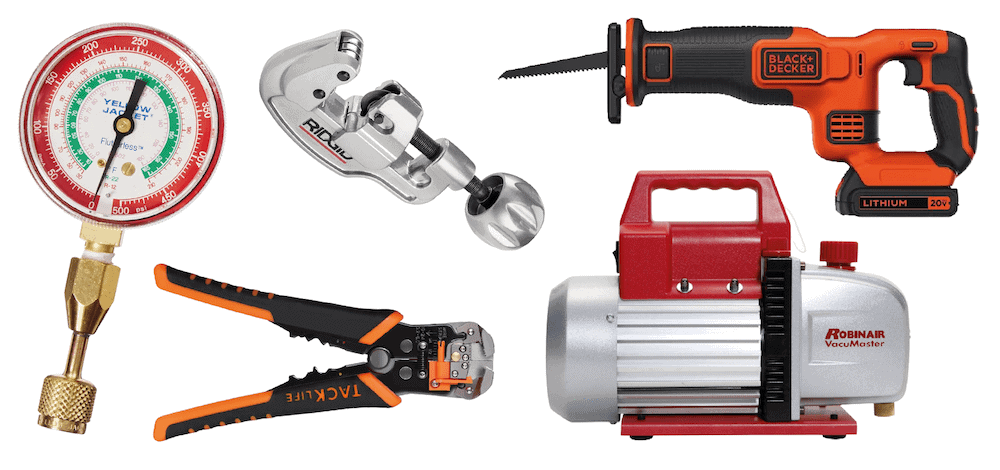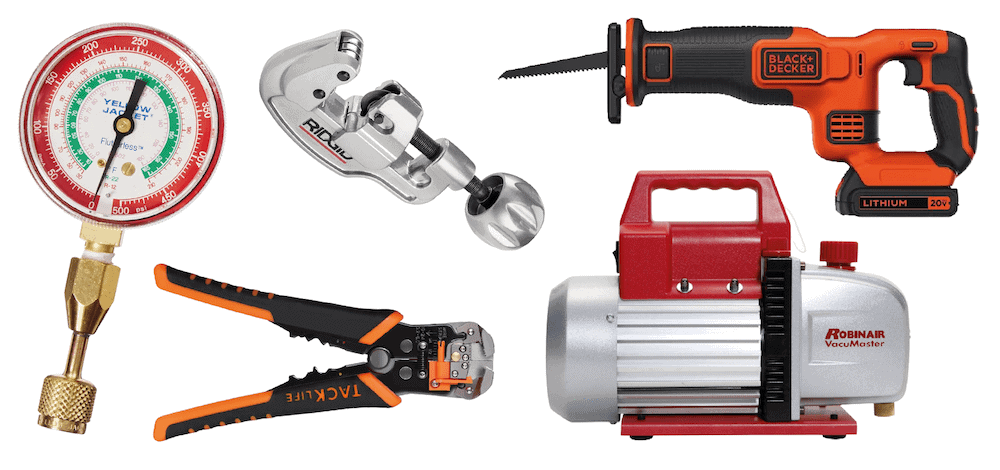 HVAC technicians need a variety of tools to get the job done. Whether you have been a technician for many years or are just starting, make sure you are prepared for any task by having the essential tools in your kit.
To help you out, we have taken the liberty to create a comprehensive list of the 31 most important HVAC work tools. Let's get to it.

Tools Specifically for HVAC
HVAC technicians need tools that other trades simply don't need. These tools are more targeted to HVAC work's needs, meaning you absolutely need these tools to be an HVAC technician.
1.

Multimeter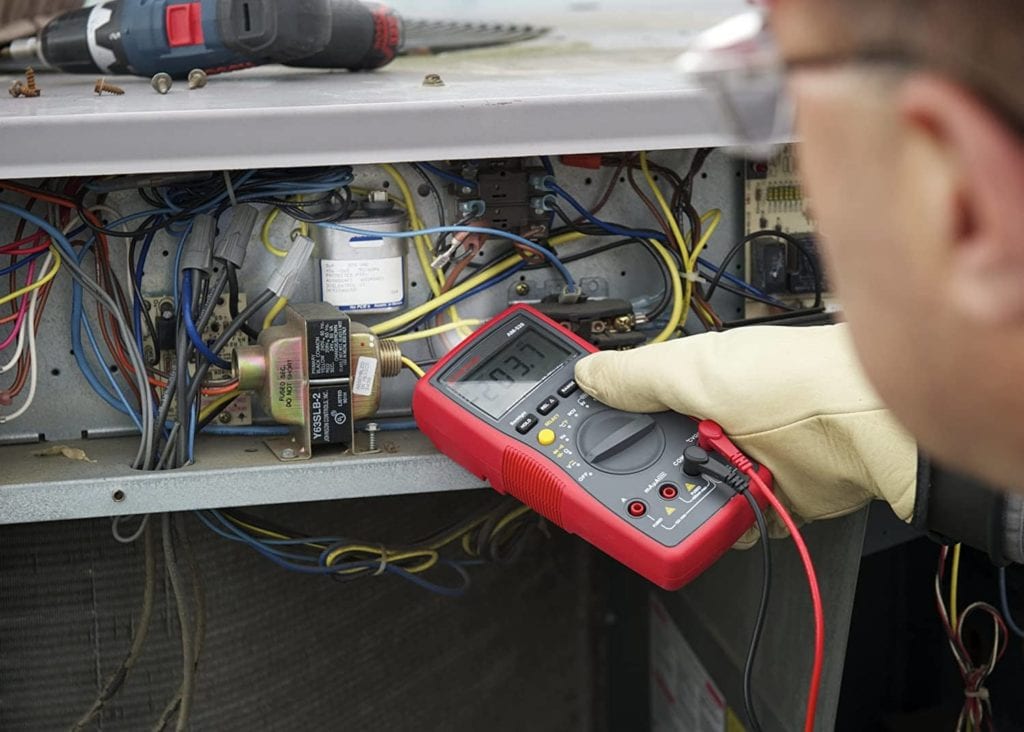 Every HVAC professional needs a multimeter in their kit. This handy device will help you see live currents in a wire, power switch, or outlet. This prevents you from getting electrocuted while working.
---
2.

Thermometer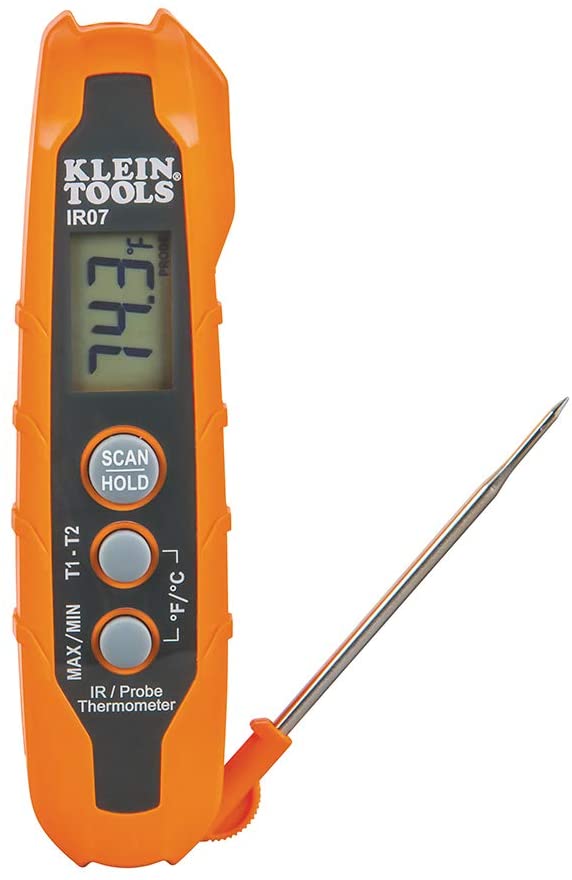 Technicians need to check the temperature on HVAC units. Use a thermometer to get an accurate reading. If the reading is too high, add refrigerant to the HVAC unit.
---
3.

Vacuum Pump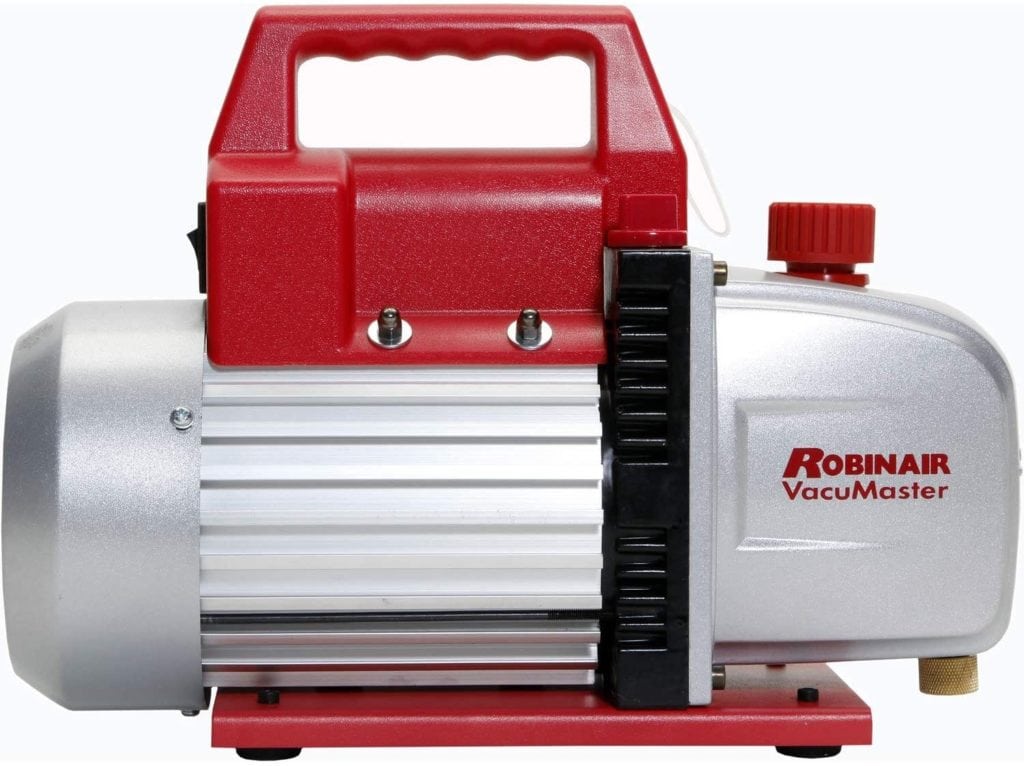 Vacuum pumps are a must for HVAC technicians. Use this tool to remove moisture from any system that you are working on. You will need to use this more often than you would think.
---
4.

HVAC Software
Not all HVAC tools are tools that you physically hold in your hand. Invest in HVAC software to automate your business. This improves your efficiency and communications for online scheduling, dispatching, estimating, and invoicing. Even if you aren't tech-savvy, HVAC software will be a life-changer for your business.
Consult a HEATING & COOLING expert
Find a HVAC, AC and duct specialist in your area, and get free, no-commitment estimates for your project.



Metal Bending Tools
HVAC technicians work with metal a lot. You need to have the proper metal bending tools to create systems that are seamless and attractive.
5.

Hand Seamer (Tongs)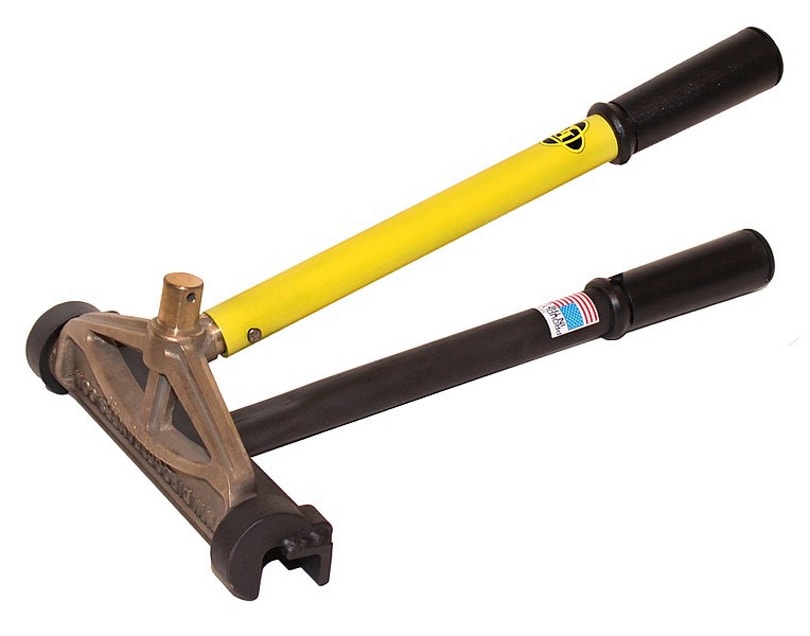 Use a hand seamer to create clean and accurate bends in your HVAC systems. Though these tools look like a pair of pliers, they are used for bending sheet metal. You can easily tell a hand seamer from a plier because of the long flat edges they have on the head.
---
6.

Folding Bar (Drive Bar)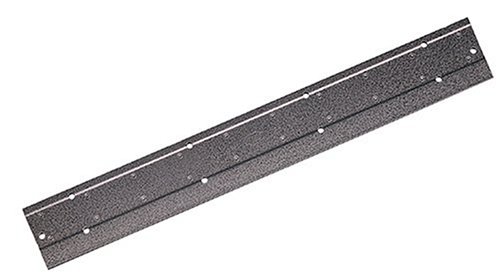 Folding bars allow you to bend sheet metal to a desirable angle. This enables you to keep a straight seam at equal depths for the entire length of the bend.
One end of the folding bar will have slots that are one inch from the edge, and the other side will have slots that are ½ from the edge. Insert the sheet metal onto whichever side you need.

Gauges
Gauges help you measure different levels and pressure of things. HVAC technicians need a variety of gauges to satisfy all of their work.
7.

Manifold Gauges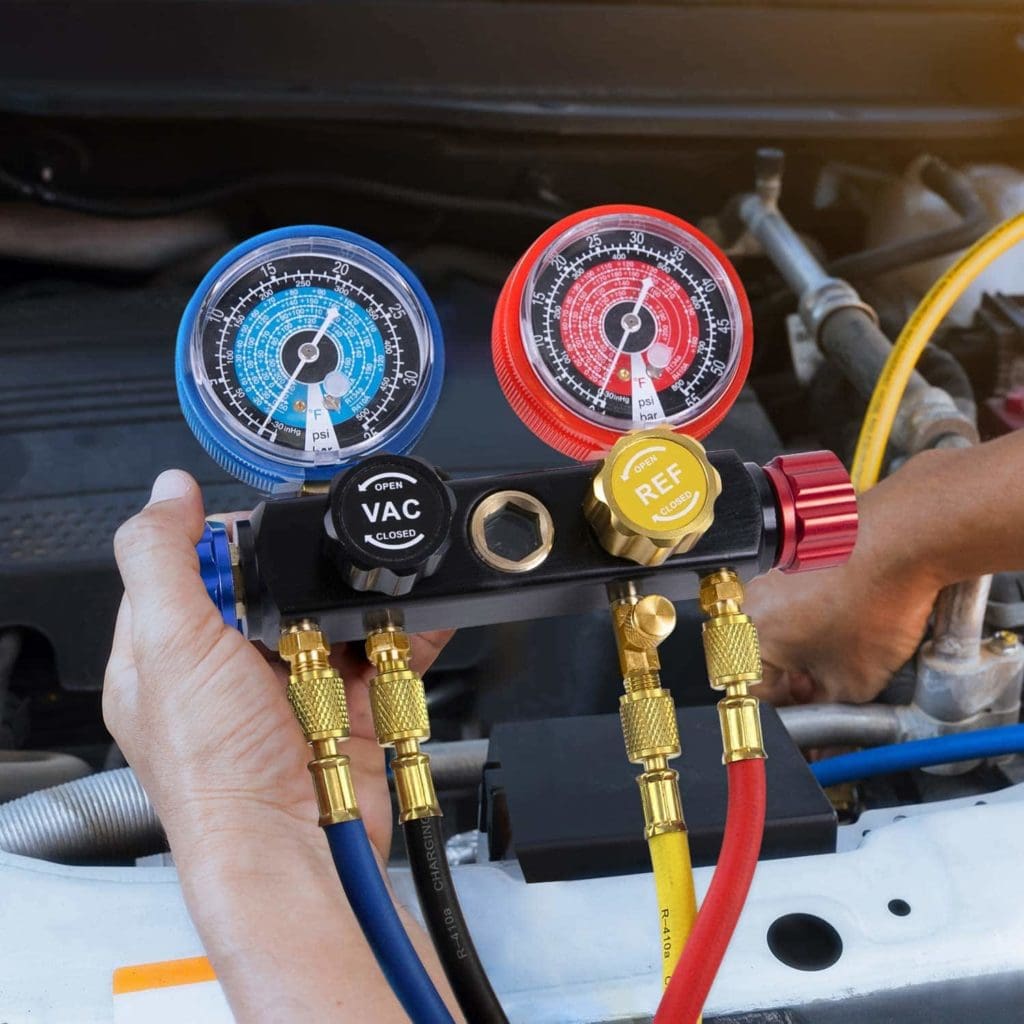 Easily one of the most essential tools for an HVAC technician is a manifold gauge. These gauges help you find leaks in an airline. They also remove refrigerant from an HVAC unit or charging air conditioner units. This, along with the multimeter, is one of the most important tools for an HVAC technician.
---
8.

Refrigeration Gauges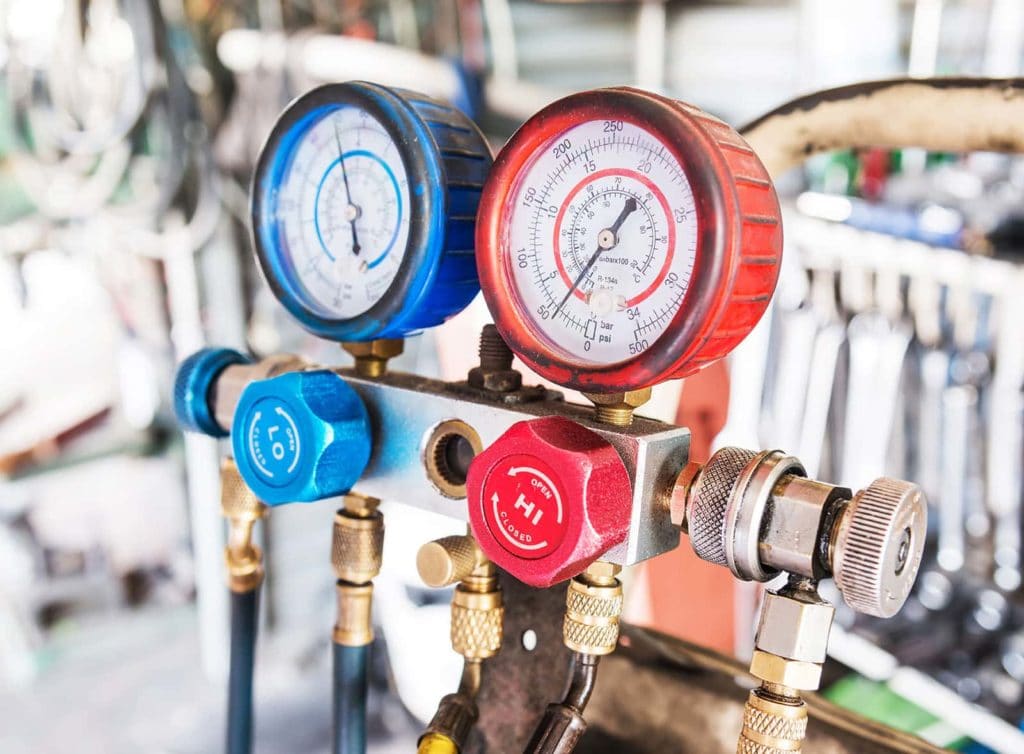 If you work in HVAC, you probably know that you will be dealing with a lot of refrigerants. Easily measure refrigerant levels using a refrigeration gauge. Refrigeration gauges come with the manifold, but hoses are sold separately.
---
9.

Refrigeration Gauge Hoses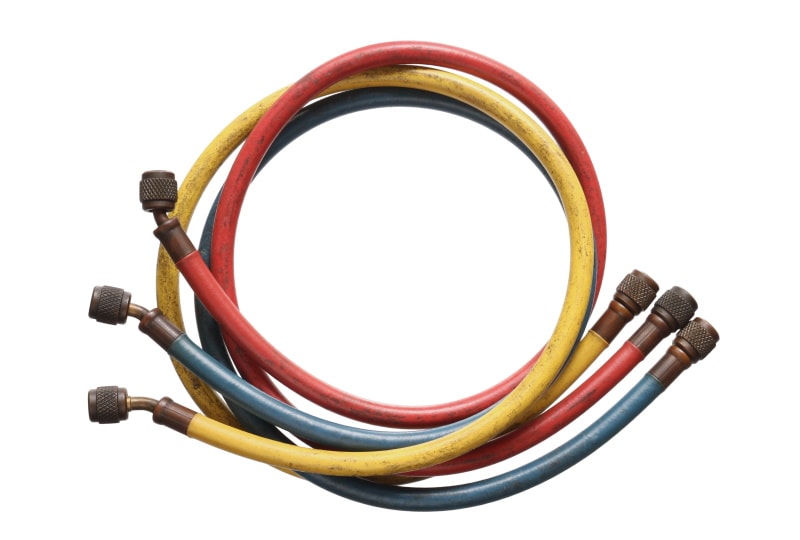 Ensure that no refrigerant leaks outside of the unit by purchasing refrigeration gauge hoses with quick release fittings and de minimis fittings. These fittings reduce the amount of refrigerant that may leak outside of the unit.

Cutting and Stripping Tools
Whenever you work on HVAC units, you have to work with wires and rewire different systems. As a result, you need a variety of cutting and stripping tools that can cut through different materials, such as metal sheets and wires.
10.

  Crimpers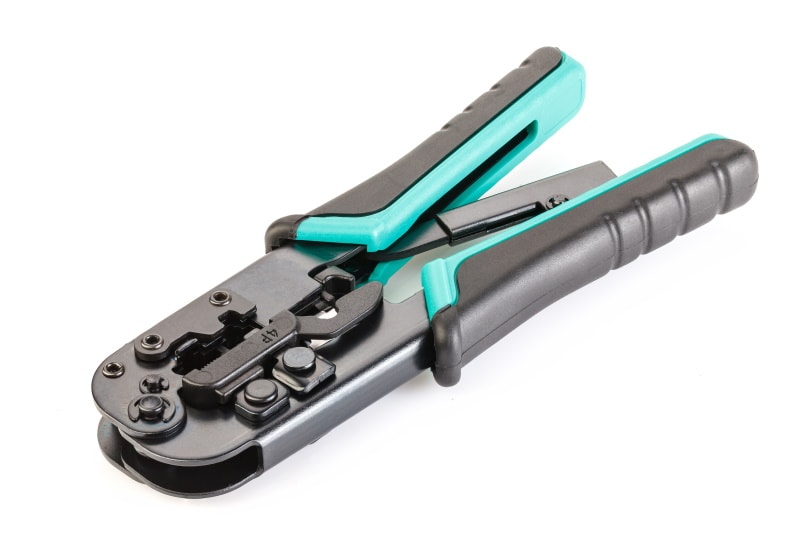 As an HVAC technician, you come in contact with a lot of open pipes. Use a crimper to close the open end of a rounded pipe. The teeth on the crimper are what allow for the open end to be closed. You will then insert the newly closed end into the open end of a separate pipe to put them together.
---
11.

  Tubing Cutters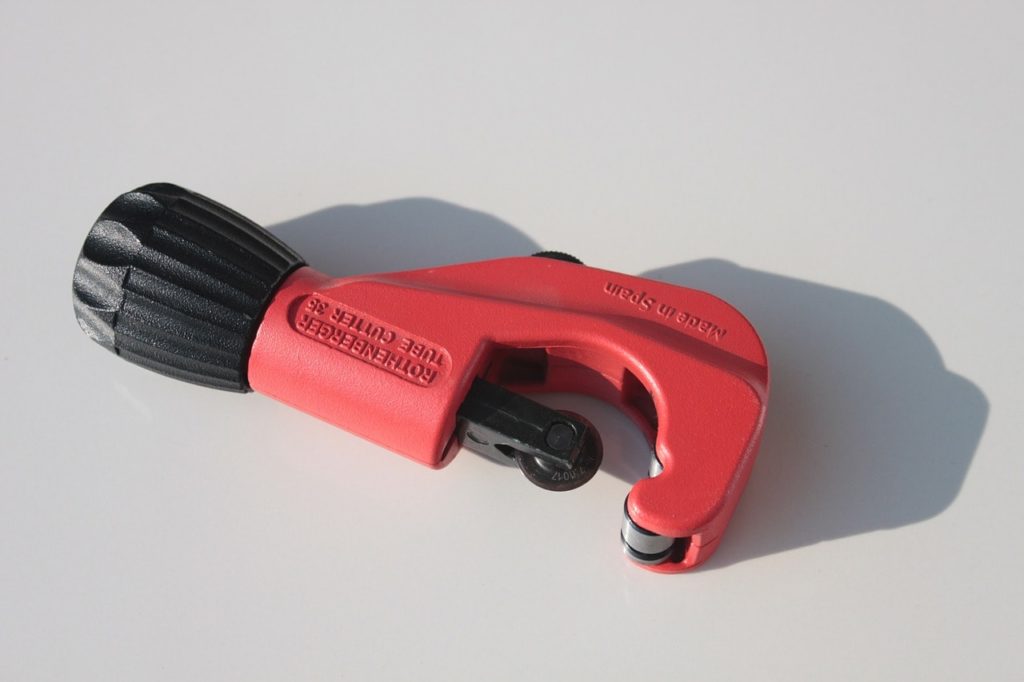 Air conditioning systems use copper tubing. Tubing cutters are specifically designed so you can cut this tubing efficiently. How you use this tool is by clamping a cutting wheel around the tube and spinning it until you cut it completely. Expect to tighten the clamp as you rotate the tube.
---
12.

  Metal Shears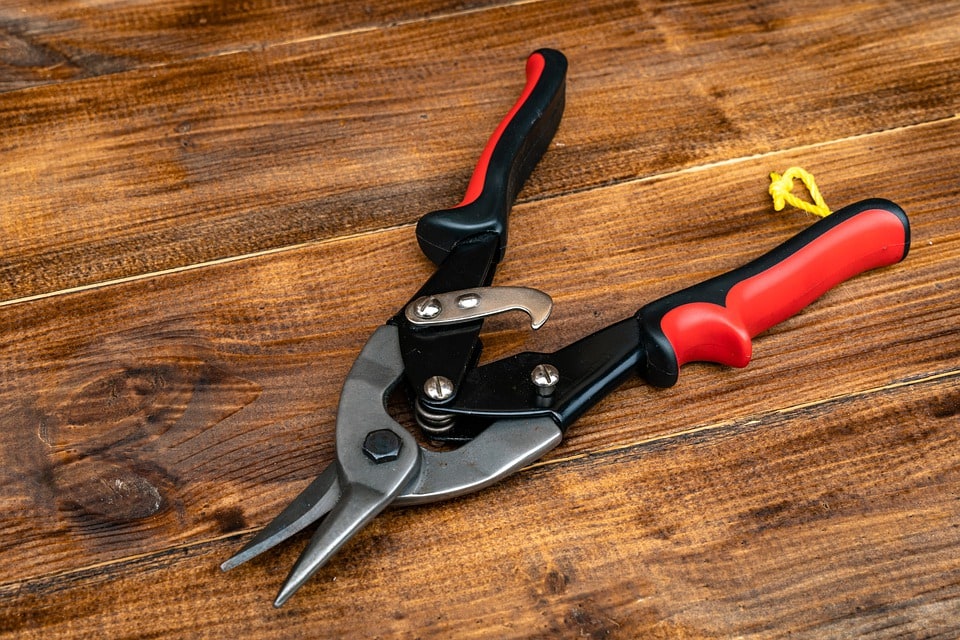 Shears are devices that are designed to cut long straight lines into sheets of metal. You need this tool for cutting long pieces.
---
13.

  Tin Snips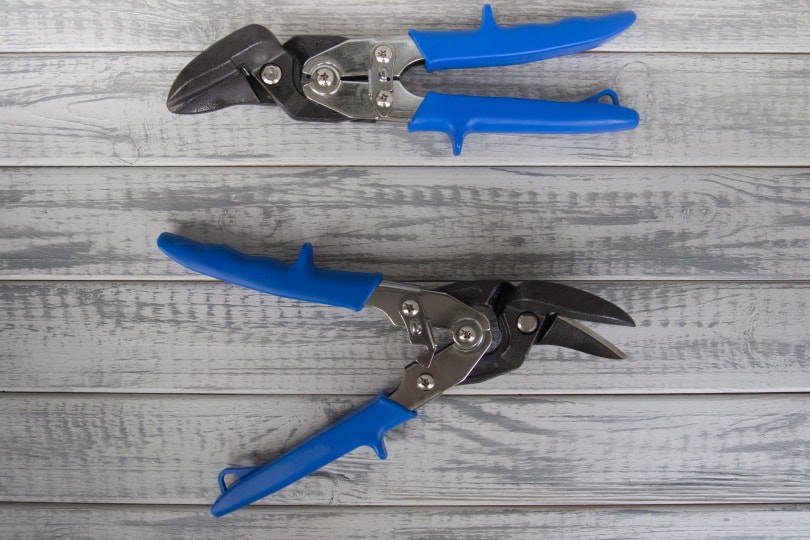 Sometimes, metal shears will be too large for the cuts you want to make. Use tin snips, which are extra-sharp scissors, for smaller cuts. HVAC units require three different types of tin snips. Be sure to have all of the following snips in your kit:
Lefts: Left snips cut to the left. This may be unnatural for a lot of people, but it means you won't have to lift the metal up as much. Most left snips have red handles.
Rights: In contrast to lefts, rights cut to the right. These are the normal cutting devices. Most rights have green handles.
Straights: Straights, as you probably figured, cut straight. They are sometimes called Bulldogs because they can cut multiple sheets of metal at one time. Use these to make cuts too shorts for metal shears. Most straights are orange, but not always.
14.

  Side Cutter Pliers
HVAC technicians need to cut wires frequently. Have side cutter pliers in your kit so you can easily do so.
---
15.

  Wire Strippers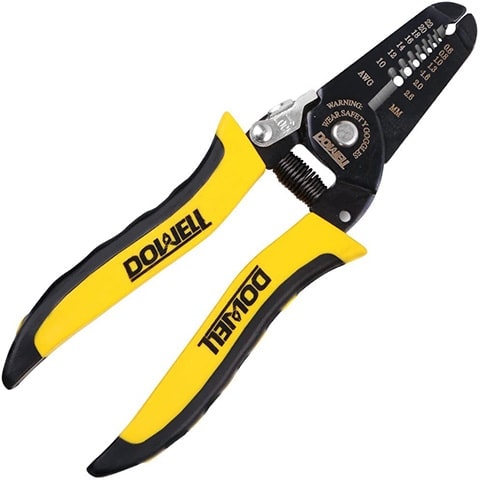 Whenever you rewire HVAC systems, you will need to strip the wires. Have a reliable pair of wire strippers so you can easily move on to your rewiring.

Power Tools
Though HVAC technicians need fewer power tools than other workers, there are still a few power tools that you should consider adding. These tools will make your work so much easier.
16.

  Cordless Drill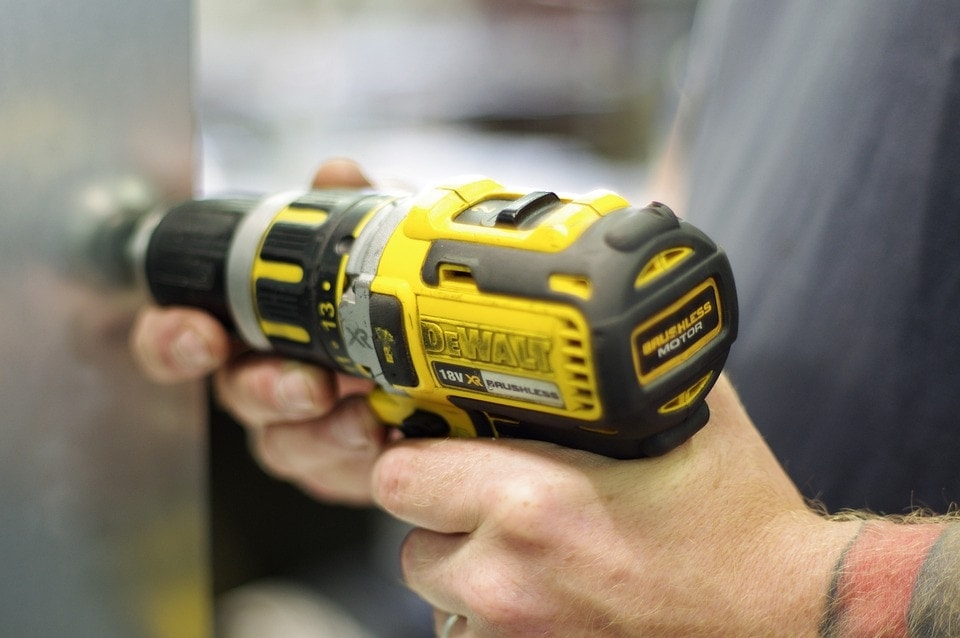 When you are running new wires, you need to drill tiny holes for them. Have a cordless drill so you can do this easily and effectively. We specifically recommend a cordless drill instead of a corded drill because you won't have a cord to limit your movement. Just get a cordless drill and some batteries, and you are good to go anywhere.
---
17.

  Sawzall (Reciprocating Saw)

HVAC technicians have to saw through a variety of things every time they are on the job. Purchase a Sawzall so you can saw through any material with only one tool. This may be more expensive upfront, but it will easily pay for itself as it saves you time and effort on the job.
---
18.

  Extension Cord (Heavy-duty)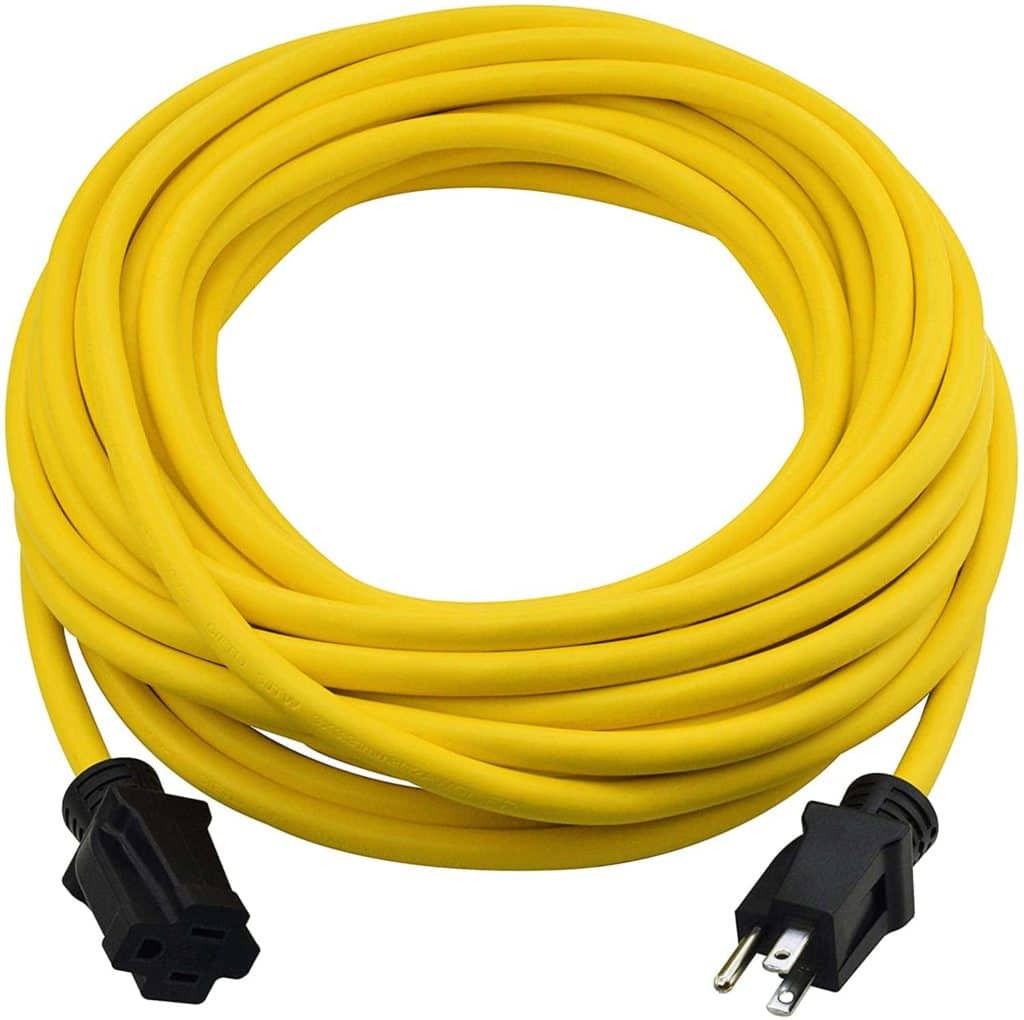 If you have even minimal experience as an HVAC technician, you know that one of the most annoying parts of the job is constantly working in places far away from an electrical outlet. This is a problem because many of your tools require some cord. Invest in a heavy-duty extension cord, so you always have access to corded power.

General Tools
There are some tools that just about any worker needs, including HVAC workers. Though you probably already have these tools in your garage, ensure you have them in your HVAC kit, too. They come in handy.
19.

  Level
Whenever you install an HVAC unit, get it level by using a level. An unlevel unit can have larger implications later on.
---
20.

  Tape Measure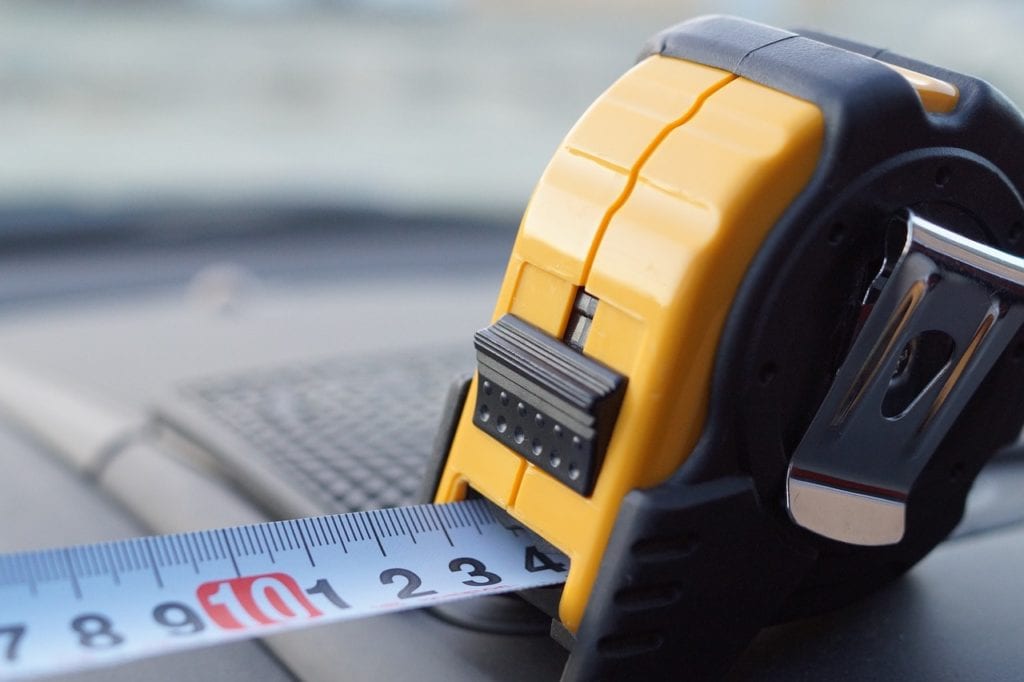 Expect to measure a lot of units and spaces for ductwork and other projects. Always have a tape measure on hand. Your tape measure should be a minimum of 25 feet long but feel free to look for measures that are longer. You can never have too long of a tape measure.
---
21.

  Needle-Nose Pliers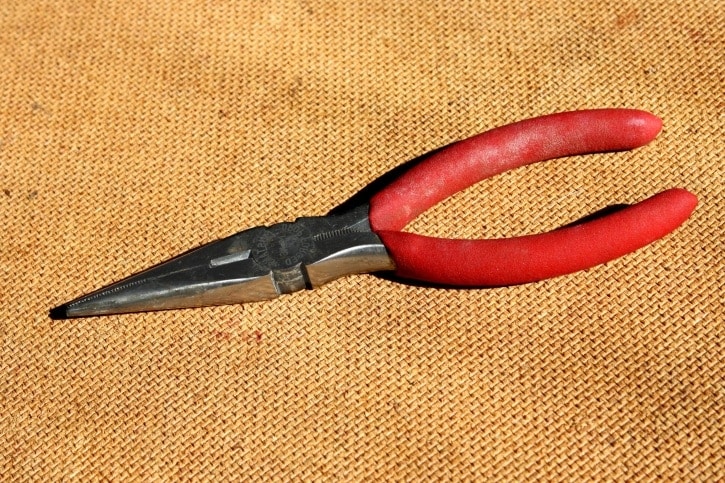 Keep needle-nose pliers in your kit. These pliers come in handy when you need to reach through a wall or work on a thermostat. Their long noses give you maximal control and eyesight that you can't get with your hands or another tool.
---
22.

  Awl

There may come times when you need to mark on a metal surface or punch a hole into it. When that time comes, use an awl to do so easily and effectively. Though these tools are small and unassuming, they are highly useful.
---
23.

  Hammer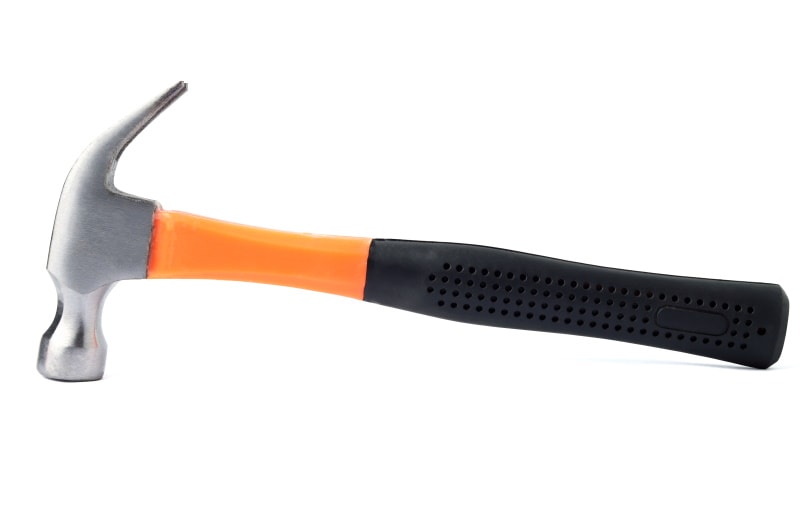 Basically, everyone should have their own hammer, and that includes HVAC technicians. You may at anytime need to hit something with a hammer to get it in place or remove a nail.
---
24.

  Screwdrivers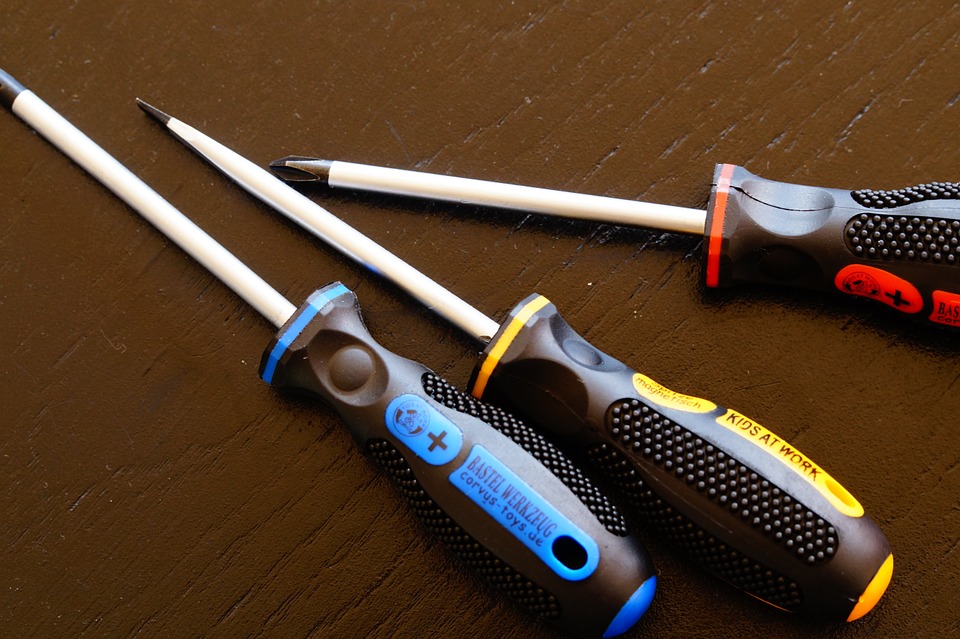 All HVAC systems include screws of some sort. Keep Flathead and Phillips head screwdrivers on you at all times. Your work will easily be halted if you don't have these tools on you.
---
25.

  Hex-Head Nut Drivers

Similar to a screwdriver is a hex-head nut driver. This tool is slightly different from a screwdriver in that it has a hexagon-shaped head. You need to use this tool when removing nuts. Go ahead and get yourself three hex-head sizes: 1/4, 3/8, 5/16-inch. These three sizes will be used frequently.
---
26.

  Pipe Wrench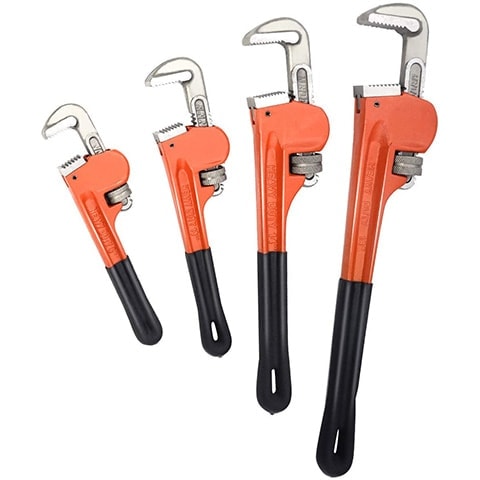 The pipe wrench is an L or F shaped wrench that has teeth on the head. Because of these teeth, pipe wrenches easily grip on to rounded surfaces. You need to have an adjustable pipe wrench or plumbers pipe wrench in your kit since you will commonly work with different sized pipes.
---
27.

  Caulk Gun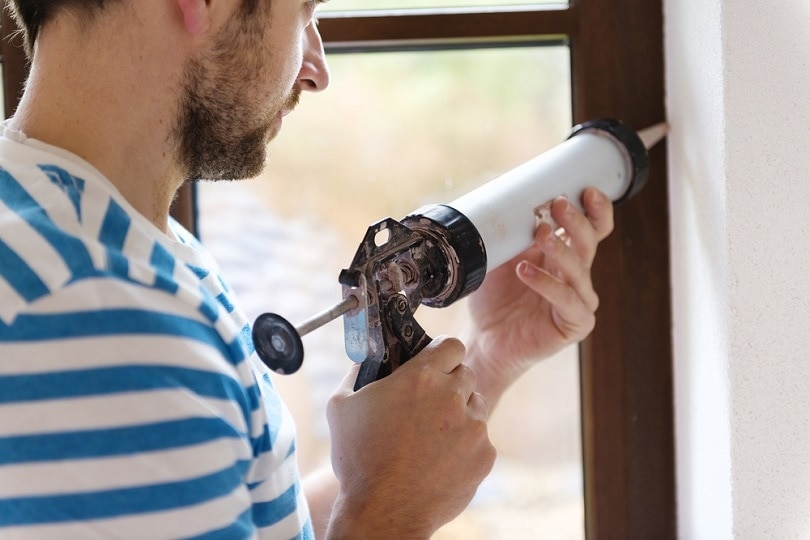 Seal all ductwork by having a caulk gun. These caulk guns allow you to seal all ductwork accurately and precisely. It will also help you to fill tiny holes, such as those found in a house.
---
28.

  Flashlight or Headlamp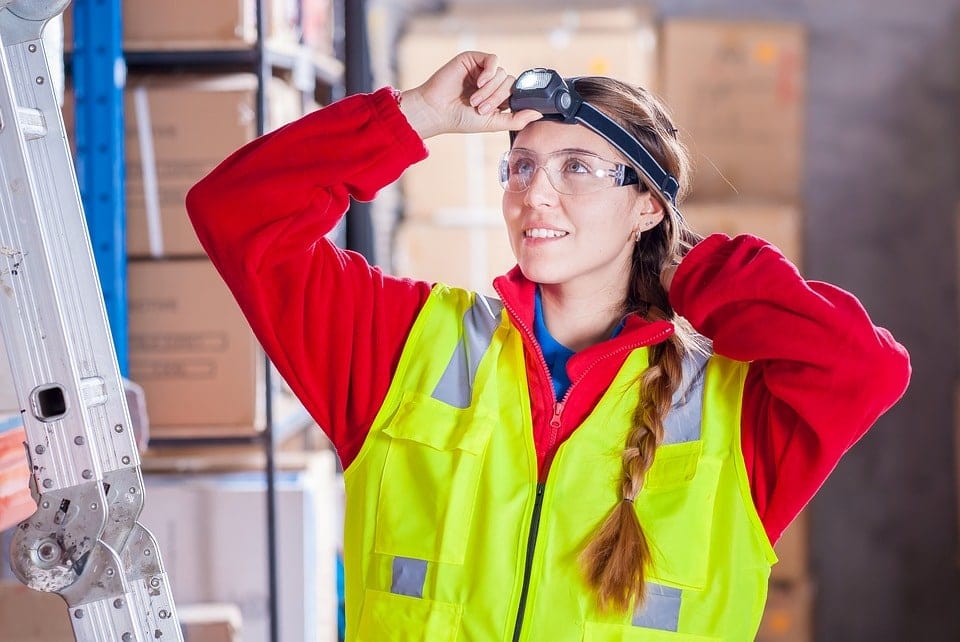 HVAC technicians always need a flashlight so they can easily see into any hole or unit. Keep a flashlight and extra batteries in your kit to improve your vision. You may even want to consider opting for a headlamp since it gives you hands-free light in dark spaces.
---
29.

  Step Ladder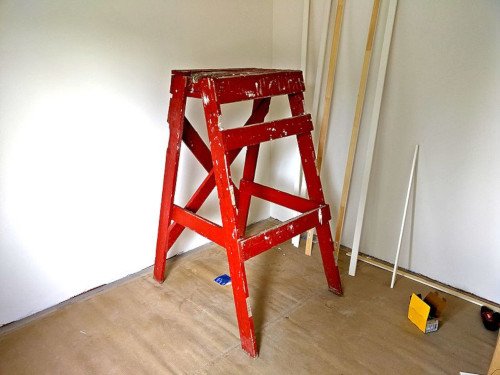 Part of being an HVAC technician includes cleaning out vents or other hard to reach places. Keep a step ladder in your car or work van so you can do this easily and safely. When picking out step ladders, check out the maximum weight to ensure that your ladder can support you.

Safety Tools
Whenever you are working, your safety should be your number one priority. You cannot repair HVAC units if you are injured. Make sure you have adequate safety tools to protect yourself on the job.
30.

  Gloves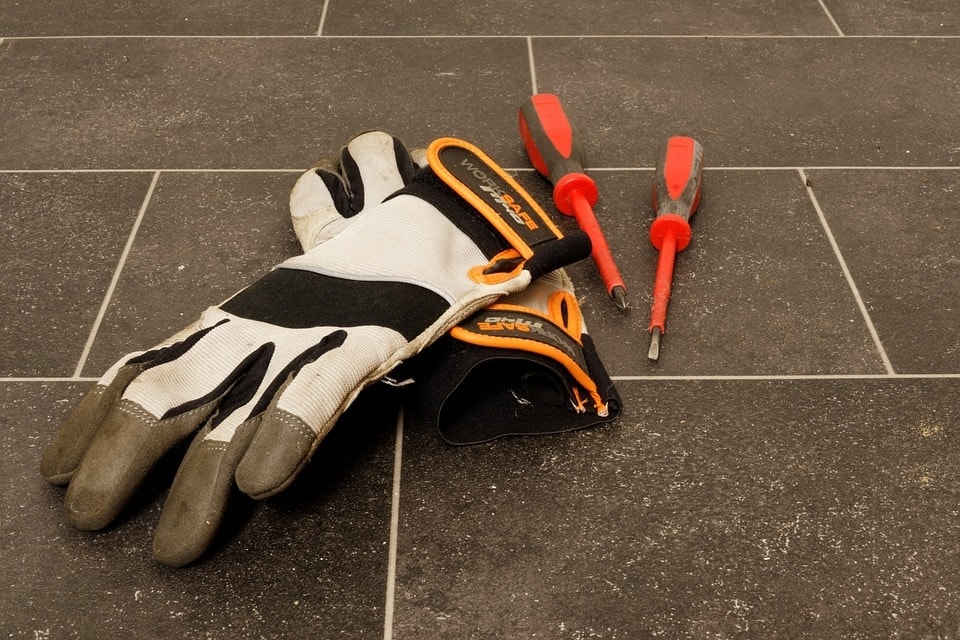 HVAC work is dangerous stuff. Buy a pair of durable and flexible gloves that protect your hands but don't inhibit your movement. Always wear gloves when dealing with sharp or pointy objects.
---
31.

  Goggles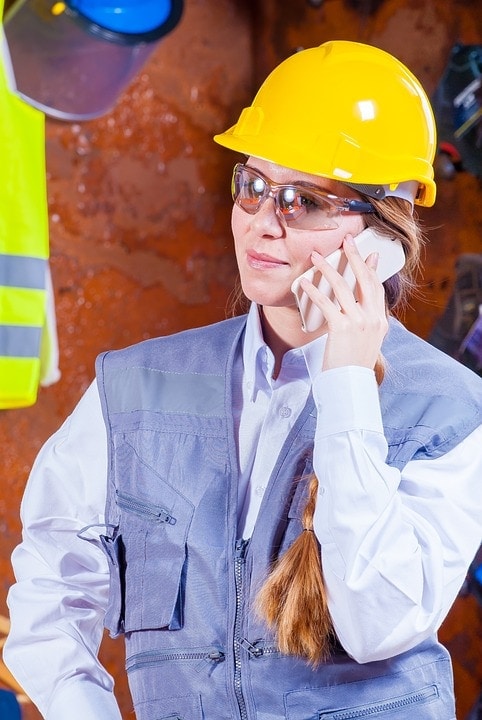 Protect your eyes from metal and dust debris by wearing safety goggles on the job. Some goggles even come with extra magnification that improves your accuracy and efficiency.

Conclusion
HVAC technicians perform a lot of duties on the job, which is why they need a lot of tools in their kit. Be prepared for anything that may get thrown your way by having all the essential tools on hand.
We hope that this list has made it easier to know what tools to look for as an HVAC technician.
See also: How Many Watts Does a 4-ton AC Unit Use? Do They Consume Lots of Power?
---