7 Floor Tile Trends in 2023 – Design Ideas for a Modern Home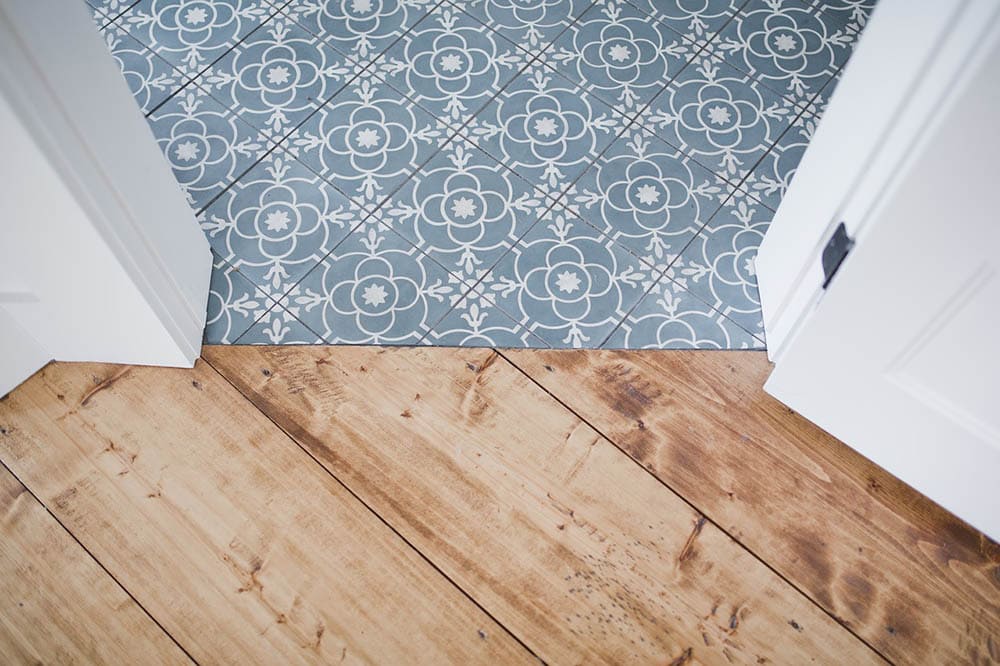 Floor tile took a step back in popularity last year. According to a recent study from Houzz1, new vinyl flooring technology has allowed the category to surpass tile in popularity. Tile is now the third most used flooring material behind vinyl and hardwood.
Tile floors may not be right for everybody. But for discerning homeowners, there's no substitute for the performance and genuine look of a tile installation. This year, tile continues its exciting evolution as bold trends both new and old look to take over this year.

The 7 Top Floor Tile Trends
1.

Terrazzo Tile
The Italian terrazzo style uses colorful pieces of hard materials, like marble, glass, or even metal, that are set into a tile. It has been a popular type of tile in America for decades, showing up in residential and commercial flooring. Thanks to new products hitting the market, the timeless appeal of terrazzo is easy to pull off in any room.
Large format is a big hit these days, and chunky terrazzo bits can bring that grand scale and enhanced impact to your floor. Look for terrazzo floors that use contrasting colors, large chunks of material, and more space between the elements.
---
2.

Stone Tile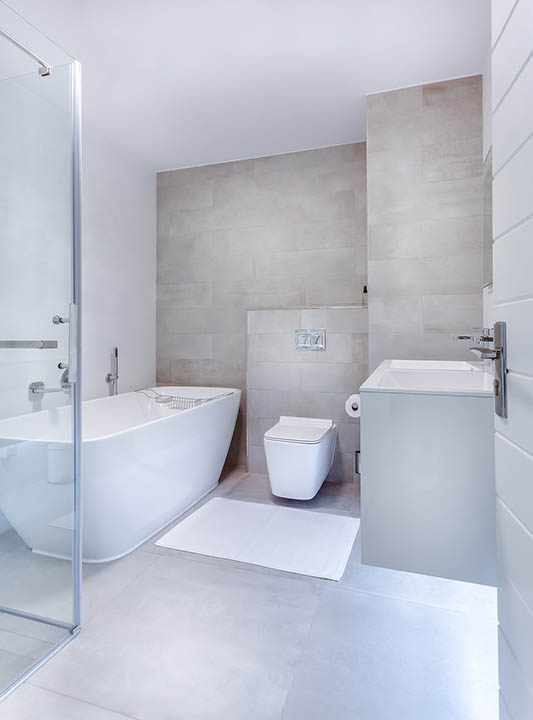 Stone can get expensive and often requires tons of maintenance. But its natural beauty still makes it one of the most popular tile floor trends of this year. Stone tiles are available in a wide array of textures and a full spectrum of colors. No matter the style of your room, you can always find a way to blend in stone.
For a less expensive approach to natural materials, stone-look tiles give you the look of real marble, travertine, or limestone. Since they're made of porcelain, you get a denser, less porous, and more durable construction.
The popular style of tile will continue to be in high demand heading into this year. The practicality of stone-look tile and its comparatively low cost make it an excellent option for kitchens, bathrooms, and more.
Consult a flooring expert
Find a flooring specialist in your area, and get free, no-commitment estimates for your project.


---
3.

Wood-Look Tile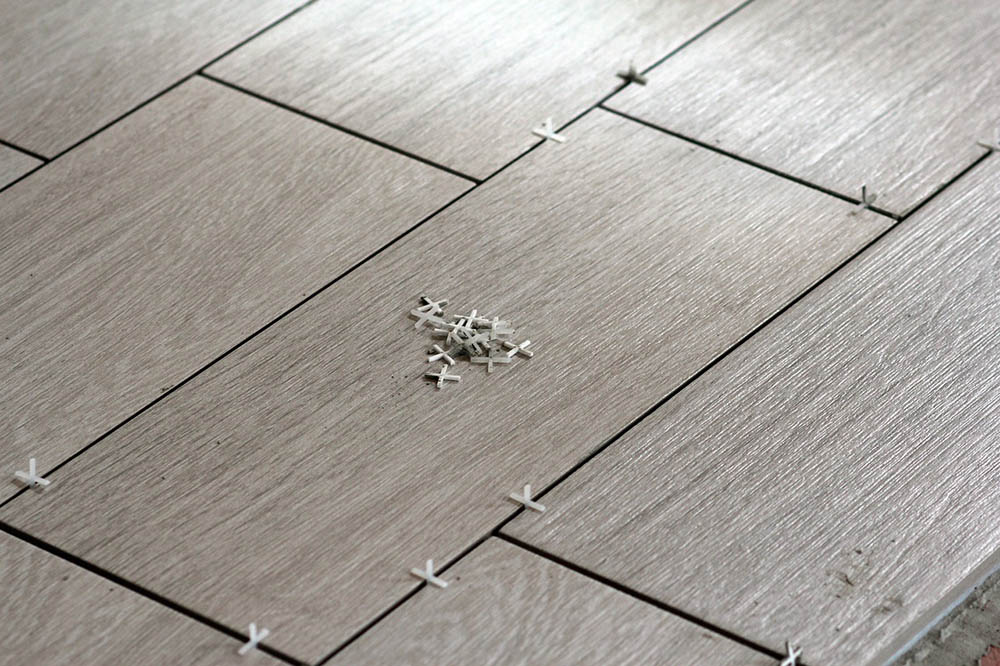 Like faux stone tiles, ceramic and porcelain tiles with a wood look will continue to be trendy through this year and beyond. Wood-look tiles are giving homeowners the durable, waterproof benefits of tile and the natural beauty of wood. With moisture protection and scratch resistance, you can bring parquet or patterned styles like chevron and herringbone into any room, including the bathroom.
Wood-look tile has been around for a while, making it more of a classic style than a fleeting fad. With new textures, colors, and grain patterns, you can jump on the latest wood flooring trends, including bleached or reclaimed looks.
---
4.

Concrete Tile
Although some feel it's on the way out, many experts believe industrial interior design is stronger than ever. Concrete is a basic staple of the style, and it will be an in-demand tile option this year as a result.
Concrete tile creates a similar popular aged look that so many homeowners are pursuing with worn hardwood flooring. It's elegant and striking in modern layouts, and its contemporary appeal will make it an enduring tile trend this year.
---
5.

Encaustic Tile
Concrete tiles will be a hit in this year, but the material is also enjoying a resurgence thanks to the blossoming popularity of encaustic tile. Unlike glazed tile, these vibrant, Victorian-era tile options do not involve layered images over the top of the tile. Instead, different colored cement is added to a mold, creating a consistent pattern all the way down.
Encaustic-look tile is becoming more popular as people latch onto the visually exciting design trend. You can get encaustic tiles in the classic concrete construction, or you can opt for less expensive porcelain substitutes.
---
6.

Metallic Tile
The popularity of the worn look is making metallic an excellent option for tile floors. Copper, iron, and other metallic finishes offer a variety of colors. The oxidized effect and aged patina add character, class, and intrigue to a tile floor installation.
Manufacturers can now create many metallic textures, finishes, and colors on porcelain tile. As floor tile construction improves, metal tiles will become more versatile throughout the home. While it is unlikely to last forever, the metallic trend, from polished chrome to aged bronze, will please many remodelers as one of the more popular floor tile styles.
---
7.

Patterned, Graphic, and Geometric Tile Floors
Some experts feel that minimalist looks are on the way out this year and that may be true as more colorful and patterned floor styles emerge. More consumers are sharing their home design adventures on social media. As a result, homeowners are becoming empowered to take their bathroom and kitchen floors in exciting new directions.
With encaustic and wood-look styles in vogue right now, the setting is right for unique patterns to take over. New technology has made it easier to create precise, seamless patterns with tile over large areas.
Various hexagonal and geometric patterns add an extra eye-catching dimension to a room. You can even add modern 3D elements to heighten the illusion in stunning ways.

What Floor Tile Colors Will Be Popular in 2023?
Chic, modern neutrals like gray will continue to flourish this year, but be on the lookout for more colorful floor tiles as well. Color is a chance to showcase the vivid personality of your home. As you start exploring patterned flooring, you will find several ways to express your style in multi-colored layouts.
As we continue to recover from the pandemic, the colors of this year evoke a sense of joy and calm. The leading authority on color, Pantone, released Very Peri (17-3938) as their 2022 Color of the Year. Light undertones of purple enhance this periwinkle blue shade. Very Peri is a brand-new color that appropriately highlights the recent advancements in modern design.
Green hues were a common focus in the color of the year selections across various design industry manufacturers and thought leaders. Benjamin Moore selected a soothing pale green called October Mist. Meanwhile, Sherwin-Williams selected a more subdued mid-tone green-neutral color in Evergreen Fog. The revitalizing natural appeal of cool colors will add a refreshing and enduring aesthetic to any tile floor.
Related Read: 7 Bathroom Tile Trends

Conclusion
It will be an exciting year as tile installations go bigger and bolder. Large formats and diverse patterns will make it easier for remodelers to add personality and brilliance to any room. Although the floor tile trends o this year may not last forever, they will offer an inspiring exploration of the advancements and possibilities of tile that will be sure to delight homeowners and influence design trends for years to come.
You might also be interested in: How to Drill Through Tile (Step-by-Step DIY Guide)
---
Featured Image Credit: shannonrphillips, Pixabay