Fluke 116 vs 117: 2023 Comparison – Which One's Best?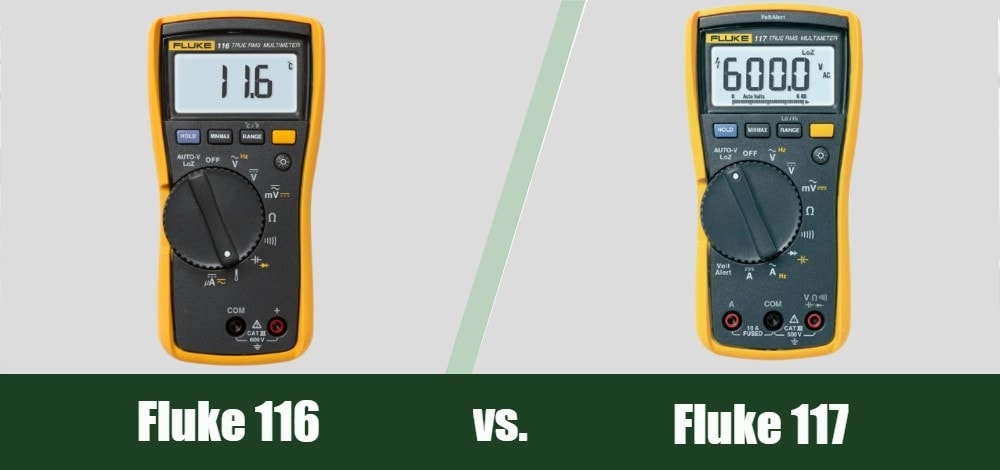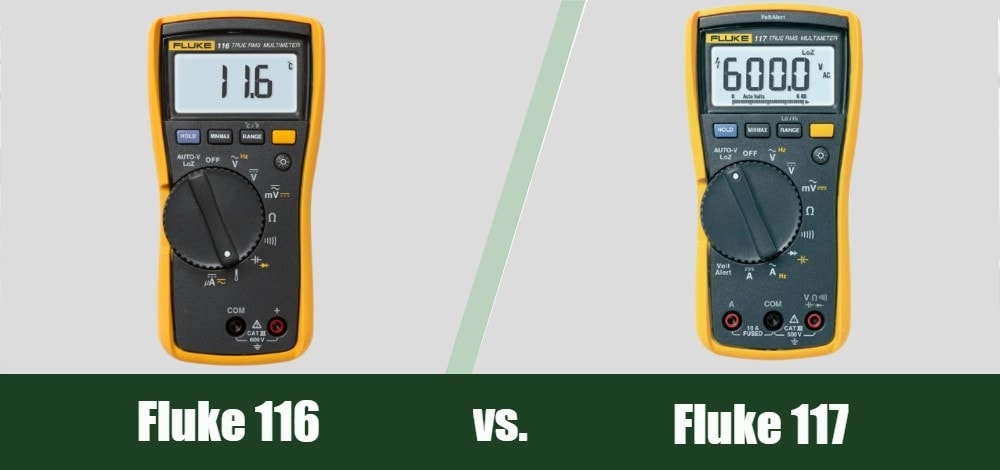 Both the Fluke 116 and the Fluke 117 are top-of-the-line tools. However, they are designed for different things. The 116 is made for HVAC work, while the 117 is geared more towards electricians. Both are awesome at what they do, but which one is best for you may differ depending on what you're doing.
Aside from a few unique features, however, the 116 and 117 are fairly alike. Most homeowners won't need these specialty features anyway, so you're choosing between similar tools.
Still, we feel like most homeowners would get better use out of the Fluke 116. It has features you're more likely to use, and it seems to be the most versatile of the two. But, if you're an electrician, we still recommend getting the 117 instead.

At a Glance
Fluke 116
AC/DC Volts: Up to 600V
AC/DC Amps: Up to 20A
Capacitance: Yes
Temperature: Yes
Diode Test: Yes
Non-contact AC voltage: No
Fluke 117
AC/DC Volts: Up to 600V
AC/DC Amps: Up to 20A
Capacitance: Yes
Temperature: No
Diode Test: Yes
Non-Contact AC voltage: Yes
Overview of Fluke 116
The Fluke 116 is mostly designed for HVAC applications. It has a built-in thermometer, which is useful for those working in the HVAC field. It also has microamps to test flame sensors and can prevent false readings due to ghost voltage. The large LED backlight makes it easy to read in very dark areas. Like most multimeters, this once can measure resistance, continuity, frequency, and capacitance.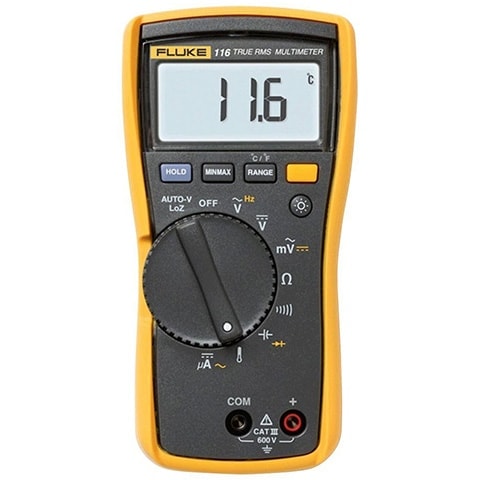 It is somewhat expensive when compared to other multimeters. However, it is professional-grade and gives you a lot of value for your money. You aren't going to be able to find a similarly high-quality multimeter for the same price on the market. This makes it perfect for homeowners, though it is designed for HVAC professionals.
This tool does come with everything you need to use it right away. It comes with a lead set, temperature probe, holster, batteries, and a user manual. We do recommend having extra batteries close by. This tool lasts for a while on one set, but you don't want to find yourself without batteries when you need them.
Pros
Measures temperature
Measures microamps
Large LED-backlit screen
Designed to last
Cons
Larger margin of error on temperature readings

Overview of Fluke 117
The Fluke 117 is very similar to the Fluke 116, as we have noted. It has a low input impedance, which prevents it from picking up ghost voltage and giving false readings. It has a large, backlit LED that is very easy to see in poorly-lit areas. It is perfect for those who work in dark and cramped spaces (like electricians often find themselves in). It has true RMS for measuring non-linear loads.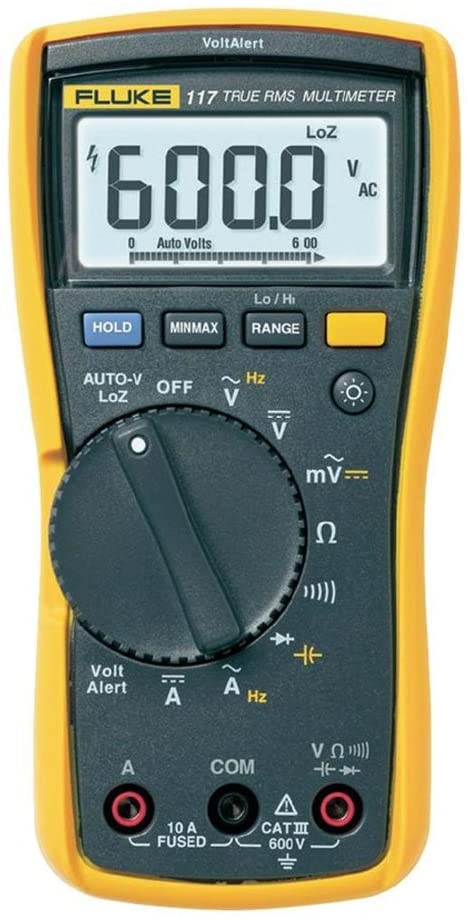 Its operating temperature is also extensive, so you should be able to use this multimeter in most climates and situations. The battery life is very long – up to 400 hours. However, we do recommend carrying some spare batteries with you just in case.
This meter also has VoltAlert technology. This allows for non-contact voltage detection. Because you don't have to make contact directly, this feature makes the multimeter safer and faster to use. This is the one feature that the 116 doesn't have, so it may help you choose between the two multimeters.
Pros
True RMS
LED screen
Wide operating temperature
VoltAlert
Cons
No temperature readings available
---
What Are the Differences Between Them?
Features
Edge: 116
The most obvious and significant differences are the varying features these two multimeters come with. The 116 can read the temperature, though we do admit that this feature isn't perfect. The range of error is quite extensive, so it may not be accurate enough for all cases.
On the other hand, the 117 has VoltAlert, which allows you to detect voltage without making contact. It is designed for electricians. If you're doing only electrical work, then you may find this feature worth it. Others will probably get more use out of the temperature feature of the 116.
Both of these features are great. It depends mostly on what you plan on doing and what feature you feel like you'd get the most out of.
Price
Edge: Tie
Both of these tools cost about the same. The price of both can fluctuate day-to-day, so you may be able to snag one at a good deal. However, overall, the price really shouldn't be a feature you're using to make your decision in this case.
Durability
Edge: Tie
Because both of these tools are made by the same company, they are also made with very similar casings. They can both take a beating and should be able to stand up to everyday wear-and-tear with ease. Neither of these is particularly sensitive to damage and dropping. In this case, both are pretty similar.
What the Users Say
In general, the majority of users were pleased with both multimeters. It seems that both were used happily by professionals and homeowners alike. They seemed to work on many occasions and on a wide range of projects. Many users reported that they were accurate, even after years and years of use. Because the same company designs both tools, they seem to have similar durability and accuracy. In other words, they're both pretty high-quality.
Still, you did notice some division by professionals. HVAC professionals seemed to prefer the 116, while some complained about the 117. Electricians were precisely the opposite – they preferred the 117. This is likely because the 116 is designed for HVAC professionals, while the 117 is designed for electricians.
These multimeters are built on the same frame. Many users reported that they were very durable and that the screen was easy for them to read. Some people did complain that the font was a bit weird; this is common on nearly all of these meters, though, so it seems to be a company-wide problem.
Overall, many customers loved these multimeters. For this reason, we generally recommend them to homeowners and professionals alike.

Conclusion
At the end of the day, the 116 is designed for HVAC, while the 117 is designed for electricians. This is their main difference. If you're using the multimeter for only electric work, then get the 117. For everyone else, get the 116.
Either of these tools is going to be an excellent option for most homeowners. Besides some of the readings they're able to do, these tools are pretty similar in their capabilities.
Related Reads: