15 Hanging Kitchen Island Lighting Ideas You Can Use at Home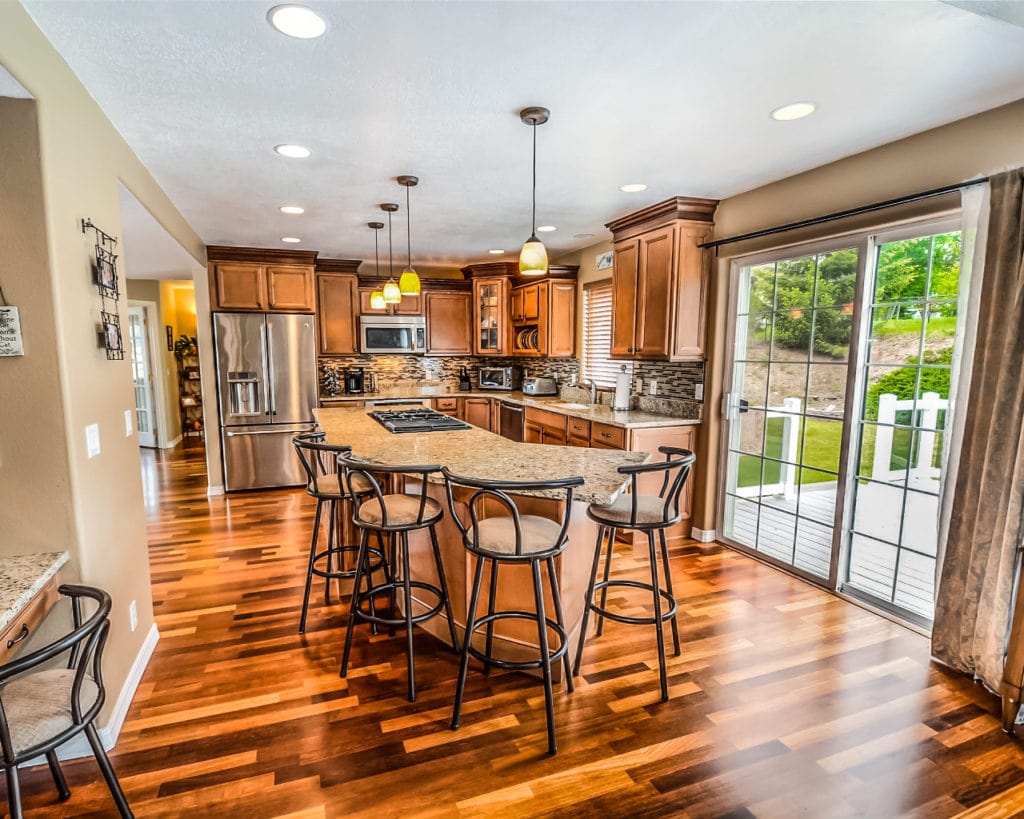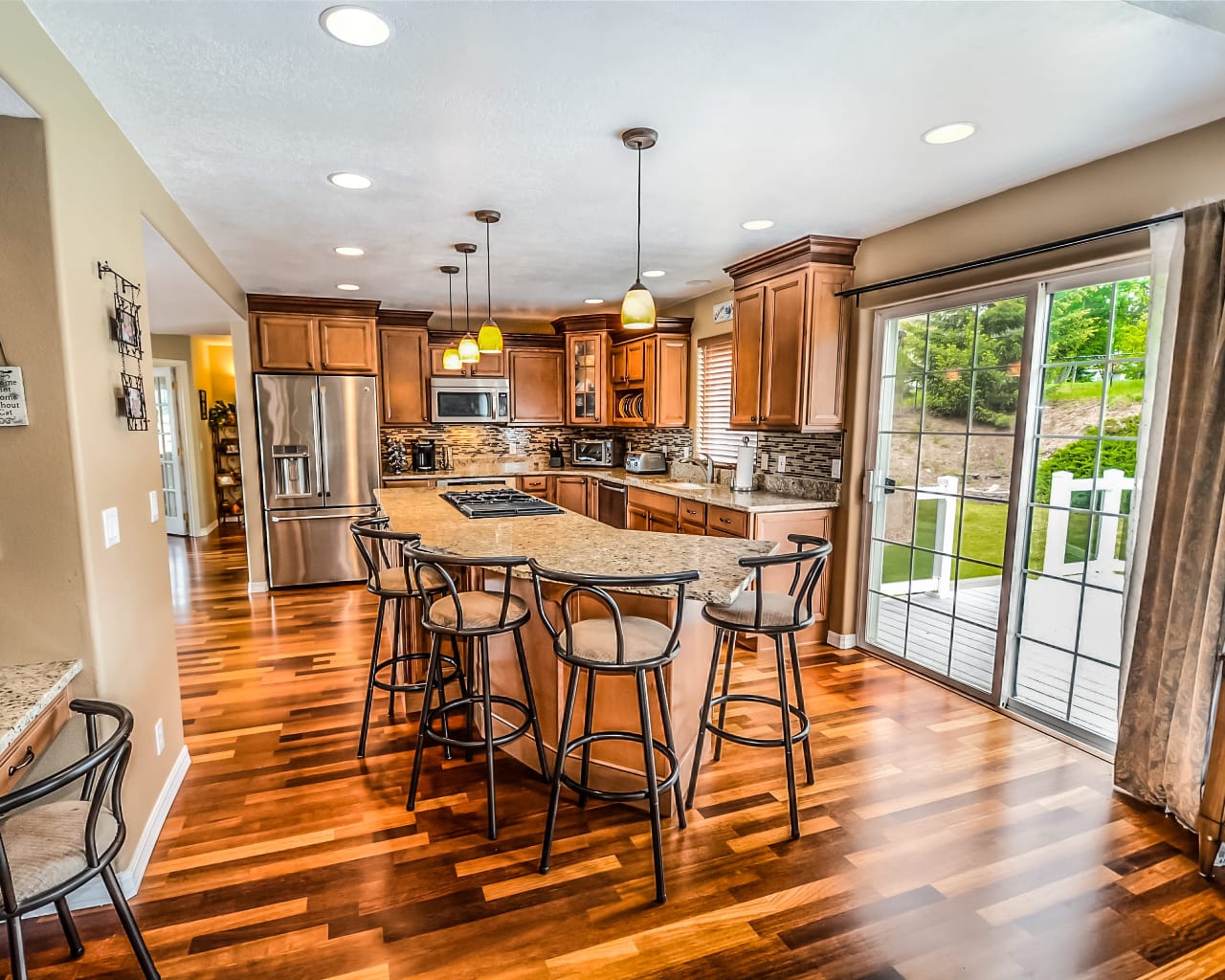 Kitchen islands are the focal point of the modern home, and your focal point can be as stylish or bland as you make it. If you feel like your kitchen island is lacking some flavor, you can easily upgrade your look by changing out your hanging kitchen island lighting. Many builders will install basic pendant lighting that does nothing for the look and flow of your kitchen. Kitchen island lighting doesn't have to be boring. It can be fresh, stylish, and exciting.
Here are 15 hanging kitchen island lighting ideas to inspire your next project.

The Top 15 Hanging Kitchen Island Lighting Ideas
1.

Stylish Miniature Chandeliers
These boxed chandeliers provide a lot of light and a lot of style in one package. These lights are the perfect addition to a dark kitchen or a rustic kitchen. Exposed chandeliers might be a little too much for some people, so the square housing featured here is the perfect way to tone down the look while retaining the ample light provided.
---
2.

Numerous Globe Bulbs
This lighting feature includes numerous small globe lights. Not only does it provide a stylish aesthetic, but it also provides a ton of light. These small globes are perfect for a small kitchen. They will fill the space without being overwhelming. You can get this type of light in a variety of different configurations, including opaque globes or clear globes, so they can seamlessly match your individual style.
---
3.

Elegant Horizontal Chandelier
Hanging kitchen island lighting can be clean, modern, and functional. This horizontal chandelier features a skeletal metal box frame and classic candle-style lights within. Something like this can provide a lot of shape and function without cluttering the space or breaking up important sight lines. For open concept houses, keeping the sight lines to the kitchen uncluttered can be a very important design feature.
---
4.

Clean Pendants
Sometimes the most effective upgrade is a simple one. You can replace outdated kitchen lighting with clean pendant lighting. Pendant lighting might not sound like the most exciting upgrade, but there are plenty of ways to make it work for your individual kitchen island. Pendant lighting is so common because it is extremely effective. Choose clean pendant lighting to give your kitchen a new look without going overboard on over-the-top aesthetics or price.
---
5.

Classic Lantern Lighting
Lantern lighting is a classic look that is both warm and familiar. Lantern lighting can work in a number of different kitchen configurations. They can be bright and airy with a lot of glass or dark and brooding. You can get large lanterns that dominate the view or smaller lanterns that provide warm lighting without taking up too much space. Choose a style of lantern lighting that will perfectly complement your kitchen today.
---
6.

Boho Chic Pendants
Upgrade your simple pendants with a dash of boho chic style. Adding some boho baskets to pendant lighting can create a meaningful change without replacing the entire lighting system. Boho baskets are very stylish right now, and some small boho pendant upgrades can provide a quick and effective facelift to your kitchen right now. If boho falls out of fashion, simply swap out the baskets with more traditional lighting covers for a versatile switch.
---
7.

Modern Glam Gold Lighting
Modern glam is a clean look that can add some color and elegance to a kitchen. Modern glam features colors like white, gold, rose gold, and brass. These colors often seamlessly integrate with clean white kitchens. Lights with metallic accents and soft colors are fresh and inviting while adding a splash of style. These lights can be subtle or ostentatious, depending on the exact model and style. Pick the one that feels right for your particular kitchen and enjoy a modern upgrade.
---
8.

Unique Intricate Chandelier
You can swap out basic pendant lighting with larger and more intricate chandeliers. They make modern chandeliers that are designed for kitchen islands. A complex chandelier can completely transform the look of your kitchen overnight. These fixtures provide a lot of depth and a lot of character to a space. These would work great in an open-concept house where old pendant lights were starting to look small or outdated. Instead, you can give yourself a lasting and meaningful upgrade that is sure to make a splash.
---
9.

Modern Eclectic Lighting
Make your kitchen island a statement by upgrading it with modern eclectic lighting. These lights will work in modern kitchens and regular kitchens alike. Find shapes and configurations that speak to your own personal style and design philosophy. These lights can be used to draw the eye and make your kitchen the dominant focal point of the whole house. Or you can find a more subdued version that makes a subtler statement.
---
10.

Simple Farmhouse Lighting
There is something comforting about simple farmhouse lighting. This warm fixture features six bulbs that will work perfectly in almost any kitchen. Some lighting fixtures are dark or ostentatious. This lighting fixture is bright and simple while still being stylish and functional. You can use a six-bulb fixture like this with a number of different bulbs, including Edison bulbs, for a fun and fresh look.
---
11.

Industrial Rustic Fixtures
One way to upgrade your farmhouse kitchen is by installing industrial looking lighting. Lights with square housing, strong metallic colors, and thick bands will give you that industrial feel that will work in many rustic themed kitchens. This rectangular fixture is brooding and eye-catching and provides an excellent accent for this style of kitchen. This style of lighting would also be perfect for an industrial loft.
---
12.

Large Globes
If you want to install some fun and flighty lighting, try something like these large globe lights. These large globes add volume and shape to your kitchen. Install them with Edison bulbs for a striking look. These large globe lights are a fresh take on an old style that can fit in a variety of different kitchen configurations.
---
13.

Contrasting Lamps
One simple way to create a new look is by installing contrasting lamps. If you have a white kitchen, try installing black lighting. If you have a dark kitchen, install white or copper lighting. The contrast in colors will ultimately elevate your look and style. You can also use contrasting textures. If you have a very smooth matte kitchen, try installing textured lighting or vice versa. Contrast is a simple and ancient design philosophy that still holds weight today.
---
14.

Mid-century Modern Elegance
Bring a flavor of the past to your kitchen island with a mid-century modern lighting fixture. These lights will give you a classic touch without looking outdated. There are numerous different options that capture the elegance of the past while keeping the flavor of the room intact. Installing unique mid-century lights can instantly upgrade a space.
---
15.

Oversized Boho Baskets
The boho look is still going strong. One of the best ways to bring that boho flavor to your kitchen island is by installing these oversized lighting baskets. These lights are a statement piece and will instantly transform your island into a stylish meeting point for your whole house. These baskets can be installed over basic lighting pendants as long as you have the space to accommodate their bulk.

Conclusion
These 15 hanging kitchen island lighting ideas are stylish and functional. These ideas will help inspire your next project. Whether you are trying to change out some outdated pendants or give your kitchen an entirely new look, there are lighting ideas here that will suit everyone's individual style and tastes. Lighting is a simple but effective way to change the look and feel of your whole kitchen island.
---
Featured Image Credit: Piqsels