7 Front Door Trends in 2023 – Design Ideas For a Modern Home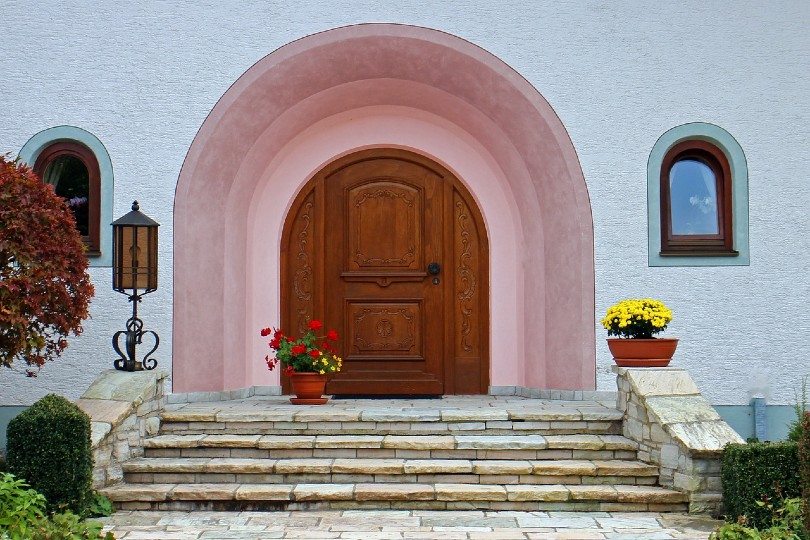 When someone comes over to visit, the front door is the first design piece they often come into contact with. Once upon a time, people didn't pay much attention to their front door. A front door was a front door – that was it. However, it has become increasingly popular to say something with the symbolic barrier that separates your home from the outside world. Big and bold is now in style.
There are quite a few different design trends you can go with when it comes to your front door. Below, we'll take a look at some of the most popular front door design trends this year.

The 7 Front Door Trends in 2023
1.

Dutch Doors
Dutch doors are an older design option that is making a comeback. To put it simply: these doors open at the top and the bottom separately. Not only is this unique in today's market, but it is also very practical. Imagine being able to open the top of your door while still keeping tiny people and animals stuck inside.
If you struggle with your dog running out the door every time you answer it, a Dutch door can completely revolutionize your struggle.
This door style is commonly seen in older paintings. They were used to keep livestock out of the house and children indoors while still allowing for breezes to pass through. Their functionalism still continues today despite the fact that the design is hundreds of years old.
A decade ago, these doors were more difficult to find. However, today, Dutch doors are coming back in style, especially along the coast where breezes are plentiful.
---
2.

Double Doors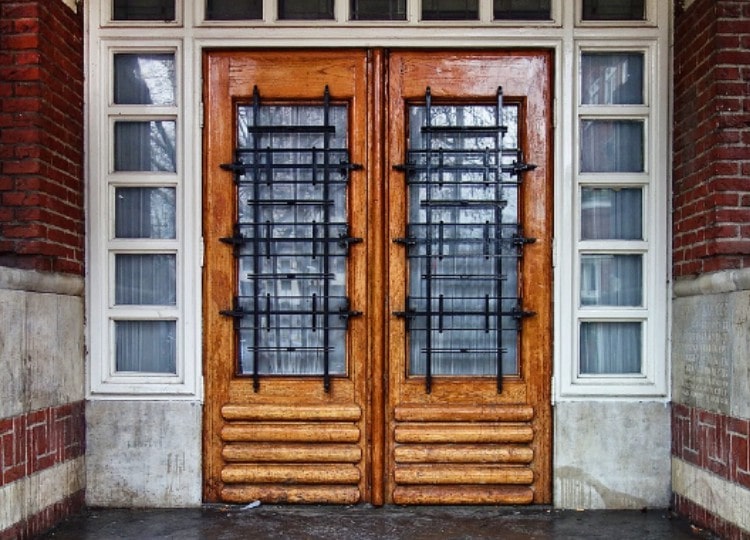 Double doors are another increasingly popular trend. Instead of just a single door at your entrance, many people are prioritizing larger entryways. Usually, this means choosing either double doors or extremely large doors, which are also a common occurrence.
Such a large opening makes it easier to entertain on your front patio if that interests you. It is also a great way to set your house apart, given that not too many houses have double doors today.
These double doors come in all different designs. However, wood is commonly used. Because the doors stand out by themselves, they usually aren't painted a very bold color and are lacking in other bold elements. You don't want the door to be too much, after all. (It is one thing to paint a single door lime green. It is another thing completely to paint two doors lime green.)
You'll also notice an increase in double doors inside the home as well.
---
3.

Glass Front Door
Many people are opting for as much glass as possible when it comes to their front door. On the one hand, excessive amounts of glass absolutely have a design element. There are many different kinds of glass you can choose from, as well.
However, glass is also practical because it lets in lots of light. Special treatments can help the home stay private as well. Privacy glass has been trending for a while and is likely here to stay as the default door style.
When in doubt, going with glass is often an easy decision.
---
4.

Farmhouse Doors
Farmhouse doors feature a lot of straight lines and glass. They are becoming increasingly popular in today's market, making them a great choice for anyone who wants something different but not that different. We highly recommend these doors for those who have farmhouse-style homes, of course.
Out of all styles, the farmhouse is probably one of the most popular this year. Industrial and modern designs are starting to take a backseat to the homey farmhouse style.
You'll find tons of different farmhouse-style doors on the market today. Manufacturers know that they are popular, so they tend to produce a lot of them. You should be able to find something you like within this style bracket.
---
5.

Coastal Doors
Next to farmhouse doors, coastal doors are the next popular design. Usually, these doors feature tons of windows since coastal homes tend to take advantage of natural light. They are also lightly colored in most cases, though you can make a darker-colored front door work as well (just take a look at our example).
As you might imagine, these doors are most popular along the coast. However, you'll also find them inland occasionally, especially if a home is taking advantage of lots of natural light.
Front doors are key design pieces, so you should only utilize a coastal front door if the rest of your home is coastal-themed as well. It will just seem off if your front door doesn't match your overall style.
---
6.

Bold Color Doors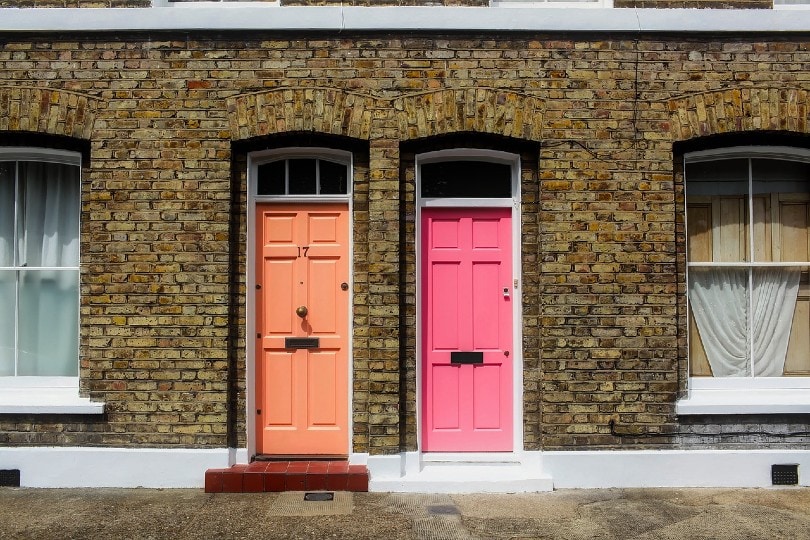 Bold colors for front doors have slowly been becoming more and more popular over the last few years. Now, you'll likely find a few boldly colored doors while browsing through your neighborhood.
Many people assume boldly colored doors have to be bright – such as red and yellow. However, you can also make a bold statement with a blue front door, like the one in our example. Anything that isn't a neutral color or wood tone is likely going to stand out. Pair the color with a few design elements that match, and you'll find yourself with a beautiful front door.
---
7.

Geometric Doors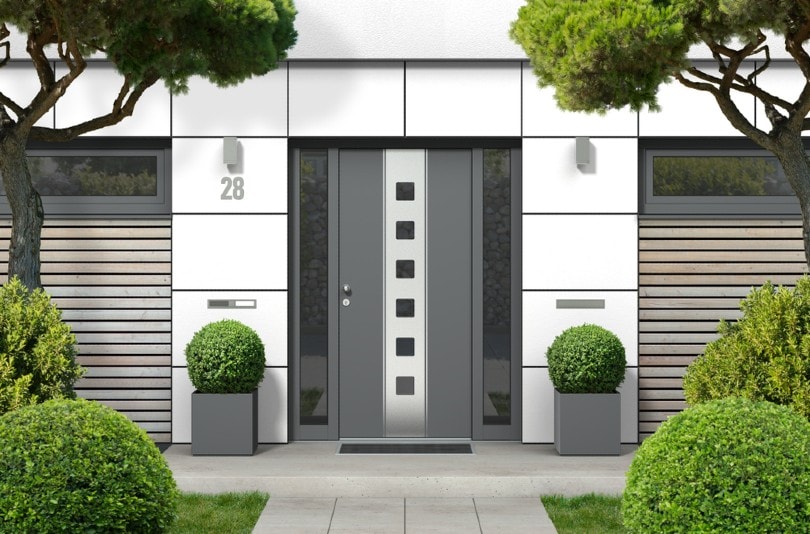 While it isn't as popular as some of the other options on the market, geometric doors are still very much in style. These doors are very unusual compared to the more traditional style, with lots of squares and other very geometric patterns.
If you have a more modern design, then this door is a natural fit.
However, even if you aren't going with a modern design throughout the rest of the house, you can still settle on a geometric door as long as you match other elements, such as color. Plus, these doors are a great way to modernize more traditional homes very cheaply.

Conclusion: Front Door Design Trends
About a decade ago, everyone was utilizing the wooden, traditional doors with ornate glass. However, your options have expanded quite a bit today. Today, glass is still very much trendy, though people are using doors with much more glass than before. In some cases, the glass isn't even treated.
Older trends are coming back as well. For instance, Dutch doors are now extremely popular in some areas due to their aesthetic and practicality.
A few newer trends are likely going to stick around for a while, such as painting doors bold colors and using geometric patterns.
Either way, the style of today's doors is absolutely different than a decade ago.
---
Featured Image Credit: Antranias, Pixabay