Vitamix E310 vs 5300 Blender: Which Blender is Best?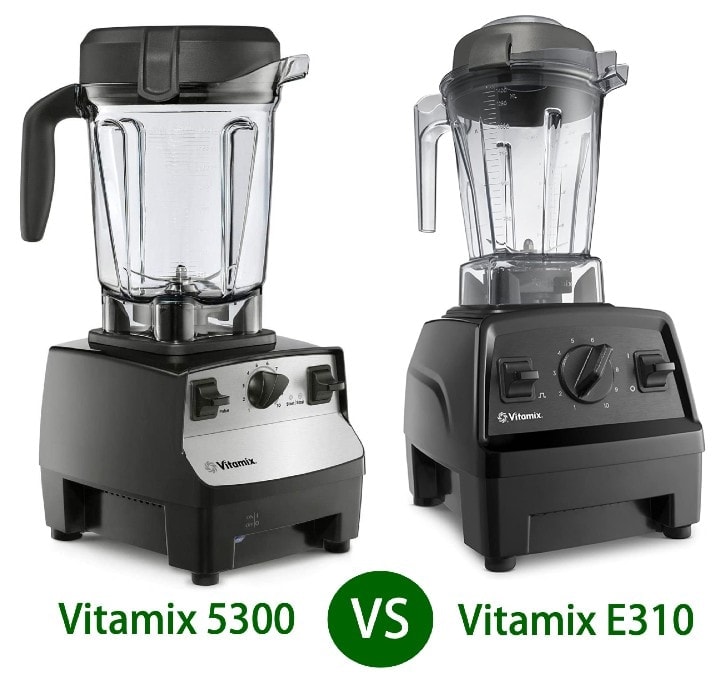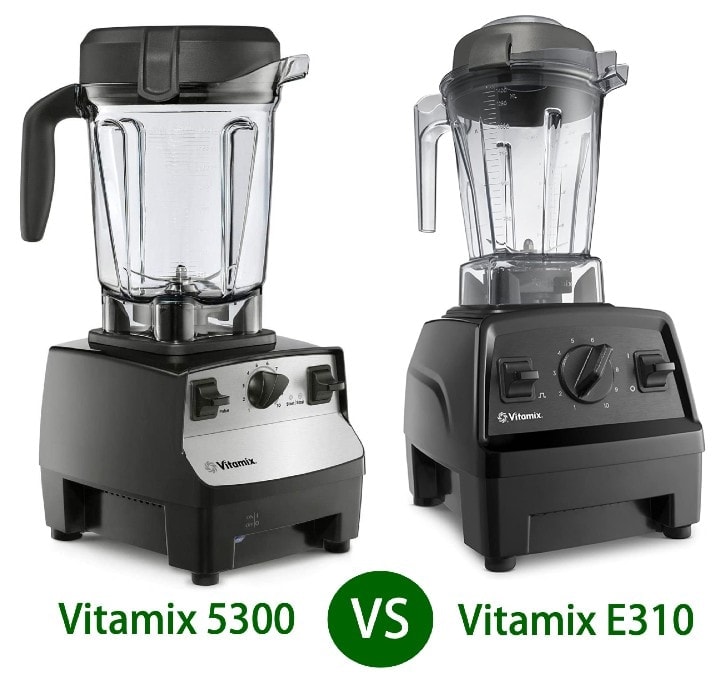 Rating
Image
Product
Details

Best Choice

Vitamix 5300

More Sophisticated Housing
Larger Container
Ten Speed Settings
CHECK PRICE

Best Price

Vitamix E310

More Affordable
Self-Cleaning Mode
Very Powerful
CHECK PRICE
What do you get when you pit one top-tier blender against another? A very difficult decision. That is exactly what buyers looking at the Vitamix e310 and the Vitamix 5300 are faced with.
Vitamix makes some of the best blenders in the world—kitchen equipment that works just as well in the home as it does at a culinary school.
They also make fairly pricey stuff, which means that if you're going to buy one of their products, you want to make sure that it's the right one.
In this instance, both options are quite impressive.
With the Vitamix e310, you get what might be considered the company's economy option. Though still significantly more expensive than a standard blender, it's also noticeably more affordable than many of their other options, making it a good choice for the budget buyer.
While it doesn't have all the bells and whistles of their more advanced options, there's still a lot to like. You get aircraft-quality steel blades, ten-speed settings, and a pulse mode for making coarse foods.
The 5300, on the other hand, takes things up a notch. This unit features a larger container and a new motor housing that helps it to run quieter while also preventing harmful heat buildup.
Today, our goal is to help you decide if the upgrades to the 5300 make it worth the extra cost.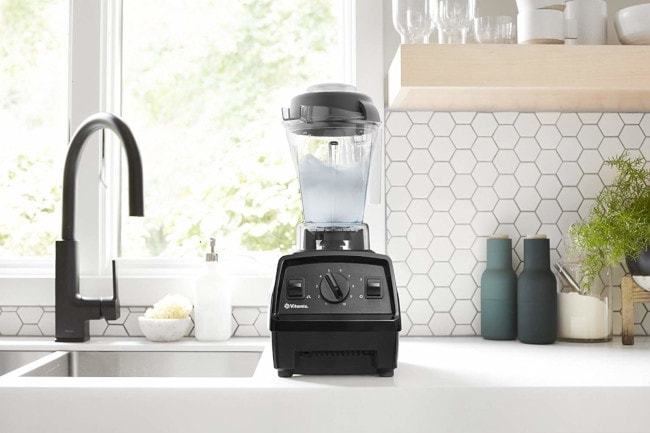 What are the differences between them?
Motor Housing: 5300
The motor housing is not a particularly exciting component of a blender, but it's certainly an important one. The motor housing on the 5300 has been optimized to keep the blender running as quietly as possible.
This is nice because blenders, in general, are very loud. And units that are as powerful as the Vitamix line are known for being deafening.
More importantly, the housing also helps to keep the motor running cooler. This will mitigate the issue of overheating as well as extend the overall life of the blender.
Now, none of this is to say that the housing on the e310 is hazardous. All Vitamix products that we've encountered are built to last. The motor housing is just a little bit more sophisticated with the 5300 than it is with the Vitamix e310.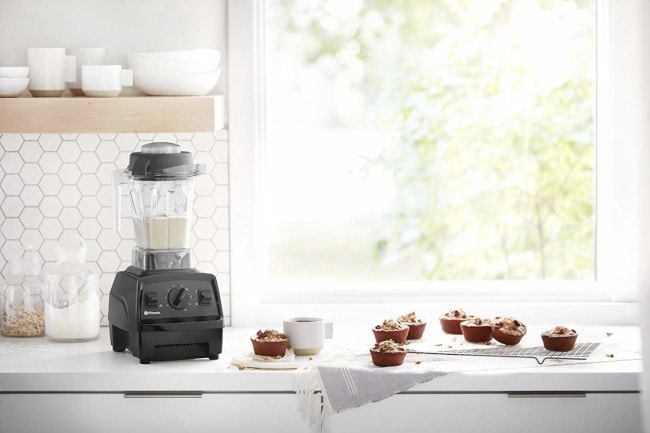 Price: Point for the e310
As we mentioned in our overview, the e310 does win out in the department of price. Both blenders are going to be more expensive than the standard option, but with the e310 you'll save a few dollars.
Given how similar these options are on the surface, it may be tempting to allow the savings you get here to tip the scales toward the e310.
That may be a reasonable reaction. However, buyers should keep in mind that the sophisticated housing on the Vitamix 5300 may lead to a longer lifespan, making it a potentially more economical option.
Of course, it's hard to say with certainty if it would work out that way in practice. Regardless, in terms of pure dollars and cents, the e310 wins out in the price department.
Container: Point for the 5300
To be clear, you get really good containers with both options. Both are sizable. With a wide, squat base, both are also optimized for storage and easy blending.
The base ensures that the containers will not be too tall for your cabinets. It also guarantees that, when you're blending, the ingredients will have no trouble falling into the blades.
The 5300 wins out in this category because the container is bigger. You get 64 ounces with this unit, as opposed to the 48 ounces that you get with the e310.
In either case, it is a lot of storage, but if you have a bigger family, you may prefer the 5300.
Quick Rundown of e310:
Vitamix E310 Explorian Blender, Professional-Grade, 48 oz. Container, Black
Variable Speed Control: Ten variable speeds allow you to refine every texture with culinary precision, from the smoothest purées to...
Pulse Feature: Layer coarse chops over smooth purées for heartier recipes, such as chunky salsas or thick vegetable soups.
The 48-ounce container is ideal for blending medium batches for small family meals. Cutting blades measuring 3-inch diameter to ensure...
Pros
More Affordable
Ten Speed Settings
Self-Cleaning Mode
Very Powerful
Cons
Less sophisticated housing than 5300
No pre-programmed settings
Quick Rundown of 5300:
Vitamix 5300 Blender, Black
High-Performance Motor - The powerful 2.2 HP motor propels blades through tough ingredients to create the highest-quality blends
Variable Speed Control - Easily adjust speed to achieve a variety of textures The dial can be rotated at any point during the blend, so...
Pulse Feature - With the Pulse feature, layer course chops over smooth purees for heartier recipes, such as chunky salsas or thick...
Pros
More Sophisticated Housing than e310
Larger Container than e310
Ten Speed Settings
Very Powerful
Cons
More expensive than e310
No pre-programmed settings
What the Users Say
We've found that the user response to both the e310 and the 5300 is very positive and very similar. Users really appreciate having blenders that are so much more versatile than the typical options.
People who have never before owned a blender this powerful always report deeply enjoying the ability to make ice cream, soup, and pizza dough all in the same container.
Many people use both blenders to replace mixers, coffee grinders, and food processors. This can reduce clutter, and even save you money if you were planning on buying those things separately.
The biggest complaints that we see about the lack of pre-programmed settings. Both options leave you to fend for yourself in determining which setting is right for which food, which creates something of a learning curve.
We've also heard some users report that the e310 runs louder than they expected. This is a product of both the power of the blender and the housing, which is not as good at reducing noise as the 5300's is.
These things aside, both options are quite popular with the people who use them.
Conclusion:
If you examine these two blenders point for point, there's no denying that the 5300 comes out a little bit ahead in terms of design and performance.
However, price is an important buying factor as well. Even if you aren't a budget buyer, you may prefer the savings that you get with the e310. After all, the differences between these blenders aren't that substantial.
The most important improvement is the 5300's upgraded motor housing. The extra cooling factor will promote a longer lifespan, which may lead to savings in the long run.
However, the Vitamix e310 is also built to last, and it comes with a solid seven-year warranty in case something does go wrong.
It's a tough decision, but now that you have a comprehensive understanding of these blenders, you should have no trouble making it.