Fuji 2202 Semi-PRO 2 HVLP Paint Sprayer Review 2023 – Pros, Cons & Verdict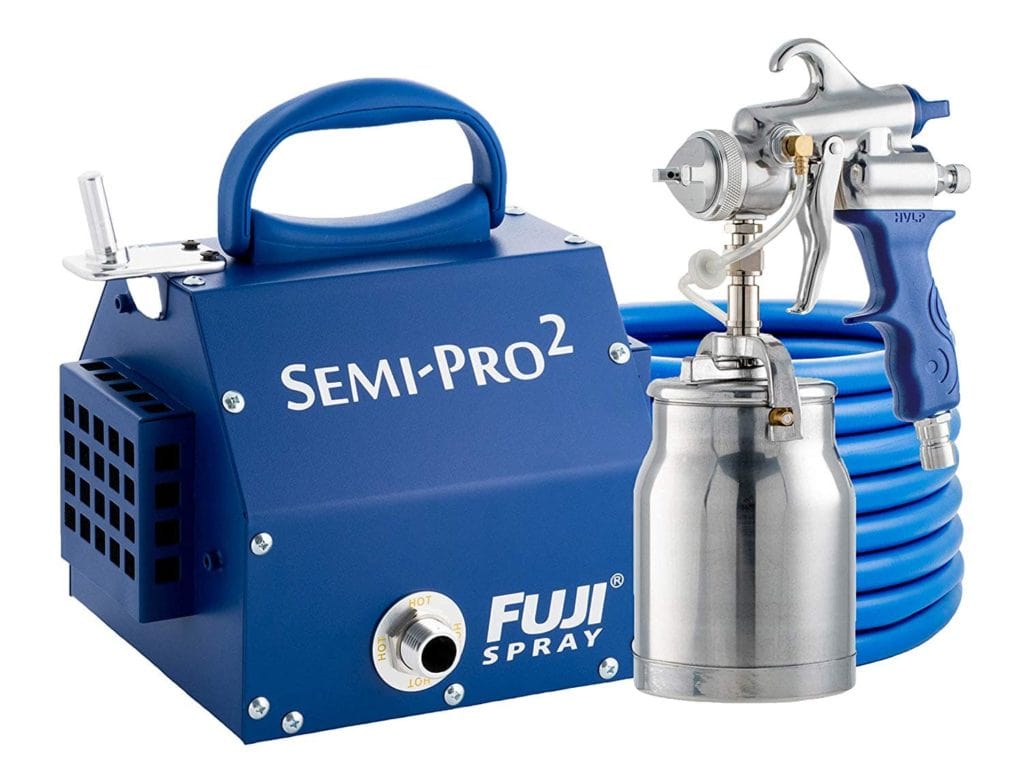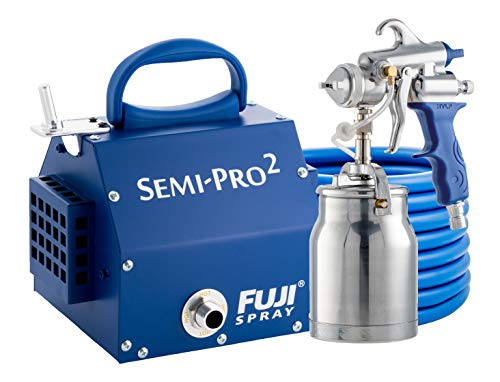 We give the Fuji 2202 Semi-PRO 2 HVLP a rating of 4.7 out of 5 stars. 
Build Quality: 4.8/5
Power: 4.8/5
Features: 4.8/5
Price: 4.5/5
Review Summary:
It is probably fair to say that Fuji is one of the most prominent paint sprayer manufactures currently in business. With good reason. Their HVLP (high volume, low pressure) sprayers are known for producing professional finishes for a relatively affordable price.
The Fuji 2202 Semi-Pro accomplishes this feat as well. This powerful, two stage sprayer is easy to clean, it is versatile, and it is adjustable enough to allow for various different types of spray patterns.
Of course, as is the case with any product, the Fuji has its issues—though not very many of them.
For one thing, you only get a 1.3 air cap, which is not suitable for all paints. Additional air caps can be purchased, but the price isn't extremely friendly.
We also noticed that the system clogs easily. This is a con common to most personal use sprayers, but it is also always a big drag.
We should also mention that, though the Fuji 2202 is priced appropriately given the quality of its finish, it is still more expensive than many of the sprayers out there.
If you are on a restrictive budget, this unit probably will not be for you.
Do the cons beat the pros? Read on and decide for yourself.
A Quick Look at the Fuji Semi-Pro 2:
Pros
Produces High Quality finish
Easy to Clean
Produces Several Types of Spray Patterns
Twenty Five Foot Hose
Cons
In the higher price range
Specifications
Company: Fuji

Model: 2202

Dimensions: 16 x 9.5 x 12.5 inches

Weight: 26 pounds
Twenty-Five Foot Hose: Good For Accessibility:
Because HVLP sprayers are not used to paint home exteriors, hose-length is often not emphasized as an extremely important feature. However, it can still be handy to have a lengthier hose. Why? Because with twenty five feet of hose length, you aren't going to have to move the entire sprayer around every time you want to address the workpiece from a new angle.

This component of the tool is going to be particularly handy when tackling a bigger project, like finishing a deck.

With twenty-five feet of hose length, you should have no trouble navigating around most workpieces.
Multiple Spray Patterns: Good for Versatility:
The sprayer is also adjustable to operate with several different patterns. This unit can spray vertically, horizontally, and circularly.

The best part is that adjustments are incremental, which means that you can vary your spray pattern anywhere from 1″ to 12″.

With this level of adjustability, you should have no trouble adjusting your sprayer for the exact needs of the job that you have on hand.

To be fair adjustability is a feature that is expected out sprayers of this caliber. However, incremental adjustments aren't seen everywhere, which is a nice bonus.
Easy to Clean: Good for Everybody:
Last, but certainly not least, this tool is also very easy to clean. Cleaning is a critical component to the health of a sprayer, so this feature is nothing to sneeze at.

The entire system breaks down easily after you are finished working, making it very easy to clean each individual part as needed.

This component of the system is particularly nice because unfortunately, the Fuji 2202 is already a little bit sensitive to clogging.

This is an issue that will probably crop up no matter what you do, but with a good cleaning, you can help reduce the prominence of the problem.
FAQ
Many sprayers that I have used in the past have been too loud. Is the Fuji 2202 noisy?

Unfortunately, yes. In fact, the Fuji 2202 may be a little bit noisier than average. If you work mostly in doors, say in a small shop, you would be well advised to wear protective ear-wear.

Can this sprayer be used to paint a home exterior?

As an HVLP sprayer, this system is better suited for detail oriented projects. It will be great for staining a deck or applying paint to a piece of furniture. It won't be so great at painting the exterior of your home. For that type of project, you will want to invest in something with more pressure.

What kind of warranty does this product come with?

This sprayer comes with a two-year warranty that covers parts and labor for unexpected repairs. Many sprayer systems seem to come with a one-year warranty, is this is actually a little bit better than average.
What the Users Say
Most people that have purchased and used the Fuji 2202 Semi are very glad that they did. The biggest praise pertains simply to the finish that it produces. We hear from many serious hobbyists that claim it produces the best results they have ever seen from a sprayer.

We even hear from professional refinishers that are using the sprayer to success. There are some users that are not completely satisfied, though pushback is fairly minimal.

We have seen several users report that they are struggling with clogs. As we have mentioned, clogs are a prominent issue with most sprayers, but that doesn't make them any less frustrating.

We have also heard from some users that say that they have to thin the paint a little bit more than they are used to. This is not necessarily a major con, as thinning paint isn't very burdensome, but it does account for a learning curve you may need to navigate.

These things aside, there aren't any prominent complaints to report. The majority of Fujji 2202 Semi-Pro users seem satisfied with their purchase.
Conclusion
While the Fuji 2202 is not perfect, it does leave little to complain about. No one likes clogs, and the price could be a little bit wallet-friendlier, but at the end of the day, it does accel in the department of performance, which is what matters the most, right?

This sprayer is powerful, versatile, and it just produces really good results. If you are a serious hobbyist, or even someone that runs a small shop, these are the features that will probably matter the most to you.