Wagner Flexio 590 HVLP Paint Sprayer Review 2023 – Pros, Cons, & Verdict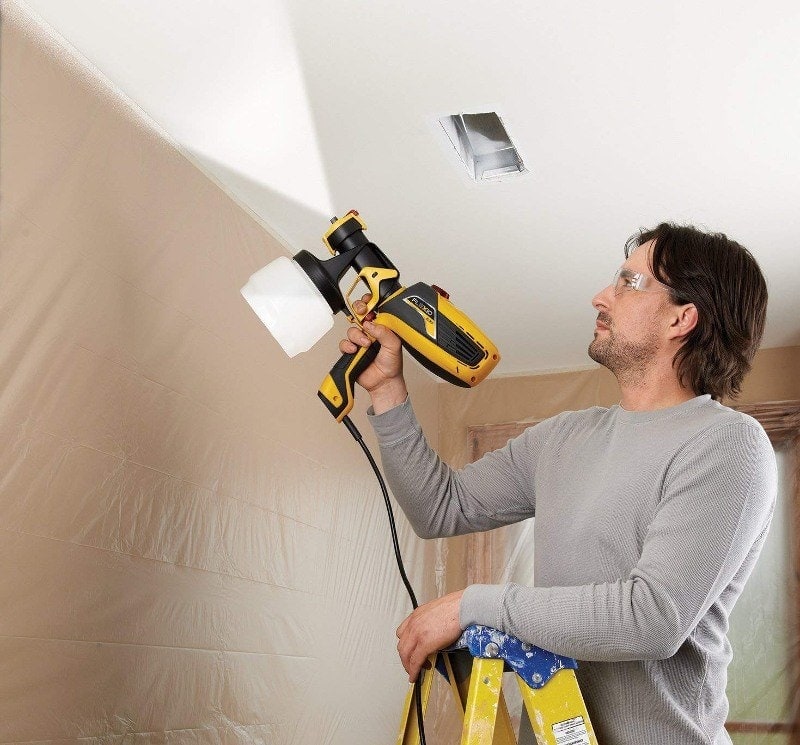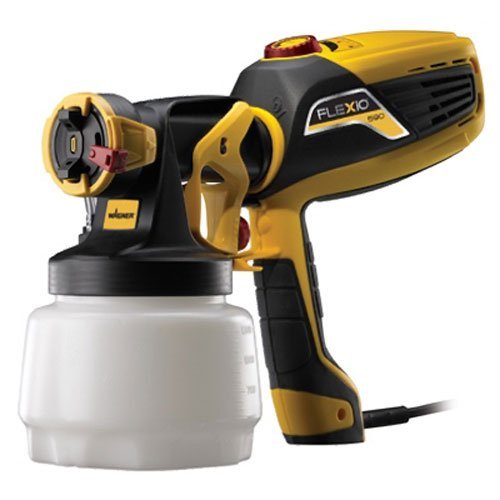 We give the Wagner Flexio 590 HVLP Paint Sprayer a rating of 3.8 out of 5 stars. 
Build Quality: 3.5/5
Power: 3.5/5
Features: 3.3/5
Price: 4.8/5
Review Summary
Wagner is a big name in the paint spraying game for making economical options that are generally most suited for do-it-yourselfers.
As is true with any tool manufacturer, some of what it has to offer is really great, while some of its other tools fall a little flat. Today, the goal is to determine which of these categories the Wagner Flexio 590 falls into.
Most shoppers will probably find that there are departments in which the Flexio fits both categories.
In terms of high-quality performance, there are certainly some aspects of this tool that the average do-it-yourselfer will probably appreciate.
The biggest draw for the Flexio 590 is probably its versatility, which is not necessarily something you see with bargain-priced options.
The iSpray nozzle is highly adjustable, which means you won't have any trouble changing the spray pattern vertically and horizontally for a wider range of use.
Unfortunately, the iSpray nozzle is also a vulnerable component of the tool. We found that this feature is a little bit finicky and prone to clogging, which can prove frustrating.
Still, if you are an average user looking for an affordable way to lay a lot of paint, the Flexio 590 may very well still seem appealing. Find out if this tool is worth your time as we now dive into our Wagner Flexio 590 review!
Wagner Flexio 590 – A Quick Look
Pros
iSpray nozzle
Easy to clean
Affordable
Versatile
Cons
Build quality questionable
Nozzle prone to clogs
Specifications
Company: Wagner

Model: Flexio 590

Weight: 10.15 pounds

Dimensions: 15.9 x 6.7 x 13.9 inches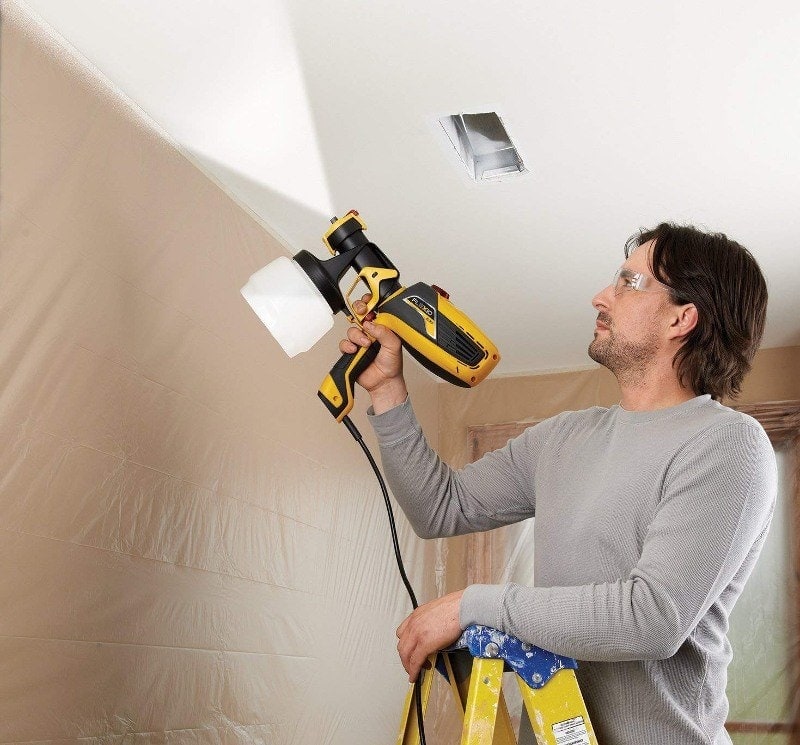 iSpray Nozzle: Providing Versatility
The iSpray nozzle is a very convenient way to adjust paint spray patterns to accommodate the unique needs of a given job. The more you are able to adjust a paint sprayer, the more you will ultimately be able to do with it.

As a do-it-yourselfer on a budget, a tool that is both affordable and highly adjustable is a good find, but do keep in mind that (as we mentioned) the iSpray nozzle is overly prone to clogging.

This issue can be mitigated slightly by good cleaning practices, but you will probably find that you will have to pause work to deal with clogs more than you would like to with this tool.
Detail Finish Nozzle: Perfect for Furniture and Fine Finish Painting
The Wagner Flexio 590 is mostly designed for bigger jobs, like painting the walls of a home. But, in keeping with the spirit of versatility that it exhibits in the iSpray feature, it can also be used for detail-driven projects.

The detail finish accessory is a great way to put the finishing touches on a project that requires a little more skill and attention.

The good news is that this tool is much better at handling clogs than the iSpray nozzle.
Easy to Clean
We mentioned earlier that this tool is overly prone to clogging, which is going to be true no matter what you do. However, the fact that the spray gun has been designed for easy cleaning is still a big plus.

This optimization is born mostly of the fact that the gun is easy to break apart. Wagner calls this the Lock N Go design.

The feature also allows for easy, stress-free removal of accessories and attachments, which is, of course, also good to see.
FAQ
Can this be used for commercial purposes?

Due to the limitations of this tool in terms of volume, professionals will be much better served going with something more heavy-duty.

What kind of warranty does the tool come with?

You get a standard manufacturer's warranty with this tool that keeps you covered for up to one year.

Can this tool be used for automotive painting?

Unfortunately, no. The Flexio 590 is best used for indoor/outdoor painting and furniture painting.
What the Users Say
User feedback is largely positive. Many users are pleased with the tool's proficiency and speed. One user even reported using this tool to paint a 500-square-foot room in under an hour.

The fine finish nozzle, in particular, has been well received for delivering the refined results that detail-driven projects require.

Still, there are some concerns that consistently crop up. The biggest problems that we have regularly seen pertain to clogging and durability.

As already mentioned, the iSpray nozzle is overly prone to clogging. The build of the tool itself also seems vulnerable to wear and tear. We have heard reports of unexpected cracks and breaks, which naturally is never what you want to hear.

How does the Wagner Flexio 590 compare against its little brother, the 570? We put it to the test here!
---
Conclusion
This tool really is a mixed bag. The features are very strong for a sprayer in this price range, but the fact does remain that there are some issues that will be a turn-off to many buyers.

We think that the solid pricing, the versatility, and the quality of the actual paint jobs will make it a good option for homeowners trying to tackle a repainting job on their own.

Still, buyers will want to be mindful of the clogging, as well as the not-so-sturdy build.

Do the pros outweigh the cons? Now that you have read our review of the Wagner Flexio 590, that decision is for you to make.

You might also be interested in: 10 Best Paint Sprayers – Reviews & Top Picks