Gorilla Ladder vs Little Giant: Pros, Cons, & Verdict (2023 Update)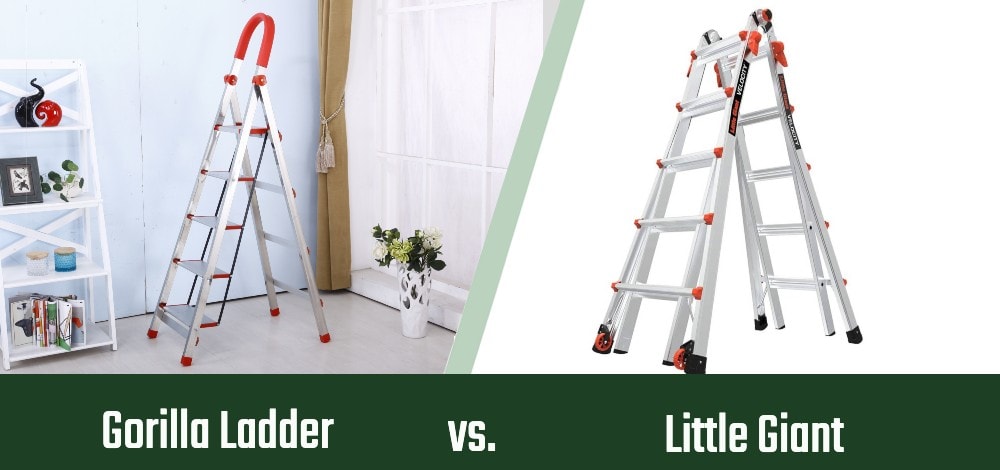 What is it that you're looking for in a ladder? Do you want a lightweight yet durable unit that you can easily move around? If so, Little Giant will be the best bet. Thanks to the sturdy construction, it can last for many years, if not decades. The carrying capacity leaves a lot to be desired, though. So, if that's important to you (maybe you're doing a lot of construction work and need every bit of weight capacity), opt for Gorilla Ladders.
Another good reason to pick this brand over Little Giant is the price: Gorilla Ladder products are significantly cheaper. But they're not as widely available as Little Giants. And what about the size range—which ladders have the upper hand there? Well, both Gorillas and Giants have ladders that reach 26 feet; still, Little Giant's line-up is more impressive. The ladders are more flexible, too. Thanks to the built-in folding feature, they are much easier to store and take less space.
Summing up, Gorilla Ladders are stronger and cheaper. However, that doesn't necessarily mean they're better. If you're ready to invest extra into a long-lasting, reliable ladder with a self-retracting, compact design, Little Giant will be money well spent. Can't decide which ladder you should get? Don't worry! Our detailed reviews, pros, cons, and in-depth comparison of Gorilla Ladder vs Little Giant will help with the choice. So, read on to make up your mind!
At a Glance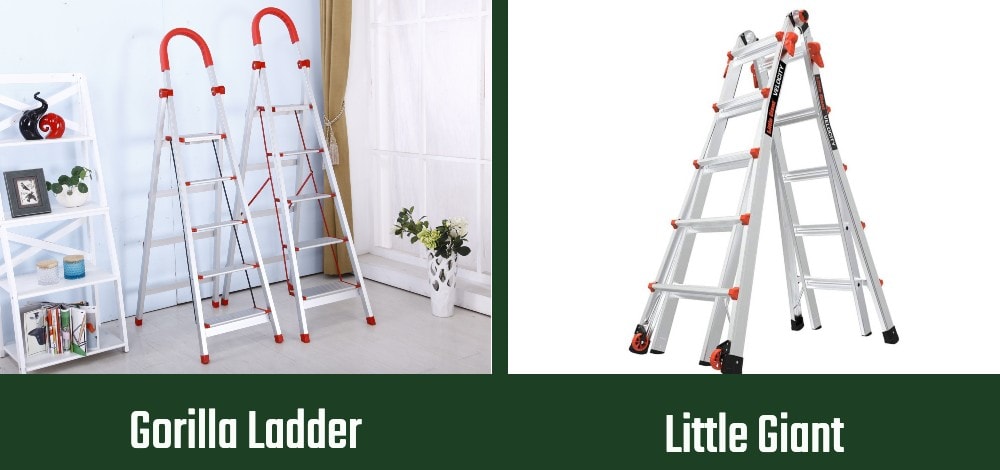 Gorilla Ladders
Size Range: 14–26 feet.
Material: Aluminum, steel, plastic
Carrying Capacity: 375 pounds
Pricing: Average
Little Giant
Size Range: 14–26 feet
Material: Aluminum, fiberglass
Carrying Capacity: 300 pounds
Pricing: High
Overview of Gorilla Ladders: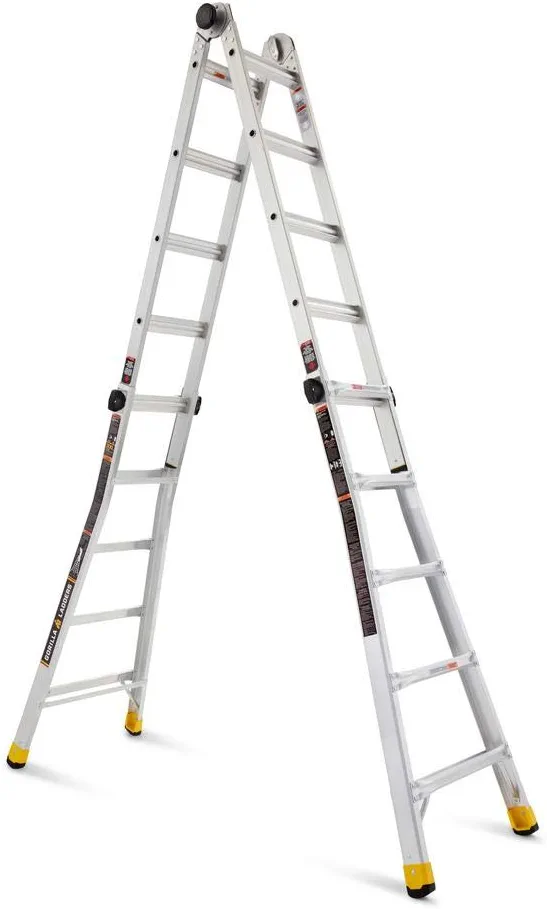 Based in the US, but with some of the production facilities located overseas, this company is a leader in the market of consumer and commercial ladders. It wins over potential clients with an impressive weight capacity and a low price. The Gorilla Ladders aren't perfect, though, and do have their fair share of disadvantages. Here's a more detailed look at the pros and cons:
Market-Leading Carrying Capacity
If you're looking for a ladder that can hold not only your weight but also heavy construction materials, pay extra attention to Gorilla Ladders. They are specifically designed to handle extra weights. And if you need to have two people up there at the same time, the rungs won't break under the pressure, thanks to the carrying capacity of 375 pounds.
Low Price, Yet Average Durability
This is the biggest selling point of these ladders: they come at a very affordable price. That's true not only compared to Little Giant but to other manufacturers as well. Even the biggest and most well-packed ladders are available at a low price. On the downside, they don't last forever. While most Gorilla Ladders do, indeed, have above-average carrying capacity, they aren't very durable.
Wider-Than-Average Steps
Today, almost all decent-quality ladders have non-slip feet—that feature is not unique to this company. However, with Gorilla Ladders, your feet won't slip even if they're wet and dirty. The steps also deserve our attention: most ladders by this brand have slightly wider steps than the industry average, which makes it easier to climb up and down.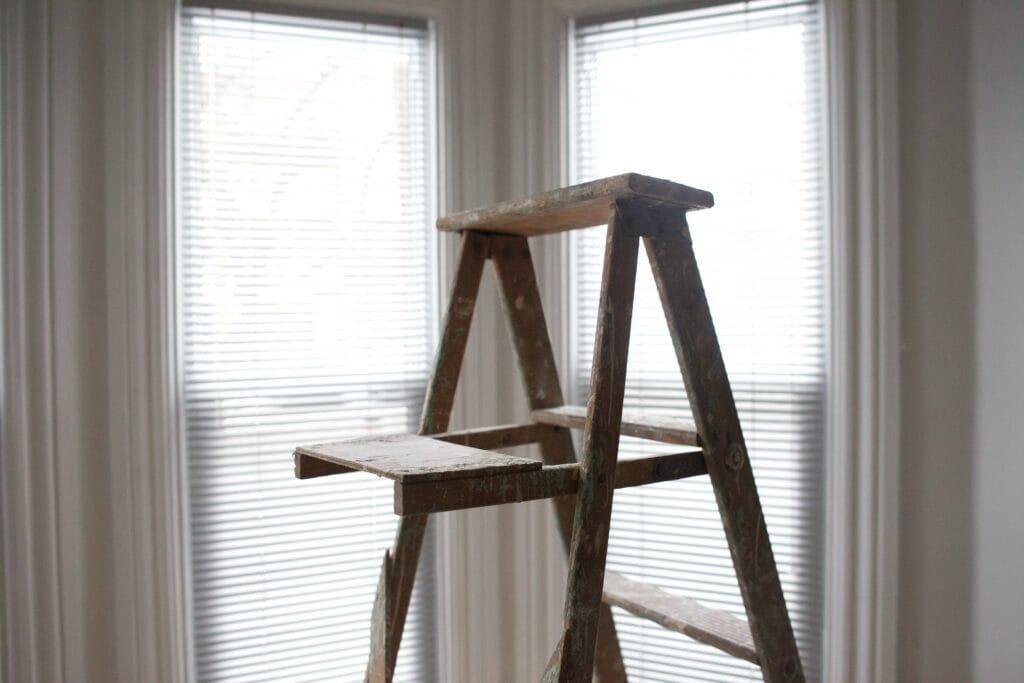 Take Time and Effort to Set Up
The Gorilla Ladders aren't very flexible. While you can, of course, adjust them to your liking, they're still not as versatile as the Little Giant ladders. Furthermore, it will take more time to set them up. We also want to mention that these ladders aren't available at every single store in the country. So, you might have to check a spot or two before you find these for sale.
Pros
Impressive carrying capacity
Available at an affordable price
Non-slip feet and wide steps
Perfect for construction work
Cons
Somewhat difficult to set up
Not as widely available
Overview of Little Giant: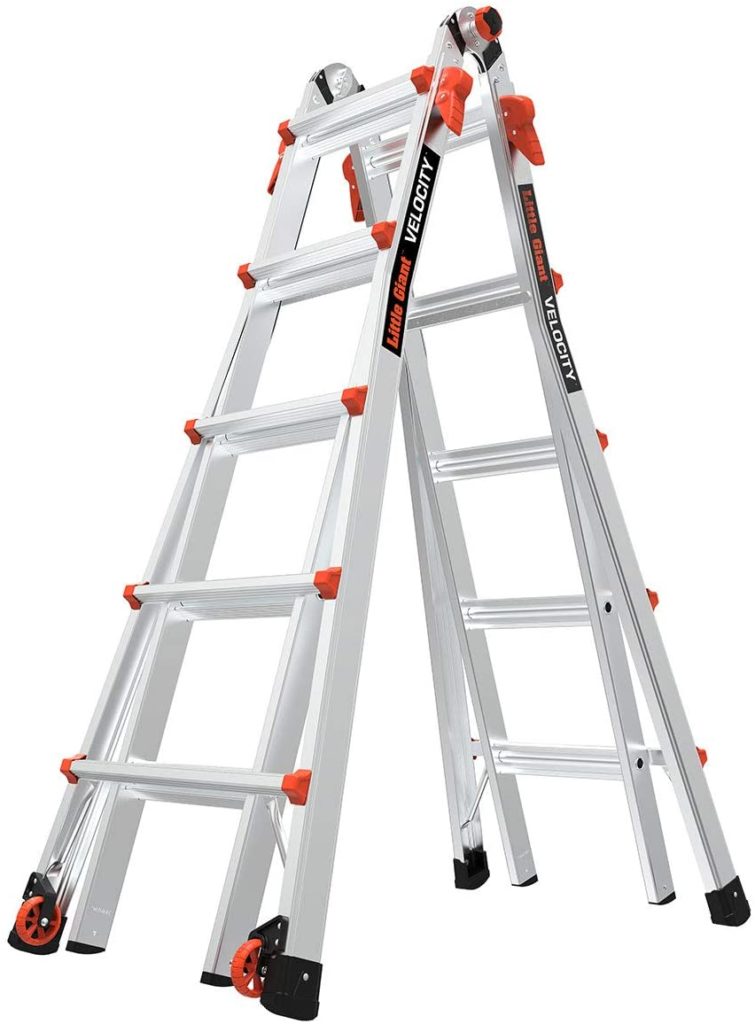 Little Giant is the biggest US-based producer of ladders. It's been around since the 1970s and boasts some of the most durable, lightweight, and flexible ladders on the market. Just how good are the Little Giant ladders, though? What should you keep in mind before picking one? Let's find out!
Durable and Long-Lasting
This company always includes durability in its marketing ads, and for good reason: the Little Giant ladders are, indeed, very sturdy. Compared to the industry average, they have a longer lifespan, too. This is the result of top-quality engineering and the use of premium materials like aluminum and fiberglass. These ladders can "take a beating" and won't break if you accidentally drop them on the ground.
Flexible, Compact Design
The Little Giant ladders are famous for their unique, flexible design. Thanks to the trademark folding feature, the multi-position ladders are quick to transform into different configurations and retract/collapse for storage. More than that, these ladders are lightweight and come packed with a set of wheels for easy transportation. So, if you don't want to ask a friend or family member for help every time you need to move the ladder around, this will be a big pro for you.
Steep Price, But a Wide Variety
All these pros come with one significant con, which is the high price. While the Little Giant line-up is quite impressive and does include some affordable ladders, the best units aren't exactly cheap. Therefore, before investing in a Little Giant ladder, take a moment to think about whether you need such an expensive ladder on your property.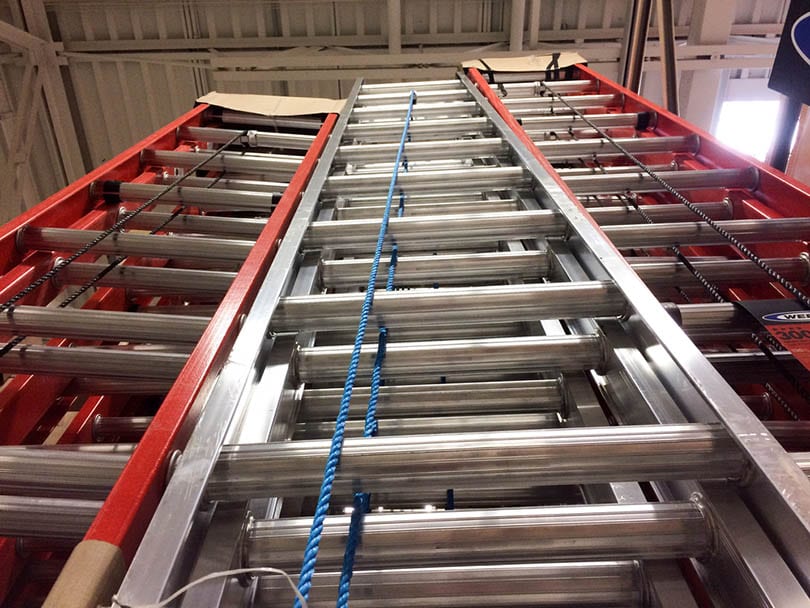 Low Weight Capacity
Now, 300 pounds of carrying capacity isn't that bad. In fact, it's exactly what most ladders out there are rated at. Still, it's not enough to compete with its biggest rival—Gorilla Giant (375 pounds). You might not necessarily need a ladder that strong, though. For most indoor and outdoor tasks, 300 pounds should be enough.
Pros
Incredibly durable construction
Folding feature for easy storage
Lightweight, mobile design
Lots of sizes to choose from
Cons
A bit on the expensive side
Average-at-best weight capacity
What Are the Differences Between Them?
Overall Safety
Gorilla and Giant are OSHA-approved and do a great job of building safe, reliable, and slip-proof ladders. Little Giant ladders have a solid, durable construction, and don't break under pressure. More importantly, most picks from the Little Giant collection are highly adjustable and equally suitable for stairs, curbs, and uneven surfaces. The Gorilla Ladders are secure as well and feature wide, sturdy steps, along with non-slip feet. So, when it comes to safety, both brands deserve our praise.
Flexibility/Durability
The construction quality of the Little Giant ladders has always been the company's trademark. And, to this day, the durability ratings are unmatched. Flexibility is another area where these ladders excel. But this doesn't mean that the Gorilla Ladders aren't sturdy or long-lasting. The engineering quality is decent compared to most brands on the market. Still, the Little Giant ladders are more adjustable, user-friendly, and boast a higher lifespan.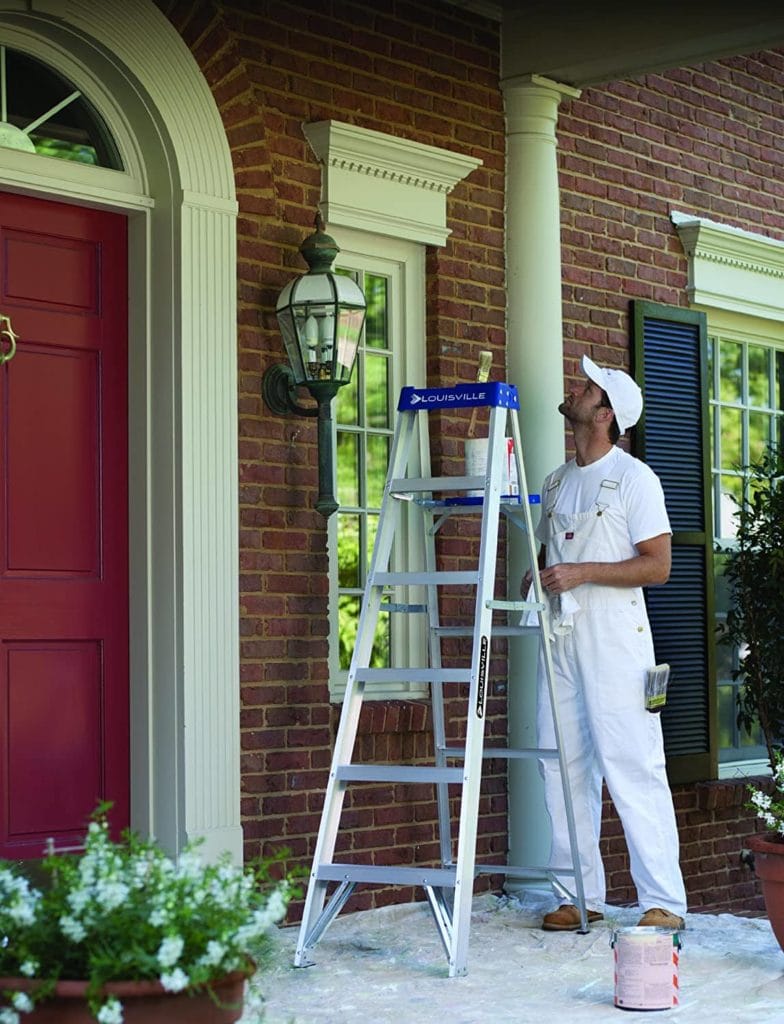 Size/Weight/Capacity
These manufacturers have quite an impressive roster of ladders. We're talking about 2-step, 3-step, 14-feet, 18-feet, and even 26-feet units. But Little Giants offers more sizes and configurations to choose from. That means the chances of finding the perfect ladder for your indoor/outdoor needs will be much higher with this manufacturer.
As for carrying capacity, Gorilla Ladders take the lead: their top-tier equipment can hold up to 375 pounds, which is a market-leading result. In contrast, Little Giant ladders are only good for 300 pounds (that's the maximum weight that they can hold). On the other side, the Giant ladders aren't nearly as heavy and can be easily moved around manually. Therefore, they take the lead in this round.
Price/Warranty
For the most part, the Gorilla Ladders are more affordable. This can, of course, vary greatly depending on the size, weight, and other factors, but generally, this brand's ladders are a better pick in terms of pricing. As for guarantees, both companies back their products with limited lifetime warranties. Gorilla Ladders cover workmanship and material defects. You'll get pretty much the same deal from Little Giant: a limited lifetime warranty against manufacturing defects.
But since Gorilla Ladders are slightly less expensive, they are the preferred pick here.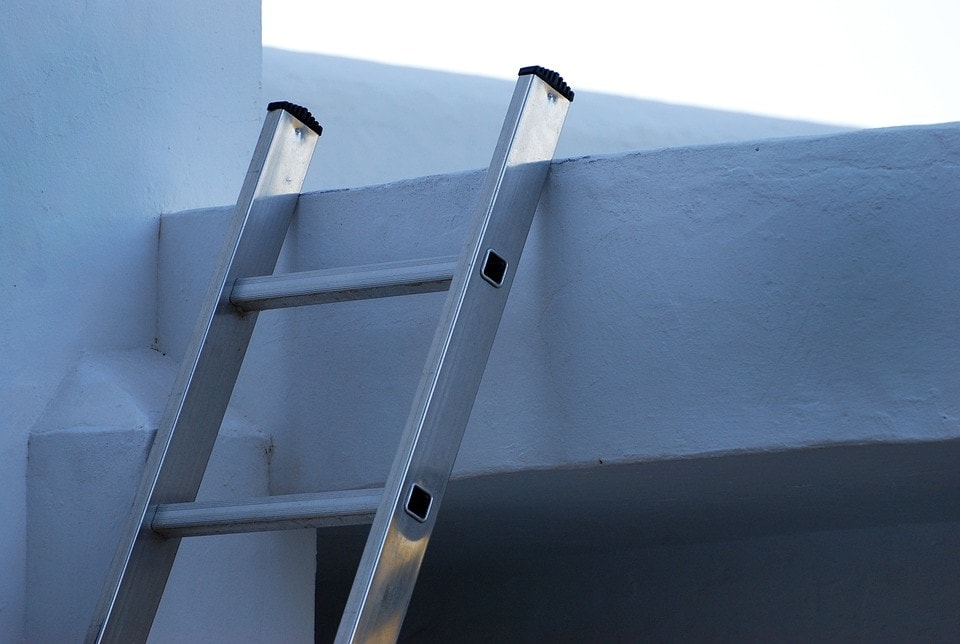 What the Users Say
And now that we've learned about the pros and cons of both products and figured out their best uses, let's see what the customers have to say. Our team took it to forums for unbiased reviews from users that bought both products and wanted to share their feedback. So, Gorilla Ladders are highly praised by construction workers because of their carrying capacity. The affordable price tag receives even more rave reviews from regular folks looking for a low-priced ladder.
Little Giant has its fair share of positive feedback as well. Durability and ease of use are mentioned by most customers as the biggest reasons for choosing this brand over the competition. Some folks have been using Little Giant ladders for a decade, and they are still going strong. The lightweight, highly mobile design also gets a lot of attention, especially from elderly people that have a hard time handling heavier constructions.
On the downside, Little Giant is critiqued for the steep price. While a large percentage of users do agree that the high cost is, for the most part, justified, they name it a key factor in their decision to go with Gorilla Ladders instead. Overall, both brands get their fair share of love. Folks that are ready to pay up praise the user-friendliness and overall performance of Little Giant. Homeowners on a budget, in turn, opt for Gorilla Ladders.
Conclusion
Finding the right ladder is not an easy task. That said, if you're looking for a low-priced, high-capacity option for interior or exterior use, Gorilla Ladder has got you covered; it's the best offer on the market in this regard. However, users that put ease of use, mobility, and durability first will find Little Giant ladders to be a better investment, despite the higher cost.
Ultimately, it's up to you to decide whether you want a sturdy and cheap ladder that lacks flexibility and durability or a more robust, user-friendly one that costs more. Take your pick!
---
Featured Image Credit: Jumpstory