Graco Magnum X5 Paint Sprayer Review 2023 – Pros, Cons, & Verdict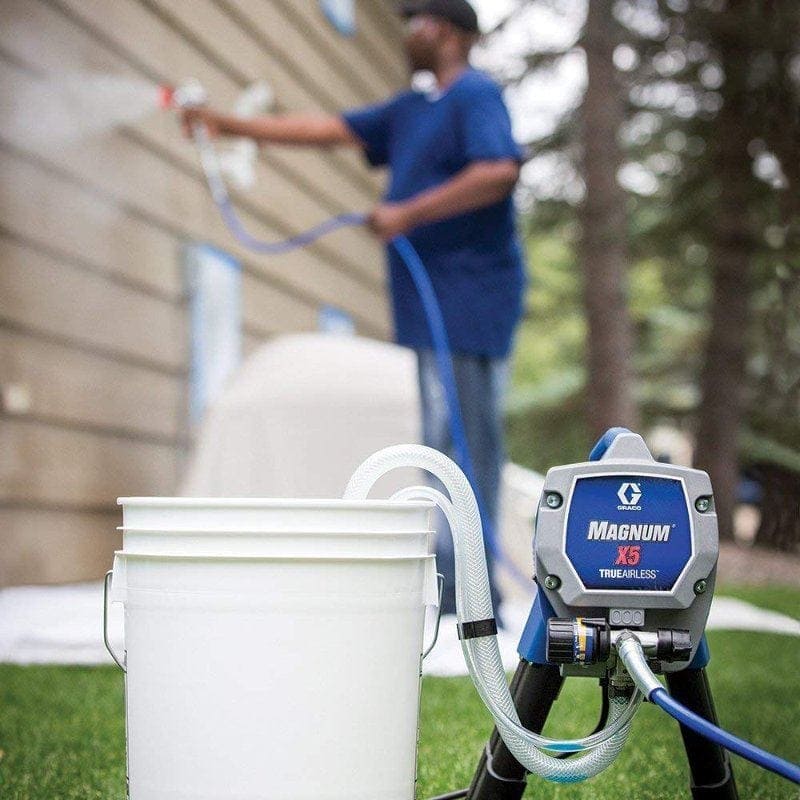 We give the Graco Magnum X5 Paint Sprayer a rating of 4.4 out of 5 stars. 
Build Quality: 4.5/5
Power: 4.5/5
Features: 4.5/5
Price: 4/5
You can also read our Graco Magnum X7 review here!
Review Summary
The Graco Magnum X5 is a precision tool for precision work. Painting of every variety requires a steady hand, and as much accuracy and efficiency as you can get.
While no paint system will be able to provide you with the skills that you need, there are options out there that can enhance them.
The Graco is just such a tool. This mid-priced option puts a lot of focus on control, so it will serve as a good choice for buyers looking for everything they can get in the way of accuracy.
This is a midgrade option, so it will suit the needs of serious do-it-yourselfers, or perhaps even professionals who are hoping to get a proficient tool at a decent price.
The tool is not perfect—for example, we did notice that it is more prone to clogging then we typically like to see in a product of this nature—but for the most part, it is a high-performing paint spray system, which should be expected considering Graco's reputation for making high-quality equipment.
Of course, this is not enough information to base a buying decision on. Read on for a proper Graco Magnum X5 review.
Graco Magnum X5 – A Quick Look:
Pros
Fully adjustable pressure
Piston pump allows for un-thinned paint at high pressure
Up to 75 feet of reach
Specifications
Brand: Graco

Model: Magnum X5

Reach: 75 feet

Motor: 4/8 hp universal

Dimensions: 19 x 12.9 x 14.9 in

Weight: 19 pounds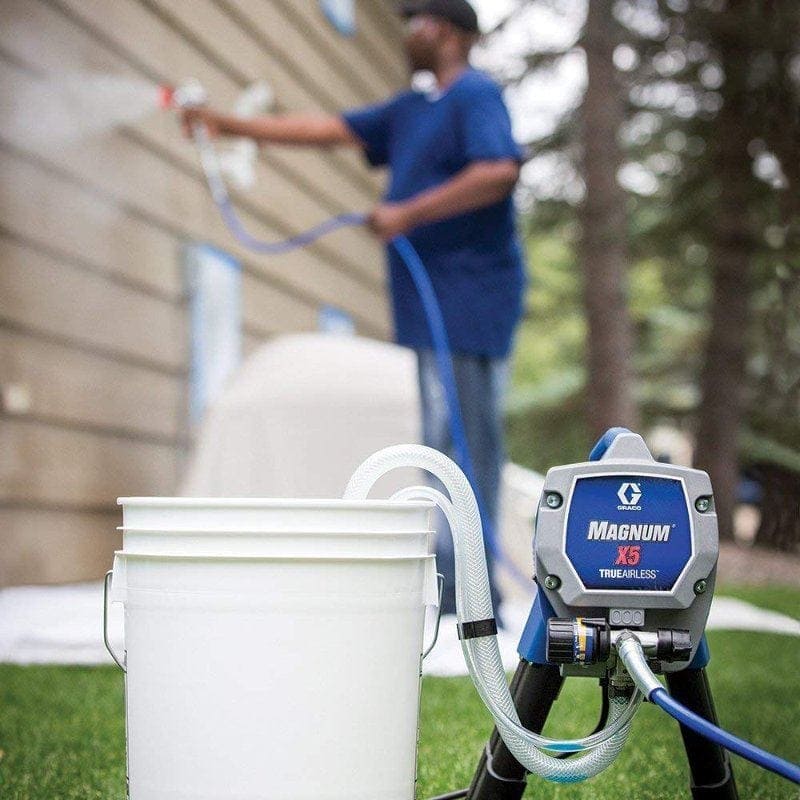 75 Feet Of Reach:
This type of paint sprayer is really good for painting both interior or exterior walls. For these jobs, you want as much reach as you can get.

There are some sprayers out there with a hose reach of close to one hundred feet (which is enough to accommodate painting a three- or four-story home).

Still, for most users, and certainly most homes, seventy-five feet is impressive. With this sprayer, you shouldn't have any trouble painting most homes or structures.
RAC IV SwitchTip
We mentioned in the introduction that this sprayer is somewhat prone to clogging, which can be very frustrating during long jobs (or any job, really).

While it is true that this is an issue, the tool's design works to mitigate the problem, at least to a certain extent.

The Graco X5 features a reversible, RAC IV SwitchTip that is (at least in theory) able to eliminate the frustrations of excessive clogging.

The way it works is pretty simple: when the unit gets clogged, simply reverse the SwitchTip and keep working.

The feature does work, but the issue of the clogging problem still remains, and this is more of a band-aid to that issue than it is a cure.

Because clogging is a more significant problem with this sprayer than it is with some of the other options on the market, it is almost hard to list this feature (which only mitigates the issue) as a pro. However, it will come in handy (probably more often than you would like it to).
Adjustable:
Adjustability is a critical component of any paint sprayer, since this is the component of the tool that will enhance your control over the process.

The Graco X5 offers users complete adjustability over the sprayer's pressure output, so you can have complete control over the paint output.

This feature will improve the accuracy of your projects, and it also allows you to use this sprayer for a wider range of work.
Easy Cleaning:
Paint spray systems are notoriously hard to clean, and if you don't do it correctly, the result can be very damaging to the tool's ultimate performance. This puts a big premium on finding an option that is easy to clean.

Fortunately, this is an area at which the Graco X5 excels. The unit features a "PowerFlush" adapter that allows you to hook the system up to your garden hose after use.

The garden hose then clears out the pipes and tubes quickly, so you don't have to worry about clogs or additional problems the next time you use the spray system.

Of course, this feature also saves you a lot of time. You won't have to worry about a long, inconvenient chore once you finish your painting for the day.
Easy To Start:
Even the best spray system will be useless if you can't get the pump started up. Tools like this can sometimes be finicky to get going. Graco addresses this problem with a "PushPrime" button that makes starting the pump up as simple as pressing a button.

While basic, this feature will save you time, and probably lots of frustration if you intend to use this tool often.
Flexible Suction Tube:
The unit also features a flexible suction tube that can pull directly from either a one- or five-gallon paint can.

This feature will make the spray system easy to use, even for smaller tasks that won't require much paint.
FAQ
Can you use any type of paint with this spray system?

Generally speaking, different tip sizes can be used to accommodate different paints. However, as we have mentioned, the tips are prone to clogging, especially when certain paints are used.

For example, latex paint is supposed to be compatible with the .017 tip. However, some users have reported that this is not necessarily the case.

With spray systems that clog, selecting the best paints may be a system of trial and error in terms of efficiency. Technically, most paints will work, but some will be more compatible than others.

Can this be used for furniture painting?

It can be! This type of sprayer is better used for large-scale jobs, like painting walls or houses, but if you do need to put fine details on a workpiece, the various pressure settings will help you do that.

What kind of warranty does this product come with?

The warranty on this product is pretty standard. Owners get complete coverage on repairs and replacements for the first year after the date of purchase.

However, keep in mind that, as with any warranty, there are caveats. For one thing, the warranty of course only pertains to part defects, which means if the damage is your fault you are out of luck.

The warranty also requires that the tool be installed and maintained in accordance with the company's written instructions.

If non-recommended adjustments have been made to the tool, it may invalidate the warranty, so stick to the instruction manual as you set the Graco X5 up.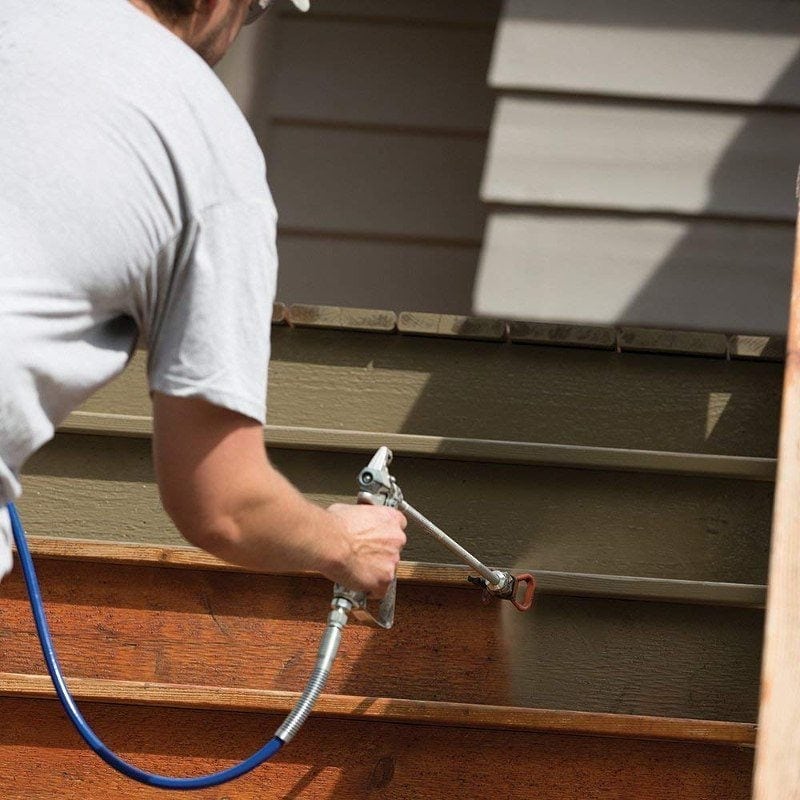 What the Users Say
Most people that use this tool are pretty pleased with it. We have heard from a lot of do-it-yourselfers that are using this product to paint their houses to great effect.

The complaints with amateur home paint jobs are pretty small. The paint does tend to travel quite a bit in the wind, but this is common with most tools of this nature.

Because of the tendency for clogging, it seems that professionals have a harder time with this tool. The measures built in to mitigate clogging (particularly the SwitchTip) do an adequate job of addressing the problem, but if you paint for a living, you may want something with more guaranteed efficiency.

Some users mention that the pump is pretty loud when it is running. This feature is fairly common to larger paint sprayers, so it isn't a surprise to see that issue here, but if you are looking for a notably quiet tool, this is not going to be it.

Other than these relatively small problems, the Graco X5 is an efficient paint spraying system that has left the majority of its owners pleased with their purchase.

Note: another paint sprayer that we'd recommend looking into is the Graco Magnum Project Painter Plus.
Conclusion
As you can see, the Graco Magnum X5 is a good paint sprayer that should mostly be satisfying for the majority of buyers.

While it is by no means perfect, the features of the tool are impressive, and they mostly correlate with high performance. The issue of the clogging will be frustrating, especially for high-volume users, but features like the SwitchTip do serve to help users work through it a little bit.

Ultimately, it will be up to you to decide whether the tool is right for your needs. We can't tell you if the Graco X5 is right for you, but hopefully, after reading this review, the decision will be much easier for you.

How does this Paint Sprayer compare against the X7? That's a question we wanted to answer in our Graco X5 vs X7 comparison post. I'd recommend reading that one before making your buying decision.

You might also be interested in: 10 Best Paint Sprayers – Reviews & Top Picks