6 Best 18-Inch Chainsaws – Reviews, Top Picks & Guide 2023
Eighteen inches is the perfect intermediate length for a chainsaw. It's long enough for professionals yet short enough that amateurs can comfortably use it with standard training and gear. These versatile power tools have something to offer everybody.
With an 18-inch chainsaw in your arsenal, you can fell medium-sized trees, cut through harder wood, prune obstructive and dangerous branches, and chop a week's supply of firewood without breaking a sweat.
It's easy to decide that 18 inches is the length of chainsaw you want, but it's harder to determine which 18-inch chainsaw to buy. If you're missing the help of the employee at the hardware store who seemed to know everything about power tools, let our reviews fill the void. We'll help you sort the good chainsaws from the duds and leave you confident you spent your hard-earned money on the right product.
---
Our Favorites Compared (updated in 2023):
Rating
Image
Product
Details

Best Overall

Husqvarna 450 18-inch Chainsaw

East to start
Lightweight
Easily cuts hardwood
CHECK PRICE

Remington RM4618 Outlaw 18″ Chainsaw

Lightweight
Anti-vibration tech really works
Easy to start
CHECK PRICE

Best Value

Echo CS-400 18″ Chainsaw

Relatively powerful engine
Very light and easy to use
Affordable
CHECK PRICE

Best Battery-Powered

GreenWorks GCS80420 18″ Chainsaw

Great battery life
Highly portable
As powerfully as gas saw
CHECK PRICE

WORX WG304.1 18-Inch Chainsaw

Cuts through hard lumber
Consistent engine and blade
Can handle almost any job
CHECK PRICE
The 6 Best 18-Inch Chainsaws:
1.

Husqvarna 450 18-inch Chainsaw – Best Overall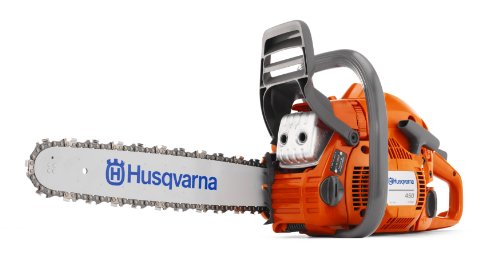 Regarding versatility, nothing beats the Husqvarna 450, and it cruised to a first-place finish in our tests. The 450 blew us away with how little effort it took to get the engine going. The hits keep coming once the chain moves, as everything about this chainsaw is geared toward ease of use. It's light, just over 11 pounds, and the pliable handle is fitted at the perfect angle.
Amateurs will find the Husqvarna 450 a friendly entry point, while more seasoned landowners will be happy they can use it all day without getting tired. Under the hood, it has 3.2 horsepower and a maximum unloaded speed of 56.89 FTS, which is more than enough to tackle any mid-range job.
The only issue we found to warn potential buyers about is the customer service. If you have a problem with the 450, don't expect much help. Husqvarna doesn't seem to employ support staff who know how the chainsaw actually works. It's a good thing the 450 suffers mechanical problems so rarely. Overall, we think the Husqvarna 450 is the best 18-inch chainsaw on the market.
Pros
East to start
Lightweight
Well-balanced
Plenty of power
Easily cuts hardwood
---
2.

Remington RM4618 Outlaw 18″ Chainsaw

The Remington RM4618 is our runner-up 18-inch chainsaw. It's not quite as balanced or as powerful as the Husqvarna 450, but it's an outstanding tool in its own right. The RM4618 has a 46cc 2-cycle engine under the hood, and it provides a smoother, lower-maintenance start. Chainsaw newbies will be able to start it fast and move on with their work.
Yard workers and homeowners of all skill levels will also appreciate how little it vibrates; an anti-vibration barrier separates the cushioned handle from the bar, keeping shaking to a minimum. It's incredibly convenient, too. The carrying case is solid, the auto-oiler works precisely as advertised, and the chain tensioning system is easy to use. Your first oil refill is included with the purchase, and there's also a 2-year warranty included (with some limitations).
The main issue keeping the RM4618 from being higher up the list is that the caps on the fuel tank and bar oil reservoir are not nearly as secure as they should be. That's a potential safety issue, so if this is your pick for an 18-inch chainsaw, never turn it on without triple-checking the caps.
Pros
Lightweight
Anti-vibration tech really works
Easy to start
Engine is powerful enough for easy cuts
Cons
Loose tank caps
Unclear terms and conditions on warranty
---
3.

Echo CS-400 18″ Chainsaw – Best Value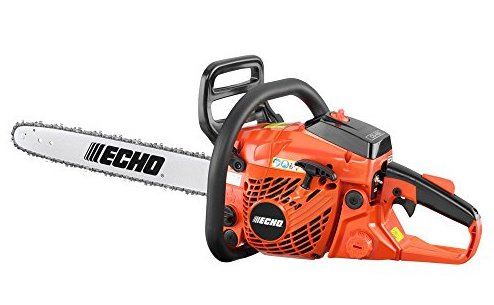 If you're searching for the best 18-inch chainsaw for the money, consider the Echo CS400. This chainsaw has its good and bad points. On the good side, there's the 40.2cc engine, which maxes out around 1.25 horsepower. We found that was enough to cut through hardwood and larger branches (though that took a little while). It only weighs about 10 pounds and comes with engine oil.
As for the bad: the first time you use the CS400, you'll find it tough to start. After the first time, it gets easier, but reaching that point takes elbow grease. Our tests also found that the chain came loose more quickly than other 18-inch saws. Finally, there's the total lack of a warranty or refund guarantee; if you get a lemon, you have no recourse.
The weight and power still make this a bargain as far as 18-inch gas chainsaws go. Just make sure you know what you're getting into.
Pros
Very light and easy to use
Relatively powerful engine
Affordable
Cons
Difficult to start
Chain isn't tensioned well
Warranty is non-existent
---
4.

GreenWorks GCS80420 18″ Chainsaw – Best Battery-Powered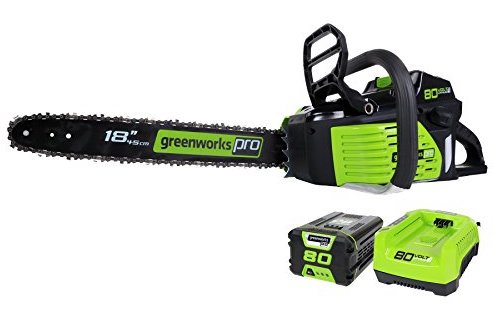 The GreenWorks GCS80420 is one of our favorite electric 18-inch chainsaws. It runs on an 80V, 2Ah lithium-ion battery and comes with a charger. However, if you have a battery and charger from a GreenWorks GBA80200, GBA80400, or GCH8040, you can reuse it and get this saw for half the price.
The GCS80420 is the ultimate argument against the notion that electric chainsaws are less powerful. Each battery charge can make around 150 cuts through 8-inch limbs (or 80 cuts through 16-inch limbs), and each cut happens fast. If our experience is anything to go by, you'll run out of daylight before you run out of energy.
The electric engine is easy to start on cold days, and the design of the GCS80420 is another high point; it has excellent balance, and all the controls are placed sensibly within reach.
Aside from the overpriced battery, there are a few drawbacks to beware of here. First and foremost is the leaky oil reservoir, whose cap comes off if it isn't tightened between every cut. Also, the teeth on the factory-installed chain don't bite. You'll want to get an aftermarket blade, which raises the price.
Pros
Easy to start
Great battery life
Highly portable
Cuts as powerfully as a gas saw
Cons
Leaky oil tank
Low-quality factory blade
Overpriced battery
---
5.

WORX WG304.1 18-Inch Chainsaw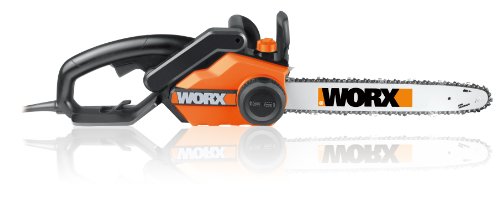 The WORX WG304.1 is a budget-friendly corded electric chainsaw. Think of it as the electric equivalent of the Echo CS400. It's not without flaws, but worth it for the money you save. The cord limits its use to places where you can reach a plug or haul a generator. It also uses a non-standard chain that's annoyingly hard to replace if it breaks.
The chain oil presents similar problems since it's hard to find, and the amount included only fills about half the tank. Finally, the in-use chain tensioner is harder to use than it needs to be.
Even considering all that, we recommend checking it out. The WG304.1 cuts above its weight class, powering through trunks wider than its bar. If you have the patience to cut from multiple directions, you can saw through a 36-inch trunk. The chain hardly ever bogs down, and from what we've observed, the engine never stutters.
In the end, what constitutes a dealbreaker comes down to you. Suffice it to say that there are plenty of reasons other than the low price to give the WORX WG304.1 a look.
Pros
Cuts through hard lumber
With time, can handle almost any job
Consistent engine and blade
Cheap but not shoddy
Cons
Oil reservoir leaks
Auto-tensioning has problems
No spare parts available
---
6.

BLACK+DECKER CS1518 Chainsaw

It's all right to be skeptical about electric chainsaws. They're typically not as powerful as gas saws, but they're not intended to be. This saw is aimed at the homeowner who needs to do landscaping, branch trimming, or knocking down small trees (10″ diameter or less) around the house. If you're in range of an electric outlet—or have a long extension cord—this may be the chainsaw for you.
It's easy to assemble out of the box. It's fairly lightweight (12 pounds), so it won't strain your arms and back. It's well-balanced, easy to start, and quieter than a gas saw. Tightening or removing the chain doesn't require any tools, and the oiling system is automatic. It's about as simple as any power tool can be. However, because this saw isn't as powerful as a gas saw, you're limited by the length of your extension cord.
Pros
Easy to start
Lightweight
Well-balanced
Toolless chain tightening
Cons
Less power than gas saws
Limited by extension cord
---
Buyer's Guide – Choosing the Best 18 Inch Chainsaws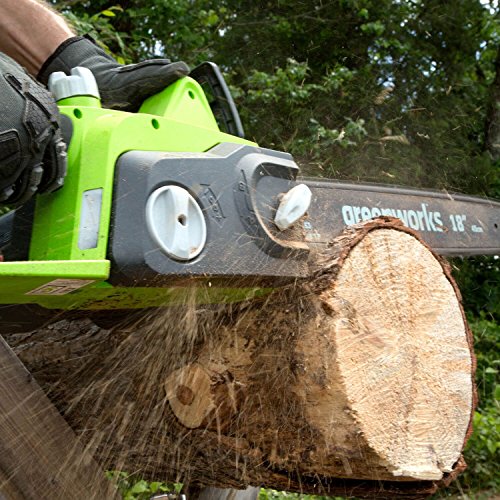 There's nothing uniform about chainsaws. Professional lumberjacks need different kinds of tools than weekend warriors maintaining their backyards. People who need a chainsaw to chop firewood in the winter have distinct requirements from those who plan to work mostly in the spring and summer (more on that below).
However, it's also true that we all want some of the same things. Everyone wants a dependable workhorse that can slice and dice logs. Nobody wants their chain to fall off or their battery to die halfway through the workday, and of course, nobody likes to overpay for anything.
In this buyer's guide, we'll teach you how to thread the needle and find a high-quality chainsaw that will help accomplish your goals. After all, the best tool isn't necessarily the best for everybody.
RELATED READ: 6 Types of Chainsaws & Their Uses
Chainsaws through the seasons
One commonly overlooked factor in determining what you need in a chainsaw is when you expect to do most of the work. Most people know that you need to get a saw with a bar long enough to cut the logs you have your eye on, but it's just as important to keep the changing seasons in mind.
Check the following sections to see what you'll need from a chainsaw each season.
Spring & Summer
In the warmer seasons, you're more likely to be using chainsaws for clearing brush and cutting down waste trees, but the tasks of chopping firewood and getting rid of dangerous branches continue all year round.
In the spring and summer, most gas chainsaws will start without any problem. They'll also give you far more flexibility than electric ones. You'll be able to come and go as you please without worrying about extension cords or generators.
Cordless electric chainsaws provide much more flexibility than corded, but it's still easier to carry gas with you than constantly keeping a pair of lithium-ion batteries charged. Also, electric chainsaws tend to be lighter and less powerful.
In the spring and summer, the best reason to go with electric over gas is to avoid pollution. If you live near neighbors who don't want to listen to your gas motor every weekend or can't stand gas fumes for any reason, an electric chainsaw is the solution.
RELATED READ: Electric vs Gas Chainsaws
Once you've decided when you'll be doing most of your work, you can move on to other equally important considerations in making your final decision.
What makes a good chainsaw?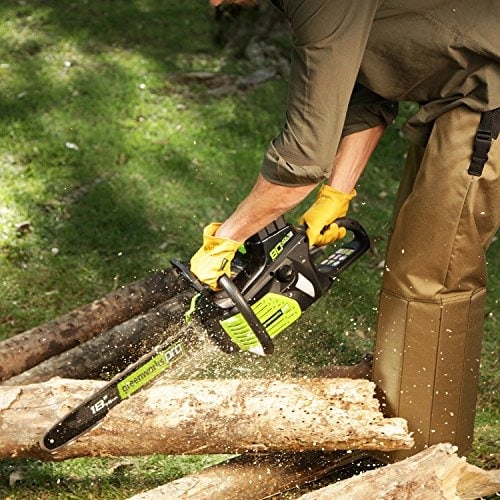 When you have your eye on a chainsaw, talk to other people who have bought it or read the reviews they've written. With the information they give, you can judge the saw on these points:
A good chainsaw should be able to cut for hours without trouble. As long as you tighten the chain regularly and keep the bar properly oiled, it should work dependably without causing you grief.
Chainsaw blades usually lose tension during regular use. No matter how well-made, every chain gets slightly looser when the chainsaw comes in contact with wood. The best chainsaws recognize this and make it as simple and painless as possible to re-tighten the chain. Look for a saw with a tool-free chain tensioning system, and you'll save a lot of time.
Dependable self-oiling is another mark of a good chainsaw. It's great when the chainsaw handles a thankless chore, so you don't have to. Unfortunately, you can't rely on a self-oiler without paying attention to it; many of them deliver too much lubricant at once and tend to leak when stored for the winter.
Before buying your new chainsaw, check and see which replacement parts are available. Look for oil and gas as well. A good chainsaw should be easy to repair and have readily available replacement parts.
Chainsaw warranty tips
Follow these rules to make sure you don't spend money you regret.
Warranties are indispensable for power tools. Unfortunately, some manufacturers don't live up to their written warranties because they don't think you'll go to the effort to sue. That is where the brand name and reputation come into play.
A well-known company is likelier to live up to its warranty than a lesser-known one. The older brand names have reputations to protect and can't afford to lose loyal repeat customers.
New companies, or those new to chainsaw manufacturing, might be willing to play fast and loose with the rules to bolster their bottom line. On the other hand, some new manufacturers are working very hard to overtake the big boys, so they're willing to go the extra mile to make you happy.
Some companies have better warranties, and by taking the time to research, you can find out which companies are worth your money.
Once you've bought your chainsaw, you aren't quite finished. You need safety equipment. Never use a chainsaw without the following items:
Eye protection
Ear protection
Steel-toed boots
Chainsaw helmet
SEE ALSO: Our reviews of the best chainsaw helmets of the year
More extras
Have a spare bar and extra chain oil on hand. You don't want to trek back to the garage whenever something goes wrong.
For gas chainsaws, premixed fuel will save you a lot of time and ensure the fuel-to-oil ratio is always accurate.
You should have at least one spare chain on hand at all times, as well as a sharpening kit for the chain's teeth.
If your chainsaw doesn't come with a hard plastic carrying case, consider getting a bar scabbard. They're priced reasonably and protect the bar and chain during storage.
Conclusion:
The Husqvarna 450 took the top spot in our reviews. It seems like it was designed to shut up everybody who's ever sneered that a chainsaw's bar is "only 18 inches." It runs so well, cuts so quickly, and feels so good to use that the only thing we could find to complain about was the customer support hotline.
We were pleasantly surprised to find the Remington RM4618 in second place. We've had some issues with this model in the past, but Remington has stepped up their quality-control game. This is far and away the best 18-inch chainsaw for beginners; everything works wonderfully, from the blade to the auto-oiler to the anti-vibration technology.
The best 18-inch chainsaw for the money is the Echo CS400. It's quick, easy to use, and delivers a real bang for the buck. Spare parts might be hard to find, but for the price, it's well worth it.