Hayward Navigator Pro Pool Cleaner Review 2023 – Pros, Cons & Verdict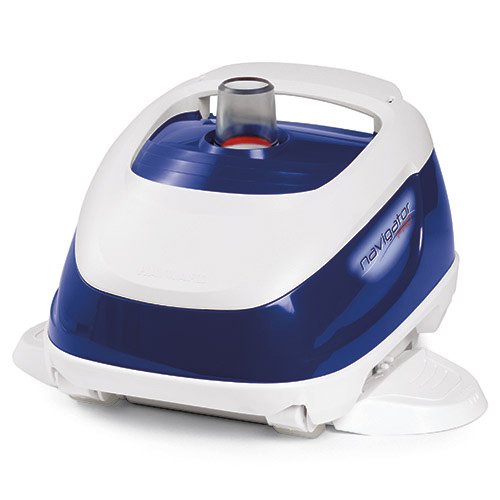 We give the Hayward Navigator Pro Pool Cleaner a rating of 3.7 out of 5 stars. 
Build Quality: 4/5
Power: 4.1/5
Features: 3.5/5
Price: 3.1/5
Review Summary
Quick to connect, and simple to set up, the Hayward Navigator Pro can go from the box to cleaning up your pool in less than 10 minutes. It works with the suction side of a pool's circulation system, and with the SmartDrive technology steering it via alternating right-to-left and left-to-right turns it works quickly and silently to sweep up small debris and pollen. It might have trouble climbing walls depending on the shape of your pool, and it is a bit pricey among suction-side pool cleaners. But if you're looking for a pool cleaner that is quiet and with few tangled hoses and cords, it's a great option to look at.

Pros
Quiet
Cleans up small debris like grit and pollen ably
Few hoses and moving parts
No booster pump required
Cons
Ability to clean walls may be hindered by pool shape
A touch pricey for a suction-side pool cleaner
Can put wear and tear on a pool's pump
Specifications
Brand name: Hayward

Model: Navigator Pro

Type: Suction side

Pool type: Inground

Dimensions: 20 x 23 x 10 in

Weight: 6.2 lbs.
Silent operation
A unique turbine design combined with the already-quiet operation of Hayward's suction-side Navigator Pro make it truly silent but deadly when it comes to grit and debris on the bottom of your pool. The Navigator Pro hooks onto the pool's existing suction system and automatically runs so that you can relax in your favorite bar stool while it cleans the pool.
SmartDrive programmable steering
Hayward's exclusive steering technology allows the Navigator Pro to make alternating right to left, and left to right, turns while cleaning up dirt and pollen from the bottom of your pool. It not only cleans more thoroughly and faster than pool cleaners that move in random directions, but this also reduces the chances of overvisiting an already visited section of your pool.
Fast, no hassle connection
The Navigator Pro connects directly to your suction system with a simple snap of a hose. There are no moving parts or pumps to set up or to risk getting tangled in itself. Slide it out of the box and 10 minutes later it's cleaning your pool bottom. And cleaning it silently.

FAQ
How good is the warranty that comes with this model?

The Hayward Navigator Pro comes with a two-year limited warranty.

Is there a particular pool surface this is best used on?

Although it's fairly suitable for all pool surfaces, the Navigator Pro works best on gunite pools.

Does this require a separate booster pump?

The Hayward Navigator Pro connects to a pool's filtration system on the suction side of the circulation loop. Pool cleaners that connect on the pressure side, the water that is outbound from the pump, require a booster pump. Suction-side cleaners do not.
What the Users Say
Online reviews for pool cleaners are a tricky thing because people spend a lot of money on them and have high expectations. So, it's not unusual to see a lot of frustration because manufacturers promise a lot and often don't deliver on those promises. So, when looking at online reviews, go in expecting to see a lot of haters.

That said, the Navigator Pro is a pretty popular pool cleaner. It received a lot of praise for its no-hassle setup and quiet operation. These are the big selling points for a suction-side pool cleaner, which means that Hayward's design does just what people looking at that kind of pool cleaner are looking for.

It is also popular because it does a great job cleaning. If your pool has small debris like bugs and pollen, users say this pool cleaner does a great job vacuuming that stuff right up.

There are, of course, a considerable number of dissenting opinions. Many of those involved a complaint common to a lot of pool cleaners, which is that they get to a certain spot in the pool and stop working. That is especially the case when it involves the drain in the deep end. If you read these reviews and are given pause by that, be aware that getting caught on a deep-end drain is a very common complaint people have about pool cleaners of all makes and prices.

There were also a number of complaints that it just didn't work. At all. Or that it would work and then stop working for no apparent reason. These are also pretty common complaints about pool cleaners of all makes and technologies, from simple suction-side cleaners that cost a few hundred dollars to advanced robotic pool cleaners that run more than a thousand bucks.

As to the Navigator Pro itself, there wasn't a model-specific complaint that stood out. The things people don't like about it are things people don't like about pool cleaners in general, and it didn't have a fail rate any worse than most other pool cleaners.

For most people, however, the Hayward Navigator Pro is a good pool cleaner.

Conclusion
Hayward's Navigator Pro offers a low-expense alternative to pressure-side cleaners that need a separate booster pump or robotic pool cleaners with pricey technology. It connects quickly and easily to a pool's suction system and with no moving parts is up and cleaning in 10 minutes. It's quiet enough that cleaning your pool won't bother your neighbors and its SmartDrive technology steers it efficiently across your pool bottom and avoids revisiting previously cleaned spots. It has some difficulty climbing walls depending on a pool's shape, and among suction-side pool cleaners, it has a hefty price tag, but in the big picture, it is an affordable, quiet way to clean your pool.

Other Hayward models: