Hayward AquaBug Pool Cleaner Review 2023 – Pros, Cons & Verdict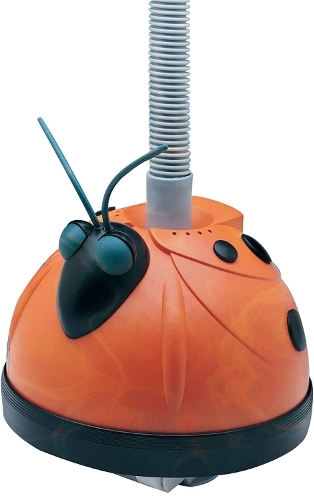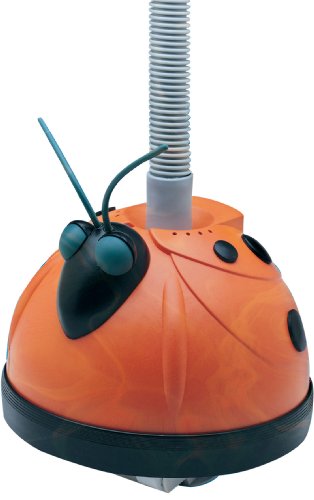 We give the Hayward AquaBug Pool Cleaner a rating of 3.8 out of 5 stars. 
Build Quality: 4.1/5
Power: 3.0/5
Features: 3.6/5
Price: 4.3/5
Review Summary
Cute but effective, Hayward's Aquabug is designed to clean the floors of an above ground pool. A suction-side pool cleaner, it doesn't need a booster pump or a power cord and takes just 10 minutes to snap it into your pool's circulation system to get it going. It comes with Haywards's SmartDrive technology, which lets it criss-cross the floor with peak efficiency, not revisiting places previously cleaned. It also comes in one of four different characters, each allowing a pool owner to pick a cleaner with its own face, name, and backstory. You'll have to resist not making it part of the family. Just don't expect it to clean walls or inground pools. It costs what you'd expect for an aboveground pool cleaner, and trying to get it to do more is asking too much.

Hayward AquaBug – A Quick Look
Pros
Affordable
Quiet
Delightful, child-friendly appearance
Fast, easy installation
Cons
Above ground pools only
Best on flat surfaces
Specifications
Brand name: Hayward
Model: Aquabug
Type: Suction side
Pool type: Aboveground
Dimensions: 34.2 x 13.8 x 12.8 inches
Weight: 15.9 lbs.
Personalized from their family to yours
The Aquabug comes with four distinct facial features: Wanda the Whale, Diver Dave, the Aquacritter and the Hayward Aquabug. Each has a different colorful face with a distinct color scheme. Depending on which one goes best in your pool, it will add a splash of added color and a little more personality. Children love them.
SmartDrive technology:
Hayward suction-side pool cleaners all come complete with SmartDrive technology that features alternating turns so that the pool cleaner moves across wider swaths of swimming pool with each pass. It also manages movement so that the cleaner doesn't keep revisiting the same spot over and over again. Both of these are problems much more common to pool cleaners that move in random, purposeless directions.
Pain-free installation
Ten minutes after you get this out of the box, it can be up cleaning the bottom of your pool. There are no power cables or booster pumps to worry about, and it doesn't need programming to get it rolling. Just slide it out of the box, snap it into the suction side of your pool pump circulation system and let it start crisscrossing the bottom of your pool. Does it come with an owners manual? It's a good bet you wouldn't even need one.

FAQ
How good is the warranty that comes with this model?
With the caveat that you should always consult the owners manual after purchasing a pool cleaner, the Aquabug comes with a one-year limited warranty. Again, if you buy it, consult the owners manual for specifics.
Does it clean up sand and pollen?
Yes. If the cleaner is regularly cleaned and properly maintained, the Aquabug will clean up sand and other fine grit.
Does the Aquabug need a booster pump?
No. The Aquabug connects into a pool's circulation on the suction side. Pool cleaners that need a booster pump typically connect to a pool pump's pressure side. Further, this pool cleaner is designed for permanent aboveground pools, which are smaller than a typical inground pool.
What the Users Say
Lots of online reviews for pool cleaners are dispiriting exercises in venting from frustrated customers. It's hard to tell if pool cleaners are lousy in general, or if people who buy them go into with higher expectations than what manufacturers are able to satisfy. Regardless, it's not uncommon to see clusters of reviews at both the positive and negative ends.
The Aquabug is something of an exception to that. It's very popular with customers. In fact, a lot of people who post reviews of theirs use refer to their cleaner by the name that came with it. Lots of people refer to their pool cleaner as their friend, which is as delightful as it is deeply disturbing.
Those people didn't just like their Aquabug for its personality, but that it does a pretty good job cleaning the pool floor. Since this is what people buy it for, and not a darling personality, this is even more important than that people felt compelled to tell the world that they'd befriended a big piece of plastic.
Not everyone is happy, mind you. A lot of times in pool cleaner reviews, you get the same general raft of complaints. Often these center around that the pool cleaner just didn't work, or it sat there and didn't go anywhere or that it did something to annoy the pool owner.
The Aquabug has its share of these complaints. However, it had some model-specific complaints, mostly that it ripped pool linings. This is a pretty serious thing because it's like saying that a cleaner for an inground pool bored a hole into the side of it while drilling for oil. If you buy the Aquabug, you'll want to be aware of this. You'll also want to make sure your pool lining is properly smoothed out before you run it because some people reported that its difficulty with wrinkled or uneven pool linings.
Still, though, it's a popular pool cleaner. Not just for the job it does cleaning the pool, but because of its darling personality. The price is also pretty good, for a pool cleaner or if you're looking for an inanimate object as a new friend.

Conclusion
Cute but dependable, practical and simple to use, Hayward's Aquabug is a great option for your aboveground pool if you're tired of cleaning it. Just click it into the suction side of the pool's circulation cycle and 10 minutes later it's creeping around the bottom of your pool, cleaning it up. It comes in four different color schemes with four different personalities to make it kid friendly. And you can pick it up for a price that is light on your wallet. Just don't expect it to clean the walls of your pool or an inground pool. It's not designed for those, and it might have trouble if your aboveground pool floor has wrinkles in it.
RELATED: what are the pros & cons of the Hayward Navigator Pro?