7 Hottest Cities in Australia in 2023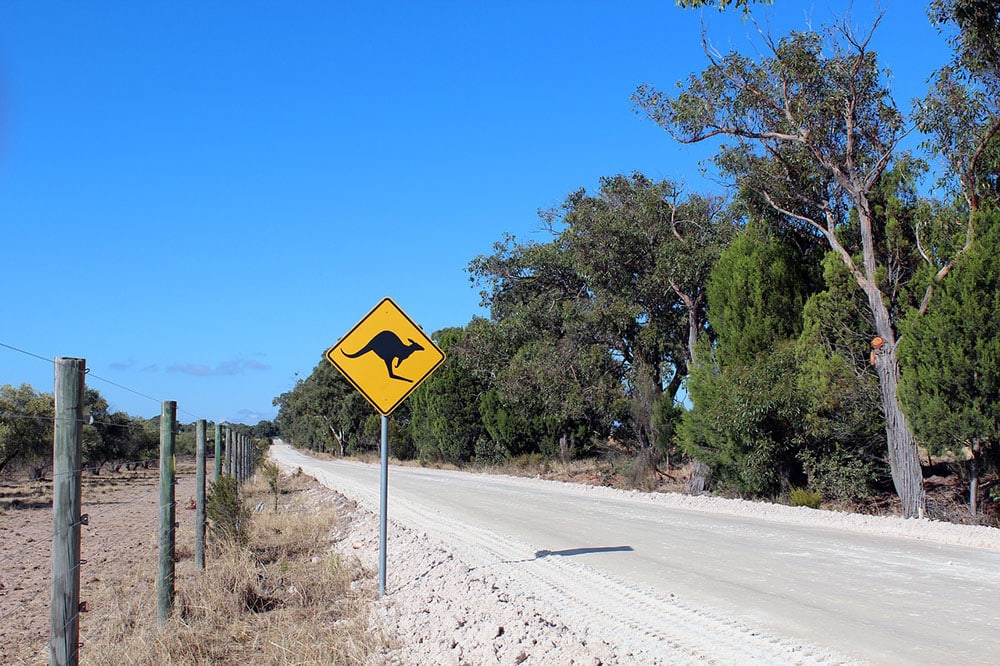 Australia is a world unto itself that's rich in flora and fauna endemic to the continent and landscapes ranging from dense rainforests to vast stretches of arid desert. For visitors, singular experiences await in every corner.
The diversity is incredible for a continent of its size, but the one constant for all Australians is the inescapable heat they experience throughout the year. The country boasts many of the planet's hottest places, regularly setting global temperature records. Hitting its highest temperature in over half a century earlier this year, the Land Down Under is only getting hotter every year.
Whether you're a hardcore heat-seeker or a tourist trying to take in the milder sections of the continent, you'll want to stay aware of its extreme hotspots. Start planning your stay in Australia by reading up on its hottest cities.

The 7 Hottest Cities in Australia
The list of hottest cities in Australia includes only areas with urban populations of at least 10,000 people. Much of the continent consists of sparsely populated areas, and many of the hottest points in the country are subsequently absent from this lineup—we'll explore those desolate hotspots later. If you want a healthy mix of heat and civilization, these are the seven hottest Australian towns to visit.
1.

Port Hedland, Western Australia
| | |
| --- | --- |
| Mean Daytime Temperature: | 80.5°F/29.6°C |
| Hottest Month: | March |
| Coldest Month: | July |
| Highest Recorded Temperature: | 2°F |
Western Australia features the hottest locales on the continent—and some of the hottest on Earth—but population limits keep most of them off this list. With over 14,000 residents and a mean daytime temperature of 85.2°F, Port Hedland is the hottest place in the region (and the country) that sports some semblance of society.
Port Hedland sits on the northwest edge of Western Australia, a critical location for the iron ore trade, an industry in which Australia is a global leader. The summers are long and muggy in the hot, arid climate, with average highs above 90° lasting from October through April. The area receives tons of sunshine (over 10 hours per day on average), and its sporadic spurts of rain only equal about 12 inches total for the year. Prone to tropical cyclones, the weather is unpredictable in Port Hedland, but the temperature is always high.
---
2.

Broome, Western Australia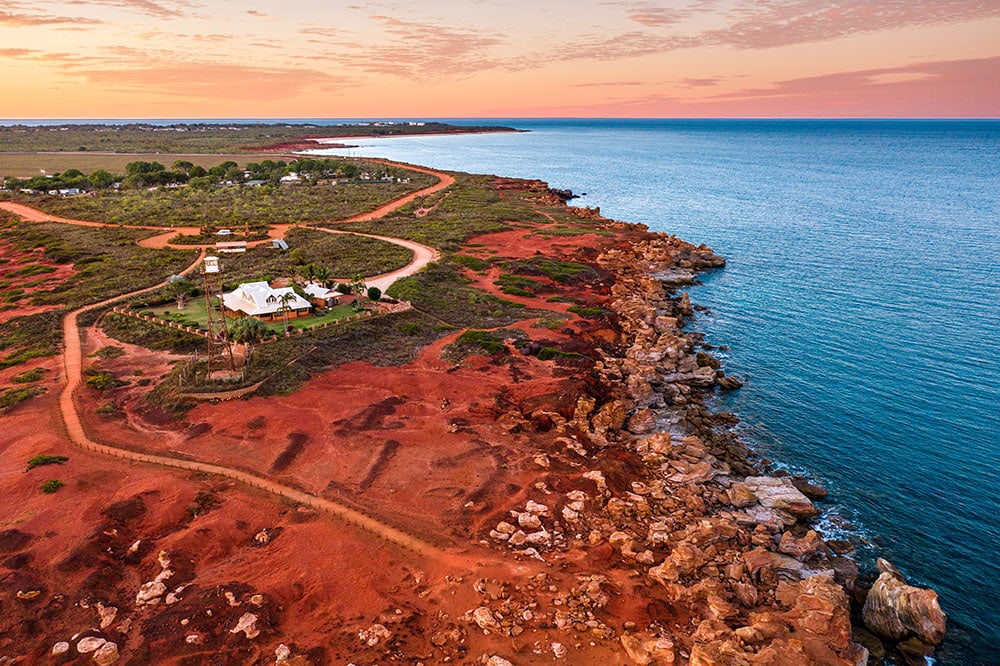 | | |
| --- | --- |
| Mean Daytime Temperature: | 81.1°F/29.1°C |
| Hottest Month: | April |
| Coldest Month: | July |
| Highest Recorded Temperature: | 6°F |
Sitting on a peninsula in the Kimberley region 6 hours north of Port Hedland, Broome is one of the unique treasures of Australia. The region's history is rooted in its pearling industry, a tradition that continues to play a significant role in its culture. Its shores feature global attractions, including the Stairway to the Moon and prehistoric dinosaur footprints at Gantheaume Point.
It's always hot in Broome, as the cool winter months in June and July have mean high temperatures of at least 84°F. April has the most intense average high temperatures at 93.7°F, but December is the most consistently hot month of the year, staying around 80°–93°F at all times. Making matters worse is the high humidity. It gets particularly unbearable from December to February when the area receives roughly 18 inches of rain.
---
3.

Karratha, Western Australia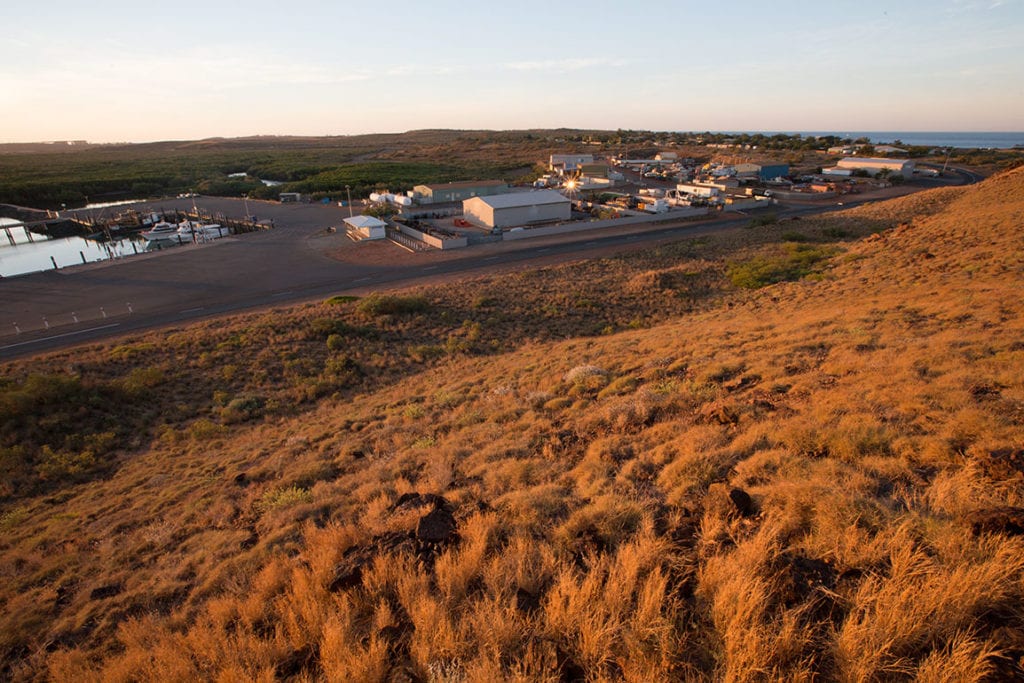 | | |
| --- | --- |
| Mean Daytime Temperature: | 79°F/29°C |
| Hottest Month: | January |
| Coldest Month: | July |
| Highest Recorded Temperature: | 1°F |
A 2½-hour drive along the coast from Port Hedland will find you arriving in Karratha, a Western Australian center for natural gas and iron ore processing and third on our list of the hottest cities in Australia. The town is famed for its industry but also for its access to the Dampier Archipelago, an area rich in marine life and snorkeling, fishing, and boating opportunities.
Karratha is in a semi-arid climate, and like Port Hedland, it's subject to cyclone and monsoon activity that affects much of its precipitation. Rain is rare in the cooler months, from August to December. The summer months of January–March feature most of the town's annual rainfall, highest humidity, and loftiest temperatures, making it particularly tough to tolerate for those three months.
---
4.

Darwin, Northern Territory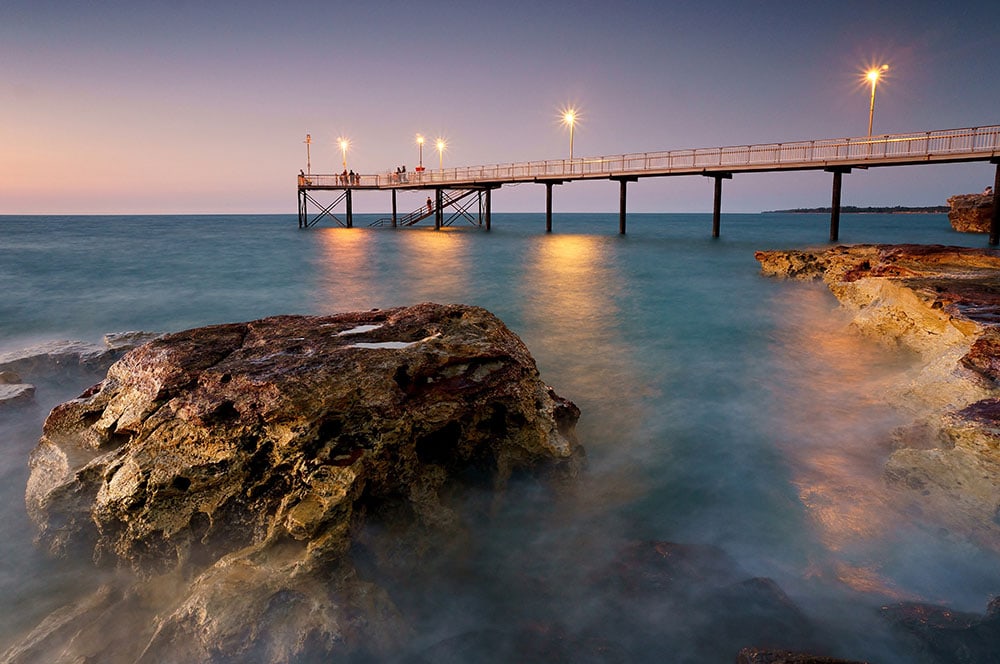 | | |
| --- | --- |
| Mean Daytime Temperature: | 81.3°F/28.8°C |
| Hottest Month: | November |
| Coldest Month: | July |
| Highest Recorded Temperature: | 102°F |
Darwin is the capital of the Northern Territory and one of the northernmost towns in Australia. Sitting so close to Asia, it's a crucial port for trade and tourism. The city is also yet another essential point in Australia's energy and mining industries, featuring several gold and mineral mines and offshore oil sites.
Weather tourists should put Darwin on their bucket list because the distinct wet season features some of the world's most spectacular thunder and lightning storms. Monsoons and tropical cyclones provide the onslaught of precipitation, with around 63 inches of average rainfall from November to April. High temperatures average around 88.7°F during this period before falling ever-so-slightly in the winter to 87°.
---
5.

Palmerston, Northern Territory
| | |
| --- | --- |
| Mean Daytime Temperature: | 81.4°F/28.8°C |
| Hottest Month: | November |
| Coldest Month: | July |
| Highest Recorded Temperature: | 102°F |
Palmerston is a satellite town of Darwin located only 13 miles from its parent city, so the two share similar weather patterns marked by high temperatures and soaring humidity in the summer. With over 35,000 residents, Palmerston has the second-highest population in the Northern Territory behind Darwin's 138,000 residents. With one of the fastest-growing populations in the territory and speedy growth of housing and attractions, the young city is rapidly developing an intriguing culture.
---
6.

Mt. Isa, Queensland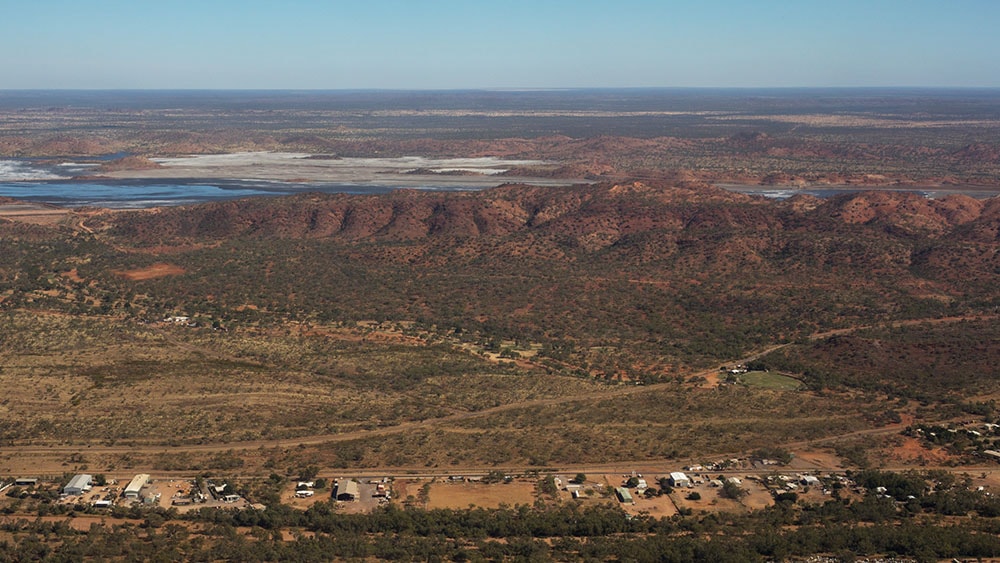 | | |
| --- | --- |
| Mean Daytime Temperature: | 81°F/27.2°C |
| Hottest Month: | December |
| Coldest Month: | July |
| Highest Recorded Temperature: | 6°F |
Located in Queensland near the Northern Territory border, Mt. Isa is another Australian city shaped by its metal ore mining and processing business. It hosts one of the country's largest copper and lead mining and smelting operations. Toxic metal contamination is an issue in the area, and elevated blood-lead levels are common among residents. Despite the pollution problems, Mt. Isa has built a reputation for tourist attractions, including the Mount Isa Rodeo and an annual Fishing Classic.
Mt. Isa is in a hot semi-arid region with about 18 inches of rain yearly. Although the temperature can get extremely hot from November to February when average highs exceed 95°F, cool winters bring the average annual temperature down, resulting in a lower ranking than the region around Darwin. But with lower humidity, you may find it has a more comfortable climate than those muggier hotspots.
---
7.

Emerald, Queensland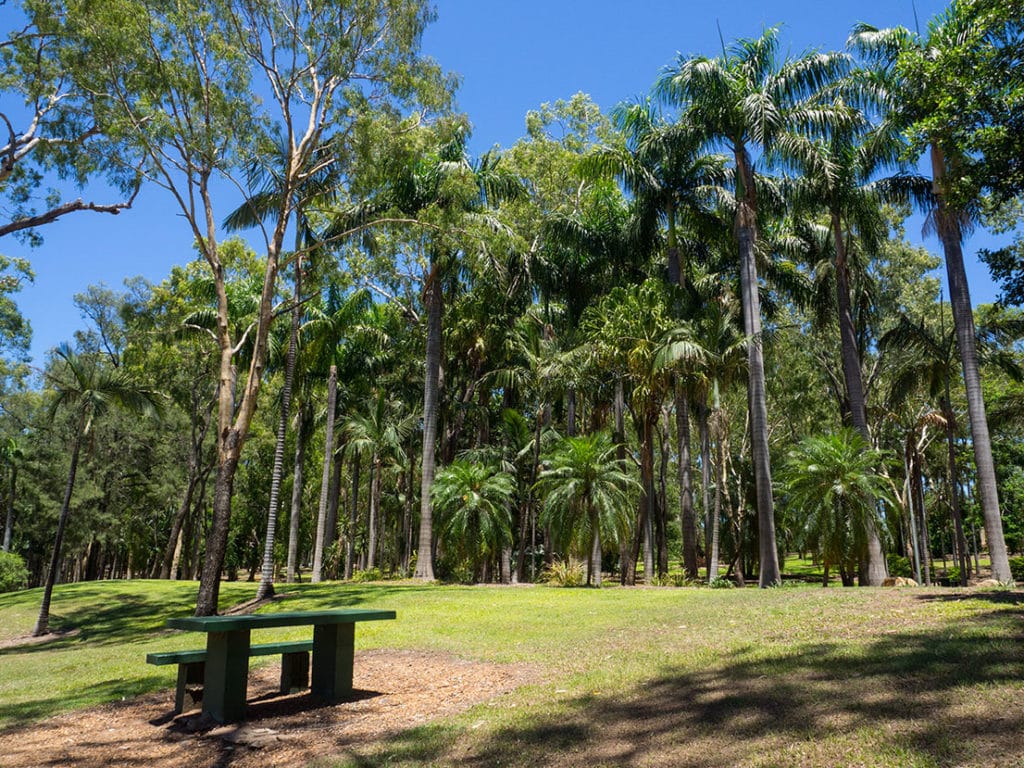 | | |
| --- | --- |
| Mean Daytime Temperature: | 78°F/25.6°C |
| Hottest Month: | December |
| Coldest Month: | July |
| Highest Recorded Temperature: | 2°F |
Emerald is a refreshing divergence from the metal mining way of life that defines much of Australia. Mining is still central to the economy, but coal takes the place of lead, copper, and iron in this town of just over 14,000 residents. Agriculture plays another critical role in the community, as the cotton and citrus industries are arguably as prominent as the mining ventures.
While it doesn't get as much summer rain as areas like Darwin, Emerald still gets its fair share of downpours. The roughly 25 inches of annual rain comes mainly in December-March, making it slightly more humid during these months than the rest of the year. Those months see average highs at or above 90°F, making them fairly muggy.

What Are the Hottest Places in Australia?
For good reason, not many people inhabit the hottest towns in Australia. Wyndham, a remote town in Western Australia, contains a small number of residents but the highest average annual temperatures on the continent at roughly 90°F. It may be challenging to reach from any significant city, but it's only an hour away from Kununurra, another notably hot city and appealing tourist destination.
Marble Bar is another high-profile, high-temperature Australian destination, and it's a 2½-half-hour drive inland from Port Hedland. Its average high temperatures rival those of Wyndham, reaching almost 96°F for the year. Along with its extreme heat, the small town is well-known for its formations containing relics of the planet's earliest life forms.
What Is the Record High Temperature in Australia?
Oodnadatta, a tiny outback town in South Australia, recorded Australia's highest temperature of 123.3°F in January 1960. The Western Australian town of Onslow tied that record in January 2022.

Final Thoughts
Australia is a land of growth and discovery, where up-and-coming tourist destinations conceal the Earth's oldest history. In its fascinating landforms, ecosystems, and wildlife, the character of the continent engages visitors in every possible way. Plan your trip with these hottest Australian cities in mind, so you can be sure to make them part of your itinerary (or avoid them like the plague).
---
Featured Image Credit: Broesis, Pixabay