5 Best Ways to Cut Plastic – Which Tool to Use? – Reviews & Top Picks in 2023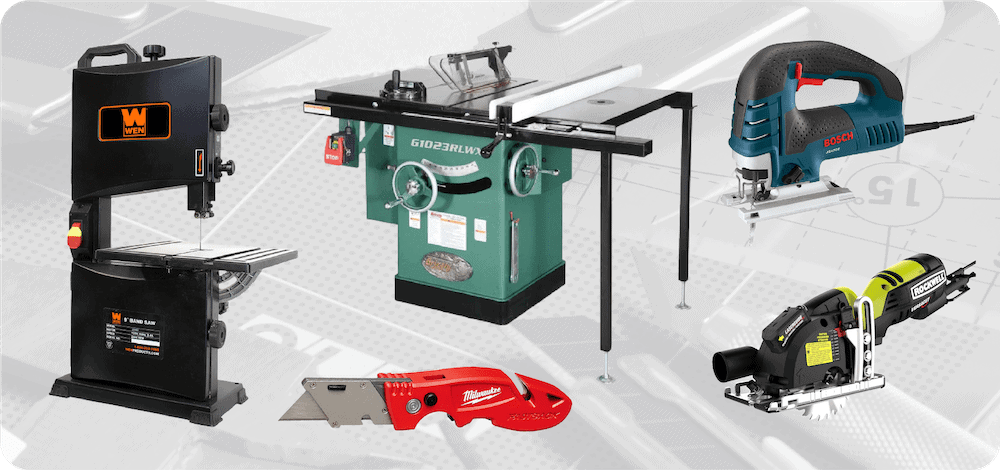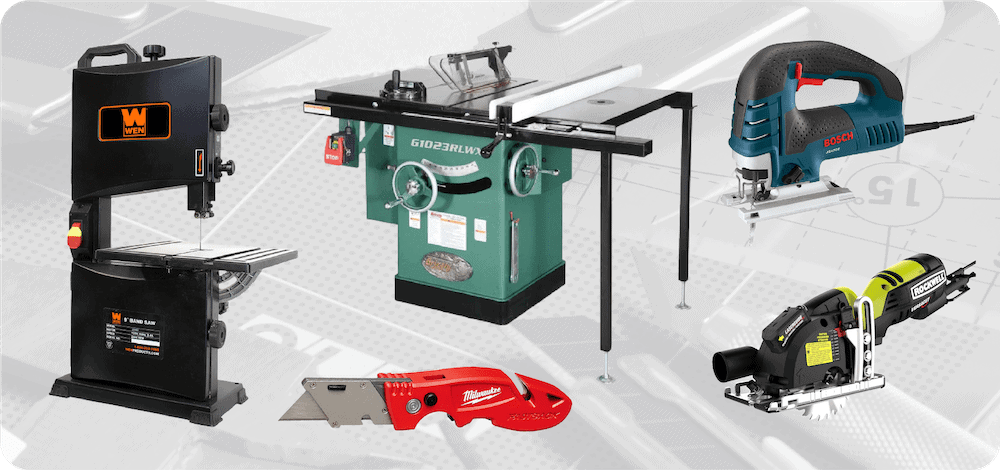 Cutting plastic is often more difficult than cutting other materials. That's partially because plastic is liable to break, bend, or crack depending on the thickness of the plastic itself and the strain you put on it while cutting. Furthermore, plastic can do a number on your cutting tools if you aren't careful or if you bring the wrong tool to the job.
To that end, deciding which tool to use is crucial, as is perfecting your cutting technique.
Comparison of Our Favorite Picks for 2023
Rating
Image
Product
Details

Best for Thin Plastic

Milwaukee 48-22-1903 Fastback 3 Utility Knife with 4 Blade Storage

Belt clip
Folding
Multi-purpose
CHECK PRICE

Best for Medium Thickness

WEN 3939 2.8-Amp 9″ Benchtop Band Saw

Excellent value
Plenty of power
Takes readily available replacement saws
CHECK PRICE

Best for Thick Plastic

Rockwell RK3440K Versacut

Great quality
Laser simplifies following the cut line
Comes with bag, blades, and other accessories
CHECK PRICE

Best for Curved & Complex Cuts

Bosch JS470E Jigsaw

Variable speed control
Tool-less blade change
Vibration reduction
CHECK PRICE

Best for Large Projects

Grizzly Industrial 10" Cabinet Table Saw

Outstanding quality
Cast iron top
Precision fence and miter gauge
CHECK PRICE
Preparing to Cut Plastic
Regardless of the tool you end up using, you'll need to prepare your workbench or cutting space to cut through plastic correctly. You never want to cut plastic while some of it is hanging off your cutting space. In fact, you should try to place the entire piece of plastic you want to cut on a flat surface. This prevents the plastic from bending and turning brittle.
Next, be sure that whatever blade you end up using is well-sharpened and heated beforehand. Why heat the blade?
You see, lots of plastic sheets or pieces will catch fire or melt if you don't heat the blade and cut through the plastic quickly beforehand. This is more common with cheaper or thin plastics, but regardless, non-heated blades are likely to melt your plastic sheet or other material rather than cut through it. By heating the blade, you make the cutting happen so quickly that melting can't occur. You can heat any of the below blades with a lighter or similar tool.
Additionally, you'll want to wear some protective gear. Even if you do everything correctly, some cheap types of plastic sheets and boxes can break and small shards of sharp plastic can fly into the surrounding area. Wear eye protection, specifically, to ensure that you aren't blinded from this activity.
Lastly, it'll benefit you tohelp if you have some kind of marker or similar writing tool. This will help you keep a straight line during your cut. It's especially helpful when using a power tool like a table saw, where cuts happen so quickly that you won't be able to correct your cut if you start to make a mistake.
Now let's take a look at the tools you should use to cut plastic.
The 5 Best Tools to Cut Plastic Properly
1.

A Utility Knife – Best for Thin, Softer Plastic
For thin sheet plastic, the best tool to cut plastic is using a utility knife and a straight edge to score the plastic then break it on a bench with a sharp edge. If this reminds you of cutting glass, you are correct. The technique is almost identical to cutting glass with a key exception, you cut approximately ⅔ to ¾ of the way through the plastic versus scoring the glass.
You need a utility knife with a sharp blade and a metal straight edge that has a precise edge. Stay away from wood and plastic straight edges because you can damage them with your utility knife. Here's a tip to see if your straight edge is straight or if it has a bow. Set the straight edge on top of your kitchen counter and look to see if any light comes underneath. No light = straight edge! We recommend metal rulers of levels for this task.
Your technique is like that for cutting glass; mark your line, line up your straight edge and hold it firmly on the plastic, and make several slow passes with the knife blade tight to the straight edge. When you are nearly through your plastic, line the scoring up with the edge and briskly snap downward.
Hint: Keep your straight edge on top of the plastic when you are snapping. This protects the edge of the plastic from shattering or breaking at a point other than your line. This is especially important when working with brittle plastic like polycarbonate.
There's a great example of a utility knife in the Milwaukee 48-22-1903 Fastback 3 Utility Knife.
Pros
It's a Milwaukee tool! Quality!
Uses standard replacement blades and store four in the handle
Belt clip
Folding
Multi-purpose
---
2.

Bench Top Band Saw – Best for Medium Thick Stock
Thick plastic is any plastic that's thicker than ¼-inch. For these materials or containers, we'd mostly recommend using different types of power tools.
Power Tools
With power tools, the trick is to not make such a powerful and aggressive cut that you end up splitting the plastic or melting it by the blade. To this end, be sure that you heat the blade beforehand if you can (though this may be difficult depending on the power tool in question). Furthermore, remember to use thick gloves and protective gear.
The WEN 3939 2.8-Amp 9" Benchtop Band Saw is a perfect example of one of the best power tools for cutting plastic. It features a powerful enough motor with two speed settings that can rotate up to almost 2,500 ft./m and uses long 62-inch blades to cut as deep as for 8.85-inch deep cuts.
WEN 3939 2.8-Amp 9" Benchtop Band Saw
2.8 amp motor rotates the blade up to 2460 feet per minute
Create cuts up to 3-5/8 inches deep and 9 inches wide
Uses 62-inch blades anywhere from 1/8 to 3/8 inches in size
Pros
Excellent value
Plenty of power
Takes readily available replacement saws
---
3.

Compact Circular Saw – Best for Thick Plastic
Why not a regular circular saw? That can work except the size of the tool relative to the size of the stock can be an issue. Full-size circular saws are great on 2x4s and large sheets. They are not as easy to use on typical plastic stock sizes. That's why we are recommending the compact saw.
We think you'll like the smaller saws because they are easier to control when working with small stock, provide better visibility of your cut line, and don't provide so much power that your stock vibrates and moves. This last bit is important for answering the question of the best tool to cut plastic lattice.
Plastic lattice is exceptionally flimsy, as you already know (or will find out). The weight of a big saw will make the lattice sage and bow. Plus, it can increase the stock's vibration when cutting. The compact saw has none of these issues. It is more manageable and bridges the open spaces quickly and easily. Mark your cut line clearly, clamp the lattice securely, and make the perfect cut.
The Rockwell RK3440K Versacut Compact Circular Saw is a powerful tool is multifunctional, compact, and is suitable for cutting other types of material like wood, tile, and even sheet-metal.
Pros
Great quality
Laser simplifies following the cut line
Comes with bag, blades, and other accessories
Cons
Max cut depth is a little over 2"
Stock note: Cutting anything flat is fair game. Cutting round stock is not a good application.
---
4.

Corded Jigsaw – Best for Curved & Complex Cuts
The versatile jigsaw takes second place in our reviews for cutting thick plastic. When used with an edge guide, it performs well making straight cuts. It is also a top choice when making complex and curved cuts. So, why didn't we put it first? Vibration is the short answer. Jigsaws use a cutting action like the larger reciprocating saws. When the tool's vibrations are transferred into the stock, control and precision become more difficult. This can be overcome in most stock by clamping the stock. However, cutting lattice with this tool is not the most pleasant of experiences.
You do want a jigsaw in your workshop at some point. When that time comes, buy a top of the line tool. For that, we recommend the Bosch JS470E Jigsaw.
BOSCH JS470E 120V 7.0-Amp Corded Top-Handle Jig Saw
ERGONOMIC TOP-HANDLE: soft-grip areas supply a solid, comfortable grip
CONVENIENT: featuring a tool-less blade change system and fast insertion with a blade ejection lever that eliminates need to touch hot...
4-IN-1: 4 orbital action tool settings provide different blade strokes for smooth to aggressive cuts for taking on the toughest cutting...
Pros
Variable speed control
Tool-less blade change
Vibration reduction
Cons
Bare tool – no accessories or case
Stock note: Good for straight and intricate cuts in rigid stock. Not the best tool to cut plastic lattice. Properly clamped round stock can be cut if the diameter doesn't exceed the blade length. The accuracy of these cuts may not be the best.
---
5.

Table Saw – Best for Large Projects
If you need long, straight cuts time and again, a table saw is the way to go. So long as you can bring the stock to the saw, that is. We are talking about workshop-based tools. Portable saws are available, but for ripping thick plastic, we think you'll like the power and precision of a genuine stationary table saw.
The fence and miter gauge make control and precision a snap. The power of even a modestly priced saw is more than enough for plastic. The limitations of the table saw show up when you need complex and curved cuts. They are not designed for that work.
The Grizzly G1023RLWX 10" Cabinet Table Saw offers an excellent, flat space to cut through any type of plastic, plus phenomenal guards to help you move a plastic sheet exactly where it needs to go. Keep in mind that it's for workshop use only due to its price and weight.
Grizzly G1023RLWX Cabinet Left-Tilting Table Saw, 10"
Item may ship in more than one box and may arrive separately
We took our new G1023RL table saw with riving knife and made it even better by including a built-in router table
The router table includes support legs and universal T-track router clamping system and the Shop Fox Classic Fence
Pros
Outstanding quality
Cast iron top
Precision fence and miter gauge
See Also: 9 BEST WAYS TO CUT STYROFOAM
---
Conclusion
All in all, the best tool to cut plastic depends on the thickness of the plastic in question and your available tools. Consider the above options and don't be afraid to try multiple tools – cutting plastic will become easier as you practice and gain et some experience.
Our related guides: