How Much Does It Cost to Install a Pocket Door in 2023? What You Need To Know!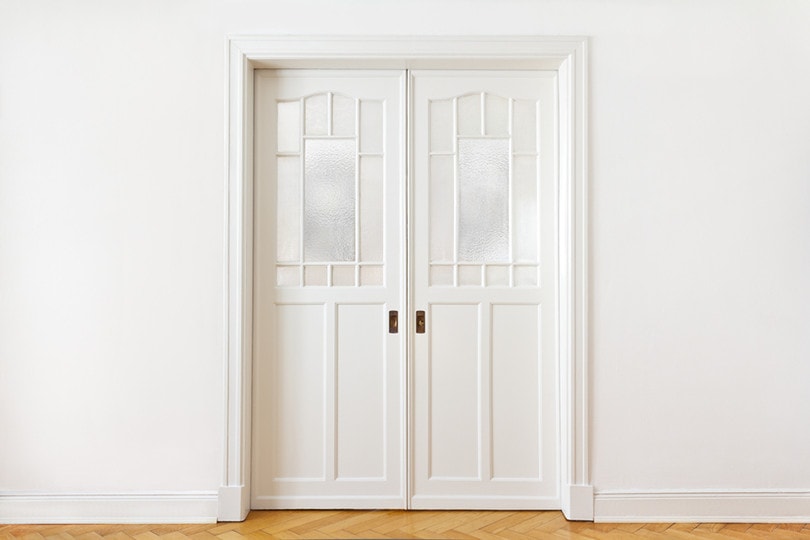 Home improvement comes in many forms. You might freshen up a room with new paint or change light fixtures. Although, when it comes to space, there isn't much you can do without a significant renovation project. One way to make a room feel more spacious is by installing a pocket door. They are common as closet doors but can also be used as the main door in a room.

What is a Pocket Door?
While closed, most people wouldn't even notice the difference between a pocket door or a regular door. However, once you open it, the difference is clear. Rather than opening into a room, a pocket door slides into the wall and becomes invisible. Not only is it space-saving, but it's not an eyesore like a regular door can be. In addition, people who are wheelchair-bound or have mobility issues benefit from a pocket door because it doesn't swing out and block access to a room.
Years ago, pocket doors were a standard door in Victorian homes. As the demand grows for accessible designs in new homes, pocket doors are becoming popular again.
A pocket door is hung on a track to slide in and out. For this reason, most pocket doors are installed during the initial construction of a home. However, it is possible to install them afterward by someone familiar with building codes and carpentry.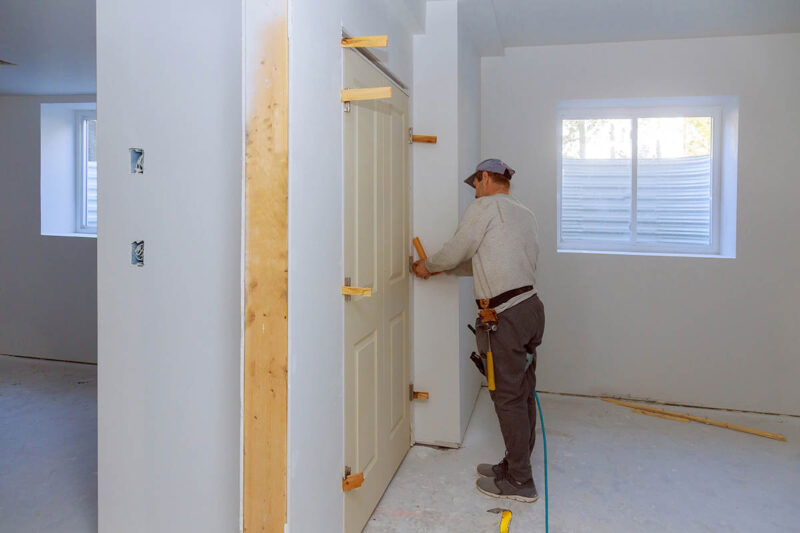 How Much Does Installing a Pocket Door Cost?
Assuming you want to install a pocket door as a home improvement project, you can expect to pay $560–$1000 on average. This cost is for a basic 30" x 80" pocket door. If you want something fancier or there is custom framing required, this price can easily approach the $3,000 mark.
Below, we'll show you a breakdown of the average cost. Even if you aren't able to DIY this project, there may be ways that you can save money to lower your costs.
Door: $140–$220
This price is for a single door. If you are doing a wider-than-average doorway, expect this price to be higher.
Installation supplies: $12–$14
You may have some of the supplies lying around, or if you're hiring a contractor, they often have supplies like this and charge a flat rate for them.
Labor: $415–$665
If you're a DIY kind of person, you may be able to avoid this cost. However, if you can't, this cost will vary between contractors. That's why it's important to get multiple quotes.
Custom framing: $150–$245
Again, this is an avoidable cost if you're going solo. However, if it's a contractor, they will often charge an additional fee for the extra framing it takes to install a pocket door after initial construction. Keep in mind, this may not be invoiced as an additional charge. It's common practice to roll extras like this into their labor rate.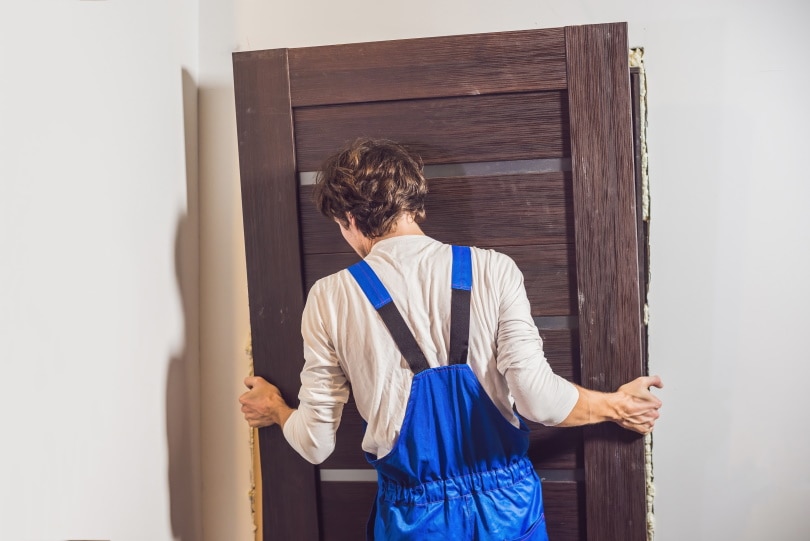 Additional Costs to Anticipate
Aside from the above-mentioned average costs, a few things can make the price jump. These can range from custom-built doors to needing major renovations to accommodate a pocket door.
Custom-made door: There are no doors on the market right now that are made for exterior use. So, if you want a pocket door on a shed or something, you will need a custom door to withstand outdoor use. This can be upward of $2,500 or more.
Double or French pocket doors: Opting for a double set of pocket doors will almost double the cost. You can expect around $800 compared to a single pocket door.
Redoing a wall: Depending on how a wall is framed, it will sometimes have to be torn out and redone. This can cost anywhere from $1,300–$5,000 and, in most cases, will have to be done by a professional contractor.
Other trades: Electrical wiring, plumbing, and HVAC ducts run through walls. If the wall you're modifying has any of these things, you will need a professional to modify them. They will often charge an hourly rate for these modifications because they are unpredictable.

Electrician: $100 or more, plus materials
Plumber: $125 or more, plus materials
HVAC Tech: $40–$200 plus materials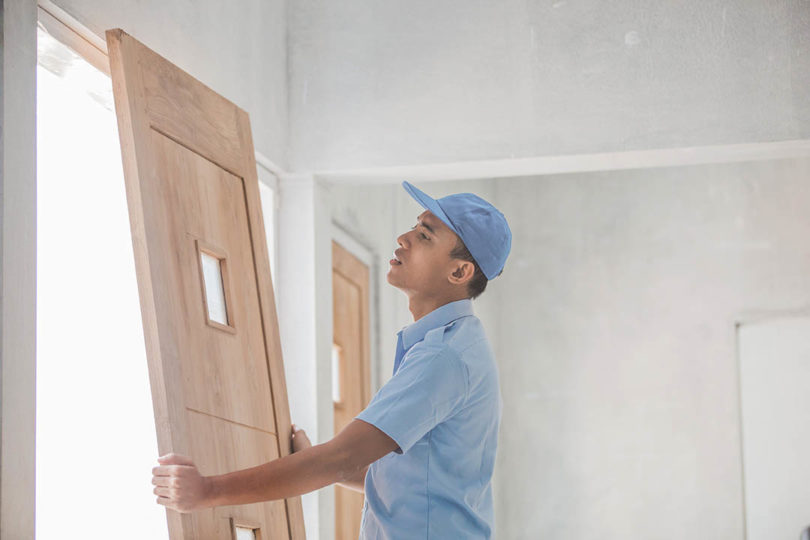 Pocket Door Maintenance
Just like a regular door, your new pocket door will need maintenance. If you go with a fiberglass or aluminum door, you will often need to clean scuffs and marks off of it. Or if you opted for a wood door, it will need to be painted or stained—initially, and then throughout its life as needed.
The other component of a pocket door that needs maintenance is the track system. The door relies on a smooth roll to function properly. So, it's a good idea to oil the track occasionally. If the track sustains damage, it's not a simple task to fix it in the long run. In addition to oiling the track, taking the door off of the track and cleaning the rollers is also a good idea. Hair and other debris build up on the rollers over time, which can damage the track or door.
Sliding Barn Door
If you don't want to invest the time, money, and energy into demolishing a wall to install a pocket door, a barn door may be a good alternative. They operate in a similar fashion to a pocket door; except they are mounted on a track on the wall instead of inside it. They offer the same solution for space and mobility that a pocket door does. However, a barn door is always visible. So, it may not meet your needs in the style department.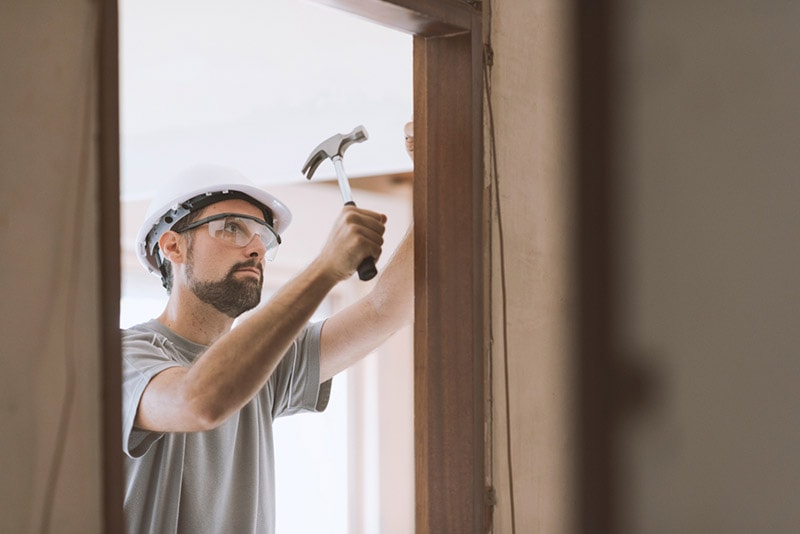 Closing Thoughts on Installing a Pocket Door
Installing a pocket door can be a great way to spruce up or add better flow to a room. However, the cost to install it can add up fast. So, make sure you research the best door for your situation beforehand. There are many materials and styles to choose from, and each varies in cost. Sometimes making a little cost versus benefit sheet is a helpful way to narrow down your choices.
---
Featured Image Credit: Agenturfotografin, Shutterstock