7 Most Expensive Homes in New Mexico (with Pictures)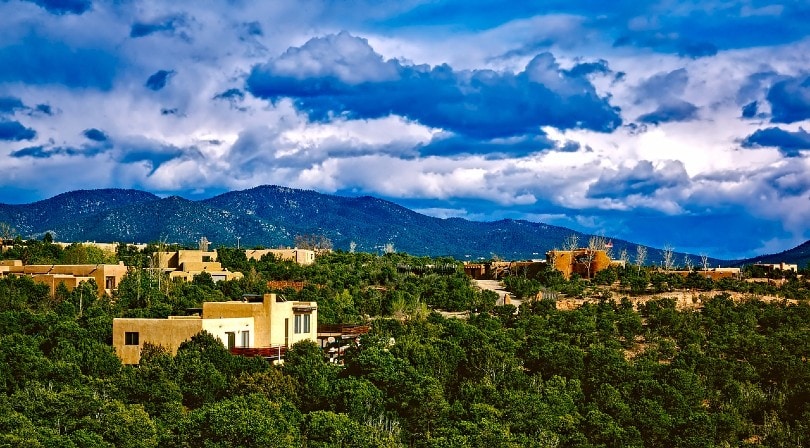 Known for its two national parks, unforgiving landscapes, and home to one of the oldest capitals, Santa Fe, in the USA, New Mexico is a land of sharp contrasts. On one side is a notorious wild west frontier shaped by outlaws and Native Americans and on the other side is a desert oasis booming with 21st-century properties.
Here, the average price of a home is almost $300K. While the majority enjoys an affordable cost of living, hidden in the backdrop of this state are some of the most expensive real estate properties. Let's check them out below!

The 7 Most Expensive Homes in New Mexico
1.

Tesuque Ridge, Santa Fe
Elevated above Santa Fe, this massive 14,000-square-foot single-family home stands on a 16-acre piece of land. It offers an amazing lifestyle with more than 10 fireplaces, loggias, and several skylines. The skyline allows you to spread your view above Santa Fe and indulge in a panoramic view of the shrubby landscape around.
At the center of the home is a spacious family room and a kitchen with a walk-in pantry. It also includes a well-decorated antique stone breakfast area, craft room, and a private library.
Masters enjoy two lavish wings equipped with spas, walk-in closets, and patios bordering lush lawns and fruit trees. Hidden from view, a two-bed guest house with a separate bathroom, kitchenette, and laundry room gives visitors private space to relax and refresh.
Besides lawns and fruit trees, the therapeutic outdoor opens up to terrace gardens, aqua features, and paved pathways. You won't also miss a wide driveway leading to a three-car garage.
---
2.

12 Avenida De Rey
Avenida De Rey is a bustling mini-metropolis roughly a half an hour's drive from the historic Santa Fe Plaza. It is in the middle of an over 200-acre fenced plot with reserved iconic views of Sangre de Cristo Jemez peaks.
Reminiscent of New Mexico traditions, the five-bedroom estate boasts 12 stables complete with servant quarters and a caretaker's office. A massive three-car and bus garage is what you will see as you drive on the illuminated driveway at night. The car garage is heated, tipping you off of the comfort awaiting inside.
The 8,000+ square foot residence hosts 10 fireplaces, a bowling alley, a recreation area fully fitted with a pool lounge, and an office.
---
3.

5200 Old Santa Fe Trail
If you are an avid equestrian, a dedicated golfer, or love the outdoors' allure, there is no other place to retreat to than 5200 Old Santa Fe Trail. The 36-acre estate is adjacent to Quail Run golf course hugging Sangre de Cristo and overlooking Santa Fe at a distance.
On the estate, a golf facility with five tee boxes is sure to keep you active, after which you can cool off on an outdoor pool and relax around strategically placed outdoor fireplaces and bars. At night continue working on your golfing skills in an indoor swinging cage or settle down for a movie in the theater.
Built during World War II, the main 10,000-square-foot Pueblo-style residential quarter has a fitness center, walk-in closet, spas, and several offices. An additional two-bedroom guest house, fireplaces, and a kitchen cover 1,400 square feet.
---
4.

Apache Mesa Red Valley Ranch
This equine ranch sits on a 1,060-acres of land in the heart of Coyote, about 70 miles from Santa Fe, and was built in 2003. While this may sound a lot, it's a bargain, given the amenities of the property.
When you own the house, you enjoy living in a traditional Old Mexico setting with a touch of modern life. In its 9,000+ square feet of living space, you'll find eight bedrooms, a studio, a guest house, the main residence, and a carriage house. The home's interior has a magnificent design, thanks to the hard work of local artisans. You'll notice exposed beams on the high ceiling, ornate wooden doors, and fireplaces.
The outdoors is breathtaking, with mesmerizing features and views of the surrounding mountains and valleys. Apache Mesa Red Valley Ranch has an outdoor pool and spa, from where you can enjoy the fascinating view of Jemez peaks. The ranch has been home to Rob Thompson, a Hollywood producer, director, and writer.
---
5.

El Rancho De La Mariposa
This home is located 1.5 miles south of Taos. The property sits on 14 acres of land, with an underground irrigation system to keep it lush all year. Although it's 90+ years home, it has weathered the test of time, and it's currently waving a price tag of $6.5 million. This high price matches this art-filled home that offers unparalleled tranquility.
The main residence is a 14,600-square-foot mansion with 12 bedrooms, a library, entertainment spaces, an elevator, and two indoor pools. Everything in the home's interior is pure art, starting with the Art Deco light fixtures. El Rancho De La Mariposa also has wrought-iron window grills, and the interior wooden details are hard-carved. A museum spanning the same area as the living space inflates the price.
On the outside, the home offers a stunning view of a tower of Douglas fir trees and a grassy landscape consisting of perennials. While there is no history of notable people owning or staying at El Rancho De La Mariposa, the Pueblo-style architecture and unique features make it all worthwhile.
---
6.

354 Country Road #B31A
Also known as the "Blame Her Ranch," 354 Country Road #B31A is a massive property sprawling across 1,630 acres. It's located in Ribera, a small town 45 minutes away from Santa Fe. The ranch was built in 2007, and its current value is almost $7 million. Wondering why a ranch would cost you an arm and a leg? It's all in its features.
The 7,900 square-foot residence has an old west home design. It's a log home with eight bedrooms, an in-home theater, a state-of-the-art kitchen, a home office, and a fitness center. The house has two moss rock fireplaces, doors, and cabinets inspired by Santa Fe's La Puerta. Its huge windows slit open to breathtaking views while letting in southern light.
The home neighbors the Santa Fe National Forest, which makes it even more private. When roaming or resting on the ranch, you'll enjoy scenic views that include mature pinion and ponderosa pines and seasonal ponds. The home is Netflix's favorite spot for filming its TV series, "Longmire."
---
7.

2 Cerro Gordo Road
This residential property occupies 1.25 acres in Santa Fe and is adjacent to the city's historic plaza. In addition, the home has undergone a quarter of a century of restoration to perfectly blend in with northern New Mexico's culture.
The living space is more than 8,000 square feet and features a main house measuring 5,800 square feet, while the guest house and the studio measure 1,260 and 970 square feet, respectively. The surroundings of 2 Cerro Gordo Road feature adobe walls, native landscaping, exposed beams, and kiva fireplaces.
Conclusion
New Mexico is a truly magnificent place home to beautiful multi-million estates. Most of its expensive homes are historical monuments silently whispering decades-old stories and passing on Native culture.
---
Featured Image Credit: 12019, Pixabay