How Tall Are ADA Accessible Toilets? (2023 Guide)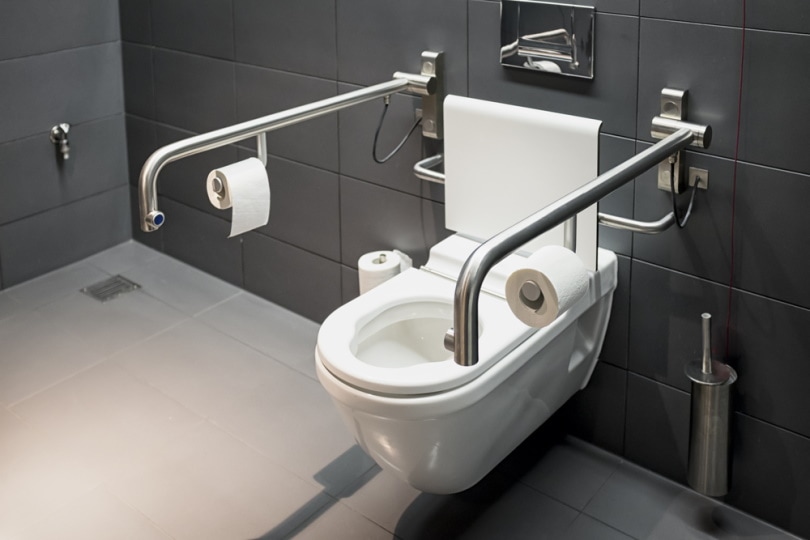 Under the Americans with Disabilities Act, businesses have to take measures to make all core components of the business accessible to people with disabilities. ADA-accessible toilets, for example, are designed to accommodate people who are disabled and have a hard time moving around on their own.
You've probably seen the large bathrooms in grocery stores, which are considered ADA-compliant or "handicapped stalls." The legal minimum height of an ADA-compliant toilet is 17 inches, though most are between 17–19 inches tall. For comparison, an average toilet is 15 inches tall.
Unsurprisingly, there are other requirements a toilet must meet to be considered ADA-compliant. All these requirements are aimed at making bathrooms accessible to handicapped people and serve specific purposes. Let's check out some of the major requirements below.

Toe Clearance
All ADA-accessible toilets must have at least 9 inches of clearance between the bowl and the floor to give disabled people room to comfortably sit. In addition, the gap must have a depth of at least 25 inches and the stall must have 60 inches of clearance to turn and maneuver a wheelchair. This requirement spurred the trend of undercut bowls in handicapped-accessible bathroom stalls, which grants plenty of room underneath while connecting to the plumbing from above or the side.
Flushing Mechanism
To help disabled people flush the toilet without hurting themselves, the ADA requires that all compliant toilets must meet specific requirements. The handle can't be more than 44 inches off the floor, and it must be located on the "open side" opposite the wall nearest to the toilet.
The other major requirement regarding flush handles is that regardless of type, the mechanism can't require more than 5 pounds of force to activate. Flush buttons frequently exceed this, so ADA-compliant toilets commonly have levers or motion-activated flushing mechanisms. Finally, the flush mechanism can't require users to strain or twist their wrists, which is another strike against flush buttons.
Grab Bars
While technically not a part of the toilet, all ADA-compliant bathrooms must have two grab bars to allow handicapped people to easily sit and stand up. One horizontal grab bar must be at least 1 foot away from the corner, with a minimum length of 42 inches. The other horizontal grab bar should be behind and above the toilet, measuring no longer than 36-inch in length, and a minimum distance of 6 inches away from the corner. Lastly, both grab bars have to be between 33–36 inches from the floor.
Other ADA-Compliance Requirements for Toilets
If you thought the above requirements were all that ADA-accessible toilets needed to have, you thought wrong. The ADA has a whole laundry list of other specific criteria that toilets need to meet to be compliant. It's important to familiarize yourself with ADA requirements if you're going to install one.
ADA-Compliant Toilet Requirements include:
The centerline of the toilet has to be 16–18 inches from the side wall
Toilet paper dispensers can't be lower than 18 inches or higher than 4 feet from the floor
Toilet paper dispensers must have their centerline between 7–9 inches in front of the toilet
Sanitary disposal should be located at the same height as the toilet paper dispenser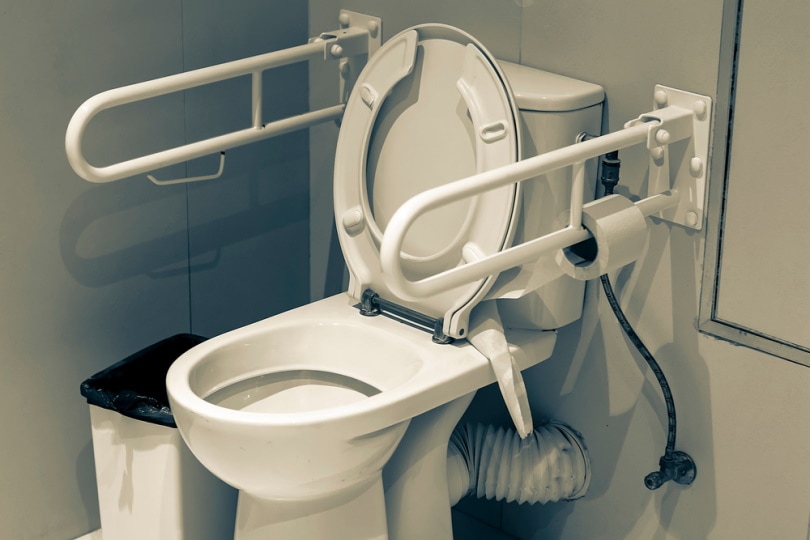 Conclusion
ADA toilets are just one of the numerous everyday objects designed with the comfort and limitations of disabled people in mind. The most obvious difference is that they're a few inches taller than regular toilets, but ADA-accessible toilets have tons of other features that keep disabled people in mind.
---
Featured Image Credit: FooTToo, Shutterstock