10 Best Toilets of 2023: Reviews, Top Picks & Guide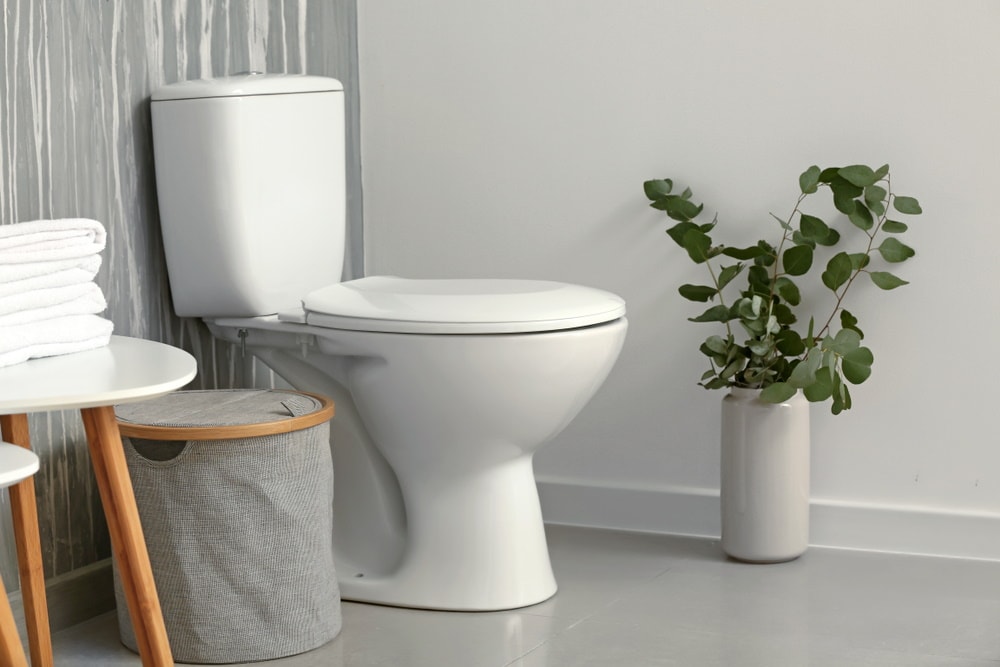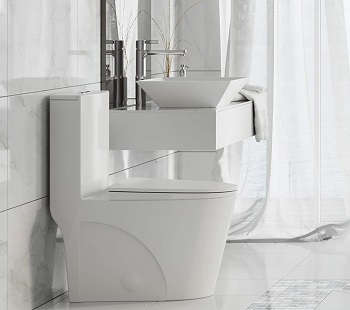 No matter who you are or what you do, all of us, from all walks of life, use a toilet. It's a common connector between all of us. Whether you refer to it as your throne, the library, or just the commode room, the toilet is a place that sees a lot of action.
There's a wide range of toilets, from porta-potties at the local construction site to a 24-karat solid gold toilet owned by a jeweler in Hong Kong. It's probably safe to say that for most of us, the toilets in our homes fall squarely in the middle.
Still, the list of available features is ever-growing, even on standard home toilets. Soft-closing seats, built-in bidets, low-consumption flushes, and more are all available on modern toilets. To help you wade through the many models you might trust with your backside, we've compared 10 of the best toilets in the following toilet reviews.
---
A Quick Comparison of the Winners in 2023
Rating
Image
Product
Details

Best Overall

TOTO Drake 2-Piece Ada

GMAX Flush for a faster
harder flush
Rarely clogs
if ever
Easy to install
CHECK PRICE

Best Value

American Standard Colony

Low-consumption
Self-cleans with every flush
Affordable
CHECK PRICE

Premium Choice

WOODBRIDGE Smart Bidet

High-efficiency flush
Heated seat
Built-in deodorizer
CHECK PRICE

WOODBRIDGE T-0019

Low-flow flush
Soft-closing seat
Easy to clean
CHECK PRICE

Saniflo 023 Sanicompact

1 gallon water usage
Doesn't require a vent
Great for adding a half bath
CHECK PRICE
The 10 Best Toilets
1.

TOTO Drake 2-Piece Ada Toilet – Best Overall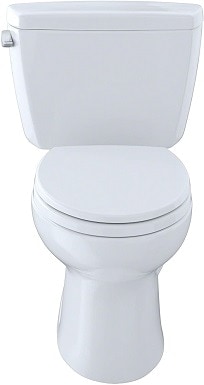 Our favorite toilet, the TOTO Drake 2-Piece Ada Toilet, manages a powerful flush while still using a conservative 1.6 gallons of water. Toto has a lot of awesome toilets to choose from. Many low-consumption toilets have a weak flush that leaves a lot behind, but not this TOTO. It has the special G-Max flushing system with a 125% wider flush valve for a faster, more powerful flush. Granted, it's a bit loud, but it never seems to clog, so we're okay with that.
Unlike some toilets the team at ShopToilet tested, this one is very simple to install. You hardly even need tools since everything is built to be hand tightened. It even comes in five finishes to find the perfect fit for any bathroom. To conclude, we think that this is the best toilet overall.
Pros
GMAX Flush for a faster, harder flush
Rarely clogs, if ever
Comes in five finishes
Easy to install, everything is hand-tightened
Low-consumption flush of 1.6 gallons max
Cons
Flushes louder than other toilets
---
2.

American Standard Colony Toilet Combo – Best Value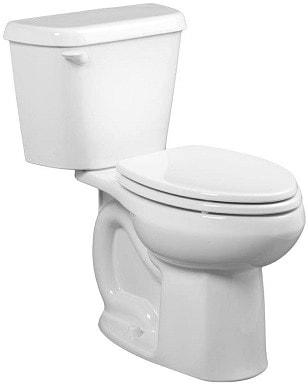 Some of the toilets on this list are astronomically high, but that doesn't mean you have to empty out your savings just to get a reliable commode to eliminate your waste. This American Standard Toilet Combo has all the most important features that you rely on, but it's priced affordably for any budget.
Like many modern toilets, this one features an eco-friendly flush that uses just 1.6 gallons per flush or GPF. It features a special power wash rim that scrubs the bowl clean with pressure each time you flush it. It's pretty effective, though there are a few spots in the bowl it misses.
You can choose between several sizes and finishes, depending on your needs. You will need to get a seat, hardware, and a wax ring separately. Still, considering the low price and low water consumption, we think it's the best toilet for the money.
Pros
Low-consumption 1.6 GPF
It's one of the most affordably priced toilets
Self-cleans with every flush
Several sizes and finishes to choose from
Cons
The flush misses some areas
You'll need to get a seat, hardware, and wax ring
---
3.

WOODBRIDGE Smart Bidet Seat Toilet – Premium Choice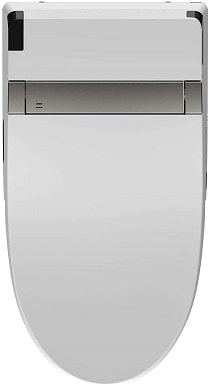 The WOODBRIDGE B-0960S Smart Bidet Seat Toilet is one of the most expensive toilets we've seen, but it's loaded with some impressive features that you've likely never seen on a toilet before. For instance, it's equipped with a hands-free lid that automatically opens when you approach.
That's just the start, though. There's a bidet built into this toilet that will wash your rear without needing toilet paper. Once finished, it will flush automatically. Everything is hands-free. Taking things a step further, there's even a built-in deodorizer that uses carbon filters to clean the air and ensure that your boo-boo really does smell like roses.
Once you've been washed and feel adequately clean, there's a built-in air dryer to ensure you won't be dripping when you get off. The seat is also heated for cold mornings, so you'll always be comfortable on this throne.
Not to be outdone by normal toilets, the WOODBRIDGE smart toilet has an eco-friendly dual flush that lets you choose between a 1.6-gallon flush and a 1-gallon flush. It's pretty darn pricey, but if you can afford it, your backside and bathroom will certainly thank you. This is definitely one of the best premium toilets on the market in 2023.
Find out more about our favorite modern toilets here.
Pros
High-efficiency flush uses 1.6 or 1 GPF
The hands-free lid opens automatically when it senses you
Bidet cleans you after you finish
Built-in deodorizer uses carbon filters to clean the air
Heated seat with built-in air dryer
Cons
This level of luxury doesn't come cheap
---
4.

WOODBRIDGE T-0019 Elongated One Piece Toilet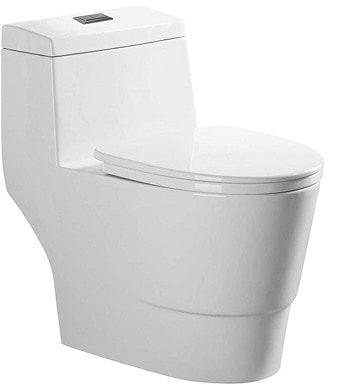 For those who have problems keeping their toilet fresh and clean, WOODBRIDGE aims to solve your dilemma with the T-0019 Elongated One-Piece Toilet. It's got completely smooth surfaces that are easy to wipe and don't hold onto messes. The trapway is fully concealed, so there are no corners, bends, or grooves to collect dust and grime.
Thanks to the smooth, sleek design, this toilet looks stylish. There are no plastic caps, and it presents a very clean look. Everything you need is included with the toilet, including the seat, hardware, and wax ring. Speaking of the seat, this one is soft closing with a durable hinge that will hold up for years.
Like most modern toilets, this one-piece toilet features dual low-consumption flushes. You get a 1.6-gallon flush for solids and a one-gallon flush for liquids. But even the heavier flush is pretty weak and often requires a second flush to eliminate all the evidence, which is why this toilet missed our top three.
Pros
Low-flow flush uses as little as 1 GPF
Soft-closing seat with durable hinge
Includes everything you need
Easy to clean since there are no corners or grooves
---
5.

Saniflo 023 Sanicompact Self-Contained Toilet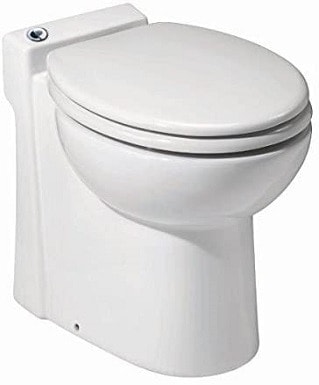 This self-contained toilet from Saniflo doesn't need a tank. It has a motor built into the toilet that takes care of flushing, which is why it only uses a single gallon of water per flush. It has a second, slightly stronger flush that uses 1.28 gallons as well.
Because it doesn't need a tank, this toilet is much smaller than a standard toilet, so it's great for half bathrooms or other areas with limited space. It's not great in place of a standard toilet since it can't use traditional plumbing. Instead, it's plumbed into the wall behind the toilet. Luckily, it doesn't require a vent, but you'll still probably need a licensed plumber to install it.
The Saniflo Sanicompact Self-Contained toilet has some cool features, and the space-saving design is great, but none of that warrants the insane price of this toilet. Other similarly-priced toilets have seats that sense your approach and open automatically, and they clean your butt for you when you're done. You'll get neither with this toilet at a price that's not too different.
Pros
Only uses a single gallon of water per flush
Tankless design takes up little space
Doesn't require a vent
Great for adding a half bath where there's limited space
Cons
Very expensive
Can't be used with traditional sewer floor drain
You'll probably need a professional to install it
---
6.

Swiss Madison SM-1T254 One Piece Toilet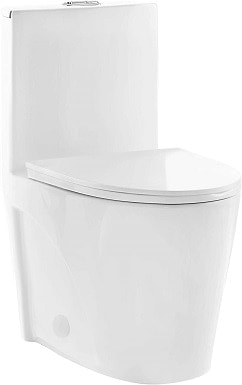 The Swiss Madison SM-1T254 One-Piece Toilet takes some design cues from toilets that we like, with a fully skirted trapway and a sleek, modern one-piece design. But it got some important parts wrong, like how you secure the toilet to the floor. The holes are so difficult to line up that it turns a simple job into one that will most likely require a professional who will upcharge you for the complexity of the toilet.
This is a dual flush toilet with an ultra-low consumption partial flush that uses just 0.8 gallons for liquids. It's a bit louder than other toilets. But to be fair, it's got a pretty decent flush, despite how little water it uses.
We liked how easy this toilet is to clean, with a seamless design that has nowhere to trap urine and dirt. But if you flush with the lid open, some of the water will spray out! This is a bit alarming, and no one wants to be sprayed with toilet water, though it might give you a good laugh when used by unsuspecting guests.
Pros
Easy-to-clean exterior
Sleek and attractive modern design
Ultra-low consumption dual flush mechanism
Cons
Sprays water if the lid is open
Very difficult to install
Flushes louder than other toilets
---
7.

HOROW HWMT-8733S Small Toilet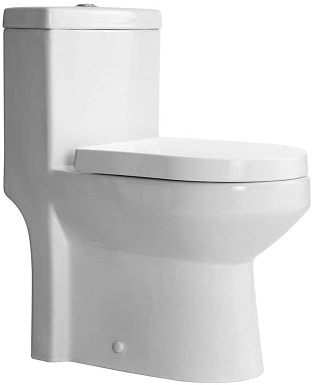 Toilets seem to be getting more expensive, but this HOROW toilet is priced more affordably than most. It's a sleek one-piece design with a concealed trapway and very few curves or corners to hold onto filth. This one is a smaller-than-normal size that's great for undersized bathrooms but probably undersized for normal bathrooms.
Feature-wise, you'll find a low-consumption dual flush with a 1.6-gallon high flush and a 1.1-gallon low flush. It has a self-cleaning glazed surface that's easy to keep clean. A soft-closing seat is included, but it doesn't stay up when you open it! This can lead to some messy situations, and it's annoying when you're seated, and it keeps trying to close on your back.
You get a 5-year warranty on the porcelain glaze and a 3-year warranty on the flushing mechanism, which is great because the first one we got arrived cracked. Not just cracked, though, it looked like a repair had been poorly performed. The second one was complete with no cracks but was still too small to be comfortable, and the seat refusing to stay up was more than we could take.
Pros
Soft-closing seat
3 and 5-year warranties
Reasonably priced
Cons
The seat doesn't stay up
The first one was cracked
Too small for a full-size bathroom
---
8.

Kohler Highline Comfort Height Two-Piece Elongated Toilet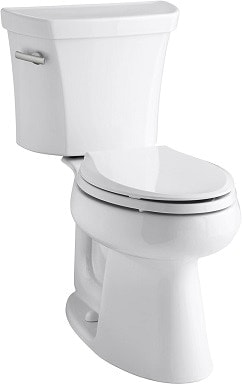 It's starting to feel like a dual flush is standard on toilets today, but this Kohler toilet lacks one. Luckily, the single flush you get is pretty conservative, using just 1.28 gallons per flush. It has a canister flush valve that puts that water to good use, making for a quiet but powerful flush that removes your waste. But some water always squirts out onto the wall when we flush it. Not our favorite quirk to encounter.
This toilet seems reasonably priced on the surface. But once you realize that it doesn't come with a seat, you'll start to compare it to similarly priced and even cheaper toilets that do. We also dislike the cheap flushing handle on this toilet. With a tally of all these flaws, it becomes impossible for us to recommend this toilet over some of the superior options in the same price range.
Pros
Reasonably priced
Low-consumption flush
Canister flush valve makes a quiet, powerful flush
Cons
Squirts a little water out during the flush
Cheap flushing handle
Doesn't include a seat
Only one flushing level
---
9.

Niagara 77001WHCO1 Stealth Toilet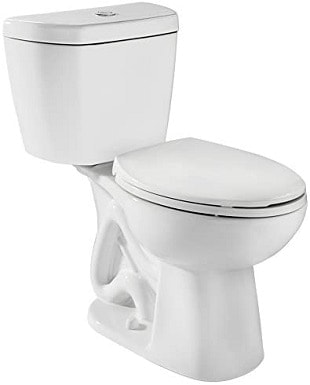 We wanted to like the Niagara Stealth Toilet. It's more affordable than many competing models. It's also very economical, with a low-flow flush that uses just 0.8 gallons each time. You can barely hear it, but unfortunately, you can see what's left over.
There are entire areas of the bowl that are missed by the flush. Even the parts doused with water aren't hit with enough pressure to remove the mess. This means that you'll be spending a lot more time cleaning your toilet; it's definitely going to need it more often than with other toilets.
On top of all this, there's no seat included, so it's not that great of a deal. If a good deal is what you're after, we'd skip this one and pick something like the American Standard in the second spot of this list instead.
Pros
Cheaper than many competing models
Low-flow flush is efficient and quiet
Cons
No seat included
Parts of the bowl aren't reached by the flush
Requires cleaning more often because of weak flush
---
10.

Toto Neorest Dual Flush Toilet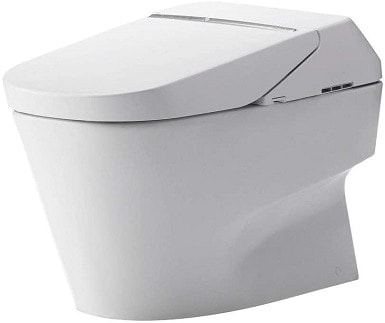 There's no doubt about it; the TOTO Neorest Dual Flush Toilet is a seriously impressive piece of bathroom technology. But is it worth the insanely high price? How much do you value your behind?
This toilet features a low-consumption dual flush with 1-GPF and 0.8-GPF options. But you don't have to touch anything since this toilet flushes automatically for a completely hands-free experience. Or, if you prefer, there's a remote control included so you can tailor your experience every time.
The lid opens automatically, though occasionally it also closes on you! It has a heated seat with temperature control and a cleaning bidet, so you don't have to wipe anymore. It's all top-notch hands-free technology, but is it worth the price? Don't forget, you need a plumber and an electrician to install it.
This toilet is several times the cost of the WOODBRIDGE toilet that earned our premium choice recommendation. That toilet has all the same features for a fraction of the price, and the lid never closes on you. There's no way we can justify this price on a poop receptacle.
Pros
Flushes automatically
Includes a remote control
Cons
Insane price
There are equally efficient and technological toilets for a fraction of the price
Lid sometimes closes on you
You'll need an electrician and plumber for installation
---
Buyer's Guide: How to Choose the Best Toilet
For many, the toilet is more than just a place to do your business. With smartphones as capable as computers from a few years ago, many people are working on their phones while dropping their morning weight. Of the people who aren't working during this time, they're often on social media.
All that is just to say that our toilets see a lot of use. Of course, you know this. That's why you're reading the best reviews to determine which toilet is the best choice. But we want to go a bit further to help you along with this short buyer's guide. We're going to go over the most important features and functions that you should keep at the front of your mind when comparing toilets. Get these things right, and you won't regret your decision.
Low-Consumption Flush
In the modern age, many people have become more environmentally conscious. One result of this is products that use fewer and fewer resources. But the by-product of reduced usage is reduced cost.
Prior to 1980, toilets used between 5 and 8 gallons of water with each flush. Compare that to today's average toilet that uses less than 2 gallons per flush. But some of the most economical toilets use even less than a gallon of water with each flush.
You can see how using 0.8 gallons with each flush would use less water than a toilet that used 2 gallons with each flush. The less water your toilet uses with each flush, the more money you'll ultimately save on your water bill and the less of an impact you'll have on the environment at large.
Dual Flush
Flushing economy goes further than just low-consumption flushes. What happens when that small bit of water isn't enough to take down your biggest loads? That's why some toilets let you choose between two flushes, providing a button for a smaller flush for liquids and a larger one for solids that use a bit more water.
Flushing Power
There's still more to flushing than just how much water is used. While that has a major effect on the effectiveness of a flush, it's not the only factor. Some toilets are equipped with special valves that release water faster. This allows a smaller amount of water to move more waste and clean the bowl better. In our toilet reviews, we found that the best toilets almost always came with these special valves.
Soft-Closing Seats
Everyone hates it when the toilet seat slams. It tends to happen at the worst of times, too, like when everyone else is dead-asleep in the middle of the night. But with a soft-closing seat, you'll never have to worry about that again. These seats close softly without your help, so they never slam, which is also great with kids in the house since it won't pinch their little fingers.
Fit and Finish
Think about the size of your new toilet compared to your old toilet. If you get a new toilet that doesn't fit your existing space, it may not work. Likewise, if you don't consider the finish of your toilet before you purchase it, you could end up with one that doesn't match your bathroom and stands out like a sore thumb.
Consider What's Included
Before purchasing the best toilet, make sure you pay attention to what is and isn't included in your purchase. Some toilets include a seat, while others require you to buy one separately. You'll find that it's the same with wax rings as well. If you go to install and don't have these items, you'll have to postpone the installation with an annoying trip to the hardware store.

Conclusion
Whether you're looking for a simple toilet that just sends your waste to where you can't see it, or you want a fancy electronic smart toilet with all the bells and whistles, one of the porcelain pots on this page is sure to offer precisely the functionality you require. Let's sum up our toilet reviews:
For us, the number one choice for the best toilet is the TOTO CST744SL#01 Drake 2-Piece Ada Toilet. It's equipped with G-Max flush technology that uses just 1.6 gallons of water per flush but manages a powerful, fast flush that rarely ever clogs thanks to the flush valve that's 125% wider than competing models.
When you just need a place to go poo, and you don't want to spend so much that it feels like you're remodeling your bathroom, check out our pick for the best budget toilet, the very affordable American Standard Colony Toilet Combo that self-cleans and conserves water with a low-consumption 1.6-gallon flush.
If your bathroom is the ultimate in luxury, you need the WOODBRIDGE B-0960S Smart Bidet Seat Toilet. Our top premium pick for the best toilet has a lid that opens automatically when you approach, it washes your backside with a hands-free bidet, and it even filters and deodorizes the air, keeping your bathroom fresh. The heated seat and built-in butt dryer are just cherries on top.
Note: another interesting technology worth looking into is the new AquaBlade toilet flushing.
You might also like: