How to Become an Interior Designer: 5 Important Steps
Were you one of those kids who spent hours building houses and decorating them in The Sims? Do you walk into a room and think about how to rearrange it? If you have a passion for design and showcasing the beauty of a space, interior design is the perfect pathway for you. You may even be a few years into your career already and want to shift to a new challenge, or you may be fresh out of college
Whatever your circumstances, you can turn your hobby or passion into a full-fledged interior design career.
Anyone who has an eye for decorating and enjoys and manipulating color, textures, fabric, and furniture pieces can be an interior decorator. However, only accredited professionals with the proper credentials, experience, and skill set can call themselves interior designers.

What is Interior Design?
At a basic level, interior designers design and create living and working spaces for a variety of clients while working as either a freelancer or as part of a design firm. Designers work on interior space planning to create cohesive and aesthetically pleasing designs for homes and businesses (like hotels, office buildings, and even restaurants).
Many designers specialize in a specific design field. You can specialize in home design, commercial interiors, corporate office spaces, or environmental design.
What Does an Interior Designer Do?
The daily tasks of an interior designer vary as widely as their specializations and career pathways. Designers go from sketching room layouts to calculating costs and producing project timelines. They oversee a multitude of design elements and responsibilities including, but not limited to:
What Does an Interior Designer Do?
Acknowledging a client's needs, goals, interests, and budget restraints.
Sketching design plans of the space while keeping in mind the layout and how the space will be used.
Choosing and ordering furniture and other materials.
Finalizing the design plans using computer software.
Estimating and anticipating all possible project costs.
Calculating an estimated timeline for the entire project and project completion.
Supervising the installation of all design elements into the client's space.
Holding face-to-face meetings with clients to communicate and ensure client satisfaction
Seeking out potential clients and bidding on new projects.
What Qualifications Do You Need to Become an Interior Designer?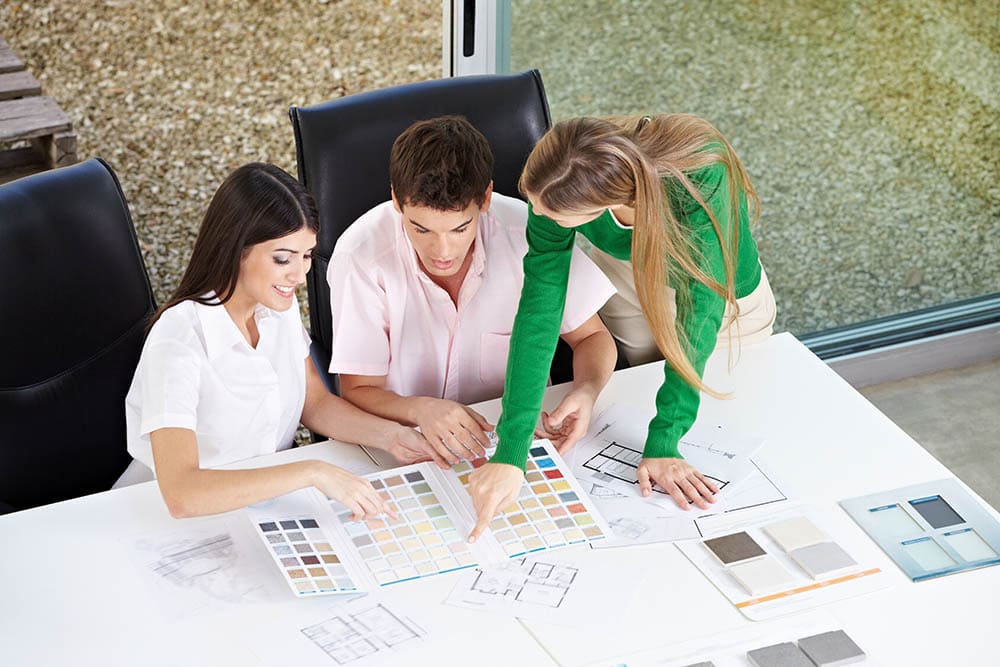 There is more to being an interior designer than being creative, having impeccable taste, and having an eye for design. If you're interested in becoming an interior designer, here are the qualifications and skills you should focus on to achieve your goal:
Qualifications and skills
Schooling, experience, and licensing: Many states in the US, like Nevada and Florida, require you to pass an interior design certification before you can work. Before taking the exam, you need an interior design degree (or something similar) and around two years of work experience. To become a licensed interior designer, you have to pass the National Council for Interior Design Qualification exam or the NCIDQ. This exam tests your knowledge of building codes, building permits, inspection regulations, construction standards, design applications, professionalism, project coordination, and management.
Project management skills: Interior designers are not just responsible for creating and cultivating the look of a space during a project, but they are in charge of running the project from start to finish. An adept interior designer will have invaluable project management and communication skills.
Computer-aided design skills: Also known as CAD, computer-aided design skills are an integral part of the design process. While sketching and drawing are part of the overall design process, most professional designers finalize their ideas and project blueprints with computer software. An aspiring interior designer needs to have a grasp of the basics for CAD programs in order to complete design projects and get a head start on the interior design world.

The 5 Steps on How to Become an Interior Designer
While there is no one-size-fits-all way of becoming an interior designer, here are the essential steps to get started:
1.

Educate Your Design Eye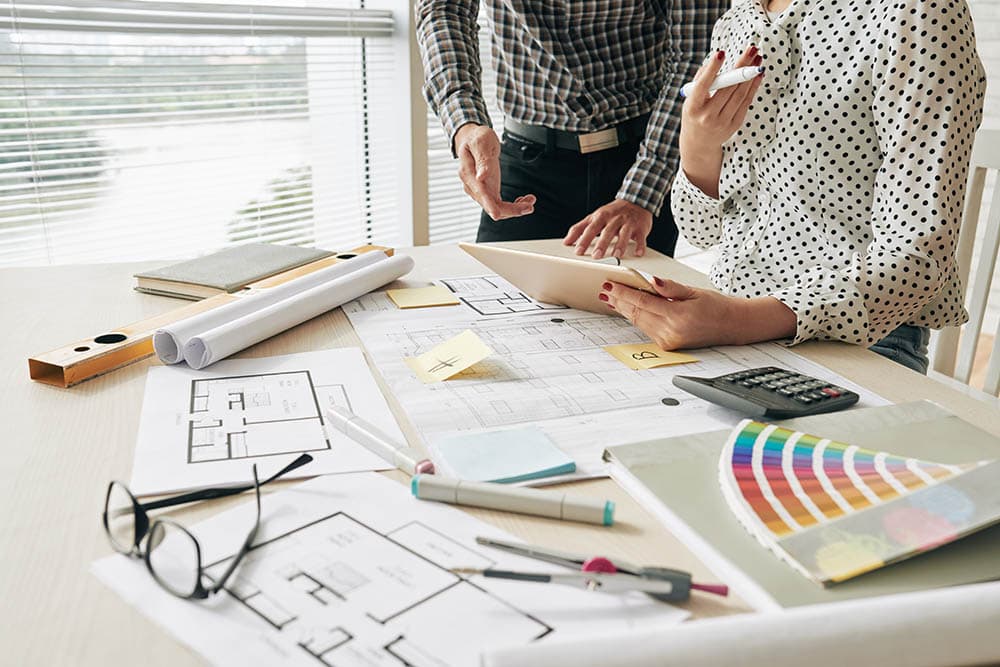 Honing your design eye is critical for becoming a successful designer. In order to develop a keen sense of design, you need to be intimately aware of every aspect of your surroundings. If you're out on a walk, observe how the buildings fit together or the pathways leadto the door.
Pay attention to graphic design in your surroundings. Notice people's clothing, the architecture around you, and landscaping that captures your attention. Everything around you has meaning, and strong and creative ideas can come from anywhere.
You can find ways to develop your personal touch. Do you want your style to be bold, muted, playful, classic, or modern? Focus on what you are naturally drawn toWhat about it draws you in? Use these answers to fine tune your own designs and design decisions.
---
2.

Study Interior Design
Most design firms will require a formal education. At the very least, firms will expect applicants to have bachelor's degrees. However, some firms will require you to have a master's degree to work with them. When deciding where to go to school for design, we highly recommend you look into programs backed by the Council for Interior Design Accreditation (CIDA). CIDA stays ahead of the current trends, practices, and regulations in the design industry.
While bachelor's degrees in relevant fields like architecture and design theory are preferred, you can still pursue a degree in another field. You can take design-related courses to bolster your studies. Classes like fine art, design, computer-aided design, and color theory are only a few of the options.
---
3.

Seek Formal Training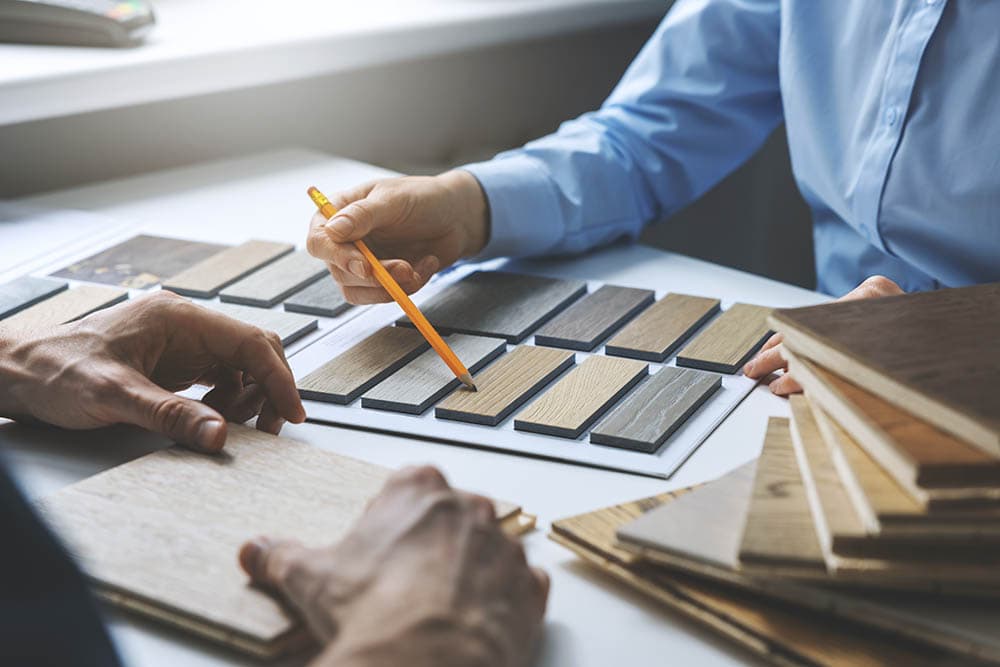 Experience is critical when it comes to design. After you graduate, you need to hunt down design-related opportunities. Whether it's jobs, internships or pro-bono work, you need to have a minimum of two years' work experience.
---
4.

Get Licensed
The next step is to take the NCIDQ exam. You must have two years of work experience before you are eligible to take the National Council for Interior Design Qualification exam. Passing the exam is an official standard and proficiency benchmark for interior designers in over 27 states and Canada. Not only will an NCIDQ certification show your dedication and commitment to your work, but it's also a green light for your potential clients to know you are qualified.
---
5.

Work for a Firm, Freelance, and Build a Portfolio
Once you are licensed, you are free to chase any career path. You can look for a job with a design firm or freelance from home. Whether working for a firm or running your design services as a small business, you have to build your portfolio. You need to take high-quality photographs of all your work and keep sketches and blueprints to show your clients the start-to-finish product.
Establish your brand identity, and don't be scared to show it off. Networking is essential in any profession, and interior design is no different. Make connections with your peers, join organizations like IIDA and ASID, and reach out to designers you admire to ask for informational interviews. When interviewing for a potential job or client, don't hesitate to show your expertise.

Final Thoughts
Armed with your license, degree, and portfolio, you are ready to take the design world by storm. A career in interior design, especially a successful one, is highly competitive.
Whether you are a DYI designer seeking to flip your home or someone hoping for a full-time career in interior design, you now have the knowledge to get started.
---
Featured Image Credit: RomanR, Shutterstock