8 Expert Tips on How to Hang Curtains (with FAQs)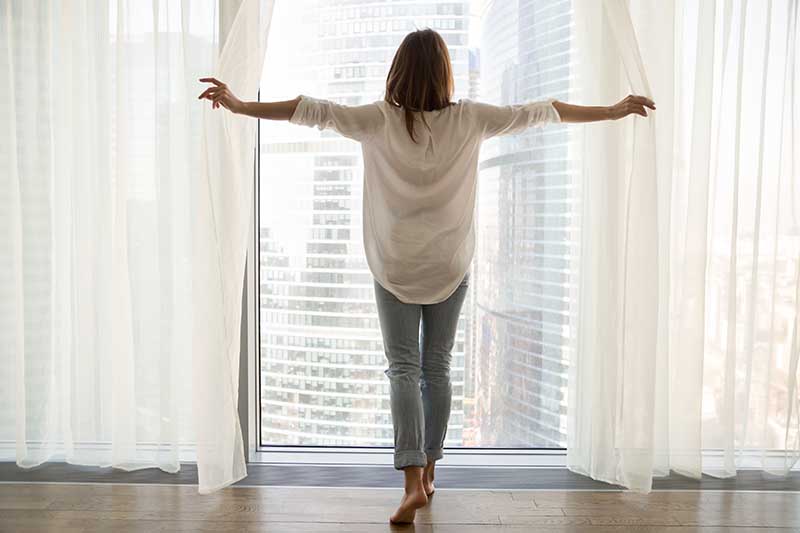 Any curtains can block light and increase privacy, but expertly fitted curtains can give your room a professional and elegant aesthetic, mask unsightly windows, and change the size of the room.
While it seems straightforward, hanging curtains can be challenging when you attempt it for the first time. Here are some expert tips you can follow to hang your curtains in the best way possible while providing functionality and elegance.

Before You Start
When choosing curtains, you first want to consider the function. For example, is it for privacy, sun protection, or noise reduction? This determines the weight of your curtains and whether you require additional features such as privacy lining.
You must select a curtain rod that complements your walls. A simple metal rod is budget-friendly, and not much fussing is required. They can't be seen when you slide your curtains onto them. If you want your rod to be part of the aesthetic, consider using decorative rods with pretty finials on either end.
What You Need
Tape Measure
Level
Pencil
Drill
Screws
Brackets
Curtain rod
Drapery rings or pins
Anchors
Steamer
The 8 Expert Tips for Hanging Curtains
1.

Rod Length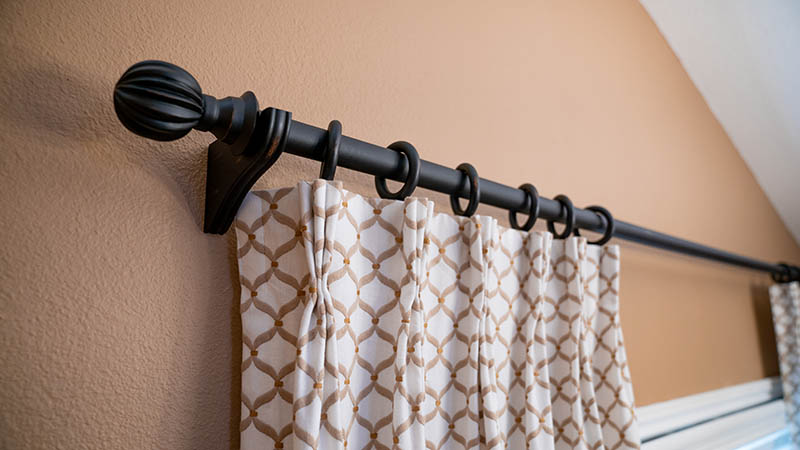 In general, rods should extend about 8–12 inches past the window on both sides. The rod should be wider than the windows so the curtains do not cover them when drawn open. Adding width can also help the window look more prominent.
Install an extra bracket for support in the middle of curtains wider than 60 inches. This is particularly important if your curtains are made of a heavy material like velvet.
---
2.

Curtain Width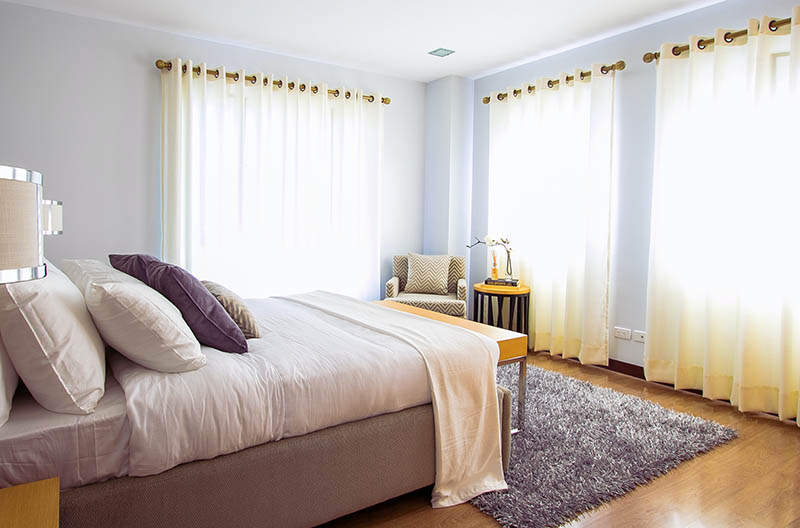 Each panel of functional or moving curtains should be half the width of the rod. If the curtains are decorative and remain stationary, the panels should be wider and more attractive. Store-bought curtains tend to be narrower, so to make them look fuller, you can hang two pairs of curtains on each window.
---
3.

Rod Height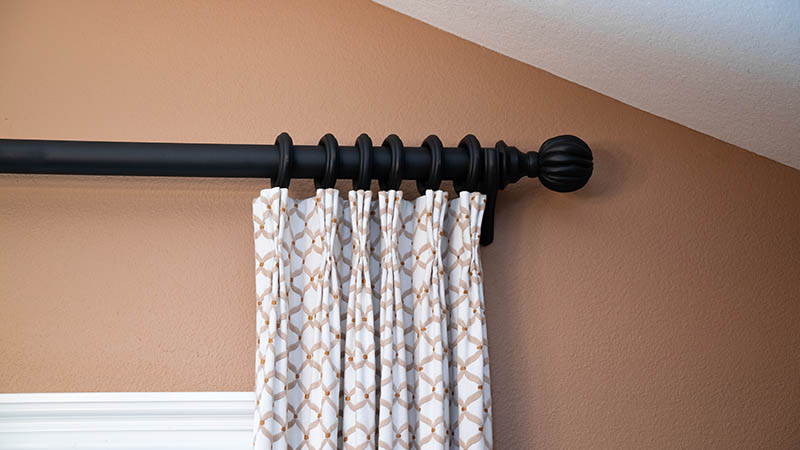 The curtain rod should be positioned in relation to the ceiling, not the window. Installing the rod 3–6 inches above your window trim is appropriate if you have a standard 8–9 foot ceiling, but get as close to the ceiling or crown molding as you can. Place the rod 4–6 inches above the window to create the illusion of a taller space.
Make sure the mounting brackets are deep enough to clear the window frame and enable your curtains to hang correctly.
---
4.

Curtain Length
Measure the distance from the top of the rod to the floor to determine the length of the curtains, then adjust this measurement according to the curtain's hanging method. Rod pocket curtains may need extra sections added to them, while curtains hung with rings may need sections removed.
Your curtains should barely touch the ground. If they are too long, they can quickly get dirty, and when too short, they will make a room appear smaller.
Before determining the height, iron the curtains. This reduces shrinkage in subsequent washes. If you battle to find ready-made curtains that are the right length, purchase long ones and take them to get re-hemmed after measuring.
---
5.

Bracket Mounting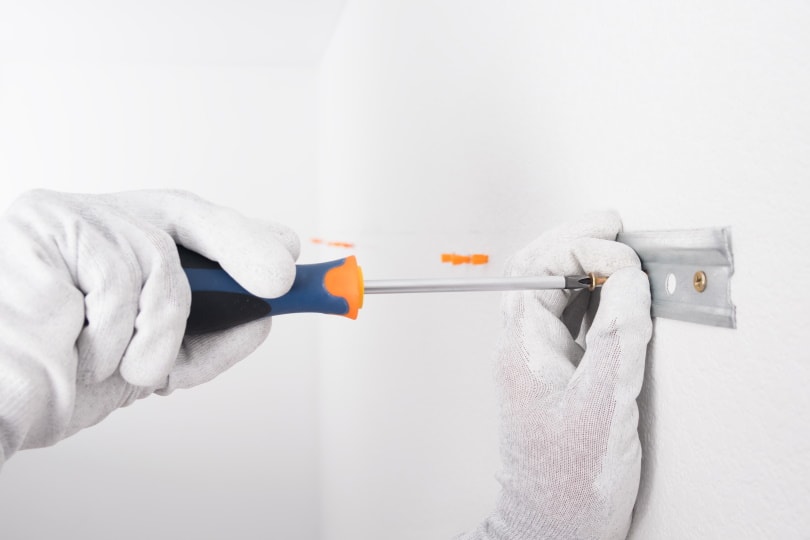 When mounting your brackets, you must know how much the window protrudes from the wall. The brackets will need to project far enough so that the curtains do not hit the windowsill and leave a gap. Mark where your brackets need to go according to your measurements, and double-check your figures more than once.
Use strong wall anchors that will expand in the wall to provide a better hold. Some types require pre-drilling, while others require only a screwdriver to install.
---
6.

Hang Your Curtains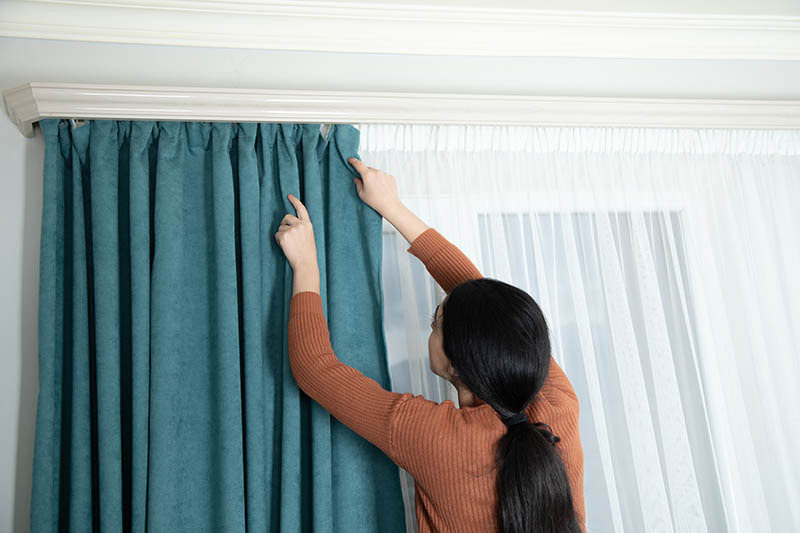 It's time to hang curtains after you've attached your curtain rods and determined their dimensions. Even if you're using curtains rings and pins, hang them on the rod before attaching them to the brackets because heavy curtains are challenging to install when the rod is already up. Get a friend or family member to assist if you can. An extra pair of eyes and hands are always helpful.
---
7.

Explore Different Hanging Styles and Accessories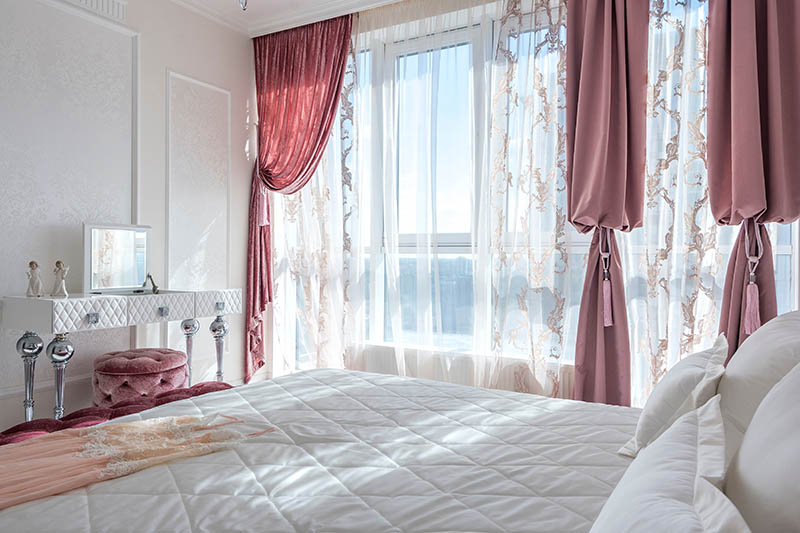 If you want your windows to stand out, you can explore different styles and accessories. Curtain tie-backs are another great way to accessorize your curtains and add to the aesthetic of your home, and you can play with various looks to change it up.
---
8.

Steam Your Curtains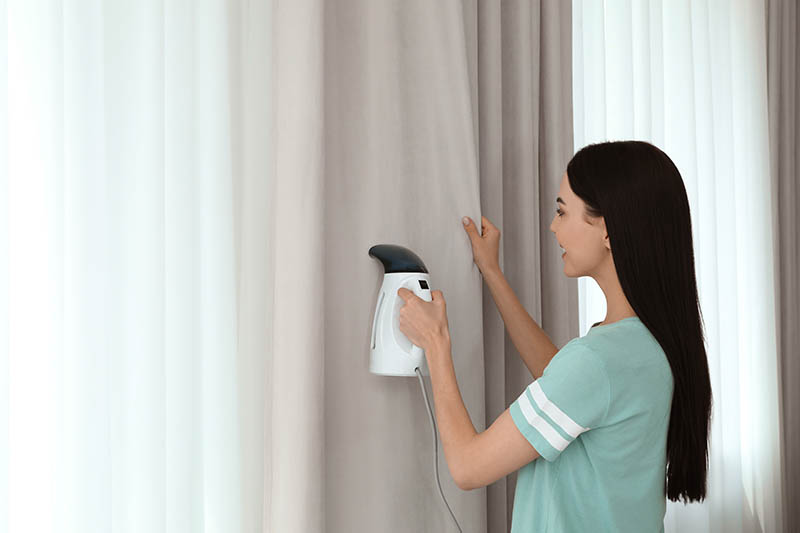 Once you have hung your curtains the way you want them and everything aligns and works, give them a steam treatment. Steaming your curtains will give them life, especially if they have come out of the packaging; you only need to do it once after they have been hung.

Curtain Heading Styles
The heading style of your curtains is how you choose to attach them to your rod or track. Here are the most popular styles:
Rod Pocket: This is when the curtain fabric is folded back on itself to form a pocket through which the curtain rod can be fed. The rod slides into the pocket, making it a quick and easy method of hanging curtains.
Curtain Rings: Curtain rings look charming and allow you to draw the curtains easily.
Eyelet: Eyelet curtains are only used on rods, and they provide a soft, deep fold in your curtains for a contemporary look. They are very easy to install.
Tab top: Tab top curtains are made with tabs of the same fabric that slides onto a rod. They provide a great aesthetic but are not the most functional.
Pencil Pleats: The pencil pleat is a modern and elegant style that consists of long, tight folds from the top of the curtain. Pleats are created by the gathering and bunching of the fabric.
FAQ for the Experts
How Do You Hang Curtains Without a Rod?
Curtain wire is a good alternative for lighter curtains like sheer curtains or café curtains.
How Do You Hang Curtains Without Drilling?
You can use adhesive hooks or strips of various sizes and strengths. Magnetic rods are a great alternative to drilling if you have metal frames, but they are usually only ideal for lightweight curtains.
How Do You Hang Curtains Over Blinds?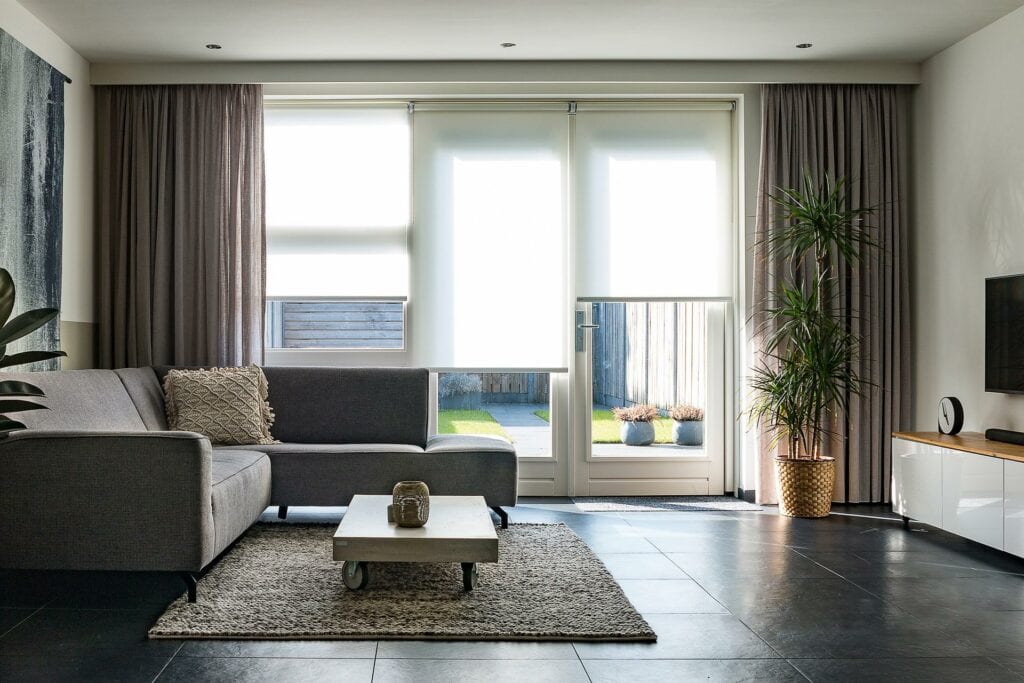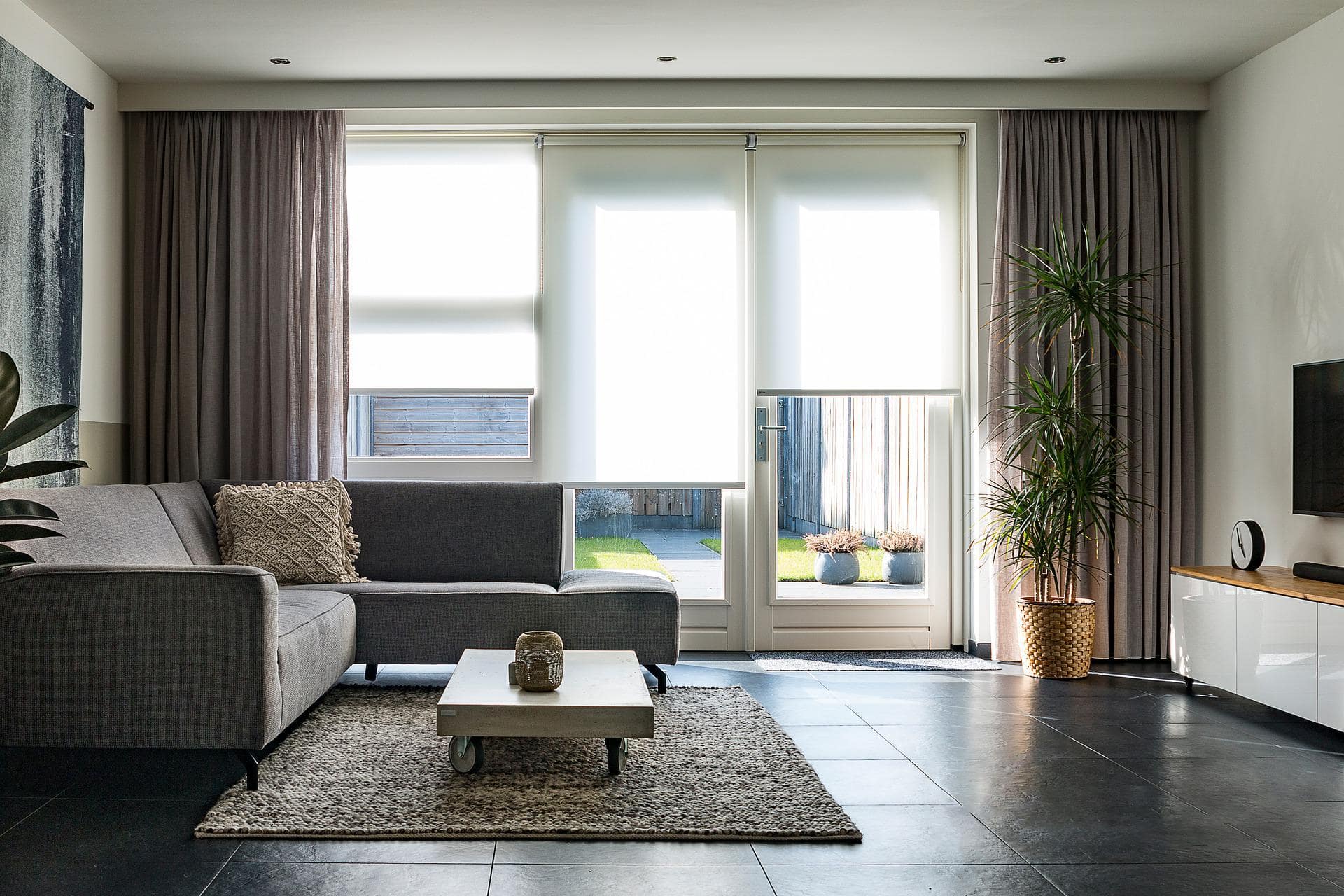 Install your curtain hardware and curtain brackets directly to the headrail. You can also install your rod just above the blinds.
What Are the Rules for Hanging Curtains?
You need to determine the correct panel length and measure from the floor to where you want to place your rod. Always measure twice.

Conclusion
When your curtains are hung correctly, the finished design will improve your room's overall aesthetic. Increasing the height of curtains makes the ceiling appear higher; ideally, curtains should be long enough to kiss the floor. Installing the first rod and curtains may take a bit of time, but once you're familiar with the process, you'll install the others in no time.
See also: 9 Expert Tips on How to Cover Arched Windows
---
Featured Image Credit: Fizkes, Shutterstock