10 Expert Tips on How to Hang Curtains in a Rental Apartment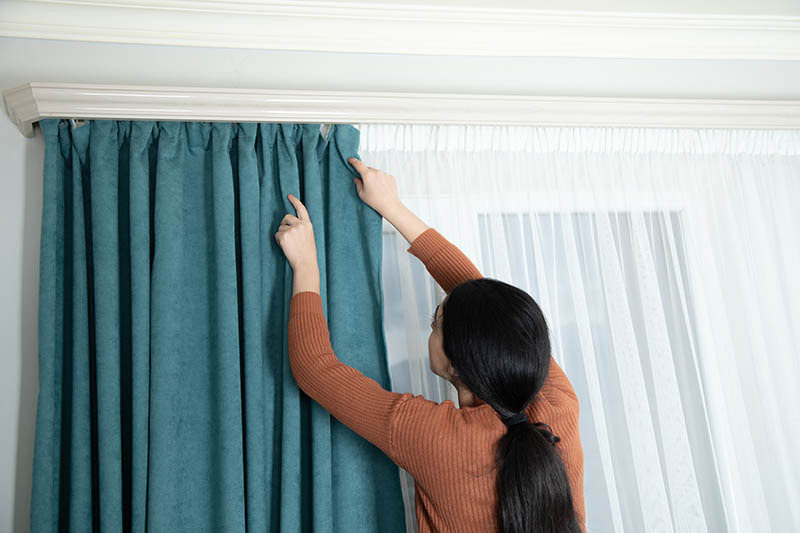 One of the reasons most people dread moving is because it means putting back furniture and hanging curtains in their new home. This is especially true if you're moving into a house with many windows as hanging curtains can take up much of your time. It's also quite tiresome, especially when dealing with heavy curtains.
When hanging curtains in a rental apartment, you need to be careful not to cause any damage to the property. Luckily, there are several ways to do this, and we've compiled them in the article below.

Top 10 Expert Tips to Hang Curtains in a Rental Apartment
Curtains block light from getting into a room and provide privacy from neighbors and strangers. Installing them can be complex, but the tips below should make the process easier.
1.

Spring Tension Rods
The best thing about spring rods is that they can fit into any space, which means you can use them to hang windows, doors, and bathroom curtains. They also don't damage the wall since they don't need to be drilled in, which is great when living in a rental property. You can use them for light fabric curtains but they might collapse when used to hang heavy curtains.
---
2.

Use the Existing Curtain Rods
Most rental apartments have pre-installed curtain rods on the windows. If they are compatible with your curtains, which most of them are, you can use them instead of installing new ones. If the curtain rod does not accommodate your curtain style, here are a few things you can do to remedy that:
Buy New Curtains
Most rental apartments don't allow you to change the curtain rod, so the next best option is buying new curtains. Measure the length of the windows to make sure they fit and ensure they can fit on the rod.
Customize Your Curtains
If you don't want to pay the extra cost of buying new curtains, consider customizing your existing curtains to fit on the rod. You can adjust the "rod space" by sewing or adding curtain rings to make it easier to hang the curtains.
Drape Them on the Existing Rod
If the curtains don't fit, and you don't have time to make the necessary adjustments, drape them on the rod in a decorative manner. You can use house pegs or tacking pins to hold them together. This way, you can easily close the curtains when you need more light.
---
3.

Use Heavy Duty Magnets
If you want to hang your curtains without installing a curtain rod or are thinking of using a metallic curtain rod without damaging the walls, you can use heavy-duty sew-in magnets. They can easily support curtains, and you can find them in most hardware stores.
---
4.

Use Clip-on Brackets
If you have a curtain rod, add clip-on brackets to the curtain rings and use them to hang your blinds and light curtains. They can also be used to hang shower curtains. Installing them is pretty easy, and they are perfect if you don't intend to live in that apartment for long.
You can easily remove them when moving without damaging the walls and curtain rod. They also make it easy to remove your curtains when you need to wash them.
---
5.

Build a Curtain Frame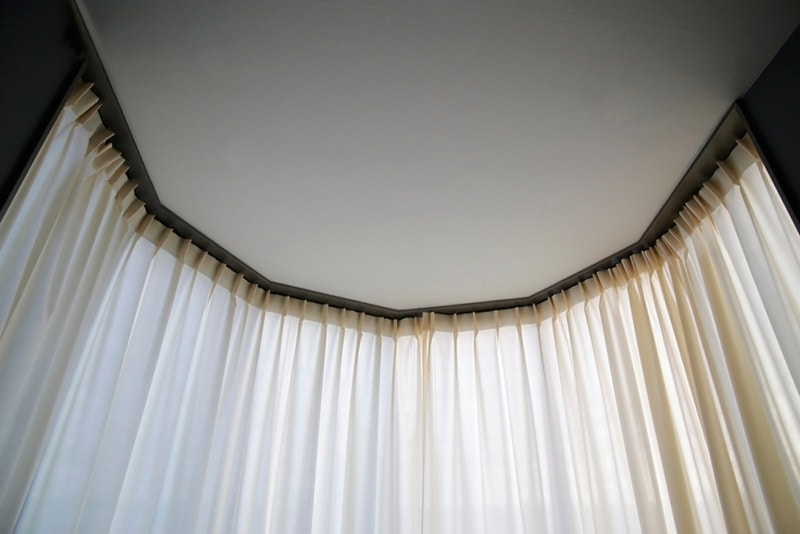 Depending on your budget and DIY skills, you can easily build a curtain frame and design it according to your particular needs. If you move often, you can make it foldable and easily portable.
To build one, measure the dimensions of your windows and build a curtain frame according to those dimensions. You can also decorate the frame according to the room's color scheme so that it does not feel out of place and add a curtain rod to make hanging the curtains easier.
---
6.

Use a Roller Shade
If your apartment already has roller shades installed, you can use them to block out the light and provide privacy instead of hanging curtains. If you still want to hang your curtains, you can roll up the roller shades to the top and form a horizontal-like tube which you can use as a curtain rod to hang your curtains.
---
7.

Coat Hooks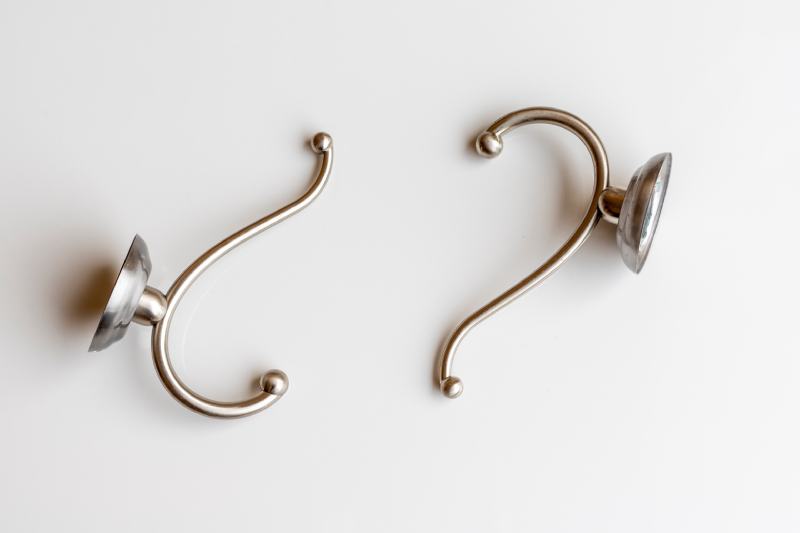 You can also use coat hooks to hang curtains. Simply attach the hooks to the wall evenly across the top of your window. If your curtains don't have the necessary accommodations to do this, you can make some adjustments or use a thin curtain rod and balance it on the coat hooks.
Coat hooks are cheap in most hardware stores and easy to install.
---
8.

Use Command Brand Hooks To Hang The Curtain Rod
Command brand hooks have sticky solid slips and can easily be attached to smooth walls and other surfaces. They can support a curtain rod and curtains so long as they weigh under around 6 pounds. Command brand hooks come in various colors and designs, and you can easily get one that suits your aesthetic.
To attach them to the walls, attach the sticky side to the wall and leave it for 24 hours to dry and stabilize, then hang the curtain rods and curtains on them. They are also water resistant and can therefore be used to hang bathroom curtains.
---
9.

Suspend the Curtain Rod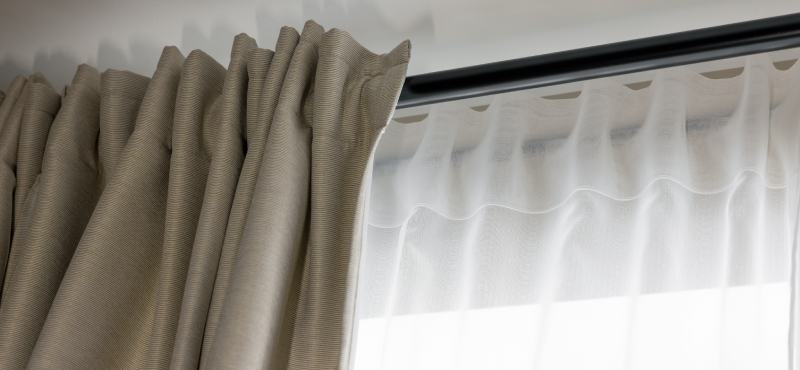 Suspending your curtain rod from the ceiling or walls can be done with the help of a boom and hooks. Drill or nail the hooks onto the ceiling and use a strong cord to lower the curtain rod to position and drape your curtain on it. Ensure you don't hang heavy curtain rods and curtains if you are not sure about the stability of your ceiling.
This method gives the room a simple yet elegant look since the curtain rod appears to be floating from the ceiling, especially if the cord is clear.
---
10.

Use Double-Sided Tape
Using double-sided tape to hold your curtains in place should be your last solution. It's not a long-term plan and cannot be used to hold heavy curtains in place. However, it will hold your curtains in place without damaging the walls and is an excellent solution if you want to save money on your apartment.
Moving is also easy since all you have to do is peel back the tape and throw it out.

Conclusion
Before using any of the methods mentioned above, you must consider certain factors, including how long you'll live in the apartment, the look you want to achieve, your budget, and the weight of the curtains. Some methods are better than others, depending on your needs.
For example, if you will be living in an apartment for a long time, a more permanent solution is more suitable. The tips in this article should help you have an easier time hanging your curtains when you move into a rental apartment.
See also: 9 Expert Tips on How to Cover Arched Windows
---
Featured Image Credit: Tiko Aramyan, Shutterstock