9 Expert Tips on How to Cover Arched Windows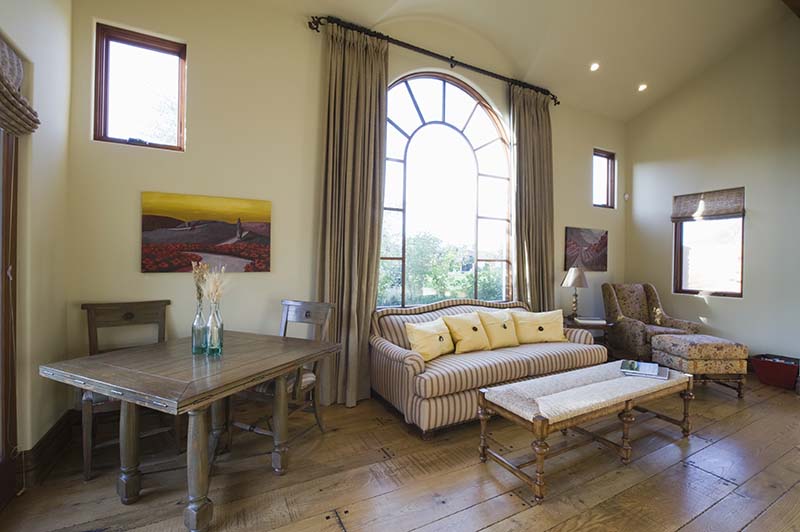 In an age of ultra-modern architecture and design, it can be refreshing to find something that feels a little more old-fashioned. Arched windows are one example. They're a common sight in many older houses and buildings, but that doesn't mean they're outdated or inaccessible to those who want them in their homes today.
These windows are pretty and distinctive, but they come with some challenges, such as not being able to install shutters on them or having limited options when it comes to curtains, blinds, or other window treatments. What can you do?
Here are nine different ways you can cover your arched windows so that you don't have to sacrifice style for practicality, even if your home is new construction and you have no previous renovations from which to gain inspiration.

What Exactly Are Arched Windows?
Arched windows are windows that have a curved top portion. They're often found in historical homes and buildings, but they are also available in modern styles. Arched windows can work in any room and many architectural styles, but they're best suited for rooms with high ceilings.
Some styles are also more energy efficient than others. Arched windows come in a variety of styles. Some have multiple curves, and others have straight tops. Let's discuss some of the pros and cons that come with these types of windows.
1.

Try Fitted Drapes or Curtains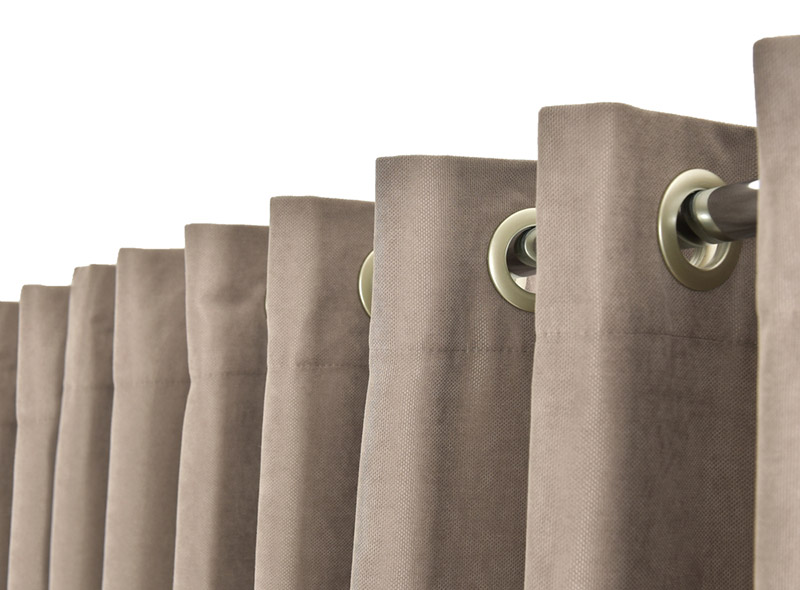 | | |
| --- | --- |
| Price Range: | $40-$250 |
| Customization Required: | No |
If you want a more elegant, stylish look for your arched window, you can't go wrong with beautiful sheer curtains or drapes. These are especially easy to install if you're okay with the idea of having them customized.
Drapes and curtains are great for arched windows because they're soft, flowy, and essentially hang in a more vertical direction. This gives them a more natural appearance when they're hanging in front of an arched window. You can also choose a material that's heavier and opaque if you want to be able to control more light.
Pros
Customizable
Affordable
Range of colors and patterns
Cons
Customized drapes can get expensive
---
2.

Consider Roman Shades
| | |
| --- | --- |
| Price Range: | $40-$250 |
| Customization Required: | Yes |
Roman shades are essentially curtains that you attach to the inside of the window. You can find them in a variety of designs and colors to match any room's decor. Roman shades are particularly helpful for arched windows because they can be custom-made to fit the window's width and height. You can also choose to have multiple panels if the window is very wide.
There are many different types of Roman shades you can choose from, including blackout Roman shades, which are great for bedrooms. This can help you get the most out of your sleeping hours without worrying about being kept awake by outdoor lights or noises. You can also choose Roman shades that have a pattern, which will allow you to cover the window while still letting some light in.
Pros
Wide range of patterns and colors
Great for all window sizes
---
3.

Install Simple Window Covers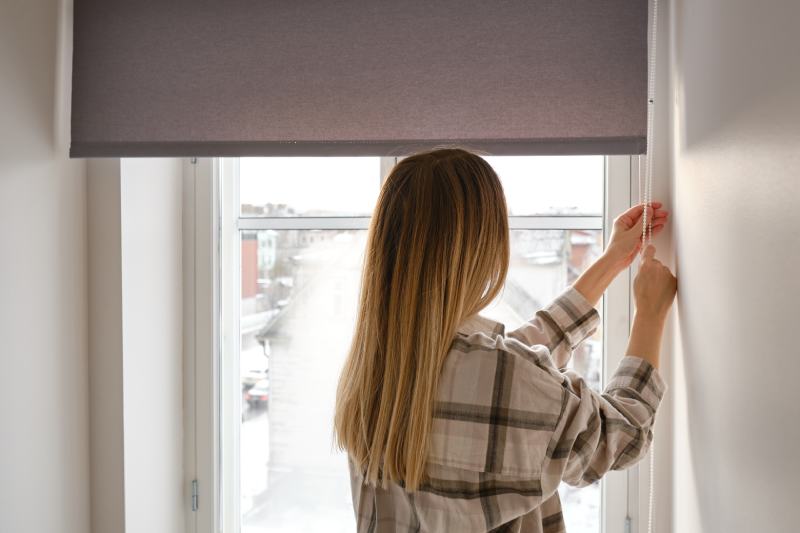 | | |
| --- | --- |
| Price Range: | $25-$35 |
| Customization Required: | No |
If all of these options seem like too much of an investment or too much of a commitment, you can always choose window covers instead. Essentially, these are blinds that you put over the window. They're often made of fabric and are held in place with suction cups or magnets. You can buy window covers from most home improvement stores or online.
Window covers like this are relatively inexpensive and can be removed easily for cleaning or when you decide to change the look of your arched windows. But keep in mind that these will block out some light, and they may not be as fancy as curtains or drapes. You may also want to choose window covers that are thermal, as some can help with regulating cold indoor temperatures when it's frosty outside.
Pros
Easy to install
Perfect for any window size
Affordable window treatment option
Cons
Can be dull in appearance
No thermal protection
---
4.

Try Austrian Shades
| | |
| --- | --- |
| Price Range: | $30-$80 |
| Customization Required: | Yes |
Do you want to give your windows a vintage feel? Austrian shades are a great choice. Their puffy folds will bring back the atmosphere of the past to your space. You could give them an extra touch of glamour by choosing embroidered silk Austrian curtains. However, they are not as private as the other treatment options. The great thing about Austrian shades is that you can get them customized to look any way that you want. They come in different colors, sizes, and their designs can be customized.
Cons
Can be hard to find
May require a professional to install
---
5.

Buy Solar Shades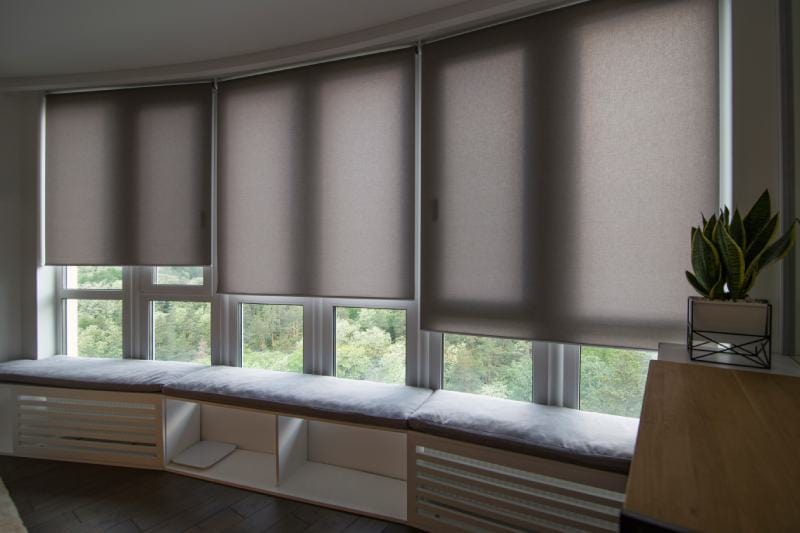 | | |
| --- | --- |
| Price Range: | $25-$40 |
| Customization Required: | No |
Solar shades are also known as "window sunglasses" and have a transparent design. There are many options for solar shades, with the highest allowing more light to enter the room.
They are great for rooms that receive a lot of sunlight and can help keep indoor temperatures cooler during sunnier days. Their designs are somewhat transparent, but the great thing is that they allow you to control the amount of light.
Pros
Comes in various colors and shades
Affordable
Can offer thermal protection
---
6.

Install Customized Shutters
| | |
| --- | --- |
| Price Range: | $110-$300 |
| Customization Required: | Yes |
Shutters can be used inside the home to create unique window treatments. They give off an architectural design feel to the windows and are often unique and elegant and can give your home a facelift on the outside.  They are a great option if you have arched windows and don't want traditional drapes or prefer not to have customized window treatments that fit them specifically. They are easy to clean, and they provide excellent airflow when opened.
Pros
Easy to clean and maintain
Give home a distinctive appearance
Works for all window sizes
Cons
Requires professional installation
Will cost more
---
7.

Use Cellular Shades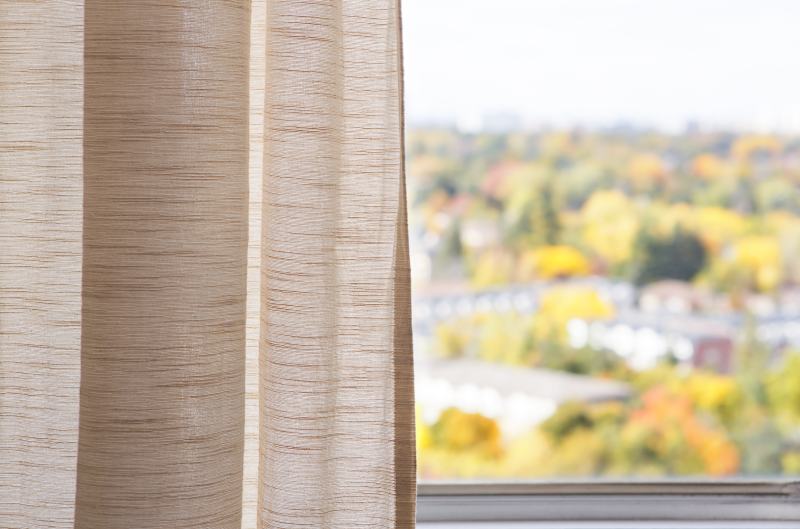 | | |
| --- | --- |
| Price Range: | $75-$200 |
| Customization Required: | Yes |
Cellular shades are made with honeycomb cell fabric and can control the temperature of your room during different seasons by providing certain insulative properties and helping to keep out strong sun rays. They're energy-efficient and trap air to keep your room warmer in winter than cooler in summer. Cellular shades can also come in different colors, materials, and can be customized to fit your arched windows specifically – though this will cost more money
Pros
Many colors and textures available
Can offer thermal protection
Cons
Typically cost more
Will require customization
---
8.

Frosted or Stained Glass
| | |
| --- | --- |
| Price Range: | $220-$600 |
| Customization Required: | Yes |
When you think of frosted or stained glass, it's common to think of those ancient cathedrals and castles in medieval Europe. While staining the glass definitely isn't the cheapest option, it's absolutely one of the most distinctive.
You can have your arched windows switched out for stained glass and create a completely new vibe to your living or dining room.  Stained glass can also make your kitchen stand out. You can also choose a frosted glass option that simply blocks the view from the outside but allows sunlight to enter the room.
Pros
Helps make rooms stand out
Easy to clean
Great for tall ceilings
Cons
Can be expensive
Require professional customization
---
9.

Woven Wood Shades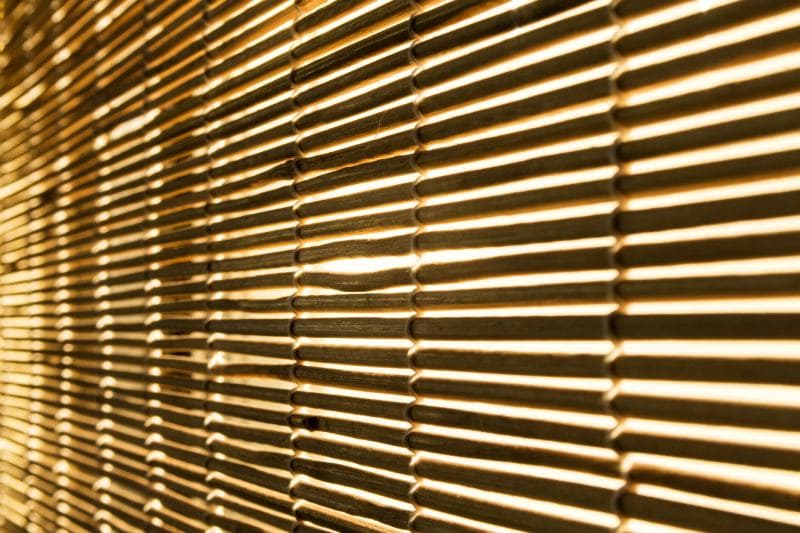 | | |
| --- | --- |
| Price Range: | $125-$300 |
| Customization Required: | Yes |
Woven wood shades are made from bamboo or grass. They're textured and can easily give your space a natural feel. To match the shade to your windows, you can add fabric trim or lines to increase privacy. These wood shades are relatively inexpensive, though you will need to have them customized to fit your arched windows, and even then, they may still have limitations.
Pros
Easy to clean
Great for controlling sunlight
Affordable
Easy to customize
Cons
Will require expensive customization
May not be ideal for larger or grouped arched windows

The Pros & Cons of Having Arched Windows
Arched windows are beautiful additions to a home. They can give any room an architectural feel and appear even more elegant with the right lighting. Arched windows also provide light, air, and visibility that lets you see outside without feeling like you're in a prison. However, they're not the right fit for every home or room. It's important to consider the pros and cons of arched windows before deciding if they're the best option for your home.
Pros of Arched Windows
Enhances Architectural Detail
Arched windows add architectural interest to a room and help it appear more unique. With the right design, they can even make a room appear larger or more open – especially if the room has high ceilings.
Provides Natural Light and Ventilation
This is perhaps one of the best features of arched windows. They let in natural light and provide ventilation. These windows can be operable or fixed, depending on how tall your ceilings are and your personal preference. Having arched windows that are operational may cost more from an installation standpoint.
Versatility
Arched windows can be used in almost any home design style. They look great with both modern and traditional styles. For example, you can add arched windows to a room that has modern decor to give it a touch of antiquity. Or you can have them in a room that's full of traditional furniture, fixtures, or decor to create more of a modern look or a sense of balance.
Cons of Arched Windows
Expensive
Arched windows are often more expensive than other windows. They can cost around $200-$300 more than a standard window. This can be enough to deter many homeowners, though if you purchase a home that already has them, you'll simply need to find a window treatment for them – which can also be expensive, depending on your choice.
May Block Natural Light or View
Arched windows can block some natural light. But the style and size of the window can impact how much light is blocked. They can also block some views since they're curved. Overall, though, the size of the window and the style of the arch can impact how much you can actually see outside.
Need Detailed Installation
Arched windows require a little more detail and customization to install than other windows – something that will definitely raise the installation price. They're best installed by professionals because they can be tricky.
That being said, they can also require a bit more maintenance, as they are usually larger and higher on the wall than traditional windows. In short, you'll typically need a ladder to clean these windows.

Wrapping Up
Arched windows are beautiful architectural details that can add charm to any room. Unfortunately, they can also be difficult to cover with curtains or blinds. Luckily, there are a variety of ways to cover an arched window so that they remain functional while still looking attractive. No matter which option you choose, you can cover your arched windows while still enjoying the view outside when you want to.
---
Featured Image Credit: Sirtravelalot, Shutterstock