How to Make a Small Bedroom Look Bigger: 15 Amazing Ideas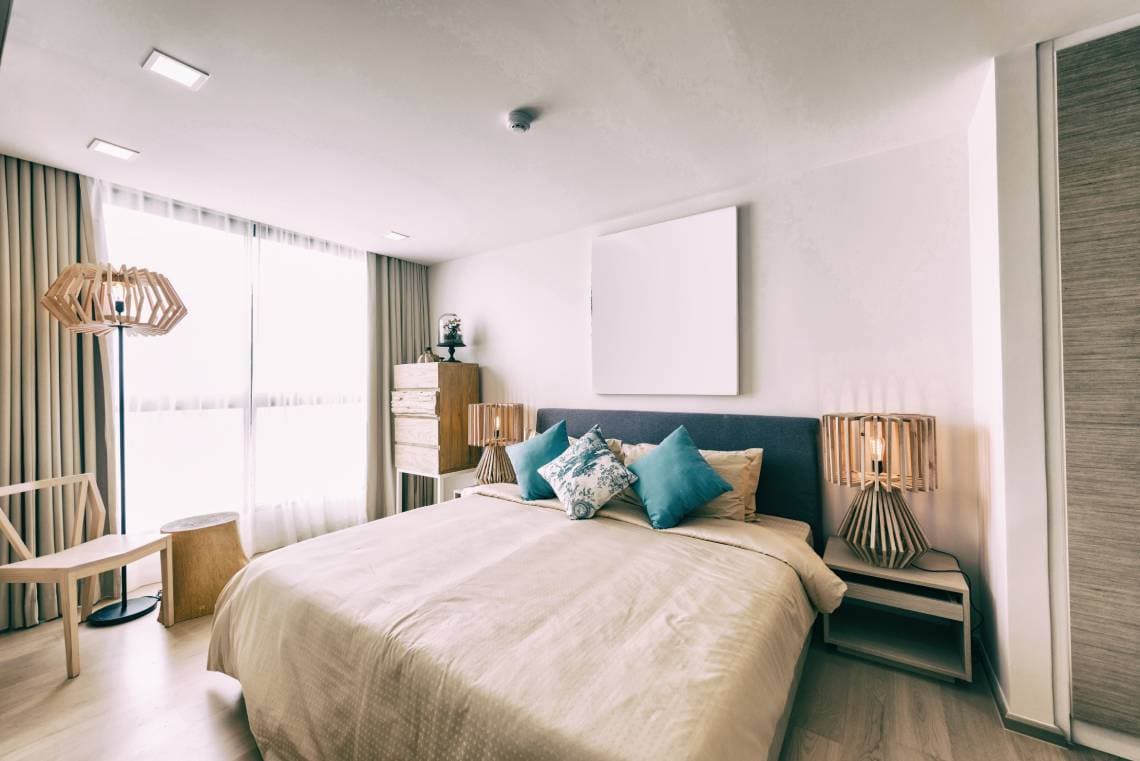 Small bedrooms are a frequent design challenge. It's hard to get relaxed in your area of personal privacy and comfort when the space feels like it's closing in around you. And unfortunately, the typical bedroom elements don't make it easy to open it up.
The bed by itself is one of the most space-consuming pieces of furniture you can buy. It's frustrating to work around and will quickly close off an undersized area.
Still, you can't make a bedroom without a bed, so it makes sense if you feel stuck with a small space. But even if you don't want to knock down walls or trade in your king-size bed for a queen, there are still ways to create a sense of space with a few clever maneuvers. We'll show you how to add space without sacrificing function with these 15 excellent ideas to make a small bedroom look bigger.

The 15 Ways to Make a Small Bedroom Look Bigger
1.

Paint the Walls Light Colors
The best way to make a bedroom look bigger is to paint it white. It blurs the lines between walls and ceilings, allows light to move, and brings joyous tranquility to the room. Ceilings elevate, walls extend, and the room brightens and breathes.
Of course, white can probably feel boring and sterile to most people, but the general rule of light hues applies. Keep palettes simple and cohesive. Use off-whites, beiges, and creams with hints of color where you see fit. Add soft contrasting textures to the bedding and accessories to build complexity while keeping the colors bright.
---
2.

Include Pattern to Add Height and Depth
Lines stretch the surfaces they run along, and you can utilize them to manipulate the bedroom's dimensions. Vertical lines can heighten the ceiling, while horizontal lines can extend walls. Have fun creating the illusion, using elements like wallpaper, paint, board and batten, shiplap, and cladding to fit your style.
Try to maintain consistency with your stripe patterns. Eyes follow the lines, and you don't want visual disruptions. Mixtures of vertical and horizontal lines are too busy and create visual breaks that make the room feel constricted. Don't feel the need to add stripes to every wall. Stay purposeful with your use of patterns to maintain simplicity and harmony.
---
3.

Utilize Wall Space for Storage
Finding storage space is crucial to keep your room functional yet open, and there's no better place to start looking than your vertical wall space. Add bookcase storage up to the ceiling. Any floor-to-ceiling shelving can reduce your furniture needs, but surrounding your bed is one of the best ways to take advantage of underutilized space.
One of the simplest ways to do this is to head to your local furniture showroom and purchase a four-piece entertainment center minus the TV stand. Larger entertainment centers feature a bridge at least 60 inches wide between the two piers, the perfect amount of space to fit a queen size bed.
A bookshelf acts as a nightstand and storage, while the bridge adds storage in an area that usually doesn't get much use. It should still leave enough space underneath for a painting or extra shelving.
---
4.

Match the Trim to the Walls
One of the easiest ways to fake a more spacious bedroom is to hit the trim with some paint to match the walls. When the molding is the same color as the walls, the eyes follow it as if it's a part of the wall, and the ceiling looks higher.
The same concept applies to baseboards and window and door trim. Keeping the colors similar to the wall prevents visual blocks as the eye travels across the room, saving it from feeling segmented and small.
When painting trim and walls the same color, varying the finish is a wise idea. Here is an excellent chance to employ a satin highlight in the molding and trim against matte or eggshell walls. Your room will look radiant when the light catches the edges, and you'll be surprised by how much it opens the area.
---
5.

Find Space-Saving Furniture
Find space and function in your guest room with on-demand beds, such as sleeper sofas, Murphy beds, or futons, and slim-profile bunks and daybeds. Reducing the most cumbersome piece of furniture to a fraction of its average size can turn even the tiniest bedroom into a workable relaxation station. It's the perfect solution for guest rooms so they can serve double duty as playrooms or gaming areas for the family.
---
6.

Maintain a Consistent Scale
Keeping a consistent scale is crucial no matter the size of the bedroom, but it's even more consequential in a small bedroom. Components must stay proportional to avoid looking out of place. Small nightstands next to an oversized bed draw attention to the size of the room. You don't necessarily have to opt for undersized furniture groups, but every piece should look cohesive.
---
7.

Keep It Low
Lowering the bed height is a quick and straightforward way to make a small bedroom look and feel bigger. It reveals more of the wall behind it to make it taller as you enter the room and provides the sensation of space when you lie in your bed looking at a ceiling high above your head.
Once you start with your bed, start bringing other items down to earth. Doing so maintains the crucial sense of scale and creates a continuity that makes the added wall height more believable. Nightstands, seating, and accent lighting can dip lower, as can wall art and shelving. Bringing wall hangings close to the lower third section of the wall or raising shelves closer to the ceiling will stretch the wall from top to bottom.
---
8.

Declutter
Light and air need to flow if you want to make your small bedroom look bigger, and clutter gets in the way of both. Storing small items and clothing in drawers and carefully curating your accessories will expose more of your walls, floors, and ceilings. It will maximize the room's perceived depth and allow you to take full advantage of your space-enhancing colors and patterns.
Storage is crucial in decluttering but so is letting go of unwanted items. Decide on what has some utility or sparks joy (if you're on the Marie Kondo plan), and trash or donate anything you no longer need.
The "less is more" rule also applies to décor. Every piece should have a place and purpose. Find storage for accessories when you don't need them, and swap arrangements seasonally.
---
9.

Furnish the Room with Open Designs
Ditch bulky furniture for open designs. Furniture elevated on thin legs shows more visible floor and wall area, creating a spacious effect. Light penetrates the room with open furniture pieces, making it feel brighter and grander.
Limit draping bedding to keep the area under your bed visible, and consider open shelf end tables for the bedside instead of traditional nightstands. It will all work together to deepen the room and reduce visual clutter while maintaining an appropriate scale.
---
10.

Add Depth with Mirrors
Mirrors are another quick hack to add depth and bounce light around an interior. As it gets taller and wider, the more effective a mirror becomes in adding space to a room.
The ideal setup is one giant mirror you can set on the floor, but a long mirror on the wall or closet door can also be highly effective. You want to be able to catch a look at yourself at eye level no matter the size of the mirror, so plan your setup accordingly. Look for narrow, subtle frames that disappear around the mirror to enhance the illusion of depth beyond a wall.
---
11.

Shorten, Lighten, Heighten, or Remove Drapes
Drapes should be light and airy to keep the room from becoming wrapped in darkness. Sheer curtains work wonders, but you may find that you're better off without any drapes at all!
Scale and direction in your window treatments are crucial. Don't forget that these can tie into vertical and horizontal themes in your room. Drapes are preferable when you're using vertical stripes, and blinds maintain continuity with horizontal patterns.
Keep drapes off the floor to expose more wall area, following the same concept as the legged furniture to boost the room's apparent size. You can further enhance the effect by bringing curtains closer to the ceiling. Curtains force the eyes upward so a higher distance to travel can make the room feel larger.
---
12.

Use Bold Ceiling Colors and Patterns
The more you can draw the eye toward the ceiling, the higher it will seem. Bookshelves, wall art, and curtains can pull your vision upward, but nothing is better than getting the ceiling itself to do the work.
A bold accent ceiling could be an excellent solution to make your bedroom seem bigger and add aesthetic interest. The stark contrast with the matching trim and wall color will also help make that visual trick more effective. Taken another direction, you can match the molding to the ceiling color, making the ceiling seem lower but the walls wider.
---
13.

Add Underbed Storage
Underbed storage is one of the best methods for opening a compact bedroom. While it contradicts the open-frame design we espoused earlier, it helps you reduce your furniture needs elsewhere to create space. That can be a huge benefit when you have to find room for linens in a guest bedroom or a way to get rid of the massive toy chest in the kids' room.
Some storage beds include bookcase headboards, giving you a chance to eliminate nightstands. Once you've decluttered, you may be able to furnish the room with only a chest and your bed, leaving the rest open to enlarge the space.
Bear in mind that storage beds often limit your mattress foundation options. A powered adjustable foundation may not be compatible with the deck that holds the mattress above the drawers. While you might be able to use a bookcase headboard with a powered platform, the bed will often be incapable of supporting the foundation's weight.
---
14.

Shed Extra Bed Weight
On the subject of lowering bed weight, your bedding plays a significant role in opening up or closing off your room. Thick comforters and mounds of accent pillows won't help your cause, and they likely won't mesh with your otherwise simple layout.
Stick to the basics to accomplish a roomier look. Scale back the layers on the bed, and don't let the sheets scrape the floor. Use bright, light bedding and only a few pillows, incorporating touches of flair in airy textures and clean-lined patterns.
---
15.

Mount Shelves and Lights
You can open up much more wall space when you eliminate bases and legs from the furniture. Why set up a bookshelf when floating shelves can save space without sacrificing storage? Mounted shelves look great and stay out of the way, leaving valuable floor space you would otherwise lose with a freestanding storage piece.
That concept applies to your lighting, which you should have in abundance if you want your bedroom to appear more sizable. Accent and functional lighting brighten the space and help move your eyes around the room as you look from one point of interest to the next. Rather than use valuable real estate on your nightstands for a lamp, wall-mounted sconces or hanging pendant lights supply an elegant alternative.

Final Thoughts
Small bedrooms present some unique and often frustrating obstacles, but the less you think about it, the better. Keep the layout airy and light, and only incorporate purposeful items. As we've shown, there are clever visual tricks you can use to fool the eye. But by simply scaling back, you've already won half the battle in making your small bedroom look much larger.
---
Featured Image Credit: Tracy Ben, Shutterstock