How to Start an Airbnb: 5 Easy Steps
Airbnb is a huge company that allows just about anyone to list short-term rentals. Starting an Airbnb may be the option if you're looking to make some extra money. However, a lot goes into starting one of these businesses. It isn't as simple as just making a listing on the website.
Furthermore, you can go about starting one of these businesses in many different ways. For instance, if you already have a second home, how you start an Airbnb will be different from someone purchasing a property solely for this reason.
Below, we'll take a look at some of the most common steps and options you'll need to consider when starting an Airbnb. You may not need to do all of these, but many of these steps will apply to most people.

The 5 Easy Steps on How to Start an Airbnb
1.

Assess Your Market
For Those With a House:
If you already have a home ready to rent out, you'll need to assess your market in the area to determine if making it into an Airbnb is even feasible. Not all localities are profitable. Of course, those with more tourism are more popular than other areas—and, therefore, make more money.
You'll also need to consider the type of customer that will come through the area. Are you going to get more business travelers or families on vacation? What local attractions might they be interested in? In some areas, this will be pretty obvious. However, in others, it may be harder to determine.
You should also consider housing regulations in your area. Not every area allows homes to function as short-term rentals. Plus, you'll also have to consider taxes and other fees.
For Those Looking to Purchase a House:
If you're planning on purchasing a house, you can choose which market to settle in. Therefore, you should focus on finding an area with high demand that isn't expensive. You'll need to consider your budget and personal preferences, especially if you want to stay in the house.
The best areas are those with high demand. You want enough people looking to rent that your home will be rented out in most circumstances. Of course, demand does fluctuate with the seasons, which is something to consider.
Furthermore, local rules and regulations should also be considered. Sometimes, cities may have regulations making it harder to have short-term rentals—or even ban them altogether.
Once you know where to shop, you'll need to find a property that can make plenty of money. You'll want a property that fits in your budget while also being large enough for renting out. Larger homes usually make more money. However, the location is another factor. Visitors may prefer to be close to certain attractions—and be willing to pay more.
---
2.

Estimate Earning Potential
Now that you have a general idea of where the home is and whom you're renting to, you need to figure out how much you can expect to make.
To do this, you'll need to figure up all your expenses. You need to consider all upfront costs, such as furniture and decorations. There will likely be maintenance costs along the way, too. Lines, cleaning services, and mortgages require monthly payments. Keep a spreadsheet of all your expenses.
Next, you'll need to figure out how much money the house will bring in each month. Of course, this will be an estimate. You never know a house's income until you start renting it out. You can use tools directly on Airbnb to help with pricing, which makes the job much easier.
Once you know how much money to expect, you'll have your monthly earning potential.
---
3.

Decide How Much Time You Have
Different hosts have varying amounts of time they can dedicate to hosting. Some hosts are fairly hands-on and available to help if anything comes up. If you live near the home you're renting out, you probably fall into this category. However, you can also hire someone to perform these services.
Of course, this will decrease your profit. However, if you have many houses, it may be impossible to do all the work yourself. If you're using the rental as passive income, you may not have the time to perform much of the labor. Of course, those living elsewhere won't have the time or ability to do much hosting work. In these cases, hiring someone to do it for you can be vital.
---
4.

Be a Good Host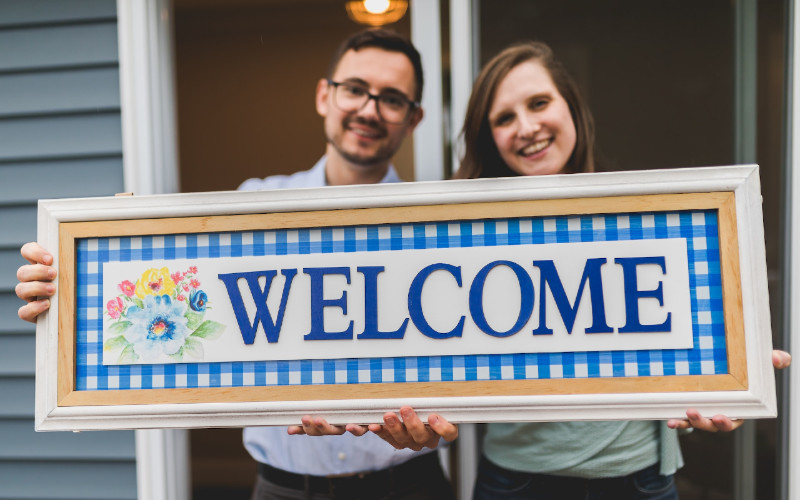 You'll want to be a good host—no matter the type of space you have. The best way to do this is to ensure that everything is set up at the property as the guest would expect. You don't want to cause unnecessary headaches for visitors.
Consider adding special details to the space to make it stand out. For instance, a thoughtful welcome note or local flavor can make the experience unique. If guests enjoy the unique experience, they'll likely book the house again.
Investing in high-quality amenities like hot tubs and spacious beds can increase the quality of your rental. Guests often want to feel relaxed and spoiled on vacation, so provide them with the amenities they need to fulfill those goals. While you need the basics, like clean towels, you should also consider adding plenty of extras.
---
5.

Market the Property
Marketing is key to success, no matter how great you or your property is. Being great is important, however, no one will know that your rental is great unless you convince them to try you. In the beginning, this is more challenging, as you will have fewer reviews. However, you can expect the process to become smoother as you get positive reviewers.
Your listing on Airbnb is essential. For instance, we recommend hiring a professional to take photos. While some hosts are very good at snapping pictures on their phones, hiring a professional can make your pictures really stand out. You'll also want to create a detailed description of the house that makes it fit your potential guests' needs and wants.
If the property has unique features or extras, it is time to show it. You should also consider creating a host profile to make you seem more "real" to your guests. While not all guests will click on these profiles, it may work to sway those that do.
Add an interesting or catchy name to your rental, as this is one of the first things most guests see. Consider utilizing unique features as inspiration to make your rental's name unique.

Conclusion
Now that your first rental is off the ground, it's time to sit back and relax. There are many ways to grow from here, but they depend on your goals and resources. We recommend automating as much of the business as possible unless you plan on being extremely hands-on. Usually, automation will make your next steps easier—whatever those happen to be.
Being successful on Airbnb isn't hard, but it does take a detail-oriented mindset. When renting a home, small things matter a lot, so be sure to take your time when setting up the property.
You Might Also Be Interested In:
---
Featured Image Credit: Piqsels