9 Different Types of Flooring (With Pictures)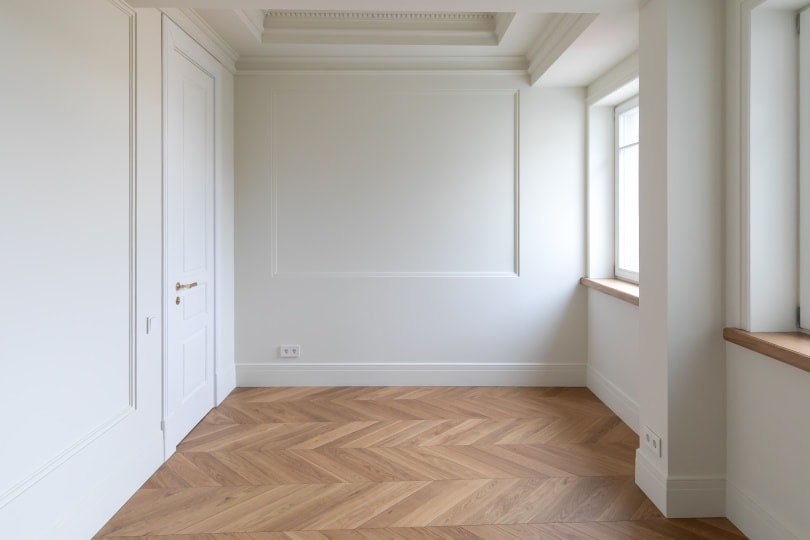 Flooring options have come a long way in recent years, with new technology making products more durable, more diverse, and simpler to install. If it has been a while since you've shopped for new flooring, you may be surprised (or a little confused) by the vast array of flooring constructions.
While it isn't hard to find quality flooring, it's easy to miss out on the best value if you don't know the benefits and practical uses of the different flooring styles available today. We'll make the decision easier with this breakdown of the nine essential types of flooring to consider throughout your home.

The 9 Different Types of Flooring
1.

Hardwood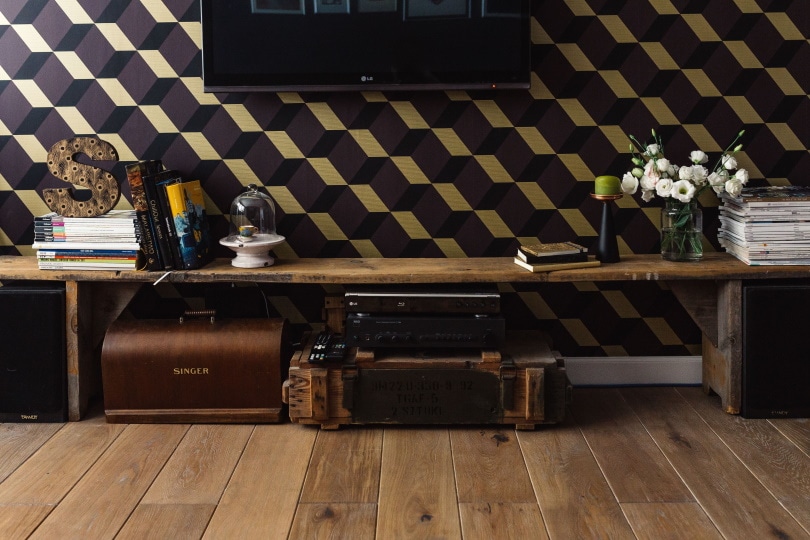 Hardwood floors are some of the most gorgeous, versatile, and desirable types of flooring available. Potential homebuyers generally prefer hardwood over other flooring options in living and dining areas, so installing it is a great way to boost your home value.
Hardwood is durable and long-lasting because boards consist of a single piece of wood. As it develops scratches and other wear, you can sand and refinish hardwood countless times to make it look fresh for decades. In terms of aesthetics, it's hard to beat the rich warmth and genuine appeal of natural hardwoods.
The downside to hardwood is that the natural material can change from moisture and temperature fluctuations. Installation requires greater attention to detail to protect the floor from mold, rot, and damage from expansion and contraction.
Pros
Many wood species, colors, and grain patterns to choose from
Beautiful aesthetic
Long-lasting, can be refinished several times
Adds home value, high ROI
Cons
More expensive than most plank flooring options
More difficult to install than other flooring types except for tile and stone
Not suitable for high moisture/humidity areas like bathrooms and basements
---
2.

Engineered Hardwood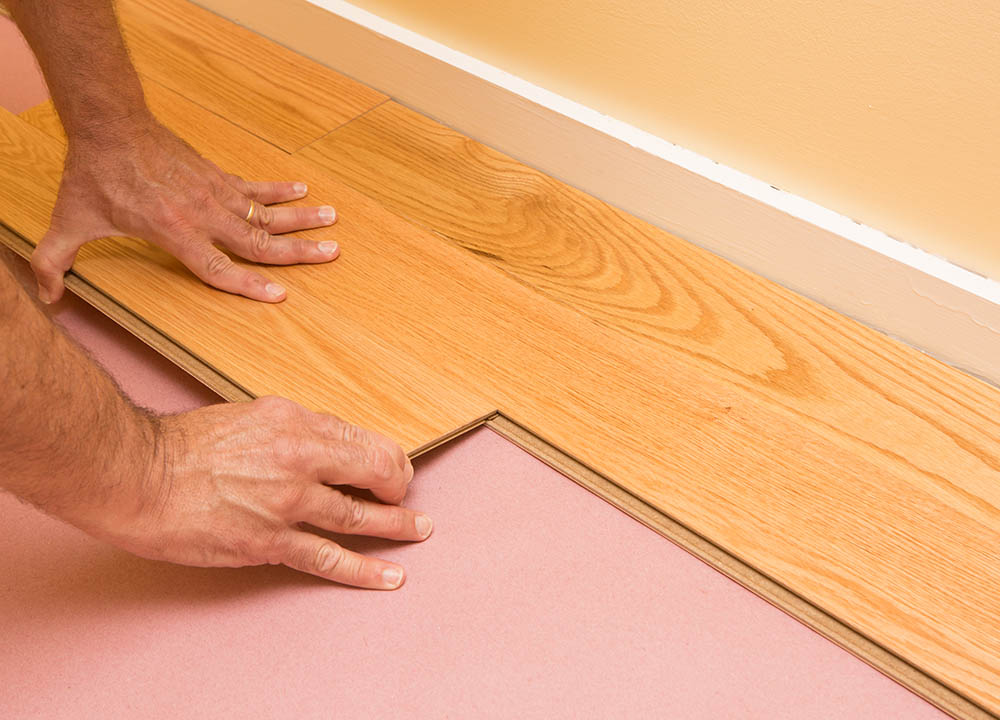 Engineered hardwood provides the authentic color, grain, and texture of hardwood in a more affordable package. A thin hardwood veneer is adhered to a sturdy engineered wood base, giving you the same look and feel of hardwood planks.
Veneers on top of engineered boards make this style of flooring less prone to damage and warping from moisture and temperature changes than hardwood. It has potential in areas where hardwood can't go, such as basements. Unfortunately, the thin veneer also means that you can't refinish it several times to restore it to a like-new surface.
If you want the look of hardwood but are worried about cost, this is another good reason to opt for engineered hardwood. While hardwood generally runs between $4–$8 per square foot, you can find engineered hardwood starting under $3 per square foot.
Pros
Real wood character
Less expensive than solid hardwood
More resistant to warping from temperature and moisture
More eco-friendly than solid wood
Cons
Usually can't be refinished more than once
Consult a flooring expert
Find a flooring specialist in your area, and get free, no-commitment estimates for your project.


---
3.

Luxury Vinyl Plank
Luxury vinyl plank (LVP) is a less expensive vinyl alternative to hardwood or engineered wood. You can also buy it in squares as a luxury vinyl tile (LVT). LVP generally consists of three layers:
PVC core
Paper print with faux wood or tile design
Clear vinyl wear layer
Some LVP options come with an attached underlayment for sound-dampening and comfort. The added layer also lets you skip a step in the installation.
LVP is water-resistant, easy to maintain, and even easier to install. Subfloors need minimal preparation because LVP is flexible, and you don't need to use a saw to cut it for installation. With click-together planks, all you need is a tape measure and a utility knife. You can even find some options with peel-and-stick backings for a more straightforward application.
Pros
Durable, stain and scuff-resistant wear layer
Easy to install and maintain
Wide variety of colors and patterns
Inexpensive
Versatile
Cons
Not waterproof, can warp from prolonged moisture exposure
Can dent easily from heavy objects
Hard to repair, can't be refinished
Poor ROI
Emits VOCs(volatile organic compounds)
---
4.

Rigid Core Vinyl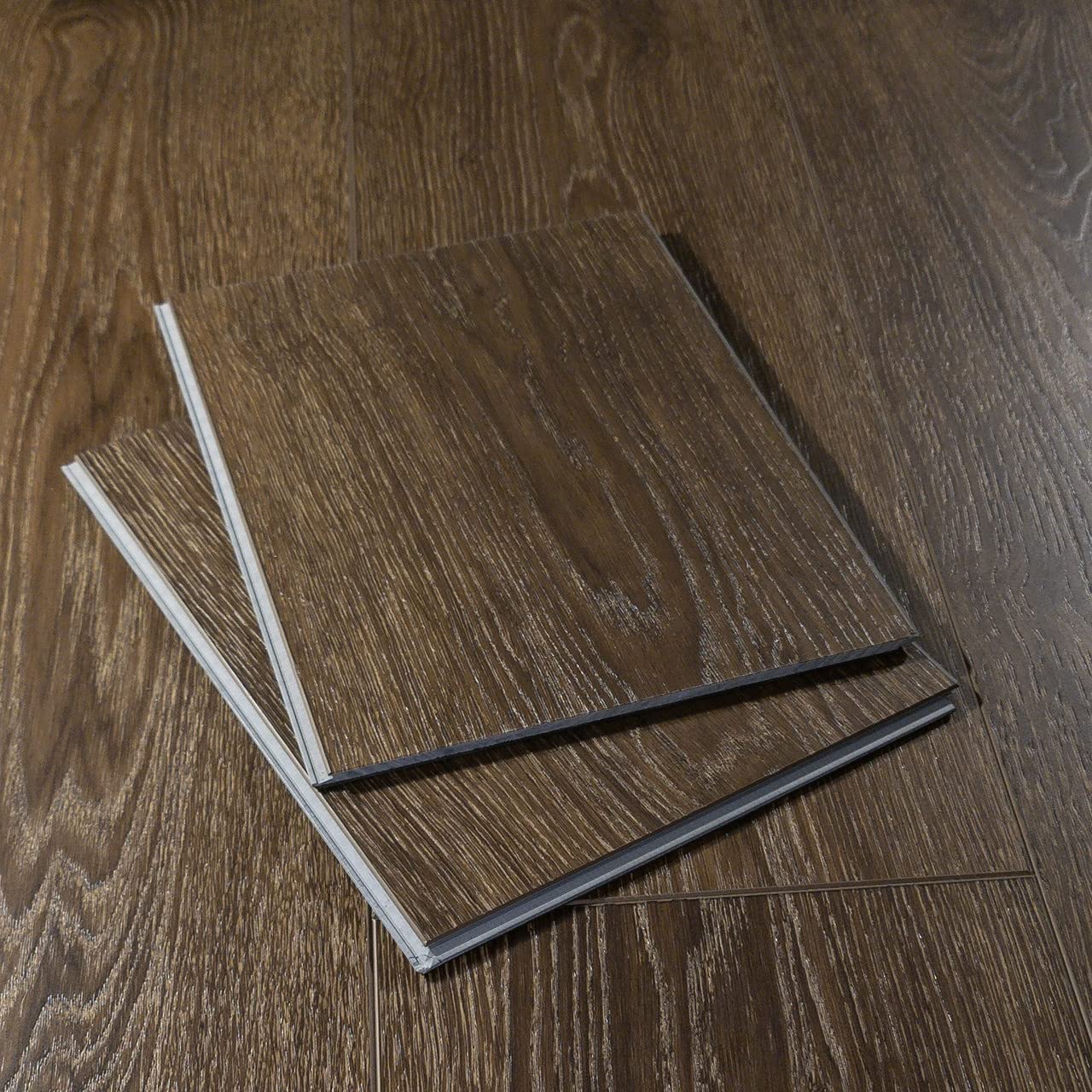 Rigid core vinyl is similar to LVP, but the core isn't PVC. Instead, it consists of either a wood-plastic composite (WPC) or a stone-plastic composite (SPC). The rigid composite takes away some of the flexibility of LVP, but it creates a 100% waterproof product that can go in any room.
Starting around $1 per square foot, LVP is a cheaper investment than rigid core, which starts at about $3 per square foot. But because of its added durability and 100% waterproof character, rigid core is often a better value.
Pros
Less expensive than hardwood or engineered wood
More durable than LVP
Several design and color options
100% waterproof
Easier to install than wood flooring
Realistic wood or stone print
Cons
More expensive than LVP
Hard to repair
Emits VOCs
---
5.

Laminate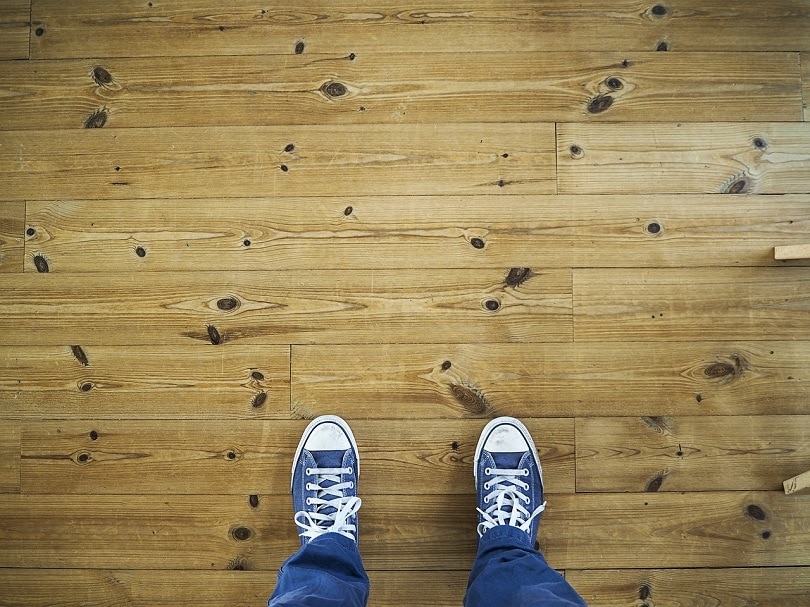 Laminate is a step down from LVP, though the two are similar in design. The layering is the same except for the core. Instead of using a PVC base, laminate involves an engineered high-density fiberboard.
Starting at less than $1 per square foot, laminate is some of the cheapest flooring material you can get, and it's surprisingly durable for the price. The plastic wear layer and photo print on laminate planks are identical to LVP, so you get a similar water resistance and toughness against scuffs, scratches, and stains. But because the core is made of a wood product, it's more susceptible to moisture damage.
Pros
Less expensive than LVP
Easy to install
Durable wear layer
Variety of available designs and colors
Resists warping and wear from temperature changes
Cons
Not 100% waterproof
Poor ROI
Hard to repair
Emits VOCs
---
6.

Vinyl Sheet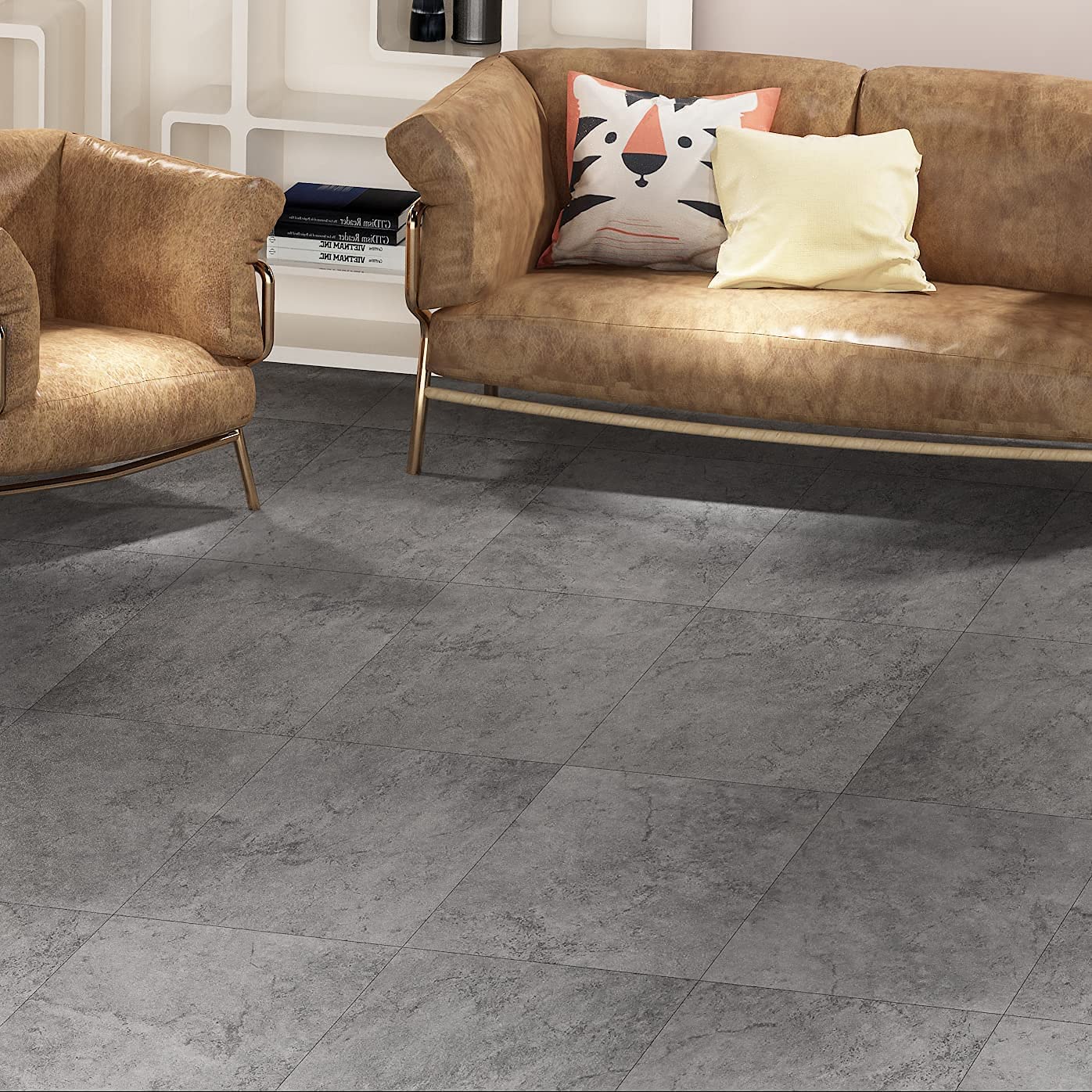 The modern-day upgrade to linoleum flooring, vinyl sheet flooring is a thin roll, usually either 6 feet or 12 feet wide, that lays out to blanket a room. It is the quickest and easiest flooring to install, requiring nothing more than a utility knife in most cases. And because it's one single piece of polymerized vinyl, it provides an impenetrable moisture barrier.
The main drawback of vinyl sheet flooring compared to LVP is durability. It can't have the same wear layer thickness or strong core materials, so it takes much less effort to scratch or irreparably damage it. While it might be a great choice in a bathroom, you shouldn't use it in high-traffic areas where children and pets roam.
Pros
Inexpensive
Easy to install
100% waterproof
Available in various colors and designs
Cons
Weaker than LVP
Poor ROI
Not eco-friendly
Emits VOCs
---
7.

Porcelain or Ceramic Tile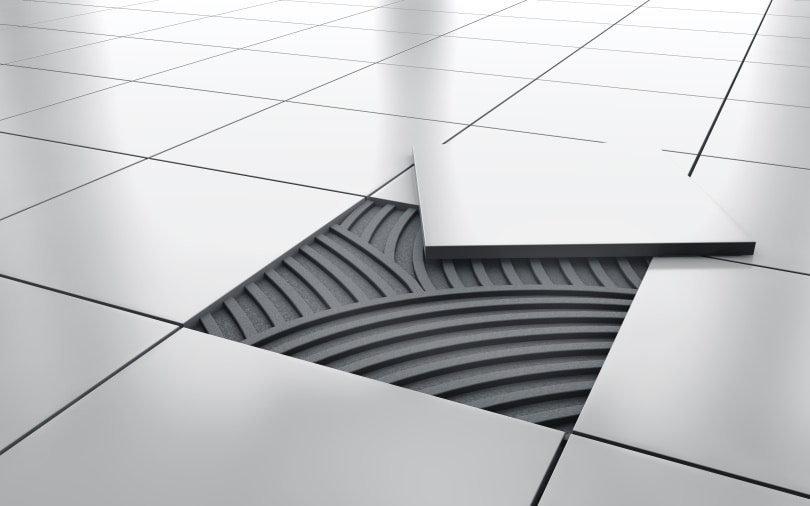 Tile is to bathrooms and laundry rooms as hardwood is to kitchens and living rooms. The authentic feel of porcelain or ceramic tile is unmistakable, as are the unique patterns.
Resistant to water damage, impacts, and scratches, tile is the hardiest of all flooring materials. Quality tile can last over 50 years with proper care.
Despite the benefits in wet areas, the cold touch of tile and the cost make it impractical in many cases. It's also the most difficult to put down, and there's a high potential for irreversible mistakes if you're trying a DIY installation.
Pros
Long-lasting and durable
Easy to maintain
Beautiful, authentic look
Waterproof
Available in wood-look planks and a variety of colors and designs
Cons
More expensive than vinyl alternatives
Not as versatile as most other flooring options
Difficult to install
Cold and hard underfoot
Hard to repair if cracked
---
8.

Stone
Unlike many other flooring types, natural stone makes sense in both indoor and outdoor areas, adding unrivaled elegance and beauty to a patio or bathroom. You can use stone cut into uniform tiles or create organic patterns with natural shapes. Like tile, it's stout against abrasions and scratches, and it handles moisture well.
Stone can be expensive and difficult to maintain, depending on the stone type and finishing method. Many cleaners are too abrasive, so you need to be gentle with stone to prevent breakdown.
Pros
Beautiful and unique aesthetic
Durable against abrasion and pressure
Water-resistant
Cons
Expensive
Can be difficult to install and maintain
Cold and hard underfoot
---
9.

Carpet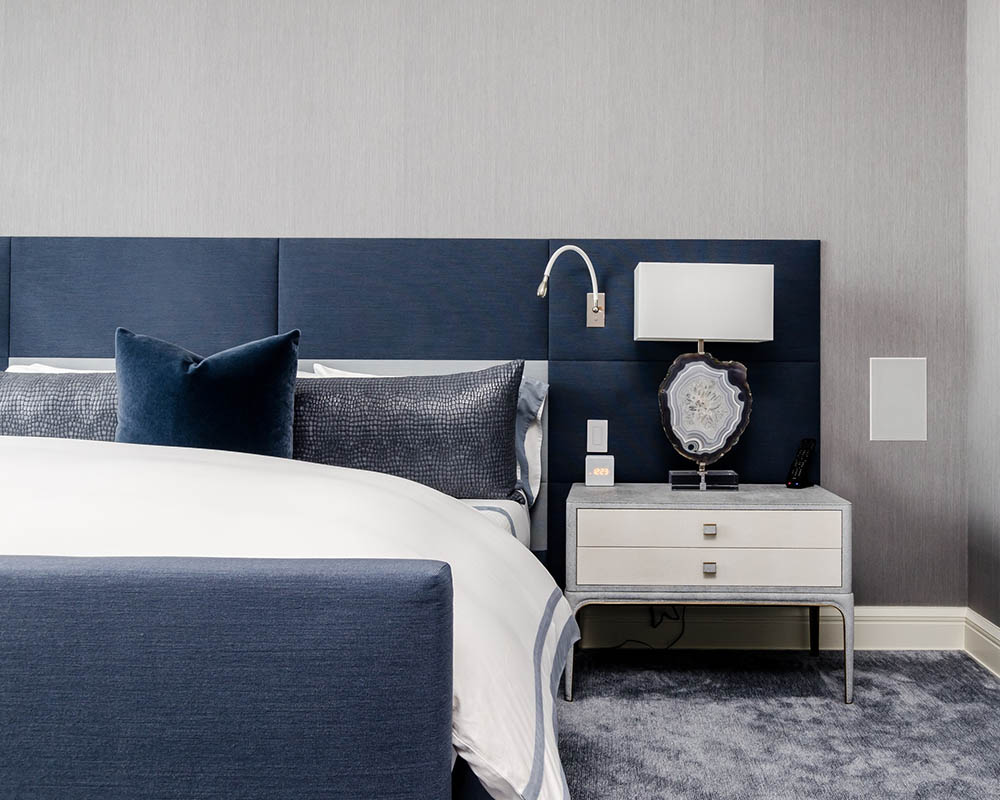 Carpet is arguably the most comfortable flooring option, and it can be a simple project for a DIYer. Peel-and-stick tiles allow for a straightforward, equipment-free installation, and there's little subfloor prep work required.
Unlike hard flooring, carpet is challenging to clean if there's a spill or dirt mark. New carpet fiber technology is leading to more stain-resistant options, but carpet still has less longevity and durability than hard flooring alternatives.
Pros
Soft, safer for kids
Warm and plush underfoot
Easy to install
Inexpensive
Cons
Difficult to clean
Poor durability and longevity
Traps dust and allergens

What Is the Most Popular Type of Flooring?
According to Statista, hardwood is the most popular flooring option for homeowners doing a kitchen renovation, followed by vinyl plank and then tile. The added value of solid hardwood along with its long-lasting beauty and comfortable feel are excellent reasons to opt for hardwood throughout the house.
What Is the Best Type of Flooring for My Room?
As versatile as hardwood may be, it isn't ideal for every room, especially in areas prone to moisture. Hardwood is best for living rooms, hallways, dining rooms, kitchens, and bedrooms. Although you may be able to get it to work in bathrooms, basements, or laundry rooms, the extra money and effort to waterproof it are rarely worth it.
Bathroom and Laundry Rooms
Tile or rigid core vinyl is recommended in the bathroom and laundry room. Stone and vinyl sheets are good options here as well, but they don't have the same combination of durability and moisture resistance as tile and rigid core options.
Bedrooms
In the bedroom, choose comfortable flooring. Carpet is a perfect low-cost choice here, but you can also use solid hardwoods, engineered wood, or LVP. With an area rug under the bed, you give your bare feet a soft landing to start the day.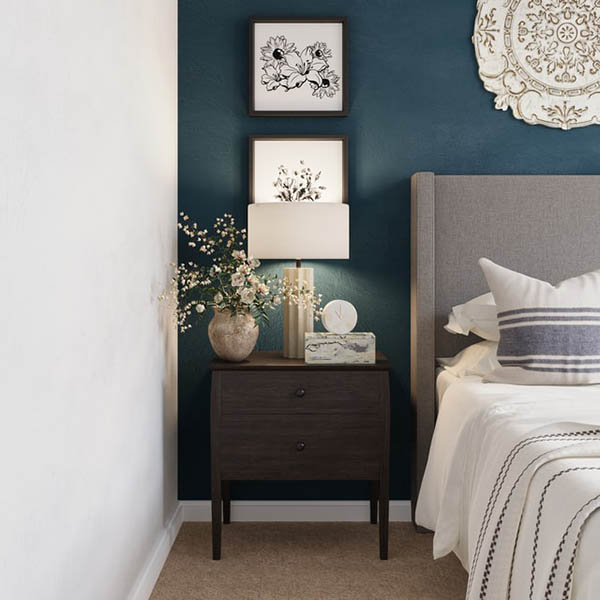 Basements
Depending on moisture levels in the basement, LVP and rigid core are the best choices. If you deal with flooding, high humidity, or concerns about burst pipes, use a waterproof setup like rigid core vinyl planks. They won't fail from moisture penetration, and they're flexible enough to deal with foundation settling—an ideal feature if you're finishing a basement on a new house.
Living and Dining Areas
The best floor for living and dining areas depends on who lives in the house. Carpets and hardwoods work fine in these spaces, but if you have pets and kids, you might want to go an inexpensive yet durable route with LVP. It will resist scratches, and it's easy to clean spills and messes without issue. And if it does get damaged beyond repair, it's cheap and efficient to swap out.
Kitchens
There's a mild risk of moisture from spills and water leaks in the kitchen, but it's usually easy to get hardwood to work in this area. Outside of carpet, you can use any flooring material in the kitchen.
The strongest and most practical option in the kitchen is tile, but for aesthetics, you may want to choose a plank option. If you have an open concept, using hardwoods or vinyl plank throughout the kitchen, living room, dining room, and hallways will make the space look larger.

Final Thoughts
Several variables can determine the perfect flooring for your room. Think about who uses it, what kind of damage it could face, and what your ultimate goals are for your home. Once you know your priorities and needs, this list of the nine flooring types will help you find quality floors you'll be sure to enjoy.
See Also:
---
Featured Image Credit: Artem Bruk, Shutterstock