Husqvarna 440E Chainsaw Review 2023 – Pros, Cons, & Verdict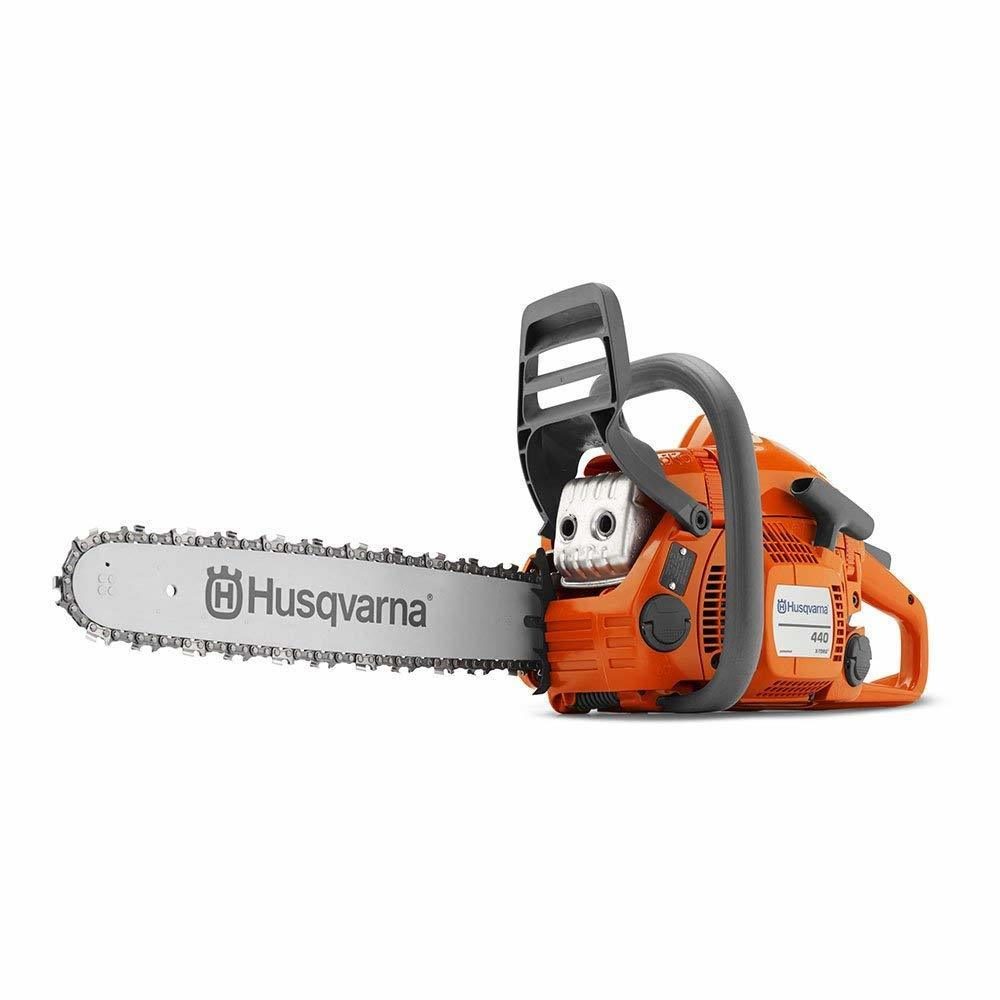 We give the Husqvarna 440E Chainsaw a rating of 3.8 out of 5 stars. 
Build Quality: 3.5/5
Power: 4/5
Features: 4/5
Price: 3.5/5
If you have a large property to maintain, the chainsaw is an important tool. It can help trim small to medium-size trees and help keep branches away from wires and other potential hazards. However, several dozen brands are available, and choosing the best one for your needs can be a challenge. One of the most popular models right now is the Husqvarna 440, and we're going to take a closer look at it to help you learn more about how it operates to see if it's worth the money.
Husqvarna is a well-known chainsaw company that has a large line of gas and battery-powered chainsaws for sale. The bar length ranges from 12 to 32 inches, making them suitable for almost any job a non-professional might have. The 440 has an 18-inch bar and features anti-vibration technology to help make the saw more comfortable to use.

Husqvarna 440  – A Quick Look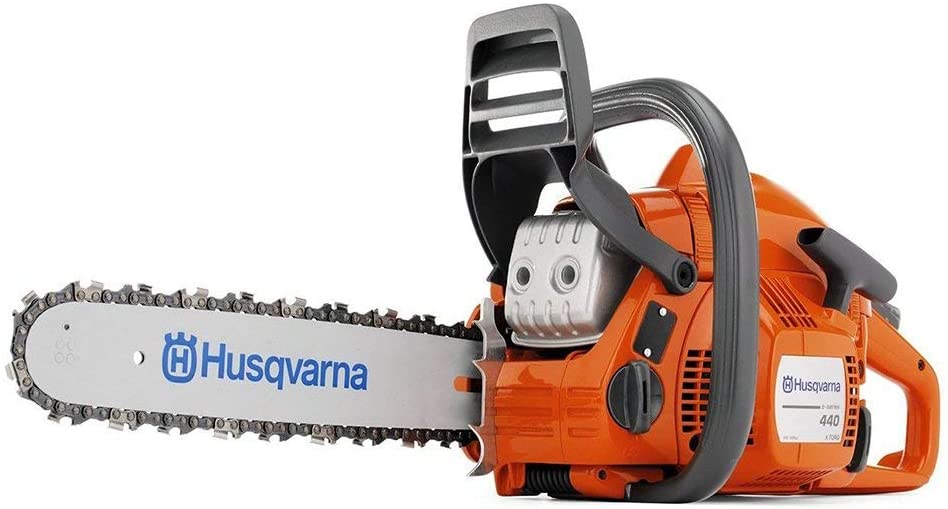 Pros
18-inch bar
Anti-vibration technology
The easy pull starter cord
Reduced fumes and fuel consumption
Cons
Hard to start
Gas line aerates easily
Poor fuel system design
Specifications
Specifications
Brand: Husqvarna
Item model number: 440
Engine Size: 2.4 HP
Power Source: Gas
Maximum speed: 9,000 RPM
Torque, Max. at RPM: 6,300 RPM
Oil pump type: Fixed flow
Weight: 11.68 pounds
Product Dimensions: 35 x 9.25 x 10.98 inches
Bar: 18 inches
Chain type: SP33G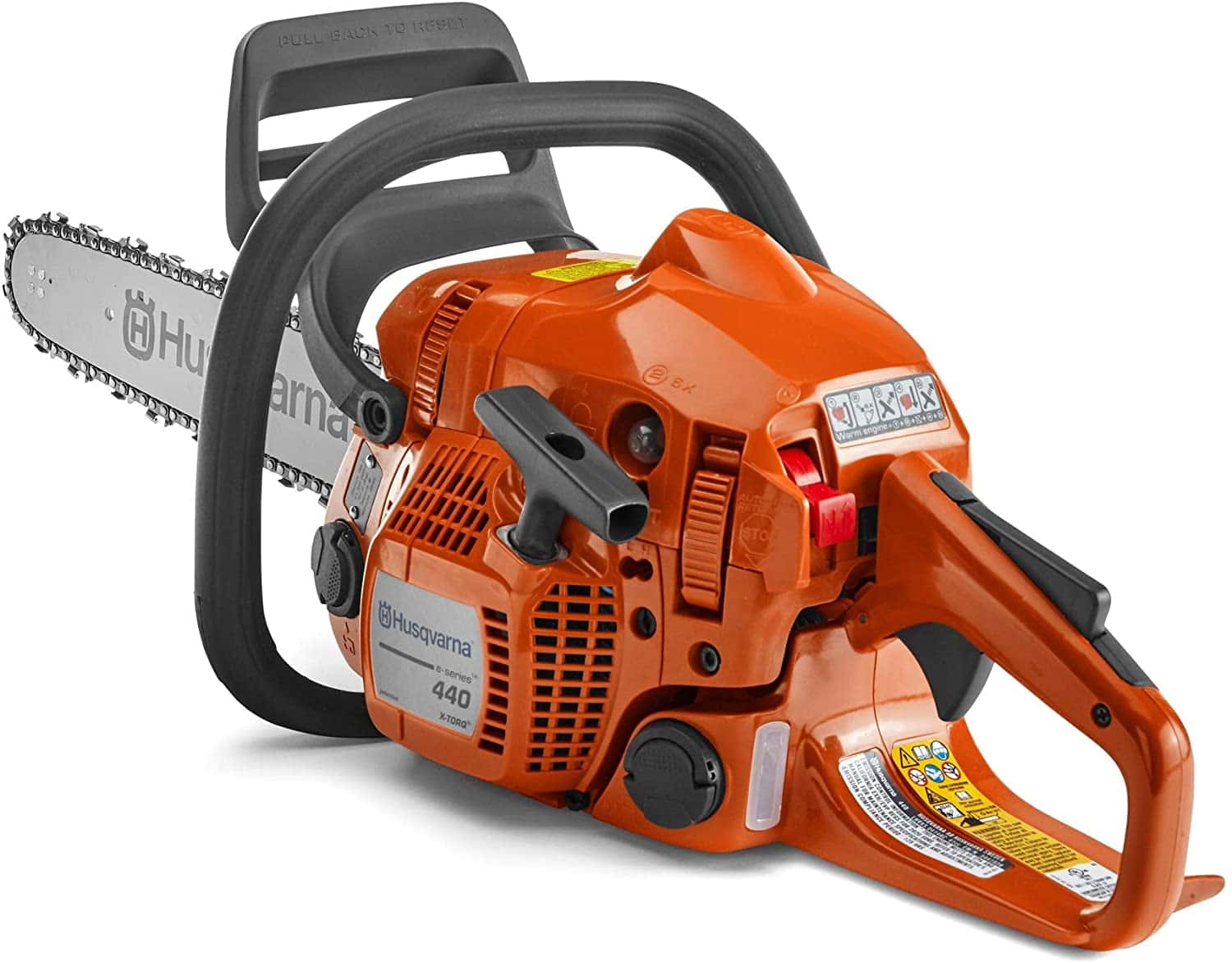 18-Inch Bar
The 18-inch bar on the Husqvarna 440 is perfectly suited for trimming, shrubbery, brush, small trees, and more without bogging down or forcing you to stretch.
Easy-To-Pull Start String
The handle on the pull string is quite wide, and it allows you to get a good grip for more leverage when you're trying to get it started.
Tight Chain
One of the things we liked most about the Husqvarna 440 was that it was easy to change the chain. The chain also remained tight while we worked. It rarely needed adjusting, unlike most other chainsaws we've used in the past.
Hard To Start
If we had to choose one thing to complain about, the engine is incredibly hard to start, and we were glad they made the handle extra wild, so it was easier to pull the string. The push button to put gas into the carburetor didn't seem to work, and we usually didn't get started till we were nearly ready to give up.
FAQ
Does the Husqvarna 440 come with a case?
Unfortunately, the Husqvarna 440 does not come with the case.
What is the cc of the 440?
The cc of the Husqvarna 440 is 40.9.
Does this chainsaw require a gas and oil mix?
The Husqvarna 440 does require a gas and oil mix to operate.
Can I install a 20-inch bar?
While you can change the bar size on the Husqvarna 440, we don't recommend any size larger than 18 inches.
Does this sound come with a warranty?
Yes, the Husqvarna 440 comes with a 90-day limited warranty.

What the Users Say
We searched the Internet to find what other people were saying about the Husqvarna 440, and here are some things we found on Amazon.
More than half of the people felt that the Husqvarna 440 is a good bargain.
Most people like the chain that came with the chainsaw.
Many people mentioned that they had plenty of power to cut through firewood and small logs.
Many people complained that the Husqvarna 440 is extremely hard to start.
Many people liked the 18-inch bar.
Some people felt that the saw should rotate at a higher RPM.
Some people mentioned that the saw has plenty of torque.
A few people mentioned that the chain remains tight even after cutting through several trees.
A few people claimed that the Husqvarna 440 often stalled if it tipped on its side.
A few people complained that much of the chainsaw is plastic.
A few people commented on the ease of changing the chain.

Conclusion
The Husqvarna 440 can be a great little chainsaw if you have the knack for getting it started. It often took us several dozen pools of the comfortable handle to get it running to review it. Once it warmed up, it was significantly easier to start, but the fuel line seemed to allow air in, and we noticed it stalled frequently. Outside of these problems, the large bar made it easy to cut through shrubbery and small trees around our property, and it was a pleasure to use. The blade was sharp, worked well, and didn't dull too quickly like many chains you get for free.
We have lots more reviews on Husqvarna's chainsaws, including: