Husqvarna 445 Chainsaw Review 2023 – Pros, Cons, & Verdict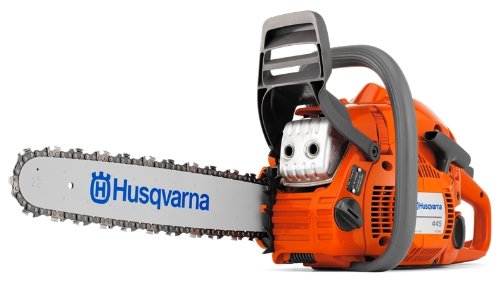 We give the Husqvarna 445 Chainsaw a rating of 4.2 out of 5 stars. 
Build Quality: 4/5
Power: 3.8/5
Features: 5/5
Price: 4/5
Review Summary
The Husqvarna 445 is loaded with all the features of a professional-grade chainsaw. It is equipped with a quick-release air filter and an air cleaning system that removes large particles of dust and debris before they reach the air filter.
However, it lacks the power that is required of a professional chainsaw. It is not suitable for hardwoods and may not keep up with the tasks of many professionals. Because of this, this chainsaw is in a strange middle ground between a homeowner's and professional's saw.
The engine is plenty to chop down a few 16-inch softwood trees. The features make it feel like a professional chainsaw. However, it cannot handle an oak or unusually large trees, making it unsuitable for a professional.
The easy-to-access air filter and other similar features make this chainsaw particularly suitable for beginners. However, a new home DIYer may not need all the extra features and may not want to pay a pretty penny for them. It is a dependable saw by nearly all accounts, but it doesn't seem to be designed for any particular group.

Husqvarna 445 – A Quick Look
Pros
Environmentally friendly
Automatic oil system
Lots of safety features
Cons
Not as powerful as competitors
Specifications
Specifications
Engine power: 47.5 cc
Power output: 2.8 horsepower
Weight: 10.8 pounds
Max. Length: 20″
Max. power speed: 9,600 RPM
Fuel capacity: 8.8 fluid ounces
Sound level: 103.3 decibels
X-Torq Fuel-Saving System
The X-Torq engine is capable of generating 2.8 horsepower (HP). It is designed to reduce emission levels and be compliant with even the strictest environmental regulations. It is most suitable for areas with all sorts of different regulations. However, it is also great for the environmentally conscious, even if you don't live in an area that requires strict adherence to emission standards.
This feature also makes the chainsaw far more fuel-efficient than it would be otherwise. This means you'll use less fuel, which can save you quite a bit of money in the long-term. You'll need to take fewer refuel breaks and make fewer trips to the gas station. Plus, you won't have to deal with the exhaust smell, and your neighbors will probably thank you as well.
We are unsure if this motor's eco-friendly nature is the reason it is not as powerful as other options, though. It produces about 9,000 RPM. That is enough for most home uses, but professionals would likely run into difficulties.
Automatic Oil System
Another fancy system is the automatic oil system. Unlike many other chainsaws, you will not have to release oil manually. This takes some of the work out of maintaining the chainsaw and makes it much easier for beginners to get a grip on. If you are new to chainsaws, you will likely find more use in this feature than professionals.
The only major downside of this system is that you cannot adjust the flow. This makes it difficult to adjust to different cuts and may be a particular problem for experienced users. For the average homeowner, though, it works just fine.
Safety Features
Safety features are essential when it comes to chainsaws. They can do quite a bit of damage in some cases. This saw comes with a variety of safety features, which can prevent accidents. Firstly, it comes equipped with a chain brake, activated by pushing the front hand guard-forward. In extreme kickback, you can use this to stop the chain and prevent injury quickly.
The throttle lock-out switch has to be activated before you start up the chainsaw. This two-part startup process prevents accidental startups. There is also a chain catcher underneath the saw. Should the chain snap and break, the chain catcher will prevent the chain from hitting your hands. There are plenty of handguards that protect your hands from limbs and foliage as well. While these won't necessarily cause serious injury by themselves, having one of your hands slapped by a fast-moving branch can interfere with your grip.
Like many chainsaws, this one also comes with a kill switch. The button will instantly turn off the chainsaw should you need to for any reason.
… But It Lacks Power
The main problem with this chainsaw is that it lacks power. It has a 45.7 cc engine that produces 2.8 HP. This may sound like a lot. However, if you compare it to other chainsaws at similar price points, you'll quickly realize that it isn't. It has enough power for the average homeowner who may need to clear some shrubs or small trees. But it is not suitable for professionals who could be felling oaks.
Because of the lower-than-average power, this seems to be a chainsaw that is best for homeowners who want a professional chainsaw's feel but don't necessarily need the power of a professional chainsaw or the higher price tag that often comes with them.

FAQs
Does the Husqvarna 445 come with a chain?
Yes, this tool comes with both a chain and a bar. You can also purchase an extra chain quite quickly and inexpensively. The chain it comes with is exceptionally high-quality, so you don't necessarily need to consider changing it when it first arrives. It is a perfectly suitable option.
Does this chainsaw work with any chain?
For a chain to work, it needs to meet specific specs. It needs to match the specs of the chain the saw comes with.
There is little reason to use a different brand chain unless you're trying to do something specific. The chain comes with is a good option for most uses.
What the Users Say
Most users describe this chainsaw as Husqvarna's best thus far. It seems to have all the great features their chainsaws have come with over the years – all in one package. They liked that it was easy to change the spark plug and filter, making the usual maintenance struggle much more manageable. They stated that it ran well and was easy to start.
However, many did warn that chainsaws are not average consumer goods. They require knowledge to use correctly. It is highly recommended that you learn everything you need to know about chainsaws before deciding to use one. This will help you use the chainsaw to the best of its ability.

Conclusion
The Husqvarna 445 comes with many professional-level features. It is very efficient on gas and one of the more environmentally-friendly options out there. It also has an automatic oil system and a bunch of different safety features. However, it lacks power, which makes it unsuitable for professionals.
It is best for homeowners and farmers who want a professional-quality chainsaw but don't necessarily need high power levels or the extra cost that often comes with it.