Kobalt vs DeWalt: Which Power Tool Brand is Better in 2022?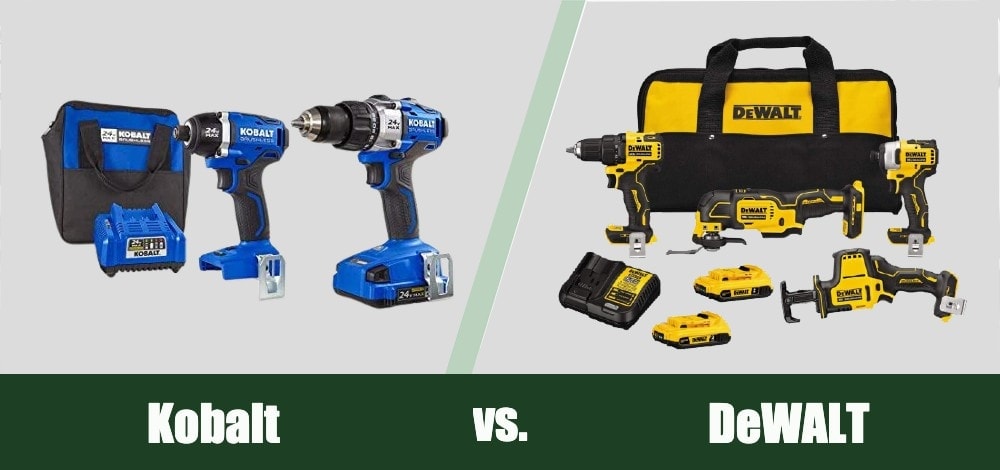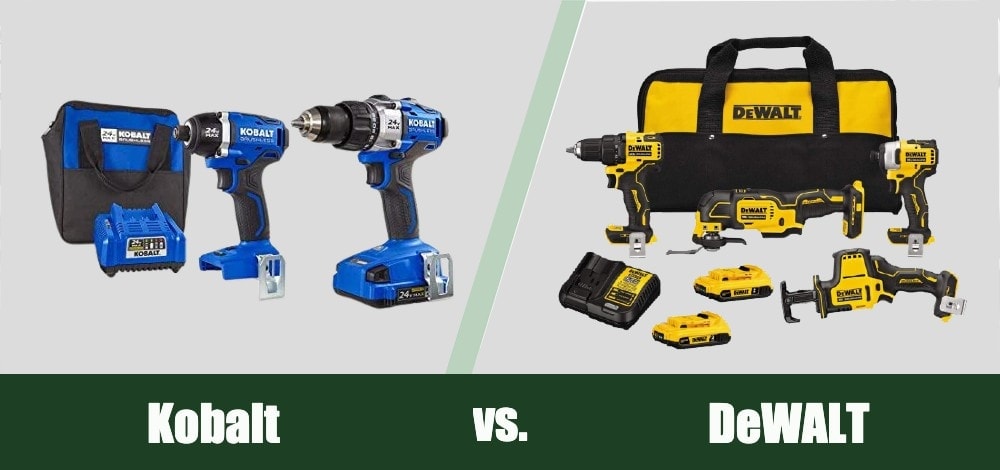 There has been quite a bit of debate regarding which power tool brand is better. Is it the new and innovative Kobalt or the tried-and-true DeWalt. These two brands are in heavy competition for good reason. They both bring something to the table, and it can be difficult to choose which one you wish to give your loyalty.
To help you navigate these two power tool brands, we have gathered as many details about them as we could. Below, you will find info on their manufacturing, warranties, tool performance, and much more. We will even compare each respective brand's top three tools.
If you are ready to see who comes out on top, keep reading below for the answer!
A Quick Comparison
| | | |
| --- | --- | --- |
| Brand name |  Kobalt Tools |  DeWalt Power Tools |
| Established |  1998 | 1923 |
| Headquarters |  New York, New York |  Baltimore, Maryland |
| Product lines | Mechanics tools, lithium-ion power tools, storage solutions |  Power tools, hand tools, industrial tools |
| Parent company/ major Subsidiaries |  Lowes | Black + Decker |
Brief History of Kobalt Tools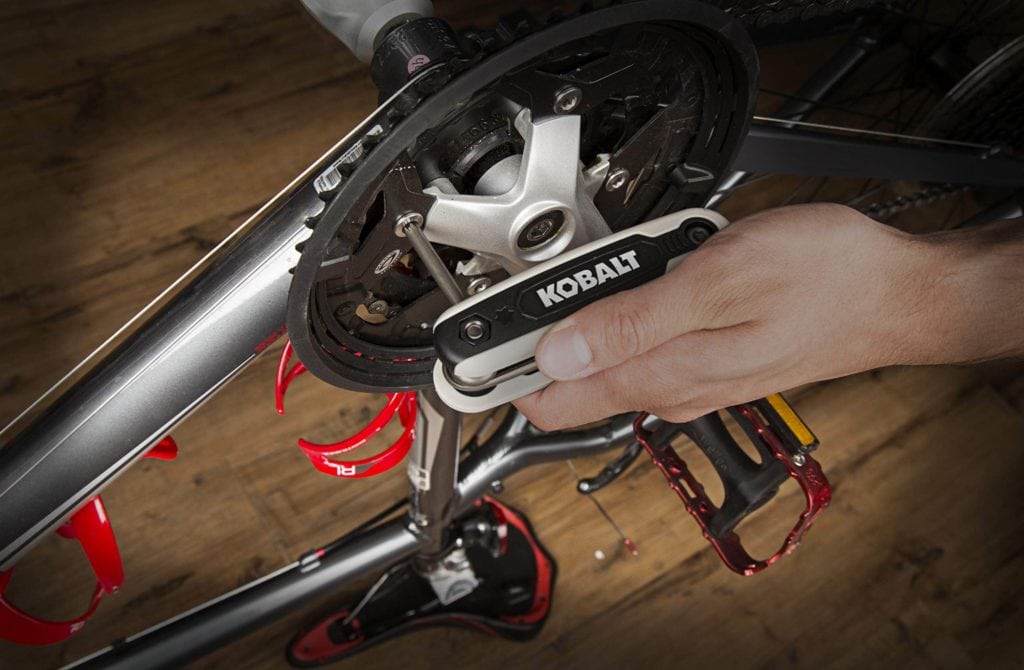 Kobalt is a fairly new power tool brand that was developed by Lowes and J.H. Williams in 1998. The original purpose of the brand was to give Lowes a competitive edge over Husky and Craftsman which were sold at their top competitors namely Home Depot and Sears.
While they started with mechanic's tools, they quickly branched out to include lithium-ion power tools, storage solutions, and many other innovative products. Though they were initially only sold through Lowes, they have now branched out to many other retailers such as Wal-Mart and Tractor Supply Co due to their popularity and affordability.
In 2003, the Danaher Corporation took over the production of their hand tools. It was in 2011, however, the company outsourced the manufacturing of its products to several different companies .JS Products took over the production of their hand tools while screwdrivers were made by Great Neck. Also, with the development of their cordless power tools, Kobalt enlisted Chevron to manufacture them.
More recently in 2020, their miter saws were taken over by Rexon Industrial Corp. The brand has become one of the best power tools on the market catering to many different consumers.
---
Brief History of DeWalt Power Tools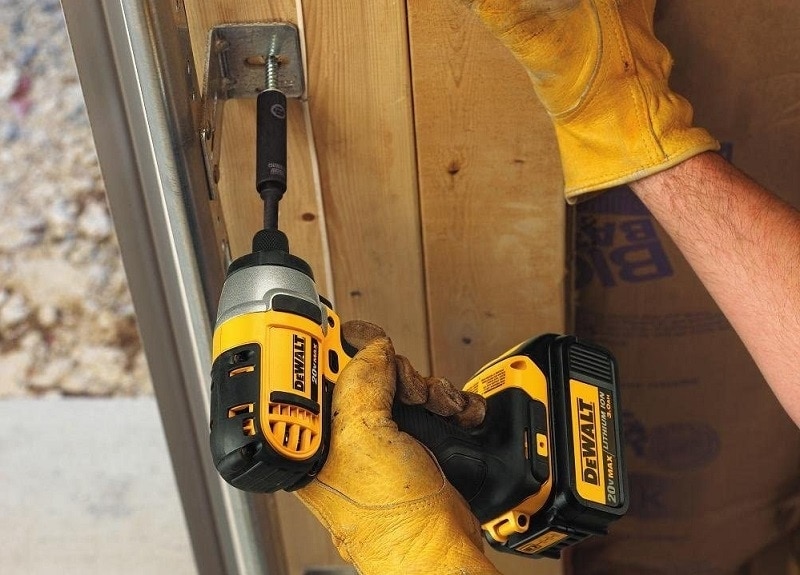 DeWalt Power Tools dates back to 1923 when a man named Raymond DeWalt incorporated the company. DeWalt was a pioneer in power saws specifically the radial arm saw. Due to its quick popularity, the company was reincorporated in 1947 but was sold two years later in 1949 to the American Machine & Foundry Co., Inc. From there, DeWalt was sold again in 1960 to Black + Decker who absorbed the company into their brand.
It was in 1990, however, that Black + Decker completely revamped the DeWalt branding to establish a higher-end power tool line that would appeal to the professional and DIYer alike. With their superb craftsmanship, DeWalt quickly became the go-to power tool supplier for many professionals.
Now in business for over 90 years, DeWalt is still held in high esteem, especially by those who rely on their tools' top performance.

Kobalt vs DeWalt: Manufacturing
Kobalt
With Kobalt outsourcing a lot of their manufacturing to top companies in their respective fields, the manufacturing process takes place in several different locations. That being said, their popular mechanic's tools are made in Nevada, USA.
The majority of their other tools are made in different parts of the world with many of them coming from Germany and China. As mentioned, in 2020 the miter saw production was taken over by Rexon Industrial Corp which is a Taiwan-based company. They also have products that are manufactured in California.
It is important to note that Kobalt, being Lowes' house brand, does not specifically list all of their manufacturing sights. What we do know is that with so many manufacturers with their hands in the pie (so to speak) the quality of the various products can differ.
DeWalt
DeWalt manufactures its products across the globe. Typically, they produce tools where they are most in need. For example, cordless handheld power tools are popular in the United States. To keep on top of the consumer demand, the vast majority of them are made in Maryland, North Carolina, South Carolina, Tennessee, Kentucky, and Connecticut.
That being said, DeWalt also uses "global materials" for their products. In this case, materials for the tools are manufactured elsewhere than shipped to and assembled in the United States. Besides the USA, they have other manufacturing sites and global material centers in Mexico, Brazil, China, Italy, the United Kingdom, and the Czech Republic.

Kobalt vs DeWalt: Product Line
Kobalt
Kobalt has been long known to manufacture affordable and innovative mechanical tools. Over time, however, they have branched out to include lithium-ion power tools, storage units, and other accessories. Let's take a closer look at their most popular products.
Mechanic Tools
One of the most popular lines from Kobalt is their ratchet sets. While you can purchase individual drivers, sockets, etc, their all-inclusive kits have become the most popular. In fact, they have raised the bar by producing modern and convenient features such as kits with both SAE and metric sockets, laser-etched intervals, plus color-coded systems making them easy to use. They also get high praise for the durable case the kits are housed in.
Besides ratchet sets, Kobalt also offers a variety of other handheld tools in this genre that are affordable and trustworthy.
Cordless Power Tools
This younger brand is also well known for its lithium-ion power tools. They offer everything from impact drills, circular saws, and LED lights. You can buy these products individually, or you can buy them as a set which is the most popular option. Kobalt has also introduced brushless motors to their line of power tools.
Regardless of whether you go for a single tool or a set, you can find items for both the professional and DIY homeowner. Many of the products use 24 volts batteries that have long run times. They have also produced a line of landscape tools like hedge trimmers and weed whackers.
Storage Units
Many shoppers also look to Kobalt for their storage units. They offer a wide range of options from simple hooks to large free-standing tool cabinets. The larger units are well made with steel, powder-coated finishes, plus locking mechanisms to keep your tools safe. They are diverse in their dimensions, but each one comes with convenient spots for all your power and handheld items.
---
DeWalt
DeWalt has been around for such a long time, they have become popular in many different categories of tools. With that being said, they do shine in a couple of areas that we look at below.
Power Saws
The radial arm saw was what originally launched the company during the beginning of the twentieth century. Though they have come a long way in design and technology since then, DeWalt is still known for their saws.
Any type of saw from miter, circular, and table are available in either a corded or battery-operated version. They also offer all the necessary accessories. Plus, like Kobalt, brushless motors are part of their line of products.
Power Tools
DeWalt carries a large line of power tools. Like the saws, they offer both corded or cordless options depending on the need and the power required. You can also find air tools, grinders, sanders, and much more.
Many of the power tools are available with the newer brushless technology, and many people find DeWalt's kits to be of great value. Outside of the basic power tools, you can also find power stations, heaters, LED lights, and other items needed for professional work sites.
Outdoor Equipment
DeWalt has also become the go-to brand for professional landscapers with their durable and powerful landscaping equipment. Here they focus on gas-operated products that deliver the torque and speed needed for tough jobs. Among their products, you can find chainsaws, lawnmowers, hedge trimmers, and other industrial-strength items.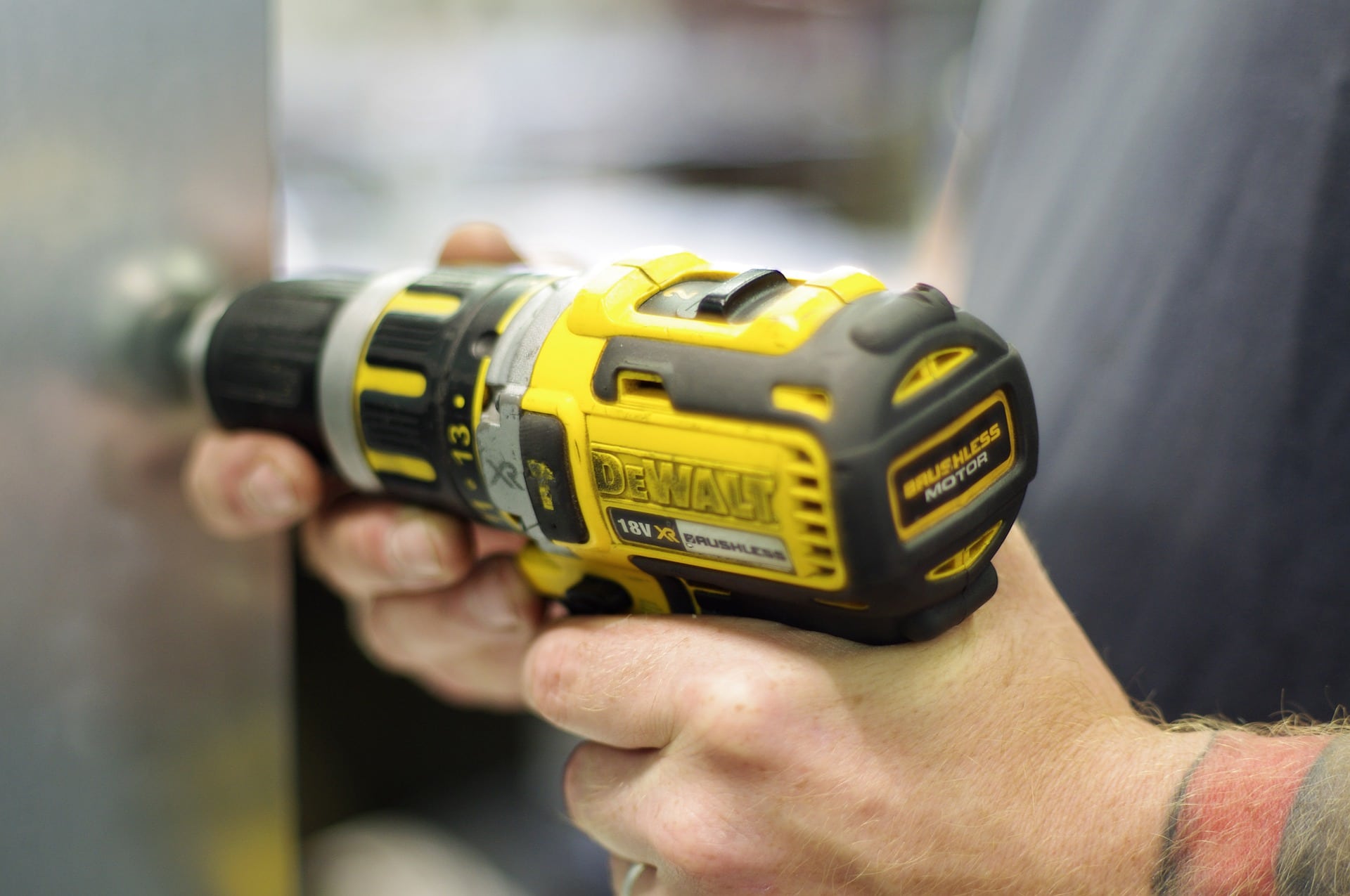 Kobalt vs DeWalt: Price
In general terms, Kobalt is the more affordable of the two brands. While they have a range of prices, one of their main appeals is they offer quality tools for less. Not only that, but Kobalt has slightly more pricey items for professional contractors and the like while also manufacturing inexpensive hand tools for the average homeowner.
On the whole, DeWalt is the more expensive of the two. Although they also have a wide range of products, their quality and pricing structure is pretty consistent across the board. Aiming at the consumer who is looking for a long-lasting, trustworthy product, Black + Decker specifically re-branded DeWalt to be the "upper end" product line.
It is important to note that Kobalt's higher end items are fairly similar in pricing to DeWalt, though they may be a bit less costly. Where the difference comes in is Kobalt simultaneously has a more affordable line of tools that are less durable.
Kobalt
Some of the more expensive purchases from Kobalt are actually their most budget-friendly. This is especially true if you need to purchase several tools at once. The power tool kits from this brand are a great deal. Though you can end up spending a bit more, what you get (the durability of the products and the cutting-edge technology) make them a great buy.
Hand tools are a great budget-friendly option with Kobalt, as well. They also have great pricing on 24-volt brushless cordless drills. Outside of the kits themselves, you will be able to find great deals on single power tools, hand tools, accessories, and storage items.
DeWalt
DeWalt carries several higher-end products that can cost a considerable amount. Their lawnmowers, for example, can be quite expensive along with some of their industrial and professional machines. In terms of their most affordable items, their more costly power tool kits win the race, as well.
This depends heavily on the type of kit you are looking for, however. With their stellar construction and high-performance, many of the smaller kits give you a great bang for your buck; especially if you were to add the cost of buying each product individually. On the other hand, some of their bigger kits, while containing almost everything you need, require a bigger investment.
---
Kobalt vs DeWalt: Warranty
Kobalt
There has been some discussion about the Kobalt Warranty in the past. If you do not know the details (or fine print in this case), it is understandable that there could be some confusion. First, Kobalt has a lifetime guarantee on all of their hand tools. If anything goes wrong, you can return it hassle-free.
While you can bring back any hand tool to Lowes, you will still have to abide by their return policy, as well. For example, a receipt or ID is most likely required. What's more, if you don't have a receipt and Kobalt no longer makes the item for an even exchange, you will be stuck with the lowest dollar amount the product sold for.
Outside of that, most lithium-ion power tools come with a five-year warranty. Other items such as hedge trimmers also have anywhere between a three and five-year limited warranty. It is interesting to note that the majority of their storage units also have a lifetime warranty available.
Finally, we noticed that finding a general outline of Kobalt's warranties is not that easy when looking for their guidelines.
DeWalt
DeWalt also offers warranties on many of their products. They offer lifetime warranties of their mechanic's tools, plus limited lifetime warranties on many of their other hand tools. Of course, this is subject to the individual retailer's policies, as well.
Besides that, the brand has several different types of guarantees depending on the product you purchase. They offer both three and seven-year warranties on many products as long as the issue is not due to normal wear and tear.
Besides that, many of their drill bits and carbides have a no-break guarantee, and some items (mainly shoes and clothing) have a 30-day money-back guarantee. Though there is a lot of variation, DeWalt items are covered under one warranty or another. Plus, their guidelines are easy to find.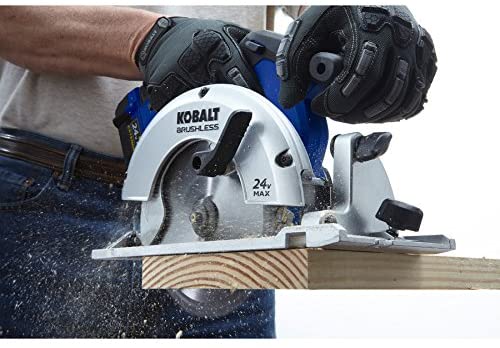 Kobalt vs DeWalt: Customer Service
Customer service for power tools and similar products is very important. Novice users need to have a reliable place to have their questions answered, while the professional contractor needs to be able to reach out to a customer rep when something goes wrong. Being able to speak with a live body is important.
Kobalt
As Kobalt is owned by Lowes, most people find themselves speaking with a Lowe's employee when they need customer support. As we mentioned above, many customers have been frustrated over return policies when it comes to the finer points of the brand's warranties. Customers have also indicated longer than normal wait times for responses to emails and phone calls.
That being said, many people find Kobalt's rep's to be pleasant and very knowledgeable about their products. They are typically happy to help and solve any problems you may have whether it be with a product that was purchased or finding a tool you need.
DeWalt
Making contact with DeWalt customer service requires a bit more effort as they are not owned by a brick-and-mortar store like Kobalt. That being said, their representatives are typically very friendly, knowledgeable, and helpful with any questions or concerns. Be that as it may, many customers find calling more effective than emailing as response times can take a while.
Customers have also expressed frustration over issues with returns, exchanges, and warranties. As DeWalt is sold at several retailers, their policies can vary making DeWalt's policies a little tricky to navigate. Many people find themselves in a go-between when DeWalt instructs them to contact the retailer, and the retailer gives the same advice.

Head-to-Head:
Kobalt vs DeWalt Power Tool Kits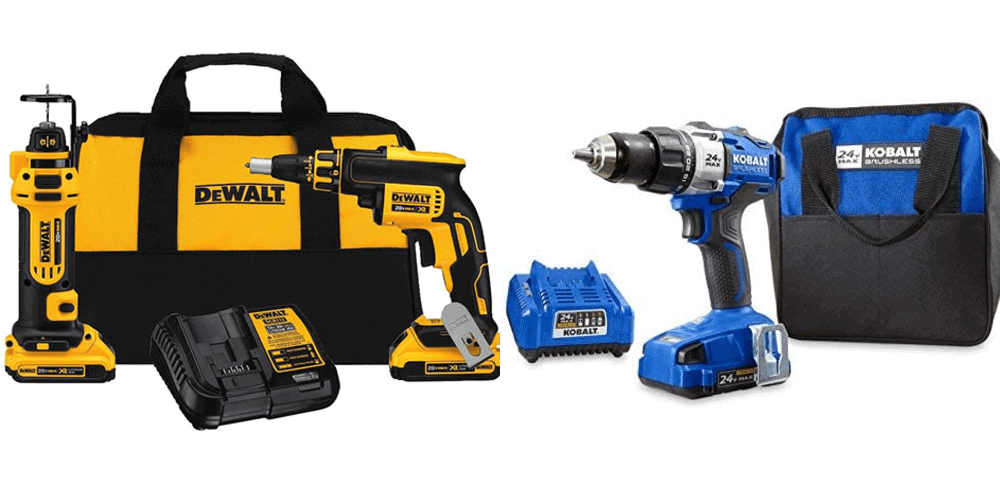 For our first product review, we are looking at both brand's four-piece power tool kit. The DeWalt option comes with a drill/driver, impact driver, oscillating tool, and a LED light. It also comes with two 20-volt batteries, a charger base, and a durable canvas bag to carry your items.
The Kobalt option comes with a drill/driver, impact driver, reciprocating saw, and a light. You will also receive a carrying case and a 24-volt battery with the charger. You also receive several accessories including one double-ended driver bit, one single-ended driver bit, two-bit holders, two belt clips, and an auxiliary handle.
Our Verdict:
As both kits are somewhat comparable in price, the decision on which one is better comes down to the details. For example, the Kobalt's drill/driver and impact driver are both made with brushless motors and use a heavy-duty 24-volt battery.
DeWalt's oscillating tool is also brushless, though the other items are not. While you also get two-batteries with this kit, they are only 20-volts. In this round, we have to give the edge to Kobalt for their tool's efficiency, battery capacity, and accessories.

Head-to-Head:
Kobalt vs DeWalt Ratchet Sets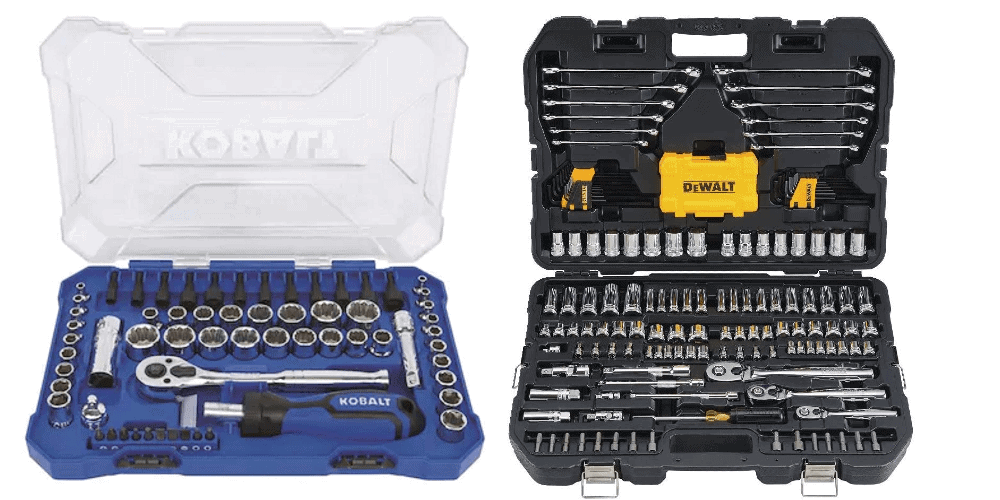 In the next round, we are looking at two ratchet sets. Kobalt's 138-piece ratchet set comes with ¼-inch, ⅜-inch, and a ½-inch drive ratchet with both SAE and metric sockets that come both shallow and deep. It also has 6, 8, and 12-point sockets along with a 90-tooth gear drive. They have laser etched sizes and color-coded stripes for easy use, not to mention, a few accessories including a convenient carry case. Made of Chrome Vanadium, this is a durable and reliable set for any mechanic.
DeWalt offers a 142-piece set with both ¼-inch and ⅜-inch drive ratchets. This set also has shallow and deep sockets with a 72-tooth ratchet. It is made of polished chrome, has both the standard and metric sockets, and has stamped numbering. Along with a carrying case and a few accessories as well, this is also a durable option.
Our Verdict:
While they both have lifetime warranties and the price is comparable, it is important to note that the DeWalt option is a bit cheaper here. On the other hand, we will have to give this round to Kobalt once again due to their versatility. Though the DeWalt option has more pieces, Kobalt has more range with the additional ratchet driver, plus it is more solidly built.

Head-to-Head:
Kobalt vs DeWalt Brushless Cordless Drill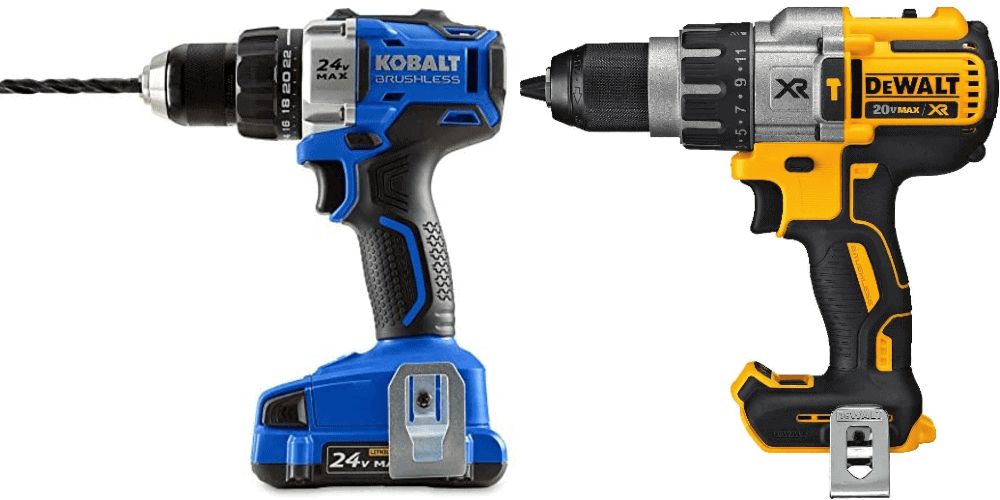 In the final category, we went for the brushless cordless drill. Kobalt has a ½-inch drill that is about 4 pounds. It has a two-speed gearbox, built-in LED light, and 650 inches per pound of torque. The drill also comes with a 24-volt lithium-ion battery, charging base, belt clip, driver bit holder, auxiliary handle, and soft carry bag. You also will receive a 5-year limited warranty, too.
DeWalt also has a ½ -inch drill that uses a 20-volt battery. It comes with the drill itself, two lithium-ion batteries, a charging base, and a soft carry bag. This model has an LED light, and it weighs a light 2.4 pounds. The DeWalt drill uses 340 unit watts outs that packs a punch, plus a 3-year limited warranty.
Our Verdict:
For this last category, we have to hand the crown to DeWalt. Though it has a shorter warranty and does not have as many accessories, the lightweight design coupled with the power and durability makes it a great buy. As they are both equal in price, the dual batteries also tipped the scales in DeWalt's favor.

Overall Brand Reputation
Now that you know some specifics of each brand, we wanted to give an overview of what they look like stacked up against each other.
Performance
Edge: DeWalt 
Both DeWalt and Kobalt have well-performing tools. If you were to look at each item individually to compare, you would find that some of Kobalt's items would come out on top. As a whole, however, DeWalt's overall durability, reliability, and long-lasting construction put them in the lead. That, coupled with their dual-battery power tools, definitely seals the deal.
---
Price
Edge: Kobalt
Though the three products we reviewed above are similarly priced by both brands, we have to give the edge to Kobalt in the pricing category. Although they have many products that are on the more expensive side for the professional contractor, they also have a bevy of affordable items. They also have a range within a range. While you can purchase one heavy-duty power-drill for a tidy sum, you can also find a more affordable one for DIY projects.
---
Durability
Edge: DeWalt
In the durability category, it was a close race, but we have to go with DeWalt again if for no other reason than their longevity in the field. DeWalt is a long-standing company with quality products. Not only that, but their tools are built with the best global materials to be found.
---
Design
Edge: Kobalt
This was another close call, but this time we have to go with Kobalt for their innovation and adaptation to new technology. This brand has made it a priority to give customers the most modern and effective technology possible. Incorporating brushless systems, laser etching, and many other ideas have given them the reputation of having purchase worthy designs that can make the tool-users life that much simpler.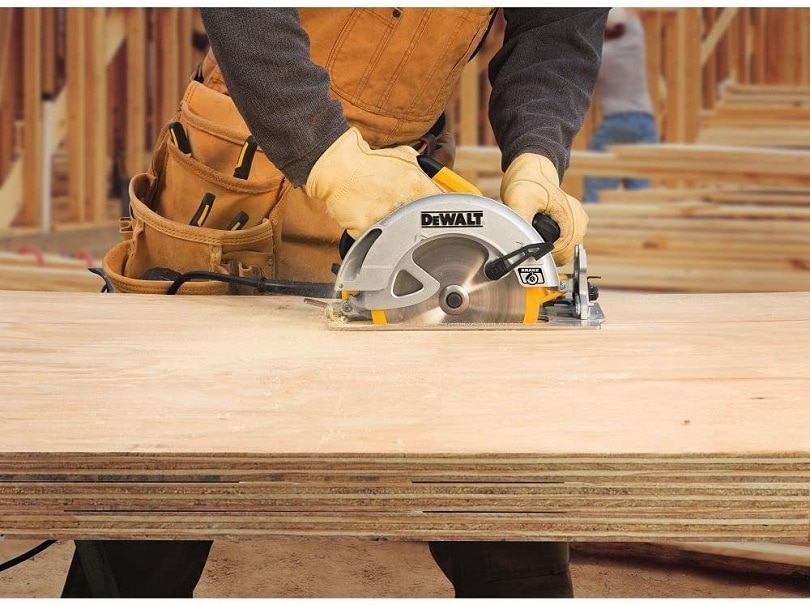 Conclusion
Both DeWalt and Kobalt have a lot going for them. Both are great power tool brands with a lot to offer various consumers. It is difficult to pick a winner as both have their strong suits. What it comes down to in the end is what type of tool you are looking for.
Kobalt is a great brand if you are new to the world of power tools. They are also a great choice for homeowners that still wish to have quality products with the newest designs and features. They are also great for mechanics, as this is where they excel.
DeWalt, on the other hand, is a tried-and-true name. They have a reputation for being durable, well-built, and of professional grade. Professional contractors, electricians, carpenters, and the like look to DeWalt for the heavy-duty tools they need. Though they can be a bit more expensive, they remain one of the best available products on the market.
We hope this article has shed some light on the differences between the two brands, and what benefits they hold for you and your next purchase.
See Also: