6 Best Husqvarna Chainsaws – Reviews, Top Picks & Guide 2023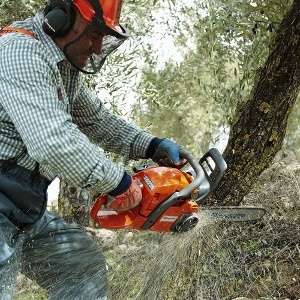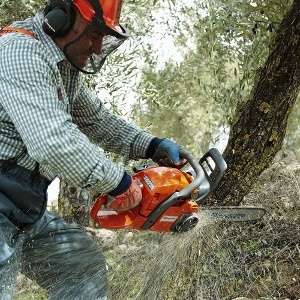 As a company with over 330 years of history in producing innovative, high-quality products, Husqvarna is a respected name in chainsaws. But did you know that the company started out as a rifle manufacturer, before testing such diverse tools as sewing machines, hunting weapons, wood stoves, mincing machines, the first Swedish typewriter, bicycles, motorcycles, and gas stoves?
While these other products may have been useful and successful, it wasn't until the late 1940s, when Husqvarna turned its attention towards chainsaws, that the company became a household name. Loved by forestry workers, lawn care specialists, and homeowners alike, Husqvarna manufactures what may be the best-designed chainsaws in the world.
Choosing a Husqvarna chainsaw doesn't have to be a chore, as we've examined and tested nearly their entire line of tools in search of our favorites. In these reviews, we'll share those findings with you – as well as a helpful guide that's designed to help you pick the perfect chainsaw for your needs.
---
A Quick Comparison of Our Favorites in 2023
Rating
Image
Product
Details

Best Overall

Husqvarna 460 Rancher 20″

60cc motor
20-inch bar
Light to heavy-duty work
CHECK PRICE

Husqvarna 455 Rancher 20″

Versatile
55cc engine
Top-of-the-line fuel efficiency
CHECK PRICE

Best Value

Husqvarna 135 Mark II 16″

Easy to use
Vibration dampening
Excellent fuel efficiency
CHECK PRICE

Husqvarna 440e II 16″

Lightweight
All-around versatile tool
Great price for the power
CHECK PRICE

Husqvarna 435e II 16″

Good power for its size
Tensioner is easy to use
CHECK PRICE
The 6 Best Husqvarna Chainsaws – Reviews
1.

Husqvarna 460 Rancher 20″ – Best Overall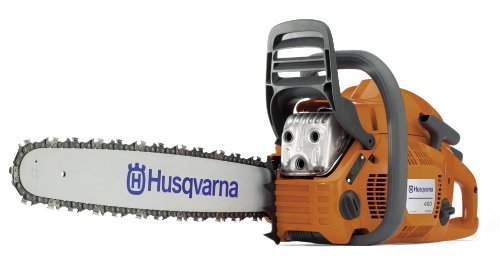 Falling firmly in the middle in almost every category, the 460 model chainsaw from Husqvarna truly offers the best performance and versatility for the cost for any casual user. Featuring a 3.62-horsepower motor and 20-inch bar length at a manageable 12.79 pounds, it's the most well-rounded tool for serious home and farm jobs – from heavy-duty brush clearing to limbing, felling, and chopping firewood. This is not the chainsaw you reach for to trim your hedges.
With significantly more "oomph" than the ever-popular 455, the 460 Rancher chainsaw is a reasonably priced upgrade from other Husqvarna tools. Favored by first-time buyers and long-term users alike, the 460 Rancher has a great reputation for consistently delivering its incredible 9000 RPM speed, year after year.
In short, our top choice of the 460 Rancher is based on wanting a chainsaw that's a significant step up from the mid-line performance of mass-market saws – even if the Husqvarna is a little bit pricier. Overall, this is the best Husqvarna chainsaw available this year.
Pros
Light to heavy-duty work
60cc motor produces 3.62 horsepower
20" bar
Side-mounted tensioning system
X-torque system lowers fuel consumption while reducing emissions
Cons
Fairly heavy
Installation of chain and bar requires time and attention
---
2.

Husqvarna 455 Rancher 20″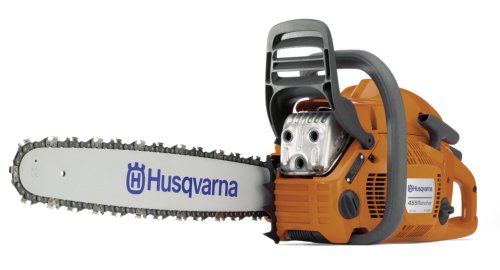 One step down in power from our top pick, and significantly less expensive, the Husqvarna 455 Rancher offers many of the same features that make the 460 the best chainsaw around – just in a slightly smaller package that skews more towards light- to medium-duty work. If you don't plan to be doing a lot of felling dead limbs from trees, the 455 gives significant savings over the 460 while retaining the rest of its versatility.
A 55cc engine powers the 20-inch bar on the 455 Rancher, giving it just slightly less torque than our top pick – but still plenty of power for cutting firewood or clearing brush. Plus, Husqvarna's proprietary X-torque system helps to reduce fuel consumption and total emissions, making this an eco-friendlier option than most chainsaws on the market today.
We're a big fan of the anti-vibration system for its ability to make long days of chainsaw use less fatiguing. Weighing in at just under 13 pounds, the 455 Rancher is a powerful and versatile tool that's well-suited to just about any home, farm, or ranch job.
Pros
Excellent power from its 55cc engine
20" bar gives it great cutting capacity
Top-of-the-line fuel efficiency
Versatile and capable of tackling many jobs
Less expensive than our top pick
---
3.

Husqvarna 135 Mark II 16″ – Best Value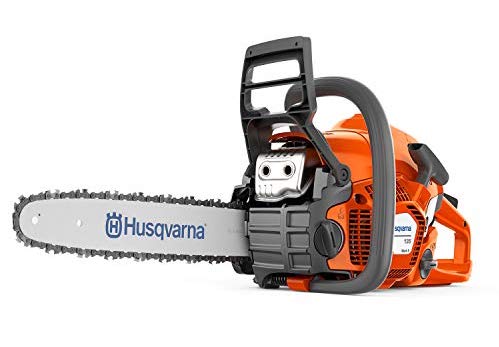 Not everybody needs a chainsaw that can do absolutely everything – or one that's quite so heavy, powerful, and expensive. If you're looking for the best value in a Husqvarna chainsaw that's built for use around the home, consider the 135 Mark II. Its combination of portability, fuel efficiency, and ease of use have made it a favorite of homeowners around the world, and we think it may just be the best Husqvarna chainsaw for the money.
Weighing nearly three pounds less than our top and second picks, the 135 Mark II sacrifices a bit of power and cutting potential to make it much more user-friendly for casual owners. It still boasts a surprisingly robust 2.1-horsepower output from its 38cc engine, making it unusually powerful when compared to other chainsaws at this weight.
Pros
Lightweight and easy to use
Budget-friendly alternative to larger saws
Excellent fuel efficiency
Features vibration dampening
---
4.

Husqvarna 440e II 16″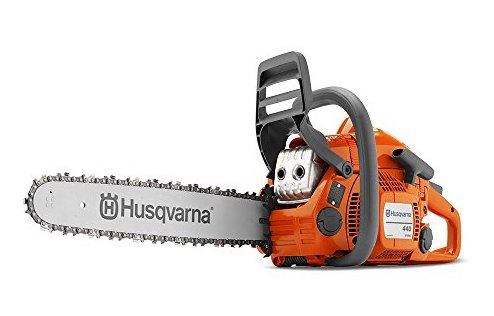 One step up in power and price from the 135 Mark II listed above, the Husqvarna 440e II gas chainsaw is a lightweight and efficient tool that's a reliable workhorse for home, farm, and ranch jobs. Its easy to pull starter cord and quick-start engine are backed up by a 2.4-horsepower, 40.9cc engine that packs a lot of torque for tougher jobs.
If you liked the sounds of our best value pick but need a little more power, look no further than the 440e II. At just 9.78 pounds, it's one of the most lightweight and easy to handle saws we've ever tested – especially given its impressive torque.
Pros
Slim, lightweight design
Great price for the power
All-around versatile tool
Perfect for homeowners with large yards and trees
Cons
Vibrates
Not always easy to start
Not for heavy-duty use
Tensioner has a learning curve
---
5.

Husqvarna 435e II 16″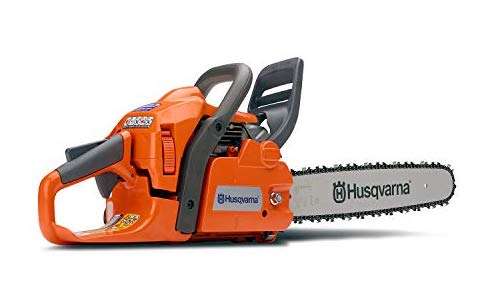 Falling somewhere perfectly between the 440e II and the 135 Mark II, the Husqvarna 435e II splits the difference in power, price, and utility. It's another all-around great chainsaw for homeowners that's lightweight and easy to use but features enough torque to work through heavy-duty jobs with relative ease.
With so many great Husqvarna chainsaw options for homeowners, you may be left wondering: Which one is the best for me? While we could spend all day splitting hairs over the details, suffice it to say that your budget will be the ultimate determinant of which saw you choose. In that regard, the 435e II is one step up from entry-level, yet not quite to the big leagues of efficient firewood cutting or limb felling.
Pros
Good power for its size
Tensioner is easy to use
Cons
Needs several pulls to start
Occasionally has trouble idling
Have to adjust the T-screw to start
Requires Husqvarna oils for best results
---
6.

Husqvarna 120 Mark II 14"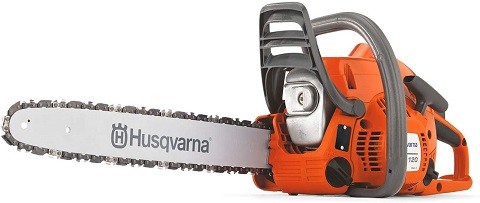 Last but certainly not least in our review, the Husqvarna 120 Mark II is a pint-sized powerhouse that's available at rock-bottom prices. Perfect for trimming trees and general yard maintenance, it's the most lightweight and compact chainsaw that Husqvarna offers.
If you're looking for a tool that's built to last, but don't need the beefy utility of professional-grade chainsaws, the 120 Mark II is a fine compromise. Fuel efficient and easy to start, it's an excellent alternative to the rugged and heavy-duty machines that dominate most of the marketplace; just don't expect it to be much help when it comes to cutting firewood or anything larger than a few tree branches.
Pros
Super lightweight and compact design
Great fuel efficiency
Extremely affordable
Cons
Small bar and lower-powered engine limit its utility
Not suitable for anything beyond small jobs around the house
---
Buyer's Guide – Choosing the Best Husqvarna Chainsaw
As you're choosing which Husqvarna chainsaw is right for you – or even if this brand is the best for your needs – we recommend considering the following topics. Husqvarna publishes a great deal of information as well, and we'll be discussing which of their guides are most useful as you consider which chainsaw is right for you.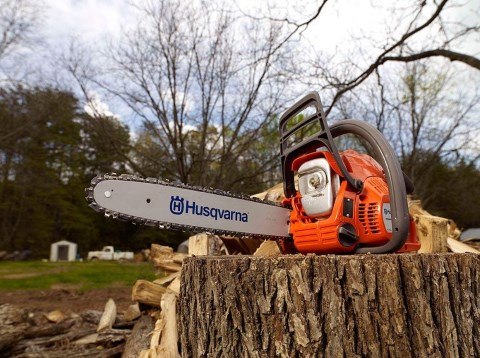 Why Choose Husqvarna Over Other Brands?
Husqvarna's proven record of innovation and quality products may be an excellent place to start, but it's far from the whole story of why you should consider purchasing their chainsaws over a competitor's. We consistently choose Husqvarna for our chainsaw needs because of their durability, versatile applications, and unfailing commitment to craftsmanship.
More than that, though, we're proud to support a company that takes an active involvement in protecting the people and places that make their business possible. To this end, they partner with organizations such as the Tree Care Industry Association, National Association of Landscape Professionals, and American Green Zone Alliance to provide safety training.
Add on to that the company's mission to drastically reduce their carbon emissions while maintaining best-in-class torque and power across all their machines, and we think it's easy to see why Husqvarna may be the best choice around when it comes to chainsaws.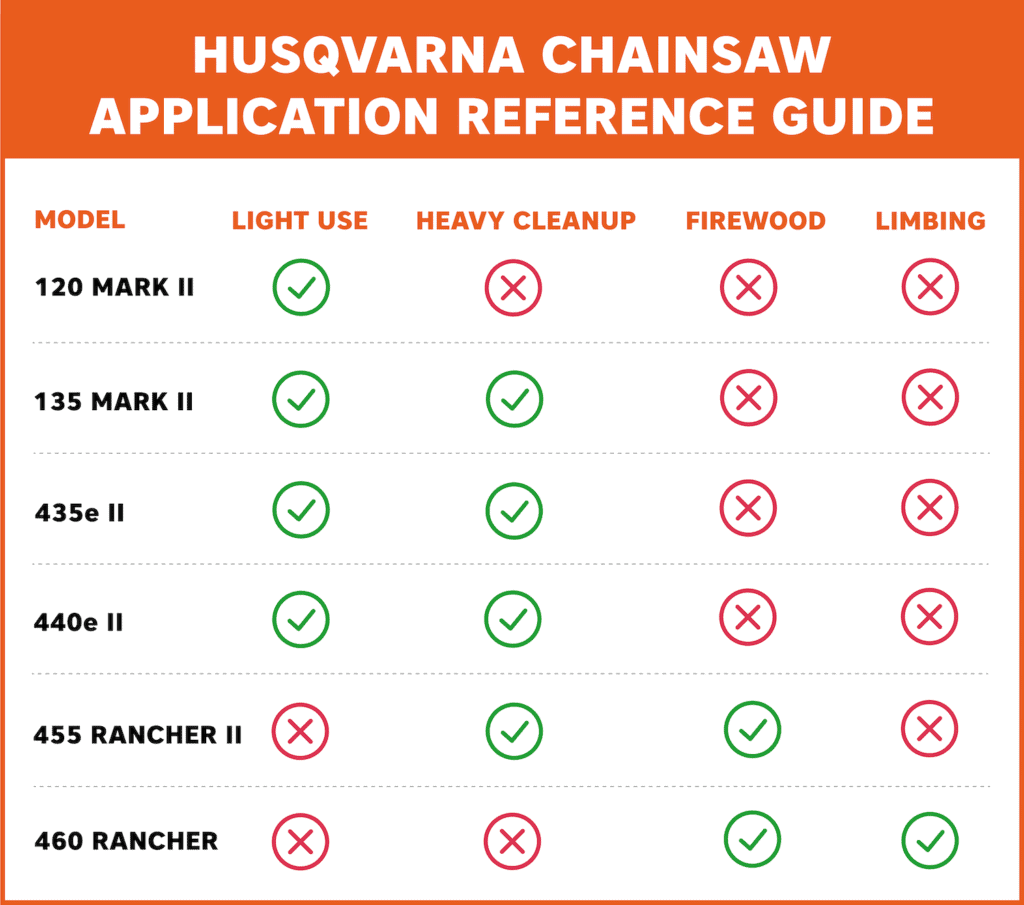 How to Use Your Husqvarna Chainsaw
As part of their mission to educate people on the safe handling and effective operation of their chainsaws, Husqvarna has published a series of YouTube videos. Check out the one featured below for an introduction to everything a Husqvarna chainsaw can do:
Chainsaw Safety
Safety should be everyone's top priority when using a chainsaw, but it is often unfortunately neglected or ignored. Here are seven quick tips for the safe operation of your chainsaw.
Get a solid stance with your knees slightly bent and feet shoulder-width apart.
Never take your eyes or your hands off the saw while cutting.
Plan your cuts ahead of time. Estimate where the bar will exit the cut before starting.
Prepare yourself for the pulling action of the saw. Using the bottom of the bar will pull into the cut, using the top of the bar will push you away from the cut.
Get educated about the "kickback zone". Don't go there.
Without proper training, professional chainsaws are best for professionals. Temper your expectations.
Wear personal protective gear, including eye and ear protection.
Husqvarna has a wide range of safety equipment and accessories that are often purchased in tandem with a new chainsaw.
Personal Protective Equipment (PPE)
Chainsaw Helmet

Helmets with a face shield are the first thing to look at. Your eyes can be damaged easily, no matter who you are or how big and brawny you might be. Safety goggles are an essential piece of equipment for protecting your eyes. If you don't, it'll only take a split-second accident to change your mind forever – not to mention your eyesight. Don't take a chance with your eyes. Plus, the
Husqvarna helmet system
has ear protection and a hard shell to deflect any falling debris.
Chainsaw Chaps

Heavy-duty chainsaws are dangerous. To protect yourself, you need a sturdy pair of chainsaw chaps. They're made of a rugged material that's designed to stop the chainsaw chain before it cuts you open. They're hot, sweaty, and sometimes bulky, but in the long run, they'll save you a lot more than just pain – they might keep you from having your leg amputated.
Chainsaw Gloves

Working with a tool that produces such strong vibrations, chainsaw gloves are a must. The gloves are designed to give you a better grip on the handle and trigger, while protecting your hands from a potentially deadly cutting incident. Like the chainsaw chaps, they're made from material that's designed to stop the chainsaw chain before it can cut flesh. Meanwhile, cutting firewood results in a lot of flying debris, and a pair of gloves will protect you from splinters.
Consumable Products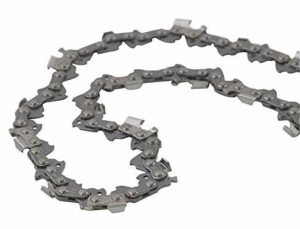 Chainsaw Chains
Chainsaw chains won't last forever. Eventually, they'll get dull and won't cut the way they should. A good chain filing kit can really extend a chain's life, further than you might think. There will come a point, though, when you'll need to replace your existing chain with a new one.
Chainsaw Carrying Case
A good chainsaw deserves a good carrying case to protect it when it's not in use. It's also convenient for transport. This should really be a no-brainer. If you don't want to spend the money on a case, at least get a scabbard for the bar. Getting it at the same time you purchase the chainsaw is usually the best, and you'll know before it arrives that it will be a good fit.
Chainsaw Bar & Chain Oil
Go ahead and get some extra bar/chain oil while you're at it. It's a consumable item, which means it'll run out on a regular basis and you'll have to get more on a regular basis. You should always keep a minimum amount on hand, and the moment your inventory drops below that amount, order some more right away.
The same argument can be made for buying premixed, two-cycle fuel. Premixed fuel is a little more pricey, but for sheer convenience, it can't be beaten. Go ahead and get several extra cans, then keep it stocked the same way you do with the bar/chain oil.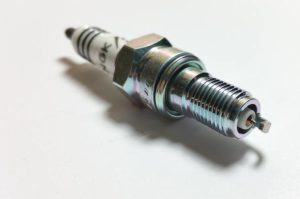 Spark Plugs
We also recommend you do the same thing with spark plugs. They last longer than oil and fuel, but nothing lasts forever. In small engines, a good spark plug can mean the difference between an easy start and frustration, the difference between an engine that sputters and one that purrs like a kitten.
Conclusion:
Husqvarna truly does offer a chainsaw specific to any need that an owner might have – but what should you do if you're not sure exactly what you'll be using your chainsaw for? The best overall chainsaw in our reviews, the Husqvarna 460 Rancher 20" Gas Chainsaw, may just be the best pick for you. It's large enough to handle heavy-duty cleanup and debris, but lightweight enough for simple yard work, too.
For lightweight utility in a budget-friendly package, the Husqvarna 135 Mark II Gas Chainsaw is an excellent alternative that will appeal especially to homeowners. While it's not as robustly powered as other Husqvarna chainsaws, its versatility is unbeatable for the price, making it the best Husqvarna Chainsaw for anyone looking to spare their wallet while buying a top-quality chainsaw.