Husqvarna 580BTS vs Stihl BR600: Which One's Best?
Rating
Image
Product
Details

The Winner

Husqvarna 580BTS

Very fuel efficient
High powered motor
Padding and comfortable straps
CHECK PRICE

The Runner Up

Stihl BR600

Lightweight
Easy to transport
Requires little maintenance
CHECK PRICE
Husqvarna and Stihl are worldwide giants in the tool industry and manufacturer millions of tools every year with that number always growing. Both brands have a great reputation in the industry as producing comfortable, durable products that are easy to use and set up. Both the 580BTS model by Husqvarna and the BR600 by Stihl are similar in price which is why they are often compared in terms of what they offer and what features they both have. Since they are a very similar price then we would assume they are more or less the same tool, however, they aren't. The Stihl BR600 is around 3 pounds lighter than the Husqvarna model but it doesn't have as much power behind it either which means that you may want to carry a lighter blower, but it won't perform as well as the other Husqvarna would. The 580BTS model has an X-Torq engine which comes standard on a lot of Husqvarna leaf blowers, the engine aims to reduce harmful exhausts and emissions that are released whilst also increasing the fuel efficiency by around 20%!
Likewise, to everything else, both the models discussed have their pros and cons which is why it's important to consider everything and discuss them in a balanced view. Husqvarna is a bigger and more popular brand and their 580BTS model has better sales than the Stihl BR600 model does so perhaps this suggests which one is better when it comes to customers? After all, the best and most honest reviews you will ever hear come straight from the mouths of previous or current users. It's extremely important to know what leaf blower will suit your needs and expectations the best before deciding which one to purchase.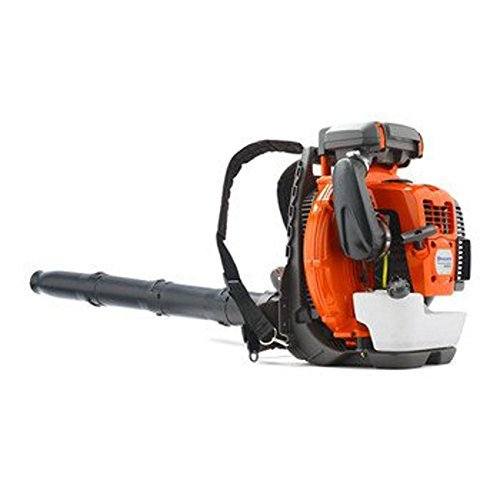 What's the difference between them?
Performance
Whilst the Stihl BR600 works well and can perform at a relatively good speed, the Husqvarna 580BTS is just a better model that performs to a higher standard. Since the Stihl model is lightweight, it doesn't have as much power behind it thus meaning that it will take you longer to clean up what you need to. The Husqvarna 580BTS might be a little heavier meaning it puts a slight strain on your back or shoulders when you're using it, however, it is a lot more powerful therefore meaning you don't need to use it for as long.
Performance plays an essential role in the upkeep and use of your leaf blower and if it works well then you're more than likely going to carry on using it and not worry about how long it will last. When you pay a good amount of money for a leaf blower you want it to worth and almost physically take your breath away. For us, the only model that truly does this is the Husqvarna model as it is so much more powerful and works a lot better than the Stihl model.
Price
This is one of the only sections in which the Husqvarna doesn't win, the price of the 580BTS model is pretty steep and for a leaf blower, it's only a price that budding or current professionals will pay. However, the Stihl BR600 is a few hundred dollars cheaper. Both of these models are very premium and aren't typically used by the everyday house owner, they're more suited to professionals or those who are in the leaf blowing field which means money isn't so much of an issue. If your budget is lower and you can't afford to pay the price for the Husqvarna, then the Stihl is a good alternative, but you have to know you won't get the quality you would with the 580BTS model.
Durability
The overall build quality of the 580BTS model is one of the best on the market, it is very durable and able to survive even the highest of falls. This could be said for the Stihl model which has been marketed as very durable and able to last for many years. The best thing about these two models is that they both come with a limited warranty so if anything does break or needs fixing it can be done. If you're using the leaf blower every day or for professional use you will want it to keep performing the best it possibly can!
Design
Many leaf blowers have a very similar design for practicality reasons, with all the tubes and cords they use, they need to still pass health and safety regulations as well as look good too. The Husqvarna model has a padded back as well as comfortable straps for the user to wear whilst they are blowing the leaves. However, the Stihl model doesn't have any special padding or even comfortable straps, this is one of the most negative aspects of the whole model as so many customers complain about how uncomfortable it becomes after a while using it. The padding on the back of the Husqvarna 580BTS is specially designed to contour to the curves of your body when you're wearing it thus resulting in a very pleasant experience.
Quick Rundown of Husqvarna 580BTS
Cons
Made for Professional or Semi-Professional Use Only
Pricey for a piece of equipment
Quick Rundown of Stihl BR600
Pros
Lightweight and Easy to Transport
Requires Little Maintenance
Cons
Low Powered Motor
Small Air Tube
Short Warranty
Conclusion
It is clear from all the evidence we have collected from various sources and mostly product reviews that the Husqvarna 580BTS model is the winner, despite it being more expensive, it is still very good quality and is worth every cent that is spent on it. The Stihl BR600 model lacks a lot of features and the power behind it that the Husqvarna model has, power and performance is the most important factor when looking at leaf blowers. If you really do want all your leaf problems to disappear you need to ensure you purchase a leaf blower that will do the job properly.