5 Best Budget Hot Tubs under $500 in 2023 – Reviews & Top Picks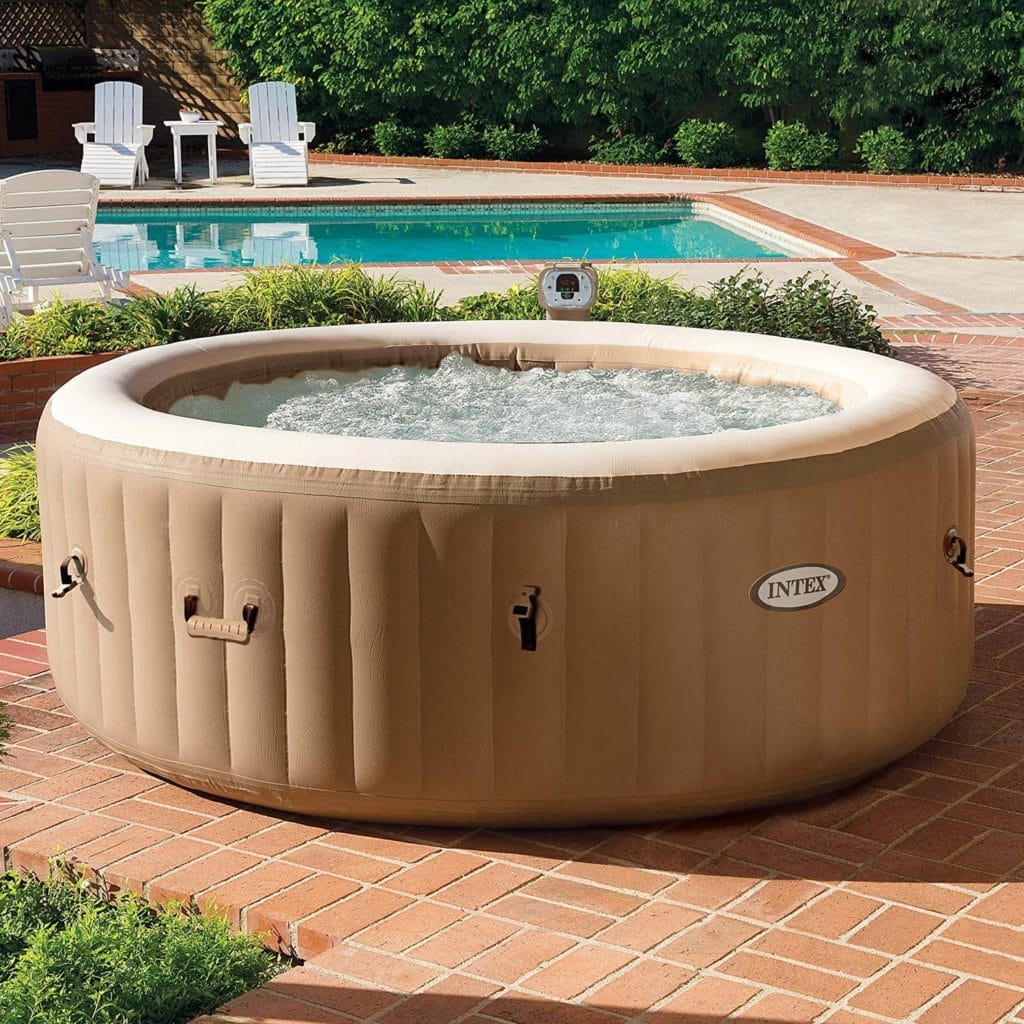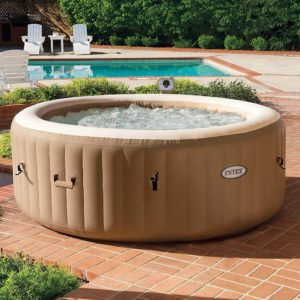 The budget hot tub market is complicated. Navigate the plethora of options properly and you wind up with a highly effective product that more than respects your budget. However, if you don't know what you're doing, it can be very easy to wind up with a dud.
We've reviewed dozens of budget hot tubs, testing each for quality and effectiveness. The idea was to find affordable products that perform like expensive ones. Only the six best budget hot tubs under $500 made their way into our reviews.
Read on to find the perfect backyard spa!

A Quick Comparison of Our Favorites in 2023
Rating
Image
Product
Details

Best Overall

Intex PureSpa

Easy to adjust
Heats fairly quickly
Very solid build
CHECK PRICE

Best Value

Coleman SaluSpa

Heats fairly quickly
Can be set up to 72 hours in advance
Durable materials
CHECK PRICE

Premium Choice

Bestway Miami

120 jets
4-person bathing capacity
Good filtration system
CHECK PRICE

Intex Pure Spa Heated

Good temperature range
170 jets
Easy to control
CHECK PRICE

Goplus Outdoor Spa

4-6 person capacity
Relatively easy to transport
Cartridge-based
CHECK PRICE
The 5 Best Budget Hot Tubs Under $500
1.

Intex 28403E PureSpa Portable Hot Tub – Best Overall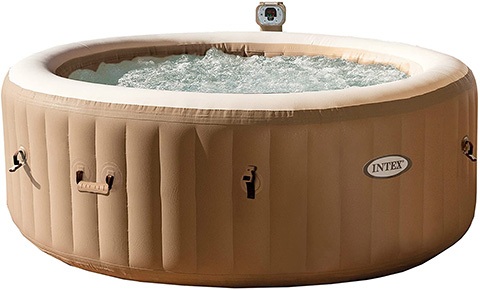 The Intex, our pick for the best budget hot tub under $500, is an inflatable spa that benefits from a great filter system. The unit treats hard water build-up, eliminating the odds that the spa jets will malfunction due to calcium deposits. It's a cartridge filtration system, which is noted for its ease of use. The cartridges can be changed out in a matter of minutes. The package also gives you several replacement cartridges to get you started.
The unit has a bathing limit of four people, and a maximum gallon capacity of 210. Its broad heat range can be adjusted between 68–104 degrees. It can be changed effortlessly via a digital control interface. Water heats up at a rate of one to two degrees per hour.
Though inflatable, the materials are made to feel more like that of a conventional hot tub. The sides will not sag when the tub is filled to capacity, and bathers can even safely sit on the side when they just want to soak their legs. It features 120 jets, which should ensure that you enjoy a thorough experience regardless of where you sit.
You should be aware that it is fairly cramped. You can eliminate this by reducing the number of bathers. However, if you need something that is truly optimal for four, this probably won't be it.
Pros
Easy to adjust
Great filter
Heats fairly quickly
Very solid build
120 jets
---
2.

Coleman 54131E SaluSpa Inflatable Hot Tub Spa – Best Value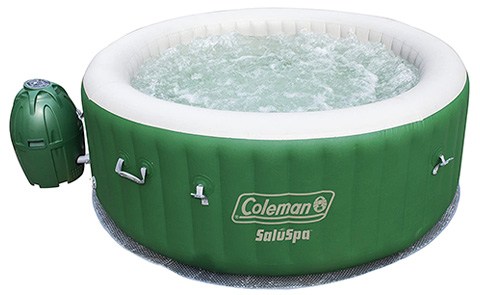 The Coleman is our best budget hot tub under $500 for the money. It's another inflatable tub, though the materials are sturdy enough to go the distance. Temperature is adjusted digitally and features a range that goes all the way up to 104 degrees. The temperature rises at a rate of between two to three degrees an hour.
Settings can be adjusted up to 72 hours in advance to conserve energy and guarantee that the pool has enough time to get to the optimal temperature. Bather capacity is between four to six people, though it will be much more comfortable when you stick to the lower end of that range. Materials are also quite solid. It's constructed of durable PVC and features a thoroughly padded bottom that is sure to keep you comfortable as you relax.
There are a couple of shortcomings to be aware of. For one thing, the unit doesn't feature any jets (it uses gentle bubbles instead), which means it does fall short of the hot tub experience most people expect.
The heating system also won't do well in cold climates.
Pros
Very affordable
Heats fairly quickly
Can be set up to 72 hours in advance
Durable materials
Cons
No jets
Doesn't work well in cold climates
---
3.

Bestway 54124E Hot Tub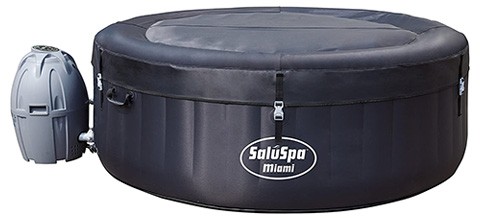 The Bestway is an inflatable tub with a four-person bathing capacity. It features 120 jets, which can all be adjusted effortlessly with a digital dial. The temperature can be adjusted by the same means and has a maximum level of 104 degrees. It features a heating rate of approximately one to three degrees per hour (depending on the temperature outside). Filtration is provided by a cartridge system for ease and effectiveness.
Siding is crafted of a "tri-tech polymer" that is built to resist scratches and punctures. Unfortunately, though, the material isn't perfect. We specifically noticed that it suffers some vulnerability near the seams, which may lead to a lot of patching.
Pros
120 jets
Four-person bathing capacity
Good filtration system
Cons
Vulnerable near the seams
---
4.

Intex 28409E Pure Spa Portable Heated Bubble Hot Tub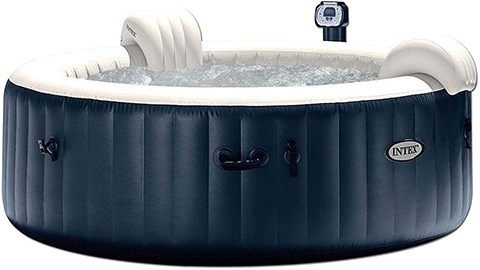 The Intex features a sizable six-person bather capacity. The unit can be quickly set up in approximately 20 minutes, and benefits from a hard water filter that prevents harmful calcium buildup. It utilizes 170 high powered jets, and a temperature range of between 68–104 degrees. Unfortunately, the equipment can't be left out in temperatures below 39 degrees.
Temperature and jets can be controlled easily via a digital dial. Unfortunately, there are a number of complaints. Some report that it leaks at the seams, while others mention the filtration system does not hold up well over time.
Granted, these complaints do not describe everyone's experience, but they have seemingly occurred often enough that you should be cautious.
Pros
Good temperature range
170 jets
Easy to control
Cons
Can't handle temperatures less than 40 degrees
Some report leaks
Others report filtration problems
---
5.

Goplus 54155E Outdoor Spa Inflatable Hot Tub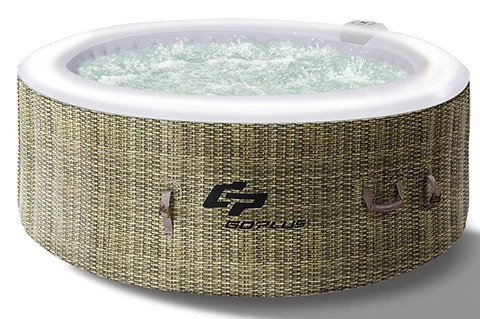 The Goplus features a maximum bather capacity of four to six people. The filtration system is cartridge-based, which means you will be able to replace them in mere seconds when the time comes. Temperature raises at two to three  degrees an hour and maxes out at 104 degrees.
It's also designed to be very easy to move. It features a weight of 48 pounds and is further enhanced by comfort grip handles.
Unfortunately, a lot of people are experiencing problems with the heater. They report that it doesn't quite reach that 104-degree ceiling, with some claiming that it barely hits 80 degrees.
Pros
Four to six person capacity
Relatively easy to transport
Cons
Some report problems with the heater

Buyer's Guide – Choosing the Best Budget Hot Tubs under $500
And now, here are some buying considerations that should help make your decision easier.
Inflatable?
All of the units features on our list today are inflatable. If your objective is to spend $500 or less, that's more or less what you will be left with. Fortunately, though, inflatable units feature most of the same benefits of the more traditional alternatives. In fact, when they are done really well, you will hardly be able to tell the difference.
Durability is one of the main concerns when you buy an inflatable product. You want to make sure that the siding is well crafted to avoid leaks and tears. PVC is one such material that typically provides a good experience, but there are a number of suitable options.
Jets
The good news is that inflatable tubs can still benefit from jets. The number of jets your tub features will determine how thorough your bathing experience is. The general rule of thumb is that more jets equates to better relaxation, but the truth is that it's also a matter of taste.
How Fast Does it Heat?
Unfortunately, inflatable tubs tend to take a while to heat up, which means you really need to plan out your usage. For example, a really good heater will still probably only heat at a rate of two to three degrees an hour.
This may sound extremely slow if you are counting up to 104 degrees, but keep in mind that the water isn't starting at zero degrees. On a hot day, your tub may be adequately heated in a matter of hours.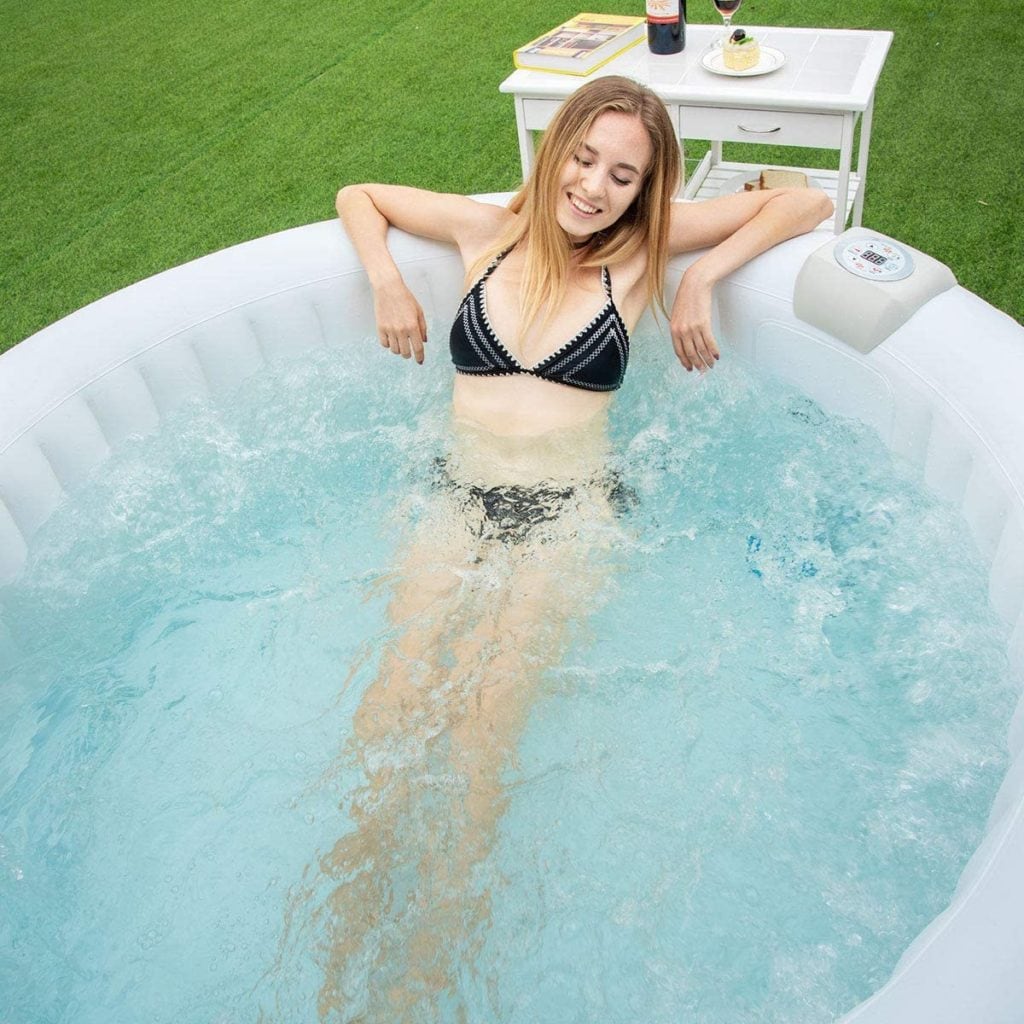 Temperature Range
The vast majority of units max out at around 104 degrees, though you will occasionally find something that goes up to 108.
On the low end, the range typically bottoms out at approximately 60 degrees.
Weather Limitations
Many units won't work so well under wintery conditions. For example, the heating system may short out at sub-40-degree temperatures. Occasionally, though, you will find one that has a really limiting threshold. For example, some tubs won't work well at less than 70 degrees.
Depending on where you live, this may be something that you have to pay close attention to.
Bather Capacity
Every tub has a maximum bather capacity. Most manufacturers list theirs as a range. For example, they might say that their tub is suitable for between four to six people. While this may be true, the majority of the time the real number will be closer to four.
Inflatable tubs are known for being fairly cramped, so plan accordingly as you shop.
Filtration System
Filtration is very important, even when dealing with inflatable spas. All of the units listed here feature a cartridge-based system. This method is really good because the cartridges can be maintained and replaced in a matter of seconds.
The only thing you need to be wary of is the replacement cost. Filter cartridges can be very expensive, so you may want to look into that cost before you buy.
Benches?
Unfortunately, most inflatable tubs don't feature the benches you see with traditional tubs. Instead, they opt for padded bottoms that are equally comfortable. For some, this can be jarring. If you really want a bench system, it may be possible to find, but keep in mind that that will add to the cost.
Inflation Time
Most of the tubs featured here are able to inflate very quickly. Still, you may want to take a peek at how quickly your unit will take to get set up, just to be safe. Some options can literally be ready in a matter of seconds (excluding the amount of time it takes to fill and heat it).
Others might have a more involved setup.
Portability
Because we are looking at inflatable tubs, portability becomes a factor. Regardless of whether or not you want to take the unit on the road with you (some like to bring their spa on camping trips), you will at least need to store it come winter. A light bodyweight and handles can go a long way towards making sure you have an easy time moving your tub.
Inflatable spas can max out at around 100 pounds, but you can also find units closer to 50 if that is important to you.

Conclusion
Have our budget hot tub under $500 reviews helped make your decision easier? If you don't quite know which unit is right for you, we get it. Perhaps your decision will be easier if you consider a couple of standout units on our list.
Buyers that are hoping to get something really choice will gravitate towards our top pick, the Intex 28403E PureSpa Portable Hot Tub.
However, if you want something that is particularly affordable, you'll probably really appreciate our best budget hot tub under $500 for the money, the Coleman 54131E SaluSpa Inflatable Hot Tub Spa.
Ultimately, all six products are really great, so buy the one you love!