2022 Hyundai Palisade vs. Toyota Highlander: Which One's Best For Me?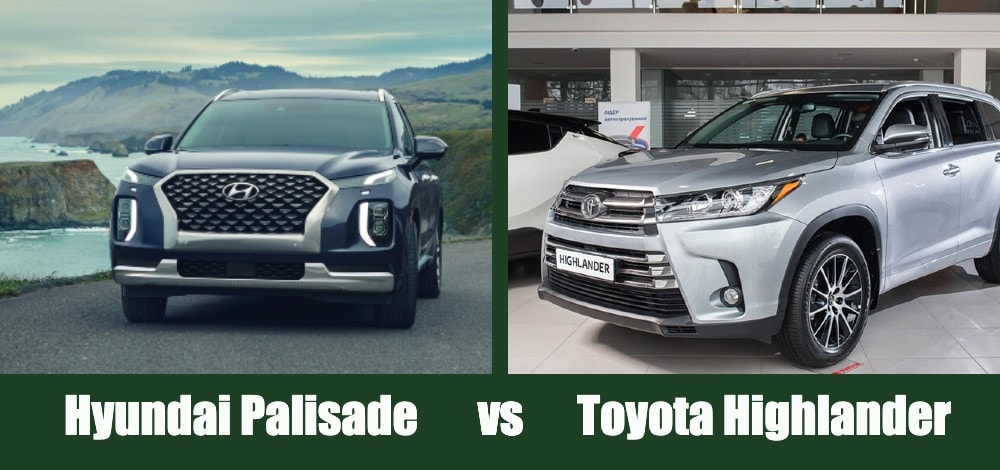 Toyota and Hyundai are companies that have been in the car-making business for quite some time, and they are very good at it. While both of these vehicles are a great choice, there are still some differences that can help you decide between these two cars. The differences are minor, yet they can mean a lot, depending on your needs.
So stay until the end of this article, because we will review one of the newest cars from each company, and if you can't decide which one to choose for yourself, maybe you will decide after reading their comparison side by side.
Let's take an in-depth look at the Hyundai Palisade and Toyota Highlander; cars that are similar yet very different in some ways too.
---
Hyundai Palisade vs. Toyota Highlander: At a Glance
Hyundai Palisade is for people who prefer:
A car that has a lot of free space
Has a more economical fuel consumption
Offers more for less
A vehicle with a big fuel tank
Provides a long and excellent warranty
Toyota Highlander is for people who prefer:
A car with a strong engine
A vehicle with a futuristic look
Long road trips
Very comfortable seating arrangement
---
Overview of Hyundai Palisade
The Hyundai Palisade is a midsize luxury SUV with three rows of seats that offers plenty of space for adults and cargo if you like to travel a lot. It is a reliable car that provides a lot of high-tech features, and the safety features on this car are some of the best that technology in 2022 has to offer. When we talk about safety, this car is built like a tank and performed very well on crash tests.
Pros
It has plenty of seating space
Provides a lot of cargo space
It is reliable
For a big car, it has a low fuel consumption
Cons
Handling this car is not as crisp as that of the competitors
It has many high-end features that add to the cost
---
Overview of Toyota Highlander
The Toyota Highlander is a crossover SUV with three rows of seating and offers a strong engine that can take you almost anywhere. It is an excellent car for steep roads and a great car to drive on roads that are hard to drive on during bad weather conditions. It is also comfortable while driving and the ride itself is pretty quiet, so the passengers can take an interrupted nap while you drive! Also, you won't feel like you are driving an SUV since the handling of this car is top-notch.
Pros
Very comfortable
Powerful engine
Above-average fuel economy
Has fast acceleration
Cons
Third-row seats are for kids-only
The cargo space is not that great for an SUV
It is a little more expensive than its closest rivals
---
Comparing them side by side
Price
Edge: Hyundai Palisade
The Toyota Highlander is a bit more expensive than the Hyundai Palisade, and the cost of maintenance and repairs is also higher. For the Hyundai Palisade, however, price depreciation is higher.
Warranty
Edge: Hyundai Palisade
When it comes to a basic warranty, the Hyundai Palisade offers a longer 5-year warranty, which includes the entire vehicle, plus offers 24-hour roadside assistance, while the Toyota only has a 3-year warranty. The Palisade has a warranty for corrosion 2 years longer than the Highlander's—for the Palisade, there is a 7-year corrosion warranty, and for the Highlander a 5-year corrosion warranty. Also, the drivetrain warranty for the Hyundai is 10 years, while for the Toyota only 5 years.
Performance
Edge: Toyota Highlander
Performance on both cars is top-notch, but Hyundai Palisade falls behind just a little bit when it comes to handling.
Design
Edge: Tie
Both cars' design is exquisite and luxurious for 2022, and they are pretty similar with minor differences that may or may not affect the choice of which one to buy.
Which one is better for me?
If you want to save a bit of money and get a longer warranty, then the Hyundai Palisade is your car. If you are looking for performance and comfort, you should go for the Toyota. That said, if you want more space for passengers and more space for cargo, you should go for Hyundai since Toyota's third row is kids-only. Also, Toyota's fuel consumption is good, but Hyundai's is a little better, so we recommend going for Hyundai if you are planning longer trips.
One more important fact is that Hyundai's depreciation is higher than that of Toyota. If you plan to keep the car for an extended period of time, then go for Toyota because the car's value will not drop as much as Hyundai's over the years.
---
Conclusion
In this comparison, we don't have an absolute winner because both cars have advantages and disadvantages—what it lacks, it makes up for in some other areas. One is more expensive while the other loses its value faster. On one side, we have comfort, and on the other, more space for passengers and cargo plus lower fuel consumption versus better handling.
Maybe you prefer Toyota over Hyundai or the other way around, or perhaps you prefer small details like the style of headlights. It all comes down to the buyer's preference. If you need a reminder of the differences between these two amazing cars, you can always come back to our article and read what these cars have to offer so that you can make the best possible decision.
See also:
---
Featured Image Credit: (Left) hyundai.com (Right) BONDART PHOTOGRAPHY, Shutterstock