9 Kitchen Color Trends in 2023 – Design Ideas for a Modern Home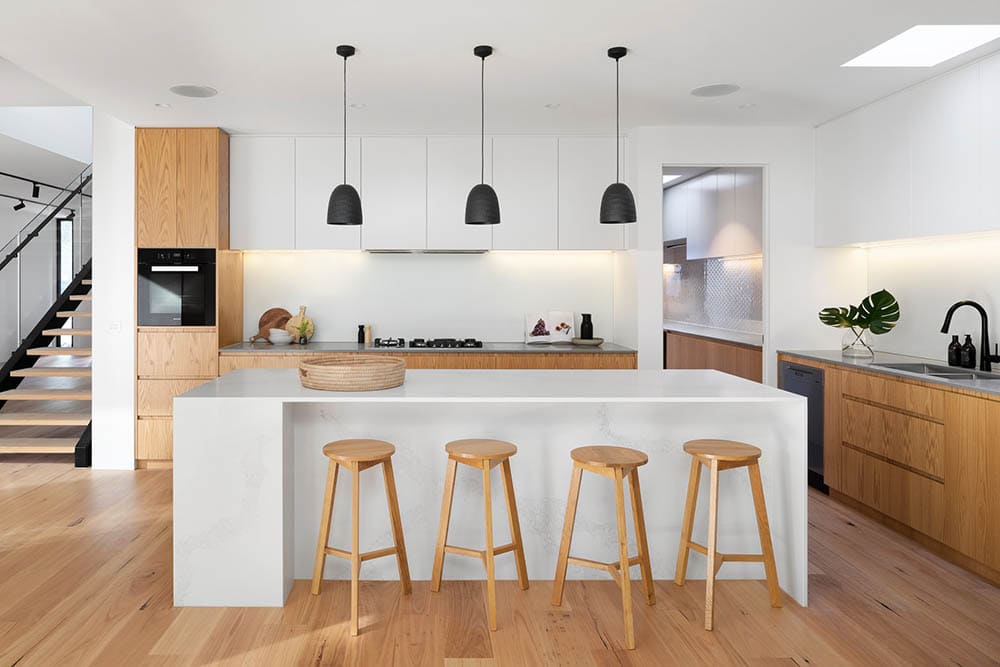 Kitchen color trends are always evolving. In the 2000s, kitchens started becoming white and monotone—or completely brown. However, nothing lasts forever. We're now starting to move beyond these safe looks and pick some unique colors for our kitchens.
In this article, we'll review some of the most influential colors for this year's kitchen designs. While some colors will probably always be with us (like white), others represent some unique options that can make your kitchen stand out just a little more.

Top 9 Kitchen Color Trends
1.

Natural Colors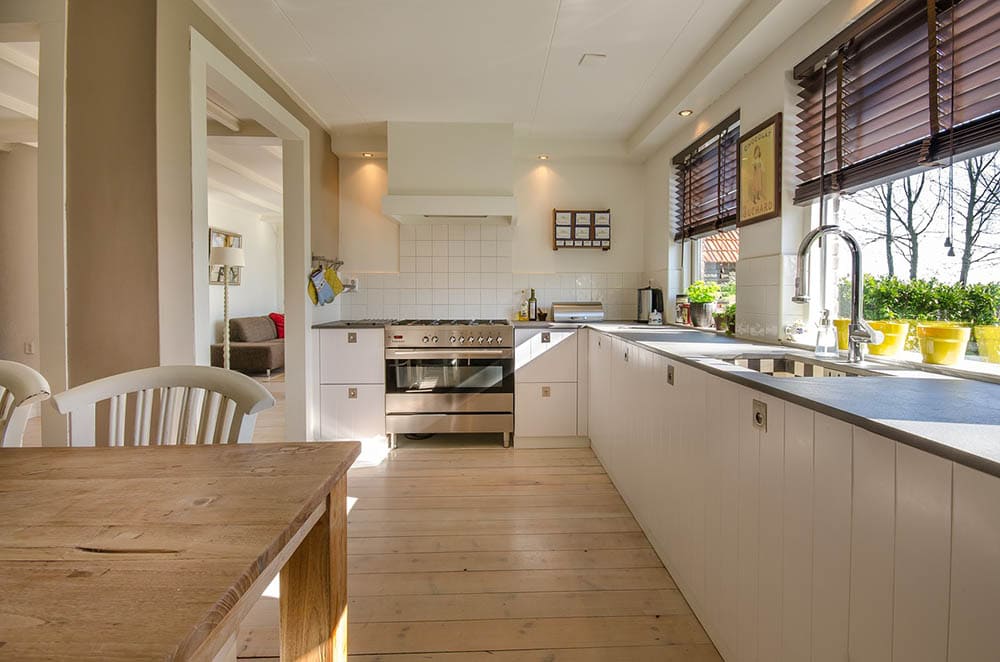 As opposed to the ultra-white kitchens of the past, many designs are now turning to natural elements and color. Wood as an accent is becoming extremely popular, as it adds some nice warmth in usually sterile kitchens. You can add wooden accents, light fixtures, and other elements that can make your kitchen stand out.
At the same time, the natural elements can balance out plenty of white, making it a suitable way to quickly upgrade a kitchen as well.
Having plenty of plants is also a great option, as it provides a natural look seamlessly and without completely redoing your kitchen.
---
2.

Bleached Wood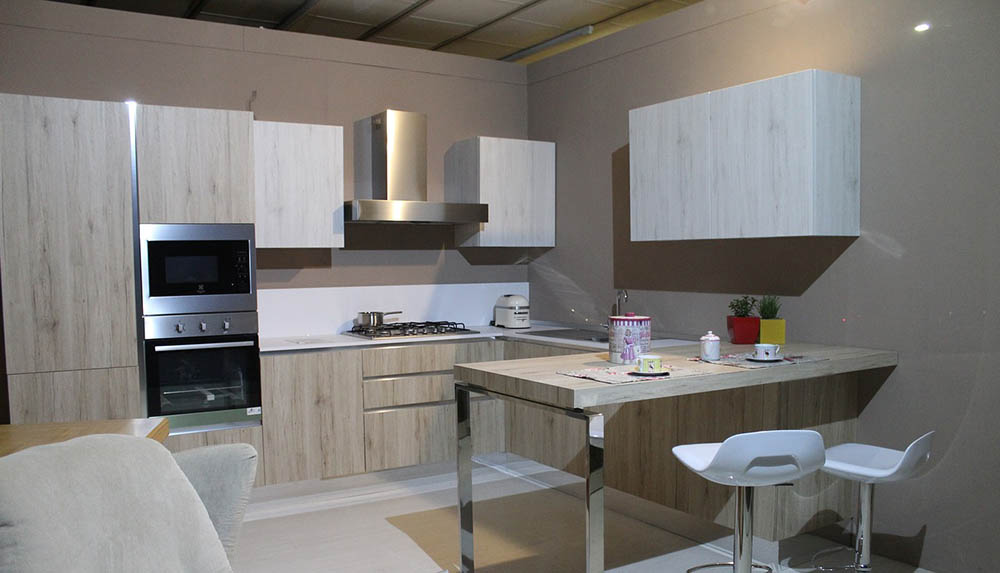 Blanched wood is becoming popular throughout many rooms, but you can utilize it in many different ways in a kitchen. While blanched wood floors are always an easy option, you can also select muted wooden cabinets or chairs.
While darker brown wood floors were popular in the past, many people are now using these blanched wooden floors. Vinyl is a popular option, as it comes in many different shades and is much cheaper. However, you can get real blanched wood as well.
---
3.

Blue
Instead of the usual whites and grays, many people are trying out other cool colors in their kitchens. Blues of all shades have become popular, but powder blue is probably one of the most popular options.
Usually, people paint their cabinets this color. However, you can also paint the walls blue or just use blue accents. Try some blue cushioned chairs for an antique and cozy feel.
You can also turn blue into an industrial look by choosing a lighter shade and then adding industrial accents, like brass handles and nickel finishings.
Blue is such a versatile color that you can really use it for a wide variety of different designs and styles. If you're looking for an alternative to white, blue may be your new best friend.
If you do decide to use blue, be sure that you only use one shade. Different shades can clash easily. Plus, blue only works well with other cool colors, of course.
---
4.

Black and White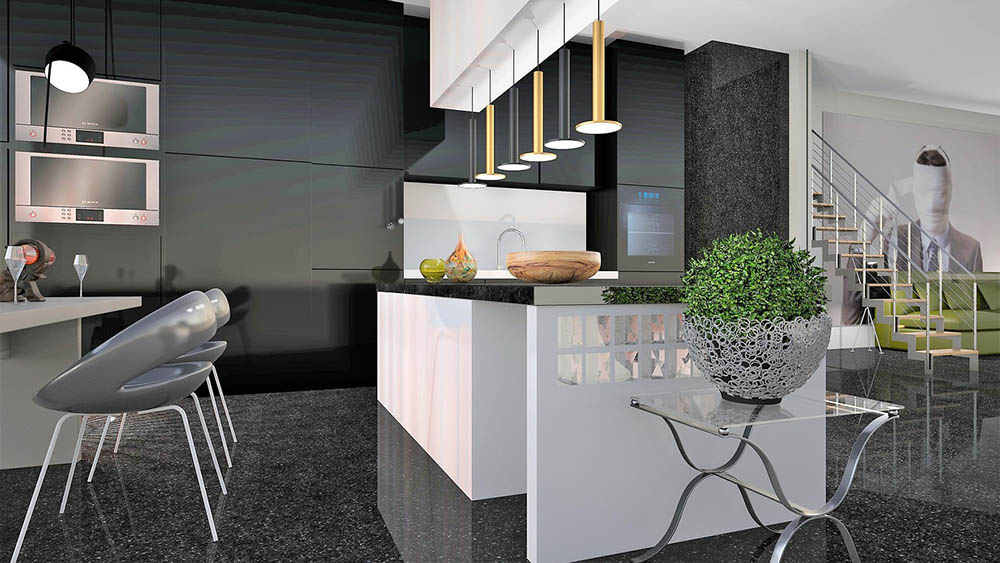 While monochromatic colors have been all the rave for quite a few years, the traditional black and white scheme is just now making a comeback. You can mix white countertops with completely black cabinets, for instance. This design provides some liveliness to the kitchen while still keeping everything a neutral color.
While black and white are both neutral colors, this design really pops. Therefore, we recommend not adding any other statement design pieces in a black and white kitchen. It can all seem like too much very quickly.
You can experiment with the color of the finishings, though. Gold can look very good on black cabinets, for instance. Plus, there are so many different finishings today that you can really experiment with different designs.
---
5.

Warm Neutrals
We all know about cool neutrals, like grays and white. However, warm neutrals are now making a comeback. Tan and similar brown colors are a great way to make the kitchen feel a bit homier. You can also match warm neutrals with white for a clean kitchen feel that isn't sterile.
One of these kitchens can become very cozy when done correctly.
Just be wary of accent colors. Most kitchen décor is made for cool colors, as that's what's most popular currently. However, warm neutrals need to be paired with warmer colors, like green.
Of course, wood also falls into the category and is becoming more and more popular. You don't necessarily want to mix wood with other tans and browns, though, as it can lead to shade clashing.
---
6.

Teal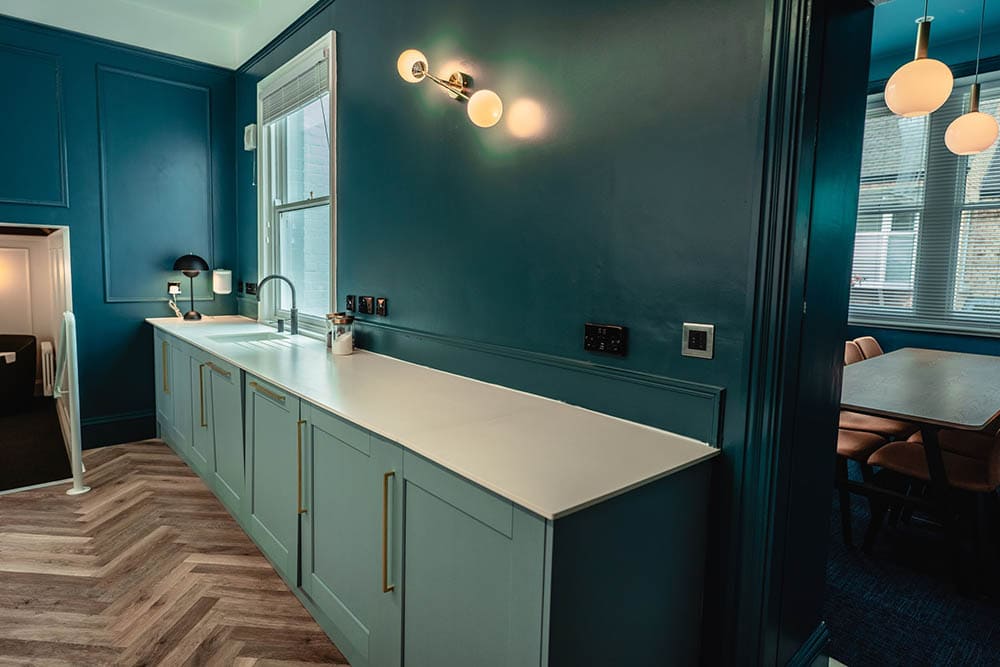 Teal is becoming a more popular color throughout the home. For instance, many people have used teal in their bathrooms. However, you can also utilize it in your kitchen for a stylish alternative to whites, grays, and other cool colors. We highly recommend not using too much teal in a kitchen. While it is a pretty muted color, it can quickly become a bit overwhelming.
Therefore, we recommend using this for an accent color only. You can also use it to paint the walls or as a cabinet color. However, don't make the floors and cabinets teal. You need some variation.
---
7.

Muddy Green
While muddy green may not seem like a popular color, it is quickly becoming one of the most common kitchen colors. It is muted and toned down, making it the perfect choice for use with white and other colors.
If you're looking to warm up a cool kitchen, painting your cabinets muddy green is a great way to do it, especially if you have light-colored cabinets and floors.
Muddy green also goes very well with wood tones, and you can use a range of different finishings. However, don't make everything too dark, as it can make the space too small and cramped.
---
8.

Darker Wood
While it isn't as popular as it once was, dark wood can still be a great choice for a kitchen as long as you're using it carefully. Like in our example, you don't want too much dark wood, as it can cause the whole kitchen to darken and seem rather small. You also don't want to make your kitchen seem smaller; you want it to look bigger.
Therefore, darker wood works best in a kitchen that is already large. Don't use it in a small kitchen, as it will make it look even smaller. Plus, you don't want to utilize it unless you have a lot of natural life, which naturally makes areas seem larger.
Related Read: 13 Kitchen Cabinet Plans You Can Build Today
---
9.

Wallpaper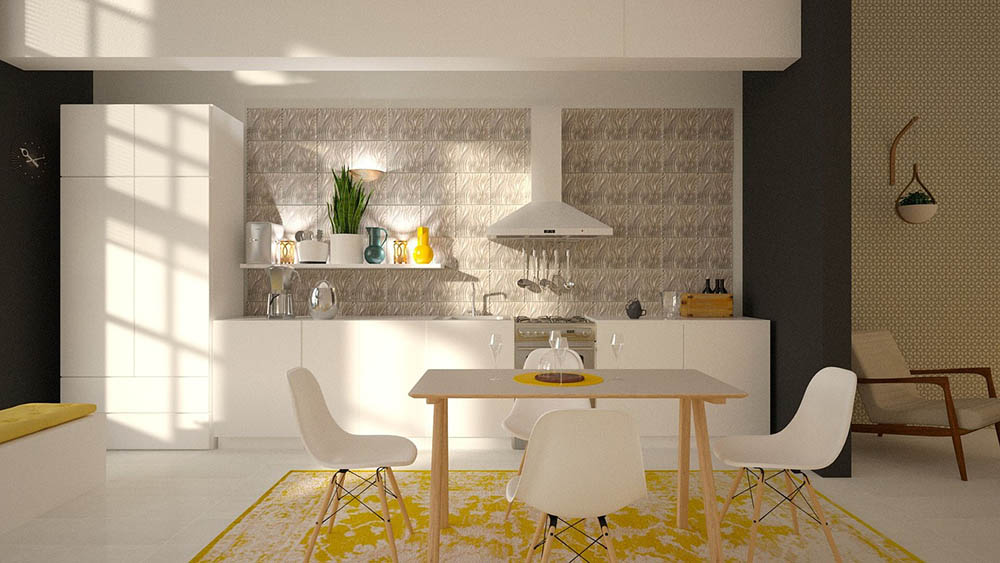 We once thought that wallpaper was going to be out. However, it is becoming trendy again. Lots of different wallpapers can be used in kitchens to bring some unique patterns and colors. For instance, the leaf pattern in our example is a great example. A few years ago, it may have been outdated. However, people now crave the warmth that many wallpapers often bring.
There are countless different wallpaper options out there. Take your time to choose the option that you want for your kitchen.
---
What Are the New Kitchen Colors for 2023?
Greens and blues will be the most common colors throughout the home this year, and the kitchen will be no different. Many people are moving away from browns and monochromatic colors, replacing them with various shades of greens and blues. Luckily, there is a lot you can do with greens and blues.
Blues work best for cool colors. They can look good with grays. However, golds also look well with blues, as well as some browns.
Greens are also a great color, but they are on the warmer side. Therefore, this is a great option for those who want to use browns and warmer colors. If you're going for cozy, then you want to choose green.
You can use either of these colors as the main color or as an accent.
While blues and greens are a great option, whites will also be a good option. White is a timeless color. However, be sure that you aren't using only white, as it may cause the area to look sterile. You don't want everything white, or it will end up looking like a hospital.

Conclusion
White is still one of the most popular colors for kitchens. It will likely continue to be the most popular color for years (and maybe even decades). However, the key to this year's trends is to move beyond white and other monochrome colors.
Natural colors, like dull browns and wood, are becoming very popular. Many designs are moving towards making homes cozier, which requires a lot of warmer colors. Furthermore, plants are coming into popularity, as they provide warmth as well.
Blues and greens are going to be the most popular option by far. You can pair these with plenty of other colors, including white. You can use them as the primary color or as an accent.
See Also: 8 White Kitchen Appliance Trends
---
Featured Image Credit: R ARCHITECTURE, Unsplash