Kohler Cimarron Toilet Review 2023 – Pros, Cons, & Verdict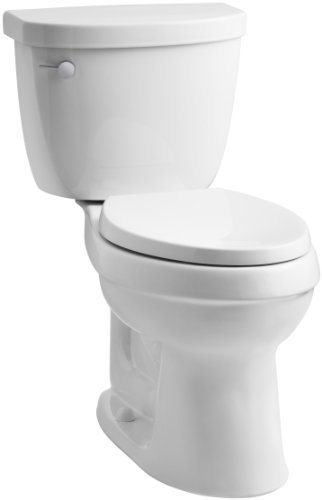 We give the Kohler Cimarron Toilet a rating of 3.4 out of 5 stars. 
Build Quality: 3/5
Power: 3/5
Features: 3.5/5
Price: 4/5
If you're searching for a new toilet, one of the brands you're likely to see repeatedly is Kohler. They're one of the most well-known names in bathroom fixtures, offering quality products at reasonable prices. The Cimarron, one of their most popular toilets, is no exception.
While this toilet is very average in appearance, it offers excellent performance. Most of this can be attributed to the AquaPiston flush canister that provides a class five flush capable of evacuating up to 1,000 grams of waste in a single flush.
But the biggest draw of this toilet is likely its affordable price. Compared to similar offerings from other brands, the Cimarron is more affordable than many but doesn't require a sacrifice in performance. It offers a conservative flush that uses just 1.28 gallons of water but still manages to empty the bowl and prevent clogging.
Kohler Cimarron – A Quick Look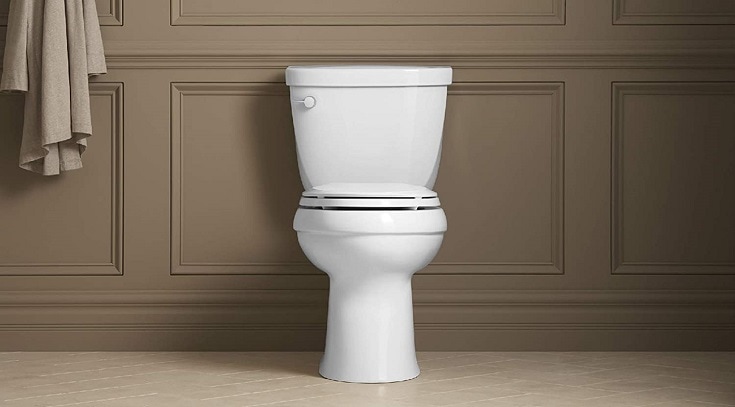 Specifications
Brand Name: Kohler
Model: Cimarron
Water Use: 1.28 GPF
Seat Height: 17"
Flush Technology: Aqua Piston
Design: Two-piece
Included: Seat, wax ring, installation hardware
Pros
Includes seat, wax ring, and installation hardware
Uses just 1.28 GPF
AquaPiston flush canister for a thorough, powerful flush
Priced affordably
Comfort height seating
Cons
Two-piece design isn't the most hygienic
Offers very basic appearances
The finish in the bowl wears off over time
AquaPiston Flush Valve Class 5 Flush
The Kohler Cimarron is a very low-volume toilet, using just 1.28 gallons of water with each flush. Many toilets today offer this level of water economy, but they're commonly complained about as having poor flushing ability. However, the Cimarron is an exception to this rule.
This toilet is equipped with a special AquaPiston flush valve that releases the water quickly in 360 degrees for a powerful flush. In fact, it's so powerful that it has a class five rating, which means that it can evacuate up to 1,000 grams (2.2 pounds) of solid waste in a single flush.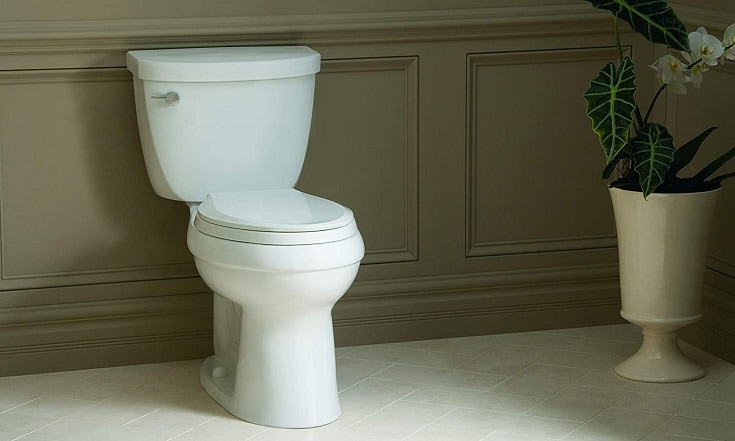 Affordable Price, Average Appearance
One of the traits that attract many people to this toilet is its affordable price. Compared to toilets from other major manufacturers, the Cimarron is priced very reasonably but still offers great performance.
What it doesn't offer is anything special in the appearance department. It's not ugly; it's just completely average. Of course, that's not necessarily a bad thing. But if you're looking for a stylish throne to complete your bathroom, it's probably not the Cimarron.
Everything You Need is Included
It can be really frustrating to get your toilet and think you're ready to install it, only to realize that you're missing some vital components once you have the old toilet removed. We've experienced this with many toilets over the years.
Luckily, the Cimarron includes everything you need for installation, making it an even better value for the price. You'll get a seat, wax ring, and even all the hardware necessary for installation, saving you time, frustration, and a trip to the hardware store.
Not the Most Durable Finish
This finish on the Cimarron looks good. Inside the bowl, the finish does a good job of preventing waste from sticking. However, it's not the most durable finish we've seen. After several years of use and regular cleaning, the finish in the bowl can start to wear off, resulting in more waste sticking. You won't really notice the worn finish unless you're looking hard for it, but if you clean your toilet regularly, you'll probably notice it starting to wear out faster.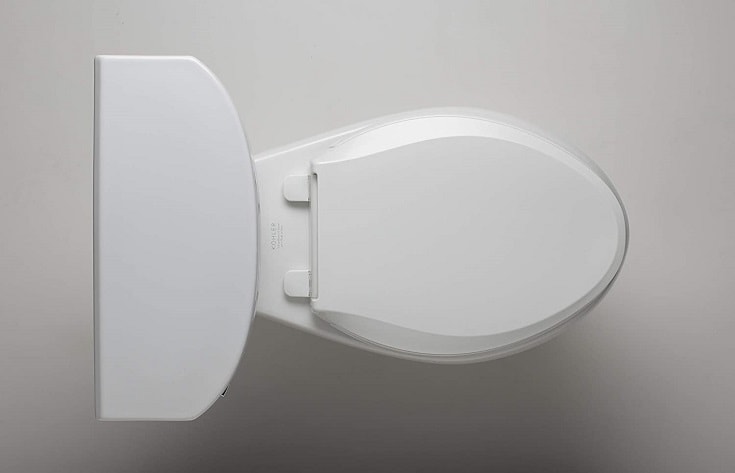 ---
FAQ
Is the flush strong enough to do away with large waste?
One of the best things about the Cimarron is the powerful class five flush that is strong enough to evacuate up to 2.2. pounds/1,000 grams of solid waste in a single flush.
Is the Cimarron ADA compliant?
The Kohler Cimarron is 100% ADA compliant. It also meets all the criteria for the EPA WaterSense certification.
Is there a warranty protecting the Kohler Cimarron?
Yes. The Cimarron includes a one-year limited warranty.
---
What the Users Say
We're very confident in our opinions about the Cimarron. However, we also realize that our opinions aren't the only ones and others might view this product differently. We want to make sure that you're getting the whole picture, so we decided to find the opinions of other users to share with you as well. We scoured reviews, forums, and anywhere that people were espousing their opinions of the Kohler Cimarron, and this is what we found.
Many users had complaints about the toilets they've used in the past after using the Cimarron. One of the most common complaints was that previous toilets were unable to flush large solid waste, which most users seemed to believe the Cimarron remedied. Plenty of people claimed that family members had the largest waste they've seen, but that the Cimarron was perfectly capable of flushing it with ease. These users often said that they never had to unclog their Cimarron, where they were constantly unclogging previous toilets.
On the other hand, some users who had the toilet for several years complained about the longevity of the finish in the bowl. They showed that after many uses and many cleanings, the finish in the bowl began to wear off. Once this happens, waste is even more likely to stick to those areas.
A common praise for the Kohler Cimarron is its affordability. Many people chose this over other models because of the high performance you get for an affordable price. Moreover, lots of users seemed please at the inclusion of the necessary installation hardware, wax ring, and seat. Though some users weren't happy that the seat wasn't a soft closing seat. There were also several complaints about the seat breaking when someone sat on it while it was closed.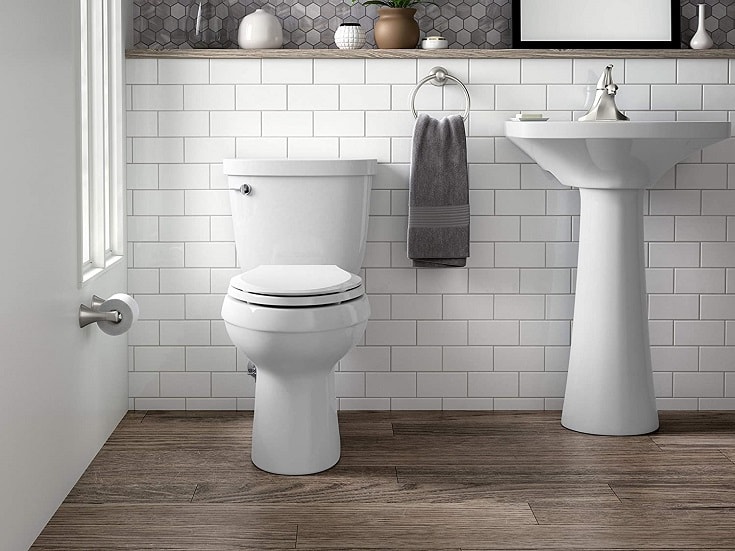 ---
Conclusion
Altogether, the Kohler Cimarron represents an affordable toilet that offers a powerful flush punching beyond its price. You'll get a very average-appearing toilet with the Kohler Cimarron, but you won't be spending time unclogging it regularly. You also won't have to break the bank or make other sacrifices to afford it. It comes in a comfort height for anyone who has a hard time with shorter toilets. But the finish in the bowl may begin to wear over time.