Tesla vs. Mercedes: Which Is Better?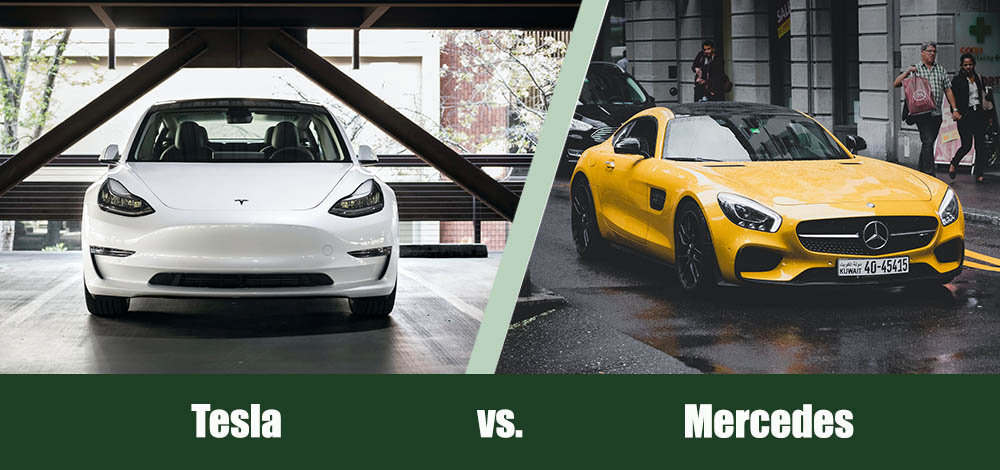 When it comes to technological luxury and auto-engineering, there's no doubt that Tesla and Mercedes are two of the top players in the game. Since both manufacturers are impeccable in terms of reliability and value, it's hard to choose the best option.
However, you'll need to take your pick if you're in the market for a new luxury ride. Luckily, we've compared both car brands' manufacturing, product line, pricing, and warranties to help you make a wiser decision.
In the end, Mercedes cars provide a more luxurious experience, while Tesla cars are ideal for tech enthusiasts. Here's a complete comparison of Tesla Inc. and Mercedes-Benz.

Quick Overview
| | | |
| --- | --- | --- |
| Brand name | Tesla, Inc. | Mercedes-Benz |
| Established | July 1, 2003 | June 28, 1926 |
| Headquarters | Austin, Texas, United States | Stuttgart, Germany |
| Product lines | Electric cars, Cybertruck, Tesla Roadster | SUVs, Sedans, Coupes |
| Parent company/ major Subsidiaries | Maxwell Technologies, Tesla India, Tesla Insurance, Inc. | Mercedes-Benz Group, Mercedes-AMG, Mercedes AMG Petronas F1 Team |
Brief History of Tesla
Established by Martin Eberhard and Marc Tarpenning in 2003, Tesla was initially known as Tesla Motors. With Tesla, Eberhard aimed to combine car manufacturing with technology, making the battery, software, and proprietary motor its main components.
Despite his popular affiliation with the brand, Elon Musk is not actually a founder of this car manufacturer. Instead, he purchased a $6.5 million share in the company in 2004. Then, in 2008, he became CEO of Tesla Inc. and has served since.
In 2004, J. B. Straubel joined as the company's chief technical officer, and Ian Wright became the third employee. Eberhard, Tarpenning, Wright, Musk, and Straubel established a lawsuit settlement in 2009 to call themselves co-founders of Tesla Inc.
Musk describes Tesla as a step toward sustainable transport and energy, evident in its electric car models and solar power use. The first Tesla car model, the Roadster sports car, was produced in 2009.
Soon followed the Model S sedan, the Model X SUV, the Model 3 sedan in 2017, and the Model Y crossover. Finally, in 2021, the Model 3 was declared the first electric car model to sell 1 million units globally, making it the best-selling plug-in electric car in history.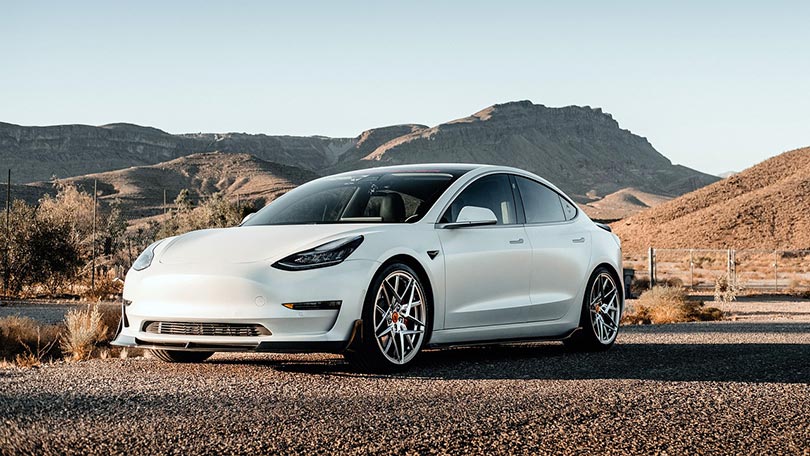 Brief History of Mercedes
There's no doubt that Mercedes-Benz is a much older manufacturer than Tesla Inc. Founded in 1926, this nearly century-old company was established by Gottlieb Daimler and Karl Benz. The two founders had their own companies, Daimler Motoren Gesellschaft and Benz and Cie.
The companies collaborated to create the world's first car with internal combustion, introduced as the Mercedes. The name is inspired by the daughter of an automobile entrepreneur working with DMG at the time, Emil Jellinek.
In 1926, the founders merged their companies to create Daimler-Benz, the original name for Mercedes-Benz. The same year, they rolled out the first Mercedes-Benz branded vehicle lineup. During the 1930s, the company manufactured military products, such as lorries and aero engines.
Unfortunately, the company has an unpleasant history during Germany's Nazi era. In 1944, nearly 46,000 Mercedes employees were war prisoners, concentration-camp detainees, and forced laborers while the company contributed to war production.
In 1988, the company paid their families $12 million in reparations. The company has manufacturing facilities on seven continents and remains the longest-standing car brand.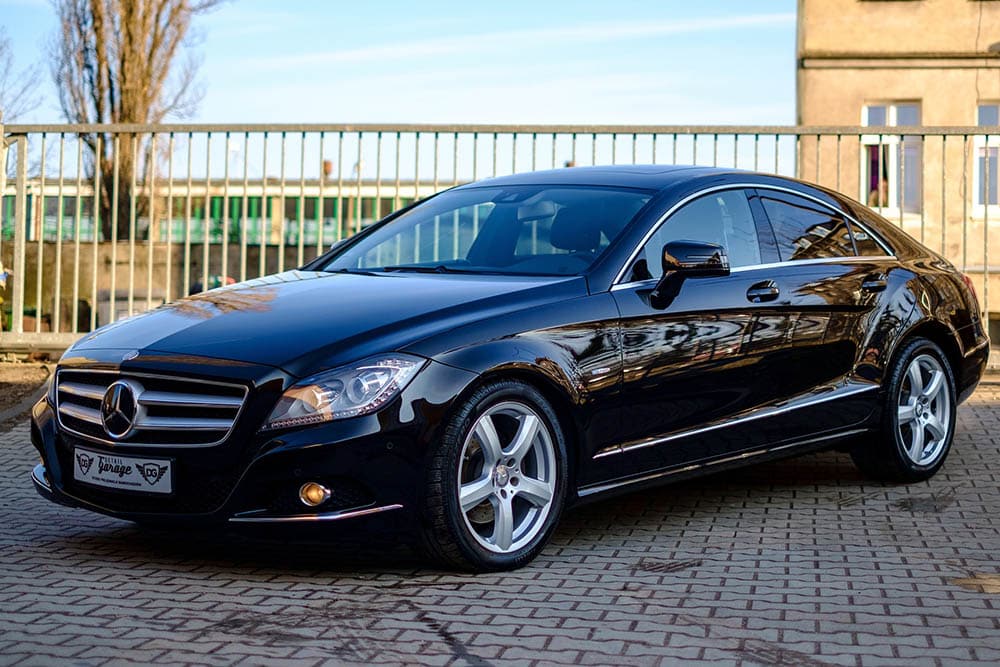 Tesla Manufacturing
Since it's a relatively new company with a limited product line, Tesla has manufacturing facilities in only a few locations. The first Tesla manufacturing facility, Tesla Fremont Factory, opened in Fremont, California, in 2010. This facility has 10,000 employees and specializes in the Model S, Model X, Model 3, and Model Y.
In 2016, Tesla opened the Gigafactory Nevada in Storey County, Nevada, with approximately 7,000 employees. This facility specializes in Tesla's batteries, Powerwall, Powerpack, Megapack, and Semi models.
The following year, the Gigafactory New York opened in Buffalo, New York, with 1,500 employees. This is the only Tesla manufacturing facility that produces the company's superchargers and solar roofs.
The Gigafactory Shanghai is the only Tesla facility in China. With over 15,000 employees, the facility manufactures the Tesla Model 3 and Model Y cars. Meanwhile, the Gigafactory Berlin-Brandenburg in Grünheide, Germany, focuses solely on the Model Y.
Finally, Tesla opened the Gigafactory Texas in Austin this year with 10,000 employees working on Model Y and 3 Tesla batteries. In the future, they plan on manufacturing the Tesla Cybertruck, Model 3, and Semi models in this facility.
Tesla does not have any production facilities in other countries. But it does have showrooms in Australia, the UAE, Israel, Jordan, South Korea, Taiwan, and Tilburg.
Mercedes Manufacturing
Unlike Tesla, Mercedes has endless manufacturing facilities across the world. Of course, it has multiple factories in its home country, Germany, but it also manufactures in 32 other states.
The company has facilities in four African countries, including Algeria, Egypt, South Africa, and Nigeria. These factories work with manufacturers such as the Egyptian German Automotive Company and SNVI to produce Mercedes buses, trucks, utility motors, and specific car models.
Since China is Mercedes' largest market, it has a dedicated Beijing Benz production facility. This factory specializes in A-Class, C-Class, E-Class, GLA, GLB, GLC, and EQC models for the China market. The same goes for India, as the Daimler India Commercial Vehicles Pvt. Ltd. facility produces buses, trucks, and engines in Chennai. Mercedes has facilities in other Indian locations, too, namely Pune, Bangalore, and Jamshedpur.
In Europe, Mercedes cars are manufactured in Austria, Bosnia and Herzegovina, Denmark, Finland, Hungary, Serbia, Spain, and the UK. Additionally, the Mercedes-Benz US International production facility in America works on trucks and C-Class vehicles.
Other countries that host Mercedes manufacturing include Russia, Brazil, Argentina, Canada, Thailand, Australia, and more.

Tesla Product Line
Tesla is known for its electric car models, but it also plans on introducing cyber trucks and semi-trailer trucks. Here's a complete overview of Tesla's product line.
Model S
Tesla's Model S car is a five-door liftback sedan, first delivered in 2012. This car has won multiple awards, including the 2013 Motor Trend Car of the Year, Automobile magazine's 2013 "Car of the Year," the 2013 "World Green Car," and more.
The Model S Long Range Plus has the highest EPA range of any electric vehicle and was declared the world's second-best-selling electric car.
Model 3
Introduced in 2016, this model is a four-door fastback sedan and the world's best-selling electric car. Along with complete self-driving hardware, this car also includes periodic software updates that add to its functionality.
The Model 3 Long Range has an exceptional EPA range of 358 miles, competing with the Mercedes-Benz C-Class.
Model X
A mid-size crossover SUV, the Model X comes in 5-, 6- and 7-passenger configurations. It's inspired by Model S's full-sized sedan platform, including the vertically opening passenger doors for a falcon-wing design.
This car ranks seven on the world's list of best-selling electric cars. America is the biggest market for the Model X, accumulating approximately 57,327 sales annually.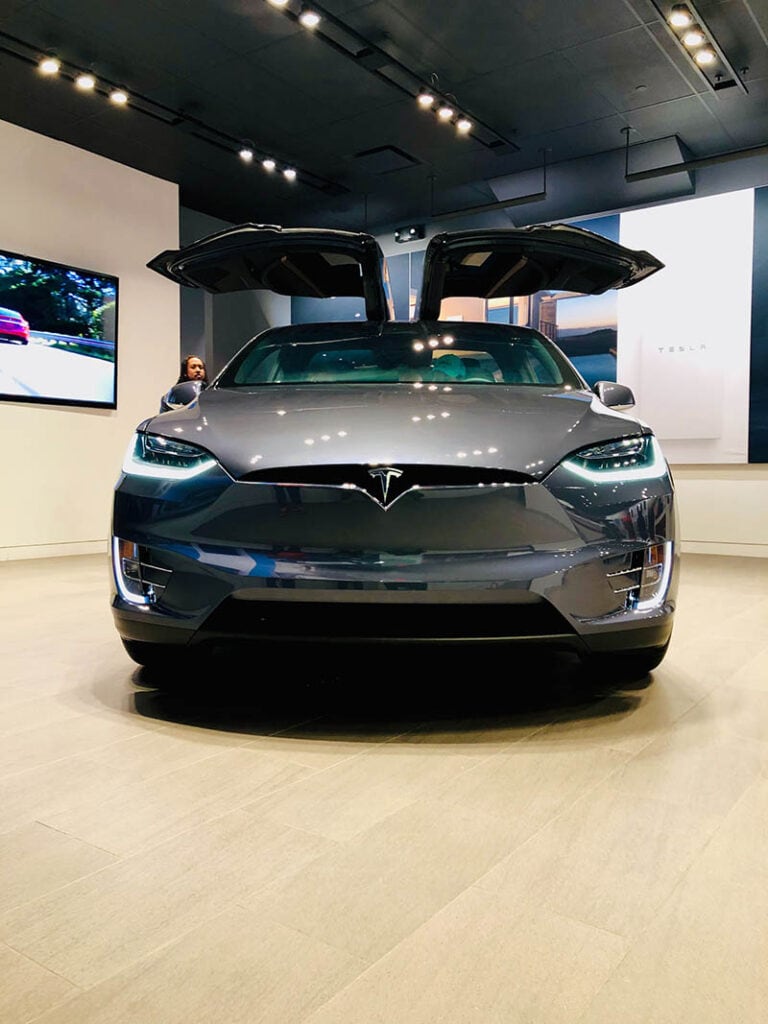 Model Y
Inspired by the Model 3, the Model 3 car is a compact crossover utility vehicle. Its three rows of seats can accommodate up to seven people, offering 68 cubic feet of cargo space when the seats are folded.
It also has an exceptional EPA range of 326 miles. This model is only manufactured in Shanghai and California facilities but will be introduced to German factories.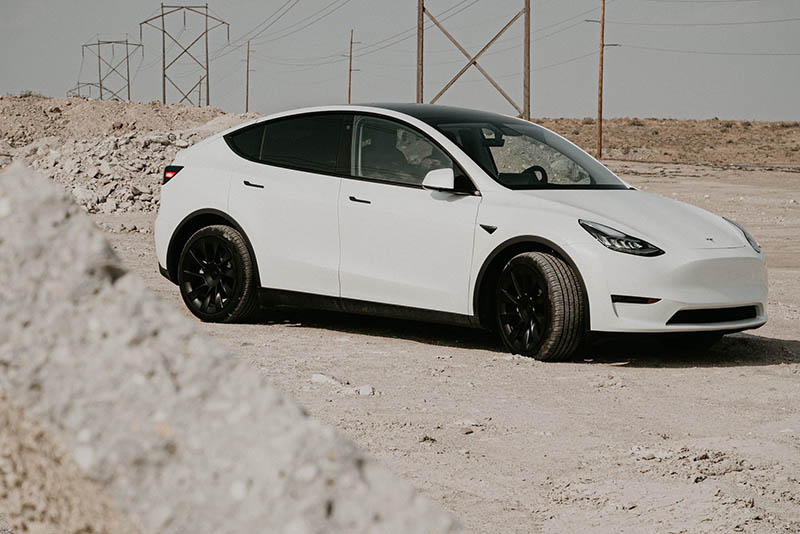 Discontinued and Future Products
Although the Tesla Roadster was discontinued in 2012, Tesla plans to deliver a second generation. The original version was a two-seater sports car with lithium-ion battery cells and an impressive mileage of 200 per charge.
Surprisingly, Tesla also launched this car into space for a Mars-crossing orbit. The newer version is said to have a 620-per-charge mileage and cold air thrusters to increase the speed. Other future Tesla products include their cyber-truck and a semi-trailer truck.
Mercedes Product Line
Mercedes-Benz is known for its luxury sedan, SUVs, and coupes, but the company also manufactures buses, trucks, and vans. Here's a complete overview of Mercedes' product line.
Cars
Most Mercedes models are luxury electric cars, with their crossovers, sedans, sport utility vehicles, and off-road vehicles being popular options. A few well-known examples include the EQB crossover, EQE sedan, and EQE SUV.
Mercedes compact and subcompact models, such as the A-, B-, and C-Class, are also quite popular. Other examples include the GLA subcompact crossover, GLB compact crossover, GLC compact SUV, and SLA subcompact coupe.
Of course, Mercedes also sells sports cars, such as the AMG GT 4-Door, AMG ONE, and AMG GT models. Finally, the AMG SL is the only luxury grand tourer roadster offered by the manufacturer.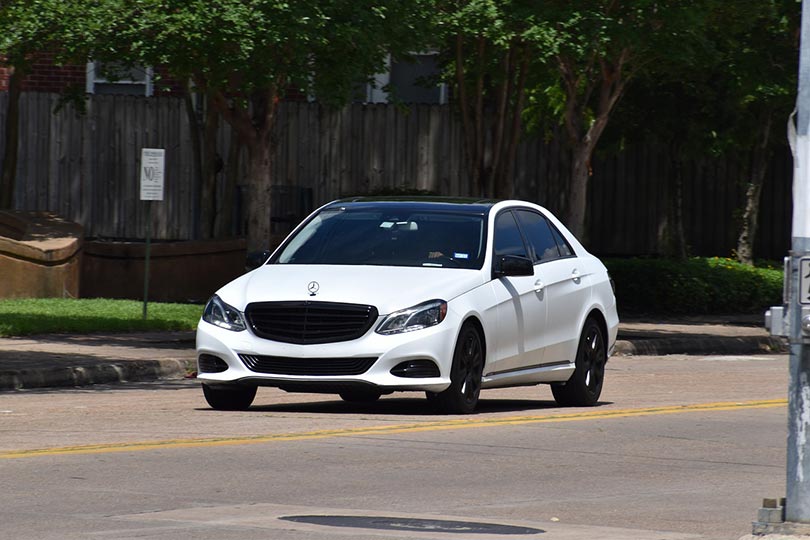 Vans
Sprinter, Vito, and Citan are three types of vans manufactured by Daimler AG and offered by Mercedes-Benz. While the Citan is a panel van, the Mercedes Vito is a minivan, and the Sprinter is a high-speed commercial van.
Trucks
Initially, Mercedes-Benz trucks were introduced by the brand itself. However, these trucks now have their dedicated subsidiary, namely Mercedes-Benz Trucks. With their first truck sold in the 1880s, Mercedes built the first production facility in Germany after the world war.
Currently, Mercedes trucks are manufactured in Africa, the US, and India.
Buses
Mercedes-Benz introduced its buses in the 1890s in Germany, with the first model being made by Karl Benz himself. Since the 90s, these trucks and buses have been built under EvoBus GmbH and belong to Daimler Truck AG.
EvoBus GmbH markets Mercedes buses in Europe, while regional subsidiaries handle marketing in other countries. Europe and Asia are the main markets for Mercedes buses and trucks.

Tesla vs. Mercedes: Price
Both manufacturers offer luxury electric cars, so there's no doubt that their models will always be on the pricier side. However, if you have the budget for it, you can decipher between their affordable and premium picks.
Generally, Tesla cars tend to cost more than Mercedes models.
Tesla
Tesla is undoubtedly the pricier option of the two luxury car manufacturers.
Its cheapest model is the 2022 Tesla Model 3 Rear-Wheel Drive, which has 272 mileage per charge and was introduced in 2017. However, even as the most affordable product, this car costs more than what most expect to pay for a compact executive sedan.
Contrastingly, the 2022 Tesla Model X Plaid is their most expensive model, with its price being in the six figures. It's considered one of the best-performing crossovers, featuring six seats, falcon-wing doors, and a 1,020-horsepower platform.
It's also worth noting that Tesla plans to launch a 202X Tesla hatchback at a rumored price of $35,000. If this speculative price turns out to be accurate, this will be the most affordable model Tesla offers.
Mercedes
Mercedes' most affordable option, an A-Class sedan, is much cheaper than Tesla's low-end model. This car is available in two models: an A 220 Sedan and an A 220 4MATIC Sedan. Both models have similar prices.
Described as compact and sleek, the GLA SUV is Mercedes' most affordable SUV at a similar price to the A-Class sedan. The CLA coupe is another similarly priced option available in four different models at varying prices.
Truthfully, Mercedes' cheapest electric isn't economical, as it's priced similarly to its most expensive wagon. Undoubtedly, the Mercedes-Maybach GLS SUV is the priciest car the brand offers, as it's described as the height of luxury.
Even yet, these prices are only regarding the commercially available cars. Mercedes recently completed a $142 million sale for the rare 1955 Mercedes-Benz SLR to establish the Mercedes-Benz Fund.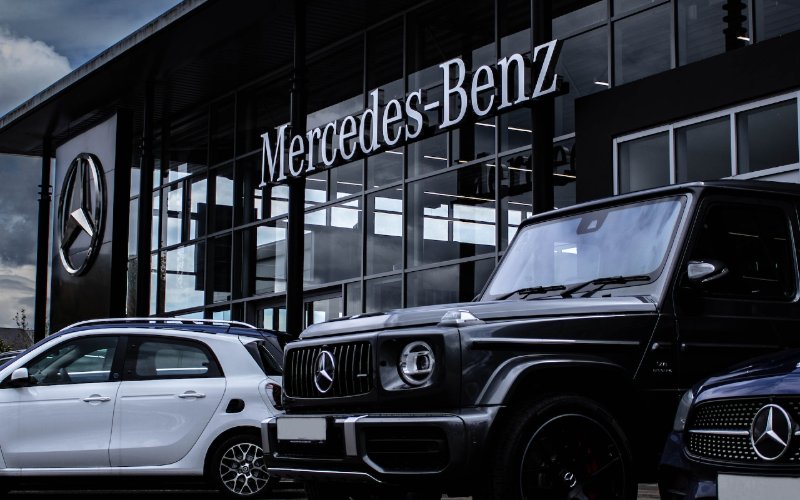 Tesla vs. Mercedes: Warranty
Since both brands deliver luxury cars with cutting-edge technology, their reliability ratings are low, and the models are vulnerable to failure. As a result, their models require an all-encompassing warranty to back them up.
Luckily, both manufacturers offer various generous warranties for their vehicles.
Tesla
Tesla has six different vehicle warranties. For example, the Basic Vehicle Limited Warranty (BHLW) protects your vehicle for 4 years or 50,000 miles. Meanwhile, the Supplemental Restraint System Limited Warranty (SRSLW) offers 5 years or 60,000 miles of coverage.
The Battery and Drive Unit Limited Warranty (BDULW) covers your vehicle for 8 years or 100,000–150,000 miles, depending on the model. The Used Vehicle Limited Warranty covers used vehicles for 4 years or 50,000 miles.
Lastly, the Parts, Body, and Paint Repair Limited Warranty protects all Tesla-branded parts. All Tesla vehicles are covered by the New Vehicle Limited Warranty, which includes BHLW, SRSLW, and BDULW.
Mercedes
There's no doubt that Mercedes cars are hard to repair and maintain. Luckily, all their models are protected by the New Vehicle Limited Warranty. This warranty covers material or quality defects within 4 years or 50,000 miles.
Other than that, the Extended Limited Warranty covers the vehicle after the New Vehicle Limited Warranty expires. Depending on your choice, this warranty can extend to 1–3 additional years.
Mercedes' Pre-Owned Limited Warranty protects used cars for four years or 50,000 miles. The Parts Warranty protects your car parts for unlimited mileage if you buy Genuine Mercedes-Benz Parts. It also protects transmissions for 2 years and engines for 4 years.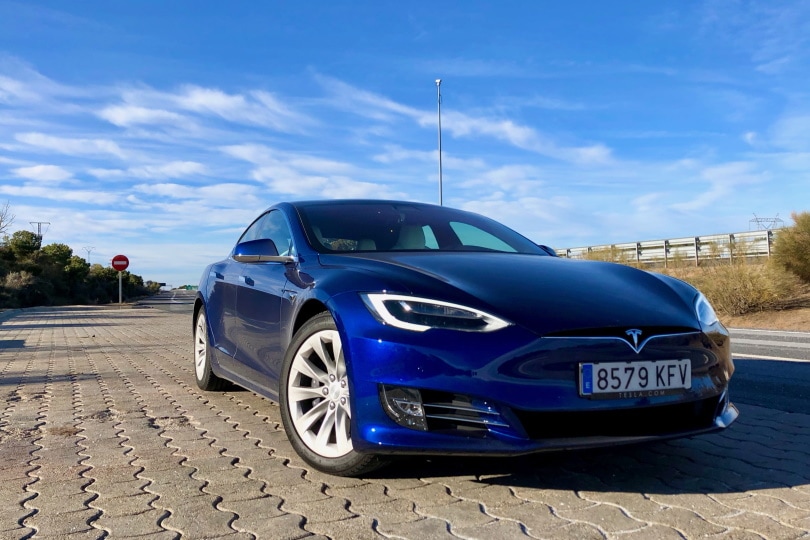 Tesla vs. Mercedes: Customer Service
Regardless of their luxury products, both brands' customer service has been described as inadequate.
Tesla
Tesla's customer service has been described as incredibly poor by most buyers. Customers have reported canceled appointments, unanswered emails, and canceled orders. Some also complained that Tesla's phone number loops, preventing them from ever getting a live agent.
Customers that did get in touch with Tesla's customer service representative reported impressive product knowledge. However, a few scarce reviews discussed how quickly Tesla tow trucks arrive in emergencies.
Mercedes
Mercedes' customer service is also majorly disliked. Customers describe their helplines as hard to reach and disappointing. Almost all customers that issued appointments with Mercedes' help agents faced cancellations and delays.
Only some customers could get in touch with the company's live agents. They stated that the agents were friendly with extensive product knowledge but unable to get to the root of the issue and solve it.

Head-to-Head: 2023 Mercedes-EQ vs. Tesla Model S
While Tesla's Model S is a five-door liftback sedan, the 2022 Mercedes-EQ is a four-door hatchback. In terms of range, the Mercedes EQ takes the cake. It runs 487 miles per charge, while the Tesla Model S runs 412 miles.
It's also worth noting that the Tesla Model S does not include the Wireless Apple CarPlay™ and Wireless Android Auto™ offered by the EQ hatch. Other than that, the Mercedes-EQ has genuine leather upholstery, while the Model S features synthetic leather.
The Mercedes-EQ available display is also much better, offering a 56-inch MBUX Hyperscreen. Meanwhile, the Tesla Model S has a 17-inch Tablet-Style Touchscreen. The EQ also features Voice Control with Natural Language Understanding, which the Model S doesn't.
Our Verdict: The Mercedes-EQ is more feature-studded, affordable, and high-performance than the Tesla Model S.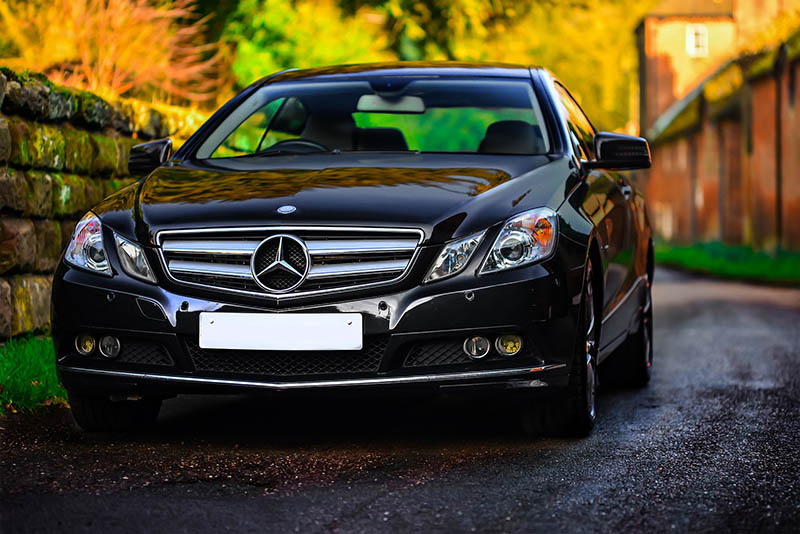 Head-to-Head: Tesla Model 3 Long Range vs. Mercedes Benz E Class 180 AMG
The Tesla Model 3 is similar to most Mercedes-Benz E-Class models. While the Model 3 is more affordable, its seating capacity is also limited to four persons. However, the E-Class 180 AMG can accommodate five persons.
Although both models are sedans, the Model 3 is an electric car while the E-Class is petrol-fueled. Nevertheless, their features are similar, such as the panoramic sunroof, anti-locking brake system, alloy rims, and rear camera.
But, the E-Class model does not include a front camera and engine push start/stop button, both features in the Model 3.
Our Verdict: The two models are primarily similar in features, but the Model 4 is more affordable and well-performing.
Head-to-Head: 2020 Mercedes-Benz C-Class vs. 2020 Tesla Model 3
While the 2020 Mercedes-Benz C-Class ranks number eight in 2020 Luxury Small Cars, the Tesla Model 3 places number two in 2020 Luxury Hybrid and Electric Cars. The Model 3 exceeds its competition in performance, safety, and ownership costs.
Some pros for the C-Class include its high-class interior, powerful engine, and a long list of features. Meanwhile, the Model 3 offers an impressive range, positive crash test results, and a roomy interior.
Moreover, the C-Class runs on the Intercooled Turbo Premium Unleaded I-4 2.0 L/121 engine, while the Model 3 is entirely electric. The Tesla model does not include Apple CarPlay or Android Auto.
Our Verdict: Tesla's Model 3 is more affordable, reliable, and safe than the Mercedes C-Class. However, the Mercedes Model has more technologically advanced features.

Overall Brand Reputation
In terms of performance, durability, and warranty, Tesla takes the cake. However, those that prioritize affordability and design versatility can benefit from Mercedes' extensive product line.
Performance
Edge: Tesla
While Mercedes cars guarantee unparalleled luxury, comfort, and technology, they aren't paragons for performance. Most models are vulnerable to oil leaks, engine misfires, rusting, transmission issues, and air suspension failure.
However, Tesla cars deliver exceptional performance with the help of their integrated software. While their software does suffer from hacks and glitches now and then, their problems aren't nearly as frequent and large-scale as Mercedes'.
Price
Edge: Mercedes
In terms of price, Mercedes is undoubtedly the most affordable option. It's worth noting that Mercedes cars on the pricier side cost less than Tesla's most affordable models. So, if you're on a budget, Mercedes can help you get the same type of car at a much lower rate.
Durability
Edge: Tesla
Mercedes has a bad reputation regarding durability and reliability. Ranked the least reliable among all car manufacturers, Mercedes dropped its place on the list by five slots this year. On the other hand, Tesla is ranked the 19th most reliable car brand on the market.
Design
Edge: Mercedes
Since Mercedes has a much more extensive product line than Tesla, it has more versatile designs to choose them. The company offers SUVs, sedans, coupes, wagons, hatchbacks, crossovers, roadsters, buses, and trucks.
Meanwhile, Tesla only specializes in crossovers and sedans.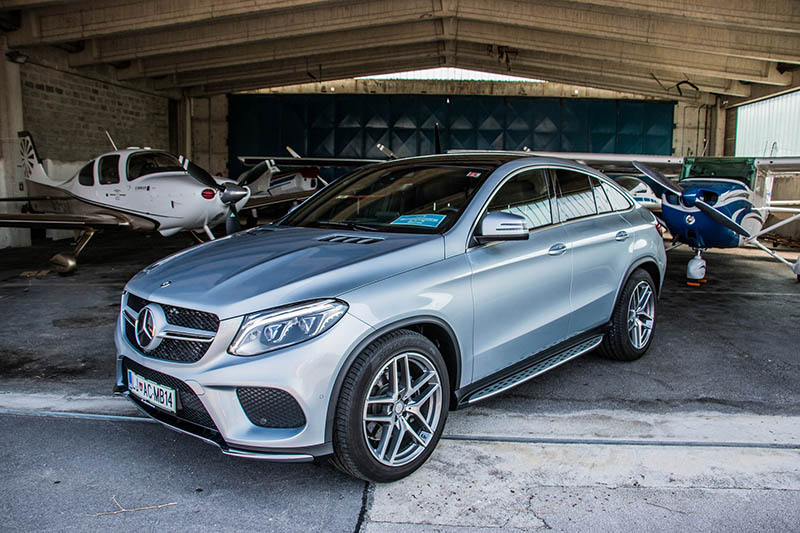 Warranty
Edge: Tesla
Tesla has more extended warranties when compared to Mercedes. That includes their Basic Vehicle Limited Warranty, Supplemental Restraint System Limited Warranty, Battery and Drive Unit Limited Warranty, and more.
Contrastingly, Mercedes only offers three warranty plans.

Conclusion
Considering all factors, Mercedes is an overall better car manufacturer than Tesla. Not only does the company have more experience in the industry, but its product line is much more versatile and affordable.
Additionally, Tesla models have been reported for various product issues regarding phantom braking, software hacking, and autopilot crashes. Mercedes is also more environmentally conscious than most car brands.
However, if you prioritize durability and technology, Tesla may have better-suited models for you.
Related Reads:
---
Featured Image Credit: (L) Charlie Deets, Unsplash | (R) Meik Schneider, Unsplash