Kohler Memoirs Toilet Review 2023 – Pros, Cons, & Verdict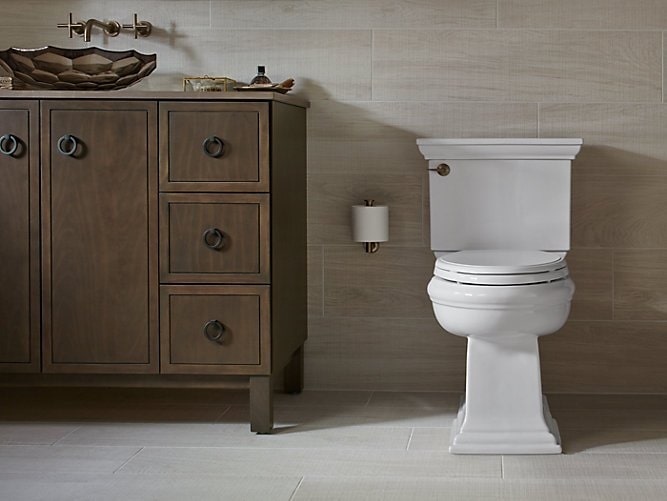 We give the Kohler Memoirs Toilet a rating of 4.3 out of 5 stars. 
Build Quality: 5/5
Cleanliness: 2.5/5
Features: 4.5/5
Price: 4/5
The Kohler Memoirs Toilet will appeal to anyone who likes the appearance of a traditional toilet but wants to update it with a modern flush and glazing to help it perform better. It seems more like a standard chair than many current models, and it's lightly intricate design is more stately. It also saves on water and uses just 1.6-gallons per flush (GPF), or less.
Kohler Memoirs – A Quick Look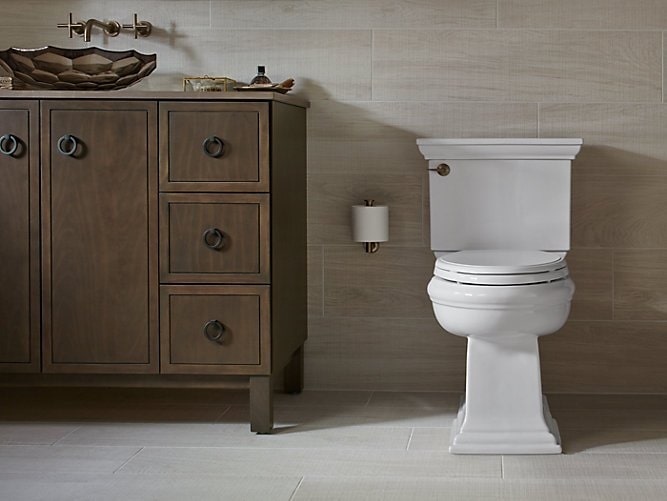 Specifications
Brand: Kohler
Model: Memoirs
Pieces: Two-piece
Material: China
Shape: Elongated
Flush:28 – 1.6 GPF
Weight: 99 pounds
Pros
Several Models
Two-piece design
AquaPiston flushing
Glazed trap way
Reduced water use
Plenty of options
Cons
Seat not included
Trap not very wide
Vintage Appearance
The biggest thing that sets the Memoirs line apart from many other modern toilets is its vintage appearance. All the elegant lines and angles are present to improve your bathroom's look; however, the toilet remains easy to clean with no deep unreachable recesses.
Water-Saving
Another powerful feature offered by the Memoirs line of toilets is its water-saving feature.  Smaller models better suited to one or two-person households use only 1.28 GPF, while the larger models built for the whole family only use 1.6. Traditional toilets use between 3 and 5 GPF, so the savings are huge, and you will likely see a reduction in your water bill.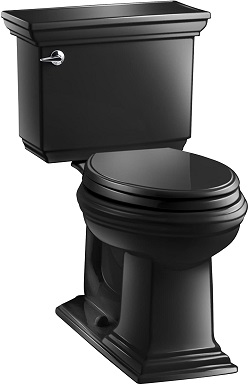 The 1.6 GPF models help to reduce water use further by supplying the toilet with a dual flush mechanism. A quick flush will produce a half flush, suitable for removing liquid waste from the bowl. If you hold the handle down for longer than two seconds, you receive the full flush for quickly eliminating solid waste.
AquaPiston Flush
The AquaPiston is the component responsible for the powerful flush. It eliminates the traditional flapper and replaces it with a canister flush. It allows water to flow into the trap from all 360-degrees, and the faster water flow increases the flushing strength. There is also less surface area exposed to the water, so you should experience much less drips in that area that you will need to repair.
Comfort Height
One of the options available to choose from when selecting a Memoirs toilet is the seat height. There are three standard seat heights available, standard, universal, and comfort.
Standard height seats are between 13 and 15 inches high, and they are the type you most likely have experience using, but for many people with back and leg pain, they can be too low to the ground.
Universal height toilets are slightly taller, and the seat is 15 to 17 inches from the floor. This type of toilet is likely the ideal choice for most people and is in handicapped bathrooms across the United States.
Comfort height toilets are taller still, and the seat is between 17 and 19 inches from the floor. Universal height is best for tall people and those that struggle to get up from universal height toilets.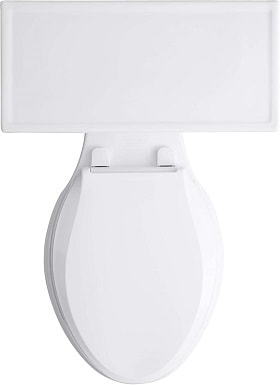 ---
FAQ
Are the mounting bolts included with the purchase?
Yes, everything you need to install the toilet comes in the package.
How wide is the tank?
The tank is 17-inches wide
How is the toilet delivered?
Both pieces are in a single box, packaged to protect it from shipping damage.
Is the toilet seat included?
On most models, the toilet seat does not come with the toilet.
What is the rough-in for this toilet?
The Kohler Memoirs toilet has a standard 12-inch rough-in.
What the Users Say
We've scoured the internet to find out what other people are saying about the Kohler Memoirs, and these are some of the things we found.
Most people find the Kohler Memoirs line extremely attractive.
Most people felt the toilet operates quietly.
Most people would buy another Kohler Memoirs toilet.
Many people call the Memoirs line a fancy toilet.
Many people feel the toilet has a powerful flush.
Some people commented that the toilet is comfortable to sit on.
Some people commented that the toilet flushes very quickly.
A few people commented that they appreciate the flat lid on the tank to store tissues and other accessories.
A few people complained that the Memoirs line is expensive
A few people complained that the handle feels flimsy.
A few people were confused by images that show a seat when no seat comes with it.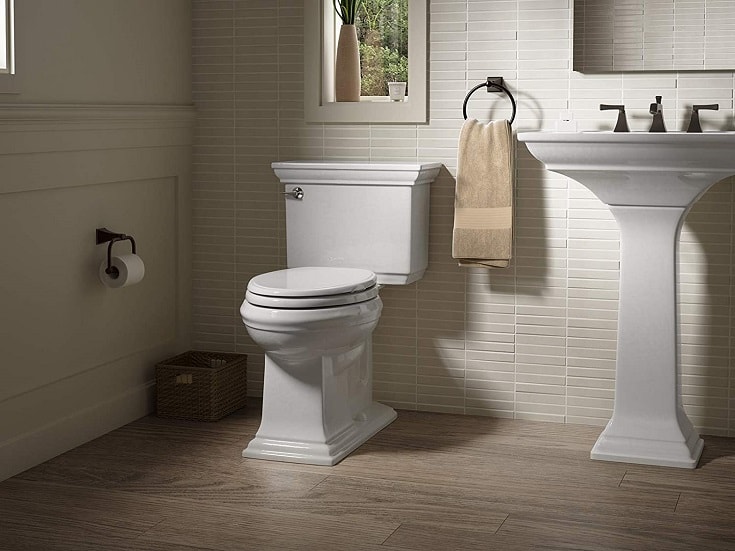 ---
Conclusion
We feel that the Kohler Memoirs will accent your home beautifully. Especially those with other vintage style bathroom components. There is a wide selection of models to choose from and colors available. It has a powerful yet quiet flush and is very efficient with the water it uses. The glazed trap and canister style flushing system will help reduce maintenance requirements, and the outside is easy to clean.
We hope you've enjoyed reading over this look into these vintage style toilets and are convinced to put one in your home. If it has answered your questions and think it can help others, please share this guide to the Kohler Memoirs toilets on Facebook and Twitter.