6 Best Comfort Height Toilets of 2023 – Reviews & Top Picks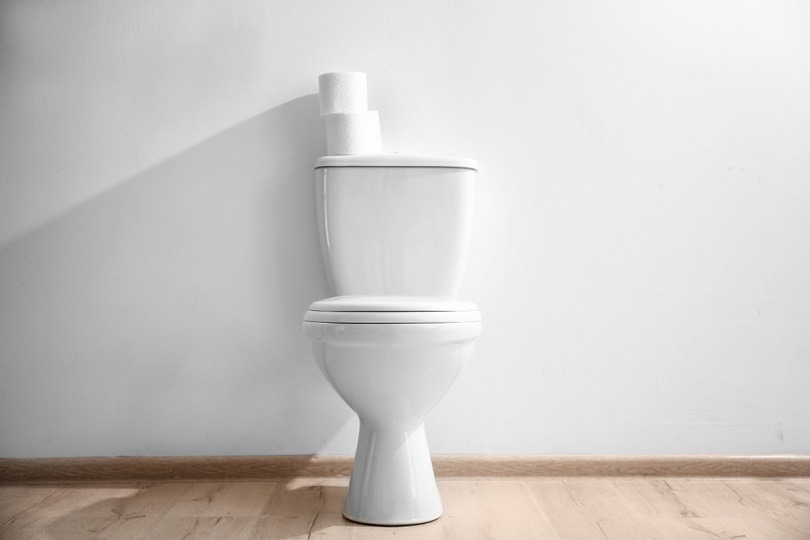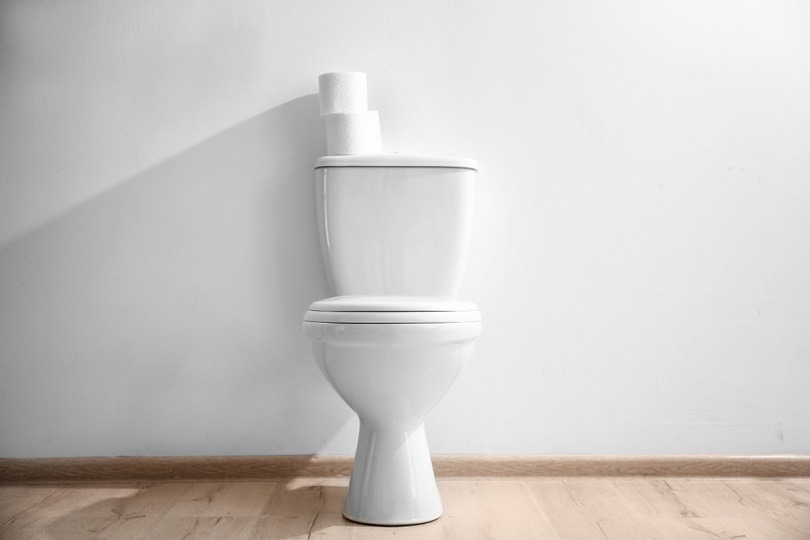 If you find it difficult to get up from a standard toilet, a comfortable height toilet can really improve your quality of life. However, there are many brands to choose from, and it's something you want to get right the first time. So, it's natural to look for some answers to any questions you might have before you make a purchase.
We've chosen six of the most popular brands to review for you, so you can see the difference between them and learn about the pros and cons of each. We've also included a short buyer's guide, where we discuss the ideal height and some other features you might want to look for while shopping.
Join us while we discuss height, weight, cleanability, tank size, and more to help you make an educated purchase.

A Quick Comparison of Our Favorites in 2023
Rating
Image
Product
Details

Best Overall

Convenient Height Tall Toilet

20-inches high
Dual flush valve
Slow falling lid
CHECK PRICE

Best Value

Kohler Highline Elongated Toilet

93 pounds
17 inches tall
Class 5 flushing
CHECK PRICE

Premium Choice

Toto UltraMax II Toilet

99 pounds
25 inches high
Soft-close seat
CHECK PRICE

KOHLER Santa Rosa Toilet

One piece
Elongated bowl
AquaPiston canister
CHECK PRICE

WOODBRIDGE Comfort Height Modern Toilet

Easy to clean
Modern appearance
Fully glazed flushed system
CHECK PRICE
The 6 Best Comfort Height Toilets
1.

Convenient Height Tall Toilet – Best Overall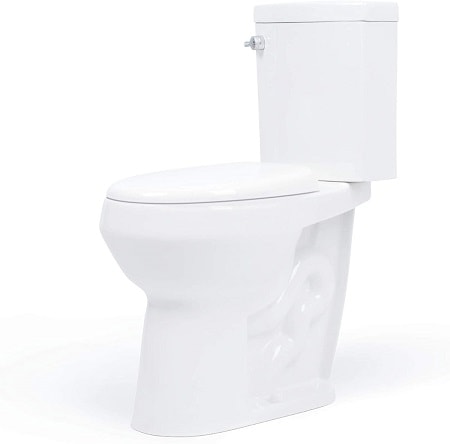 The Convenient Height Tall Toilet is our pick for the best overall comfort high toilets. It stands 20-inches high and allows room behind the lower section for a base heater. The two-piece toilet features an oversized all-metal flush handle and a durable flush actuator that should last many years without maintenance. The double flush valve allows you to save water. When there isn't as much material that needs to be flushed, you pull the handle up, resulting in a 0.9-gallon flush. When there is more material to flush, you press down the handle to release a 1.5-gallon flush. It also features a slow falling lid, so you never need to be startled by a slamming toilet seat.
We enjoyed using the Convenient Height toilet enough to make it our top choice, and the only problems we had with it was that it was a little difficult to get into the home at 120 pounds. Also, the plastic slow falling seat is a little flimsy, and the bolts that hold it tight loosened over time.
Pros
20-inches high
Large, solid metal flush handle
Dual flush valve
Baseboard heater fit
Durable flush actuator
Slow falling lid
Cons
120 pounds
Toilet seat comes loose
---
2.

Kohler Highline Elongated Toilet – Best Value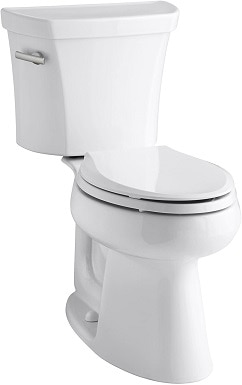 The Kohler K-3999-0 Highline Elongated Toilet is our pick as the best comfort high toilet for the money. It's a two-piece model that stands 17 inches tall and has pre-installed tank bolts to help speed assembly. It uses class 5 flushing, so it only uses 1.28 gallons per flush, saving 50% more water than traditional toilets that use three to five gallons per flush. This water-saving feature is possible largely because of the unique canister flush valve that helps provide a more powerful flush while removing the flapper that goes bad quickly in many toilets.
We liked the Kohler K-3999-0 and felt it is a good all-around toilet that isn't overly heavy at 93 pounds. The downside is that the instructions aren't very clear and take a little while to get through.
Pros
Pre-installed tank bolts
Class 5 flushing
28 gallons per flush
17 inches tall
Canister flush valve
93 pounds
Cons
Instructions aren't very clear
---
3.

Toto UltraMax II Toilet – Premium Choice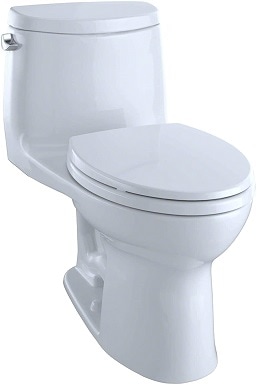 The Toto MS604114CEFG#01 UltraMax II Toilet is our premium choice toilet that features a unique Cefiontect Glaze that helps prevent materials from sticking to it and makes it much easier to clean. It conserves water by using only 1.28 gallons of water per flush. The toilet stands 17.25-inches off the floor with the included soft-close seat and weighs about 99 pounds.
The only problem we had with the Toto (besides the high cost) was that it was fairly noisy when refilling, compared to other brands.
Pros
28 gallons per flush
Cefiontect glaze
Soft-close seat
99 pounds
25 inches high
---
4.

KOHLER Santa Rosa Toilet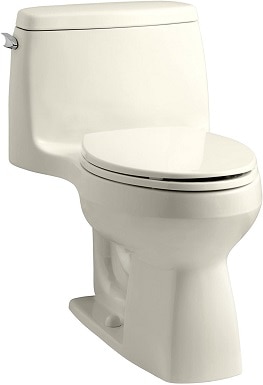 The KOHLER 3810-47 Santa Rosa Toilet is the second Kohler toilet on our list, and this one features a single with a low-profile tank to help make the toilet fit better in tight spaces and to help save water. It has an elongated bowl that sits 17 inches high, and an AquaPiston canister flush system that allows water to enter the bowl from all sides—creating a more powerful flush.
The KOHLER 3810-47 is attractive and would work well in a smaller household. The single-piece toilet also weighs 102 pounds, which may be heavy for some people to get into position.
Pros
One piece
Elongated bowl
AquaPiston canister
17-inches high
Lower tank profile
Cons
102 pounds
Clogs occasionally
---
5.

WOODBRIDGE Modern Toilet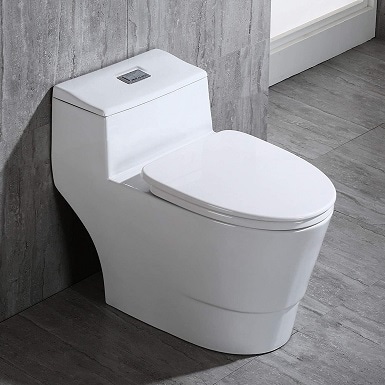 WOODBRIDGE T-0018/B-0735 Modern Toilet features a unique streamlined and compact design with a modern appearance that will look great in any home or apartment. It's extremely easy to clean internally and externally, with plenty of space and a fully glazed flush system that prevents material from sticking to it. A dual flush system allows you to flush lighter loads with a 1-gallon flush and heavier loads with a 1.6-gallon flush, so you can control your energy savings and have extra power when you need it.
The downside to the WOODBRIDGE T-0018/B-0735 is that it's quite heavy at 151 pounds and difficult to move into position. The installation bolts are hidden behind the tank, as are the ones for the seat—so it can be difficult to clamp them down, especially If you have large hands and forearms. Tightening them down later or changing the seat will also be difficult.
Pros
Modern appearance
Easy to clean
Fully glazed flushed system
Includes pre-installed soft closing toilet seat, wax ring, and floor bolts
Dual flush system
Cons
151 pounds
Bolts are hard to access once the toilet is in place
---
6.

American Standard Right Height Toilet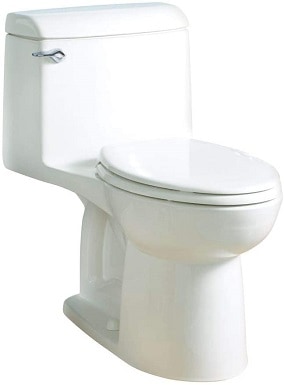 The American Standard Right Height Toilet features a 1.6-gallon flush, saving significant water over older larger tanks. It's a one-piece toilet, so it will be easier to clean, and also features an Everclean surface, which is a special coating that prevents materials from sticking to it.
The downside to the American Standard is that it's quite heavy at 111 pounds, and since it's a one-piece, it can be difficult to move into position. At 15.5 inches tall, it's not much of an improvement over traditional toilets, height-wise. The included seat is very low quality, and ours cracked within minutes. so we recommend picking up a replacement before installing the toilet.
Pros
1.6 gallons per flush
One-piece toilet
Everclean surface
Slow close toilet seat
Cons
111 pounds
15.5 inches tall
Poor quality seat
---
Buyer's Guide – Picking the Best Comfort Height Toilet
Here are some things to consider before you purchase a comfort height toilet for your home.
Height
The primary reason you are purchasing a comfort height toilet is to make it easier to get up from, so the height will be your first concern. Comfort height toilets are often between 17 and 19 inches tall, and it conforms to the guidelines set by the American with Disabilities Act for toilet height. Some toilets can be even taller, and we have a few on our list, but the problem with taller toilets is that they may not be suitable for children or shorter adults.
When purchasing a new comfort toilet, try to test it first by sitting on it. You don't want your legs to dangle off the side, especially if you tend to sit for long sessions because it can cut off the circulation and cause your legs to go numb.
Installation
The next concern when choosing a comfort toilet is whether it will fit where the old one was. You will need to take accurate measurements to get the correct fit. Please take all of the following measurements, so you can compare them with those on the packaging of brands that interest you in order to know if it will fit correctly.
Take note of the hold-down bolts that fasten the toilet to the floor. You may have two or four per side and will want a model with the same configuration.
Measure the distance from the back wall behind the toilet to the drainage pipe. This measurement is called the rough-in. Rough ins are usually 12 inches, but you can also find 10 and 14-inch rough-ins.
Most building codes require you to have a minimum of 15 inches of clearance on either side of the toilet, but you don't want to go further that from at least one wall so you can reach the toilet paper or install a handrail.
Most building codes require 24 inches of clearance in front of the toilet. If your room is small, you can save about two inches by using a standard toilet bowl instead of an elongated one.
Measure your toilet from the floor to the top of the tank.
Measure the width of your tank.
If you have a base heater, you will need to measure the clearance you will need behind the toilet base and select an appropriate model.
Bowl Size
Bowl size is another important consideration, and they come in a wide range of sizes. Most bowls are about 14 inches wide, and the standard version is about 16 inches wide, while the elongated versions are closer to 19 inches. As long as space permits, we recommend an elongated bowl for homes with men as they are generally more comfortable. If there are no men or the space is tight, go with the round bowl.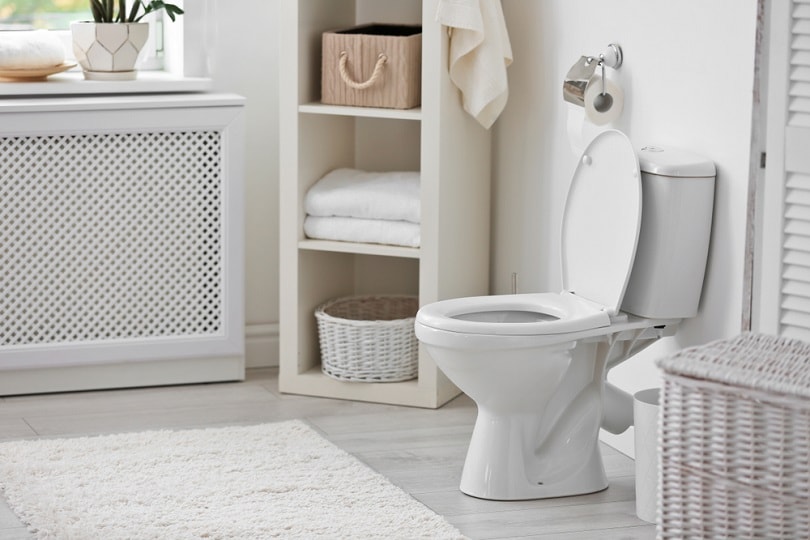 Water Conservation
Many modern toilets take steps to conserve water. Some toilets use a special canister-style flushing mechanism to move water through the system much faster allowing less water to move more waste. These systems can typically reduce water usage from three to six gallons of vintage toilets to about 1.6 gallons. If you have multiple people in your home, the savings can be huge for both your checkbook and the environment.
Another way that modern toilets conserve water is with a dual valve flushing system. This double valve allows you to select a strong or weak flush depending on how much waste is in the toilet and automatically adjusts the water usage accordingly. In many models, lifting the handle will release the weak flush, which will use about one gallon of water to clear the toilet. Pressing the flush handle will release the strong flush, which will use the full 1.6 gallons to remove the waste. This system gives you much better control over how much water you use and reduces costs even further.
Glazed Surface
The glazed surface is a special coating on many modern toilets that acts as a repellant and prevents materials from sticking to it, making it much easier to clean. It also helps reduce the frequency of clogs providing you with a better functioning toilet over the unit's lifetime.
Many people with a glazed surface are unsure of what they can use to clean the surface. You can use any toilet cleaner without worry as long as it's a toilet cleaner and does not contain any bleach, which can remove the coating.
Appearance
Of course, you want your new toilet to look good, and there are quite a few different shapes and colors to choose from to fit in perfectly with your current décor. You can also find a compact and low-profile model to fit into tight spaces. Several low profile models on our list significantly reduce the tank's height, and we tried to point them out in our toilet reviews.
Proper Body Position
One thing we feel we should mention is that proper body position is important for good colon health. It can also help to reduce the frequency of constipation by lining up your internal organs properly. To be in the proper body position, you must be in a squatting position with your knees above your butt, like when in a squatting position. For most people, the best way to get into this position using a standard toilet is to use a small stool to use while you're on the toilet to raise your legs. You don't need to raise your legs far, and only need to get the knees above your butt to receive the health benefits.

Conclusion
When choosing a comfort height toilet, we highly recommend something at least 17-inches tall for most people. Our pick for the best overall, the Convenient Height Tall Toilet, provides the user with a 20-inch high toilet that is very easy to get up off. It also has an oversized handle with a dual flush valve that allows some control over how much water you use for a flush. It also provides room for a baseboard heater behind the base if you need it and plenty of room to clean if you don't.
The Kohler K-3999-0 Highline Elongated Toilet is another smart choice and is our pick for the best value. This inexpensive model gives you a 17-inch seat, which is a two-inch height increase over a standard toilet and provides many modern features—like canister flushing and a water-saving 1.28-gallon flush for extreme water savings over time. It's also lightweight and comes with the tank bolts pre-installed for easy assembly.
We hope you have enjoyed reading over the reviews and found a model suitable for your bathroom. If you intend to continue shopping, we hope our buyer's guide will help you sort through the many brands. If you think it can help others, please share these six best comfort height toilets on Facebook and Twitter.
---
Featured Image Credit: New Africa, Shutterstock