7 Best One Piece Toilets of 2023 — Reviews & Top Picks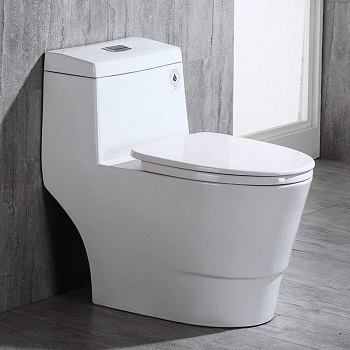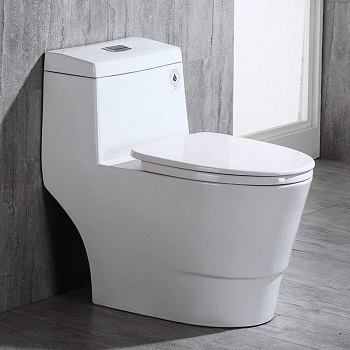 The average person will spend 92 days, or about three months, on the toilet. Choosing the right model is an important decision.
One-piece toilets are sleeker and harbor fewer bacteria, and most major manufacturers have their own line. However, they have different seat heights, can be made from plastic or a combination of ceramic and porcelain, and have varying water usage rates. There are elongated and round designs and single- and double-flushes. You also need a model that matches the rough-in distance from the wall to the flange center.
Fortunately, we've done all the research for you, checking dozens of one-piece toilets and creating a list of in-depth reviews. We've narrowed down the selection and have included in-depth reviews of eight of the best models on the market today.
---
A Quick Comparison of Our Favorites
Rating
Image
Product
Details

Best Overall

WOODBRIDGE T-0019

28-gallon siphon flush
Elongated design for comfort
Slow closing lid
CHECK PRICE

Premium Choice

Toto UltraMax II

Beautiful porcelain material
Ultra-smooth ceramic glaze
Tornado flushing system
CHECK PRICE

Swiss Madison St. Tropez

Tiny 0.8-gallon partial flush
Low seat ideal for kids
CHECK PRICE

American Standard Champion

EverClean glaze prevents staining
Fast flush
5-inch toilet seat height
CHECK PRICE

TOTO-Eco-Ultramax

Space-saving round bowl
Fast flush system
EPA, CEC, and CALGreen compliant
CHECK PRICE
---
The 7 Best One-Piece Toilets — Reviews 2023
1.

WOODBRIDGE T-0019 Elongated One Piece Toilet — Best Overall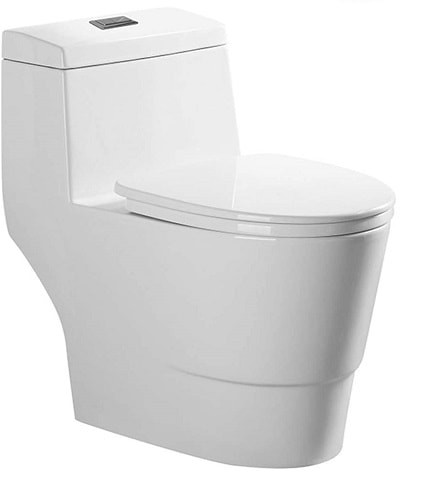 The Woodbridge T-0019 elongated toilet has a sleek design and quiet operation, and it combines a 1.28-gallon tank with a dual-flush unit for water efficiency. The Woodbridge is smaller than most other units and is perfect for confined spaces, but the flush is still effective, thanks to its siphon design. The water-efficient flush is quiet, and it won't disturb the rest of the house, even in the middle of the night. The Woodbridge has an elongated seat design that offers comfort even for those who like to linger and relax.
The T-0019 comes with all the parts and components required for fitting, including a preinstalled slow-closing lid. Reviews of this toilet are positive, but there have been a few complaints that the toilet is heavy at 118 pounds, making installation a two-person job. There's also a gap at the front of the base when installed on a flat floor. Despite those issues, the Woodridge is the best overall one-piece toilet.
Pros
28-gallon siphon flush
Elongated design for comfort
Slow closing lid
Cons
Heavy at 118 pounds
Slight gap at the base
---
2.

Toto MS604114CEFG#01 UltraMax II One-Piece Toilet — Premium Choice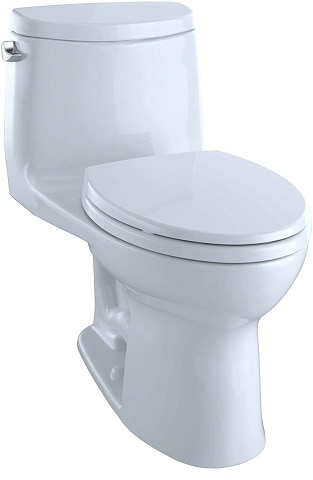 The Toto UltraMax II is an excellent toilet with high-quality features. It is made from high-grade porcelain and boasts an ultra-smooth ceramic glaze designed to prevent waste from clinging to the surface, making it easier to clean. It also has a tornado flushing system, which ensures that every splash and droplet is properly cleaned from the inside of the bowl.
However, it is at the top end when it comes to price, and despite these high-end features, there have been reports that the toilet is easily clogged, and its design means that it is difficult to unclog even with a plunger. There have also been complaints about insufficient clearance between the toilet seat and the water.
Pros
Beautiful porcelain material
Ultra-smooth ceramic glaze
Tornado flushing system
Cons
Very expensive
Easy to clog and difficult to unclog
Not much clearance between seat and water
---
3.

Swiss Madison SM-1T254 One Piece Toilet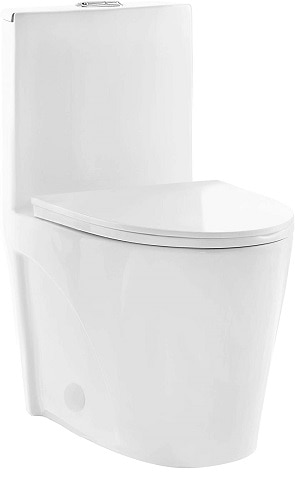 The Swiss Madison one-piece toilet has a low seat, which is great if you have kids who don't want to use a toilet step, but it isn't ADA-compliant, so it isn't suitable for users with mobility issues. The elongated seat makes it more comfortable to sit on, even for prolonged use, and it has a dual flush that uses a minuscule 0.8 gallons of water for a partial flush and 1.28 gallons for a full flush.
This allows you to minimize your water usage while still giving you a more powerful flush when required. Unfortunately, there have been reports that the short flush can cause a small upward spray of water to leak from the bowl, and some have complained that despite the elongated design, it isn't comfortable to sit on.
Pros
Tiny 0.8-gallon partial flush
Low seat ideal for kids
Cons
Short flush causes upward spray
Some complaints of uncomfortable seating
---
4.

American Standard Champion Elongated One-Piece Toilet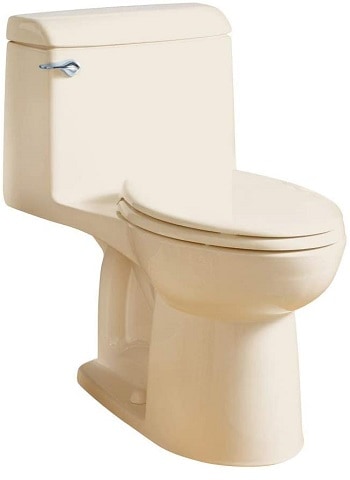 The American Standard Champion Elongated toilet has a more traditional design than other one-piece models. It has a 16.5" seat height, so it is ADA-compliant and will benefit family members with shorter legs. There is a slow-close seat included when you buy the American Standard, and the bowl has an EverClean glaze that prevents mildew, stops bacteria from forming, and makes the toilet easier to clean.
It uses 1.6 gallons per flush, which is higher than most other models in the list, so it isn't as water efficient, but it flushes in under a second. The manufacturer claims it will eliminate a mass 70% bigger than other toilets! However, there have been complaints about the quality of the seat.
Pros
EverClean glaze prevents staining
Fast flush
5-inch toilet seat height
Cons
Flimsy toilet seat included
Flush uses a great deal of water
---
5.

TOTO MS853113E#11 Eco Ultramax One Piece Toilet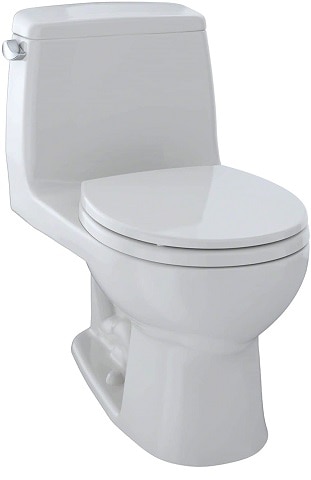 The Toto Eco Ultramax one-piece toilet is suitable for the smallest of spaces. It includes a soft-close lid, so no more trapped fingers or late-night crashes. It has a 1.28-gallon per flush, and the 3-inch flush valve and fully glazed 2 1/8" trapway ensure a fast and reliable flushing system.
The seat height is suitable for shorter users, and it meets EPA, CEC, and CALGreen water conservation requirements. The Toto enjoys mostly positive reviews, especially for its shorter height and quieter flush, but there have been negative reports regarding the toilet seat not quite sitting flush to the toilet and wobbling while in use.
Pros
Space-saving round bowl
Fast flush system
EPA, CEC, and CALGreen compliant
Cons
Might be too short for some
Not everybody likes round toilets
---
6.

WOODBRIDGE T-0020 Elongated One Piece Toilet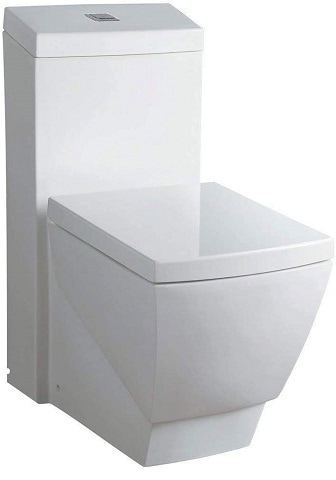 The Woodbridge T-0020 elongated toilet has a square design, giving it a unique aesthetic appeal. It has a dual-flush system with a 1-gallon partial flush and a more powerful 1.6-gallon full flush. It's at the higher end of the price range for one-piece toilets, presumably due to its design, but it includes a premium soft-close toilet seat and a wrench that should make installation easier.
One-piece toilets offer many benefits but can prove tricky to install without the right tools. The T-0020 gets positive reviews, but some don't appreciate its weaker flush, and you're unlikely to buy one unless you're specifically looking for a rectangular design for your bathroom.
Pros
Square design
Soft-close lid
Water-saving dual-flush system
Cons
Expensive
Square design not to everybody's taste
---
7.

Ariel Bath TB309-1M Elongated One Piece Toilet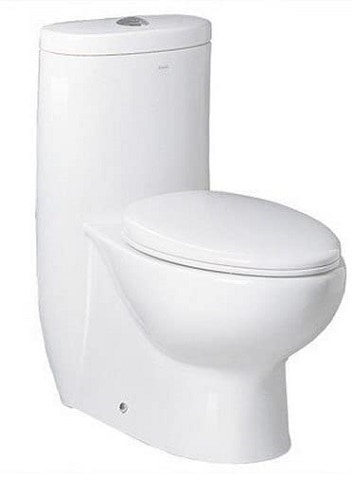 The Ariel Bath TB309-1m is an elongated one-piece toilet, extending an extra inch at the front of the toilet compared to a round bowl. It is cheaper than many of the toilets on this list and has a unique design. The dual-flush system offers a 0.8-gallon and a 1.6-gallon flush.
It includes a soft-close lid and has received positive reviews for its easy installation. As is common with cheaper toilets, there have been complaints about the quality of the plastic seat, and because the seat isn't a standard fitting, it will cost quite a bit to replace.
Pros
Elongated seat design
8-gallon partial flush
Cons
Seat plastic is low quality
---
Buyer's Guide – Choosing the Best One Piece Toilet
There are hundreds of toilets on the market, and considering how much time a typical family spends on the porcelain throne, you should ensure that you buy one suitable for all family members. Because the toilet will be such an integral feature of the bathroom, it also needs to look good and complement the aesthetic design of your room. Below are essential features when comparing one-piece toilets.
Size and Dimensions
One of the great benefits of one-piece toilets is that they are smaller than their traditional two-piece counterparts. They're ideal for smaller bathrooms but also leave you with more floor and wall space in a standard bathroom. It's vital to check the dimensions of any model you're considering, paying attention to how far it protrudes from the wall.
Flush Systems
One-piece toilets can include standard or dual flushes. A standard flush uses the same amount of water every time you pull the lever or push the button. A dual-flush system has a standard flush and a partial flush. The partial flush is suitable for getting rid of liquids, typically uses much less water than a full flush, and is quieter than the full flush. The flush power is measured in gallons per flush, and a full flush usually uses around 1.5 gallons of water. A partial flush can use anywhere from 0.8 gallons to 1.2 gallons.
Toilet Shape
The shape of the toilet is also important. Traditional toilet designs are round, but many modern manufacturers offer elongated bowls. They extend further than a round seat and offer greater comfort. Whether you prefer to dash in and out or are known for spending a long time on the toilet, comfort is essential. There are also a small number of rectangular and square designs, but they are typically only purchased for their aesthetic appeal.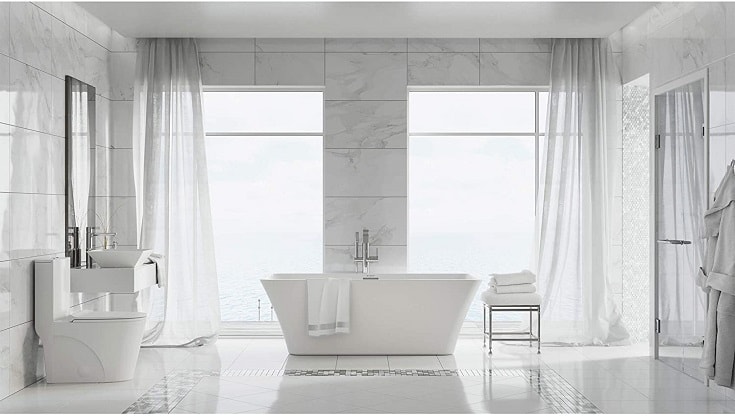 Seat Height
Approximately 16.5 inches is considered a standard height for one-piece toilets. If you have smaller people in the house, you can buy a toilet with a 16-inch toilet seat height, but be aware that they're unsuitable for those with mobility issues. The seat must be at least 16.5 inches from the ground to be considered ADA-compliant.
Seat Inclusion
Before purchasing a toilet, check whether your new model has a seat. Some one-piece models feature unusual seat dimensions, and buying a replacement or new seat can cost more than a traditional design. One of the areas where otherwise good-quality toilets lost out in reviews was in the quality of the seat. Soft-close lids are ideal if you want to avoid the harsh clattering noise of a dropped lid, and they are especially helpful if you have kids and don't want to wake them in the middle of the night.
---
Conclusion
Overall, the Woodbridge T-0019 is the best one-piece toilet on this list. Other than a few complaints about the weight of the toilet making it tricky to install, it's a highly rated model. It has a water-efficient flush and a slow-closing lid. One-piece toilets save space and are easy to clean, and we hope our list of toilet reviews has helped you find the best model, whether you're renovating an existing bathroom, installing a new one, or simply replacing a tired old toilet.
See also: Toilets in Canada – Reviews & Top Picks